Abstract
Discrete choice experiments are increasingly used in the context of environmental valuation. However, there is still little known about the influence of the complexity of the choice task on model outcomes. In this paper we investigate task complexity in terms of the design dimensionality of the choice experiment by systematically varying the number of choice sets, alternatives, attributes, and levels as well as the level range. We largely follow a Design of Designs approach originally introduced in transportation. First, we analyse the influence of the design dimensionality on participants' dropout behaviour finding that the probability to drop-out of the survey is influenced by socio-demographic characteristics and increases with the number of choice sets, attributes as well as with designs having five alternatives. Second, we investigate the impact of the design dimensions on stated choices by estimating a multinomial logit model, and heteroskedastic logit models. Results show that the error term variance is influenced by socio-demographic characteristics as well as by all design dimensions. Moreover, we find that accounting for the impact of the design dimension on the error variance does not significantly change willingness to pay estimates.
Access options
Buy single article
Instant access to the full article PDF.
USD 39.95
Price excludes VAT (USA)
Tax calculation will be finalised during checkout.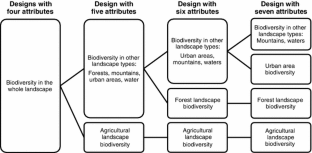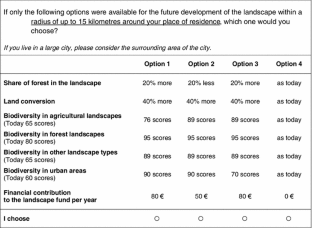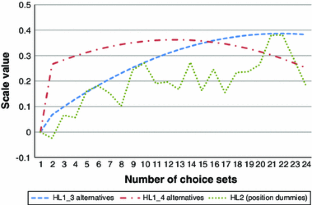 References
Arentze T, Borgers A, Timmermans H, DelMistro R (2003) Transport stated choice responses: effects of task complexity, presentation format and literacy. Transp Res Part E 39:229–244

Bech M, Kjaer T, Lauridsen J (2011) Does the number of choice sets matter? Results from a web survey applying a discrete choice experiment. Health Econ 28(3):273–286

Boxall P, Adamowicz WL, Moon A (2009) Complexity in choice experiments: choice of the status quo alternative and implications for welfare measurement. Aust J Agr Resour Econ 53:503–519

Bradley M, Daly A (1994) Use of the logit scaling approach to test for rank-order and fatigue effects in stated preference data. Transportation 21:167–184

Brouwer R, Dekker T, Rolfe J, Windle J (2010) Choice certainty and consistency in repeated choice experiments. Environ Res Econ 46:93–109

Bundesministerium für Umwelt, Naturschutz und Reaktorsicherheit (BMU) (2010) Der Indikatorenbericht 2010 zur Nationalen Strategie zur biologischen Vielfalt. Berlin

Carlssona F, Mørkbak MR, Olsen SB (2012) The first time is the hardest: a test of ordering effects in choice experiments. J Choice Modell 5:19–37

Caussade S, Ortúzar J, Rizzi LI, Hensher DA (2005) Assessing the influence of design dimensions on stated choice experiment estimates. Transp Res Part B 39:621–640

Chintakayala PK, Hess S, Rose JM, Wardman M (2010) Effects of stated choice design dimensions on model estimates. In: Hess S, Daly A (eds) Choice modelling: state-of-the-art and the state-of practice. Proceedings from the inaugural international choice modelling conference. Emerald Press, Bingley

Czajkowski M, Giergiczny M, Greene WH (2014) Learning and fatigue effects revisited. The impact of accounting for unobservable preference and scale heterogeneity on perceived ordering effects in multiple choice task discrete choice experiments. Land Econ 90:324–351

Chung C, Boyer T, Han S (2011) How many choice sets and alternatives are optimal? Consistency in choice experiments. Agribusiness 27:114–125

Dellaert B, Brazell J, Louviere JJ (1999) The effect of attribute variation on consumer choice consistency. Market Lett 10:139–147

Dellaert B, Donkers B, van Soest A (2012) Complexity effects in choice experiment-based models. J Mark Res 49:424–434

DeShazo JR, Fermo G (2002) Designing choice sets for stated preference methods: the effects of complexity on choice consistency. J Environ Econ Manage 44:123–143

Galesic M (2006) Dropouts on the Web: effects of interest and burden experienced during an online survey. J Off Stat 22:313–328

Heiner R (1983) The origin of predictable behaviour. Am Econ Rev 73:560–595

Hensher DA, Stopher PA, Louviere JJ (2001) An exploratory analysis of the effect of numbers of choice sets in designed choice experiments: an airline choice application. J Air Transp Manage 7:373–379

Hensher DA (2004) Identifying the influence of stated choice design dimensionality on willingness to pay for travel time savings. J Transp Econ Policy 38:425–446

Hensher DA (2006) Revealing differences in willingness to pay due to the dimensionality of stated choice designs: an initial assessment. Environ Resour Econ 34:7–44

Hess S, Hensher DA, Daly A (2012) Not bored yet—revisiting respondent fatigue in stated choice experiments. Transportation research part A, pp. 626–644

Hoerger M (2010) Participant dropout as a function of survey length in internet-mediated university studies: implications for study design and voluntary participation in psychological research. Cyberpsychol Behav Social Netw 13:697–700

Hole AR (2006) Small-sample properties of tests for heteroscedasticity in the conditional logit model. Econ Bull 3:1–14

Louviere JJ, Carson RT, Burgess I, Street D, Marley AAJ (2013) Sequential preference questions factors influencing completion rates and response time using online panel. J Choice Modell 8:19–31

Louviere JJ, Islam T, Wasi N, Street D, Burgess LB (2008) Designing discrete choice experiments: do optimal designs come at a price? J Consumer Res 35:360–375

Louviere JJ, Hensher DA, Swait JD (2000) Stated choice methods. Analysis and Application, Cambgridge

McNair BJ, Bennett J, Hensher DA (2011) A comparison of responses to single and repeated discrete choice questions. Resour Energy Econ 33:554–571

Poe GL, Welsh MP, Champ PA (1997) Measuring the difference in mean willingness to pay when dichotomous choice contingent valuation responses are not independent. Land Econ 73:255–267

Ratcliffe J, Longworth L (2002) Investigating the structural reliability of a discrete choice experiment within health technology assessment. Int J Technol Assess Health Care 18:139–144

Rolfe J, Bennett J (2009) The impact of offering two versus three alternatives in choice modelling experiments. Ecol Econ 68:1140–1148

Rose JM, Hensher DA, Caussade S, Ortúzar J, Jou R-C (2009) Identifying differences in willingness to pay due to dimensionality in stated choice experiments: a cross country analysis. J Transp Geogr 17:21–29

Ryan M, Wordsworth S (2000) Sensitivity of willingness to pay estimates to the level of attributes in discrete choice experiments. Scott J Political Econ 47:504–524

Scarpa R, Notaro S, Louviere J, Raffaelli R (2011) Exploring scale effects of best/worst rank ordered choice data to estimate benefits of tourism in Alpine grazing commons. Am J Agric Econ 93:813–828

Scarpa R, Rose JM (2008) Design efficiency for non-market valuation with choice modelling: how to measure it, what to report and why. Aust J Agric Res Econ 52:253–282

Swait JD, Adamowicz WL (2001) Choice environment, market complexity and consumer behaviour: a theoretical and empirical approach for incorporating decision complexity into models of consumer choice. Organ Behav Human Decis Process 86:141–167

Swait J, Louviere J (1993) The role of the scale parameter in the estimation and comparison of multinomial logit models. J Mark Res 30:305–314

Vicente P, Reis E (2010) Using questionnaire design to fight nonresponse bias in web surveys. Soc Sci Comput Rev 28:251–267

Vossler CA, Doyon M, Rondeau D (2012) Truth in consequentiality: theory and field evidence on discrete choice experiments. Am Econ J Microecon 4:145–171

Zhang J, Adamowicz WL (2011) Unravelling the choice format effect: a context-dependent random utility model. Land Econ 87:730–743
Acknowledgments
We would like to thank two anonymous reviewers for their very valuable comments. Also we would like to thank Helen Lauff (Link-Institut) for her advice and patience while implementing our Design of Designs approach in the survey software. Funding for this research was provided by the Federal German Ministry of Education and Research (Fkz. 033L029G; Fkz 01LL0909A) and is gratefully acknowledged.
Appendices
Appendix 1
Appendix 2
About this article
Cite this article
Meyerhoff, J., Oehlmann, M. & Weller, P. The Influence of Design Dimensions on Stated Choices in an Environmental Context. Environ Resource Econ 61, 385–407 (2015). https://doi.org/10.1007/s10640-014-9797-5
Accepted:

Published:

Issue Date:

DOI: https://doi.org/10.1007/s10640-014-9797-5
Keywords
Choice complexity

Design of designs

Stated choice experiment

Error variance

Land use changes