Abstract
This paper presents a first empirical assessment of carnivore conservation under a performance payment scheme. In Sweden, reindeer herder villages are paid based on the number of lynx (lynx lynx) and wolverine (gulo gulo) offspring certified on their pastures. The villages decide on the internal payment distribution. It is generally assumed that benefit distribution rules are exogenous. We investigate them as an endogenous decision. The data reveals that villages' group size has a direct negative effect on conservation outcomes and an indirect positive effect which impacts conservation outcomes through the benefit distribution rule. This result revises the collective action hypothesis on purely negative effects of group size.
Access options
Buy single article
Instant access to the full article PDF.
USD 39.95
Price excludes VAT (USA)
Tax calculation will be finalised during checkout.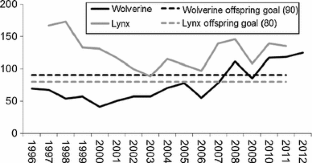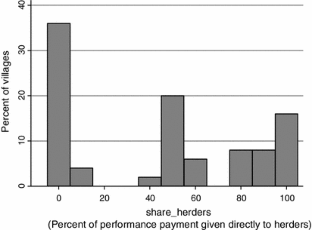 Notes
The term 'Sami village' refers to a community of reindeer herders, but also to the geographical area where a community has grazing rights, but not property rights. In the following, the term will refer to the community.

A step towards endogenizing benefit contribution within local communities is made in the Engel (2005) game-theoretic model of community-based irrigation management in Ghana. Payoffs in her model depend on land distribution and the distributional rule for maintenance costs. Land distribution is modelled as an endogenous outcome based on consensus and are shown to depend on the (exogenous) cost distribution rule.

Other joint income sources can stem from the sale of seasonal fishing licenses, sale of reindeer calves that were not marked by the owners, or compensations from hydropower plants or windmill entrepreneurs for reductions in grazing land. These income sources are usually a lot smaller than the carnivore performance payments.

In practice, the villages only take a formal vote if there is a dispute and otherwise agree by consensus during their annual meetings, or "stormöte".

Lacking continuous data we use a binary variable which can pick up less variation in the data.

This bears the risk of biasing the results. We will therefore conduct the analysis below both with and without variables related to herd size
References
Abensperg-Traun M (2009) CITES, sustainable use of wild species and incentive-driven conservation in developing countries, with an emphasis on southern Africa. Biol Conserv 142(5):948–963

Agrawal A (2001) Common property institutions and sustainable governance of resources. World Dev 29:1649–1672

Andrén H, Liberg O (2008) Den svenska lodjursstammen 2004–2008. Report Grimsö research station

Andrén H, Linnell JDC, Liberg O, Andersen R, Danell A, Karlsson J, Odden J, Moa PF, Ahlqvist P, Kvam T, Franzén R, Segerström P (2006) Survival rates and causes of mortality in Eurasian Lynx (Lynx lynx) in multi-use landscapes. Biol Conserv 131:23–32

Baland J-M, Platteau J-P (1996) Halting degradation of natural resources. Is there a role for rural communities? Clarendon Press, Oxford

Baland J-M, Platteau J-P (1999) The ambiguous impact of inequality on local resource management. World Dev 27(5):773–788

Cameron AC, Trivedi PK (2009) Microeconometrics using stata. Stata Press, College Station

Cornes R, Sandler T (1996) The theory of externalities, public goods and club goods. Cambridge University Press, Cambridge

Danell AC, Andren H, Segerström P, Franzén R (2006) Space use by Eurasian lynx in relation to reindeer migration. Can J Zool 84(4):546–555

Dickman AJ, Macdonald EA, Macdonald DW (2011) A review of financial instruments to pay for predator conservation and encourage human-carnivore coexistance. PNAS 108(34):13937–13944

Engel S (2005) Endogenitäten im partizipativen Ressourcenmanagement: Politökonomische Aspekte des Bewässerungsmanagements in Ghana. Duncker und Humblot GmbH, Berlin

Engel S, Pagiola S, Wunder S (2008) Designing payments for environmental services in theory and practice: an overview of the issues. Ecol Econ 65(4):663–674

Ferraro PJ, Gjertsen H (2009) A global review of incentive payments for sea turtle conservation. Chelonian Conserv Biol 8(1):48–56

Ferraro PJ, Pattanayak SK (2006) Money for nothing? A call for empirical evaluation of biodiversity conservation investments. PLoS Biol 4(4):e105

Ferraro PJ, Simpson RD (2002) The cost-effectiveness of conservation payments. Land Econ 78:339–353

Field J (2003) Social capital. Routledge, London

Gebremedhin B, Pender J, Tesfay G (2004) Collective action for grazing land management in crop-livestock mixed systems in the highlands of northern Ethiopia. Agric Syst 82(3):273–290

Gorddard R, Whitten S, Reeson A (2008) When should biodiversity tenders contract on outcomes?. Annual conference of the Australian Agricultural and Resource Economics Society, Canberra

Hilton-Taylor C, Pollock CM, Chanson JS, Butchart SHM, Oldfield TEE, Katariya V (eds) (2009). State of the world's species. Wildlife in a Changing World—an analysis of the 2008 IUCN Red list of threatened species. Gland, Switzerland, IUCN

Krishna A (2004) Understanding, measuring and utilizing social capital: clarifying concepts and presenting a field application from India. Agric Syst 82:291–305

Marshall G (1996) Oxford concise dictionary of sociology. Oxford University Press, Oxford

Milne S, Niesten E (2009) Direct payments for biodiversity conservation in developing countries: practical insights for design and implementation. Oryx 43(04):530–541

Muhly TB, Musiani M (2009) Livestock depredation by wolves and the ranching economy in the Northwestern, US. Ecol Econ 68(8–9):2439–2450

Musters CJM, Kruk M, De Graaf HJ, Keurs WJT (2001) Breeding birds as a farm product. Conserv Biol 15(2):363–369

Nelson F (2009) Developing payments for ecosystem services approaches to carnivore conservation. Hum Dimen Wildl 14(6):381–392

Nyhus P, Osofsky S, Ferraro PJ, Madden F, Fischer H (2005) Bearing the costs of human-wildlife conflict: the challenges of compensation schemes. In: Woodrooffe R, Thirgood S, Rabinowitz A (eds) People and wildlife: conflict or coexistence?. Cambridge University Press, London

Olson M (1965) The logic of collective action. Harvard University Press, Cambridge

Ostrom E (1990) Governing the commons: the evolution of institutions for collective action. Cambridge University Press, New York

Pedersen VA, Linnell JDC, Andersen R, Andrén H, Lindén M, Segerström P (1999) Winter Lynx Lynx lynx Predation on Semi-domestic Reindeer Rangifer tarandus in Northern Sweden. Wildl Biol 5:203–211

Persson J (2005) Female wolverine (Gulo gulo) reproduction: reproductive costs and winter food availability. Can J Zool 83(11):1453–1459

Persson J (2007) Järvens status och ekologi i Sverige. Report for the Governmental Commission on the Large Carnivores (Utredningen om de stora rovdjuren). Grimsö, Dept. of Ecology, Grimsö Wildlife Research Station, Swedish University of Agricultural Sciences

Putnam R (1995) Bowling alone: America's Declining Social Capital. J Democracy 6:65–78

Sametinget (2009) Broschyr med statistik om rennäringen i Sverige, Sametinget

Swedish Government Bill (2000) Sammanhållen rovdjurspolitik. 2000/01:57. Stockholm

Swenson J, Andrén H (2005) A Tale of two countries: large carnivore depredation and compensation schemes in Sweden and Norway. In: Woodroffe R, Thirgood S, Rabinowitz A (eds) People and wildlife: conflict or coexistance?. Cambridge University Press, Cambridge

von Haaren C, Bathke M (2008) Integrated landscape planning and remuneration of agri-environmental services: results of a case study in the Fuhrberg region of Germany. J Enviro Manag 89(3):209–221

Viltskadecenter (2009a) Slutgiltiga resultat från inventeringar av lodjur i Sverige 2007/2008. Riddarhyttan

Viltskadecenter (2009b) Resultat från inventeringar av lodjur i Sverige vintern 08/09. Riddarhyttan

Viltskadecenter (2010) Resultat från inventering av lodjur i Sverige vintern 2009/10. Riddarhyttan

Viltskadecenter (2011) Resultat från inventering av lodjur i Sverige vintern 2010/11. Riddarhyttan

Viltskadecenter (2012a) Resultat från inventering av lodjur i Sverige vintern 2011/12. Riddarhyttan

Viltskadecenter (2012b) Resultat från inventeringar av järv i Sverige 2012. Riddarhyttan

Wätzold F, Drechsler M (2005) Spatially uniform versus spatially heterogeneous compensation payments for biodiversity-enhancing land-use measures. Environ Resour Econ 31:73–93

Zabel A, Holm-Müller K (2008) Conservation performance payments for carnivore conservation in Sweden. Conserv Biol 22(2):247–251

Zabel A, Pittel K, Bostedt G, Engel S (2011) Comparing conventional and new policy approaches for carnivore conservation—theoretical results and application to tiger conservation. Environ Resour Econ 48:287–301
Acknowledgments
The research presented in this paper was supported by the Swedish Research Council for Environment, Agricultural Sciences and Spatial Planning (FORMAS) and the North-South Centre at the Swiss Federal Institute of Technology Zurich (ETH Zurich). We would like to thank Solveig Edin for her help with the practicalities of the mail survey, and all Sami carnivore contact persons and reindeer herders who kindly provided their time for the interviews and mail surveys.
About this article
Cite this article
Zabel, A., Bostedt, G. & Engel, S. Performance Payments for Groups: The Case of Carnivore Conservation in Northern Sweden. Environ Resource Econ 59, 613–631 (2014). https://doi.org/10.1007/s10640-013-9752-x
Accepted:

Published:

Issue Date:

DOI: https://doi.org/10.1007/s10640-013-9752-x
Keywords
Performance payments

Group payments

Wildlife conservation

Empirical policy assessment

Sweden

Lynx

Wolverine