Abstract
The objective of this study was to evaluate the impact of game-based learning (GBL) on students' motivation, engagement and academic performance on an Arabic language grammar course at Ajman University. The study was carried out utilizing a case study of quasi-empirical design. The respondents were 107 learners, grouped into two groups: one empiric group (n = 54) that used the game-based classroom response system; and the other a control group (n = 53) which was instructed using non-game-based methods. The game-based online assessment tool Kahoot! was used as a formative assessment method in the lectures, and a questionnaire was designed to measure motivation and engagement. The findings indicated that there were statistical differences in the benefit of the empiric group between the empiric and the control groups between the groups. Empirical group students showed more improved knowledge of the concepts taught on the Arabic language grammar course, and higher motivation than the students taught using the traditional strategy.
Access options
Buy single article
Instant access to the full article PDF.
USD 39.95
Price excludes VAT (USA)
Tax calculation will be finalised during checkout.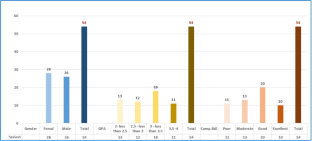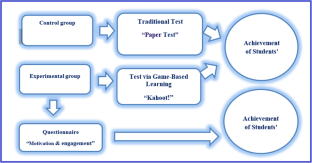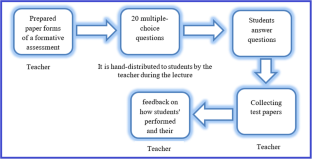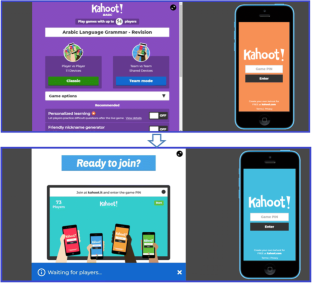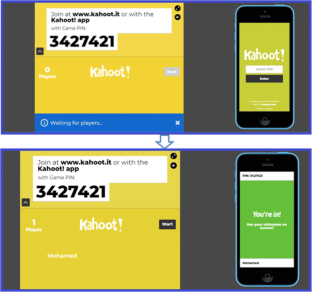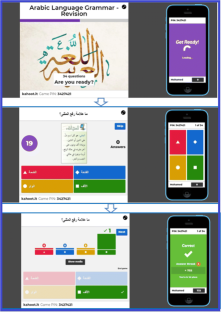 Availability of data and materials
We would have loved to share the data however, the data is primary in nature and the authors do not wish to share the data as this may breach participant confidentiality.
References
Akinsola, M. (2007). The effect of stimulation-games environment on students' achievements in and attitudes to math in secondary school. The Turkish Online Journal of Educational Technology, 6(3). Retrieved October 13, 2020, from https://files.eric.ed.gov/fulltext/ED500054.pdf

Amr, K. (2012). Learning through games: Essential features of an educational game. Doctoral dissertation, Syracuse University, New York, USA. Retrieved December 4, 2019, from https://surface.syr.edu/cgi/viewcontent.cgi?article=1055&context=idde_etd

Abbas, B., & Muhamid, H. (2016). The effect of using educational games on the achievement of second-grade intermediate students in the subject of Arabic grammar. Journal of Human Sciences, 23(4), 1–15.

Alkhafaf, I. (2010). Games are Modern Teaching Strategies. Dar Almanahij for publishing and distribution. 2nd Edition, Amman, Jordan.

Basuki, Y & Hidayati, Y. (2019). Kahoot! Or Quizizz: The students' perspectives. Proceedings of the 3rd English Language and Literature International Conference, ELLiC, 27th April 2019, Semarang, Indonesia.

Belkhouche, B., Al Darei, N., Ali, S., Al Mandhari, S., & Al Mehairi, M. (2014). Learning Arabic through games. Eighth Annual Conference on Computer Games Multimedia and Allied Technologies (March 2014). CGAT, 2014, p.

Bernard, H. R. (2002). Research methods in anthropology: Qualitative and quantitative approaches (3rd ed.). Walnut Creek: Alta Mira Press.

Bicen, H. & Kocakoyun, S. (2018). Perceptions of students for gamification approach: Kahoot as a case study. IJET, 13(2).

Biehler, R., & Snowman, J. (1997). Psychology applied to teaching (8th ed.). Houghton: Mifflin Co..

Caldwell, J. E. (2007). Clickers in the large classroom: Current research and best-practice tips. Sciences Education, 6(1), 9–20.

Carr, D., & Bossomaier, T. (2011). Relativity in a rock field: A study of physics learning with a computer game. Australasian Journal of Educational Technology, 27(6), 1042–1067.

Chen, J. F., Warden, C. A., & Chang, H. T. (2005). Motivators that do not motivate: The case of Chinese EFL learners and the influence of culture on motivation. TESOL Quarterly, 39(4), 609–633. https://doi.org/10.2307/3588524.

Chiang, Y. T., Lin, S. S. J., Cheng, C. Y., & Liu, E. Z. F. (2011). Exploring online game players' flow experiences and positive affect. The Turkish Online Journal of Educational Technology, 10(1), 106–114.

Conati, C. (2002). Probabilistic assessment of user's emotions in educational games. Applied Artificial Intelligence, 16(7–8), 555–575.

Darma, G. (2016). Students' perception of the use of Kahoot! As an ice breaker in interpretation class. Thesis, Sanata Dharma University, Yogyakarta. Retrieved January 22, 2020, from https://repository.usd.ac.id/6822/2/121214160_full.pdf.

Dellos, R. (2015). Kahoot! A digital game resource for learning. International Journal of Instructional Technology and Distance Learning, 12(4), 49–52.

Dervan, P. (2014). Increasing in-class student engagement using Socrative (an online Student Response System). AISHE-J: The All Ireland Journal of Teaching and Learning in Higher Education, 6(3), 1801–1813.

Gamlo, N. (2019). The impact of Mobile game-based language learning apps on EFL learners' motivation. English Language Teaching, 12(4), 49–56.

Gruenstein, A. et al. (2009). A self-transcribing speech corpus: Collecting continuous speech with an online educational game. SLaTE workshop. Retrieved November 10, 2019, from https://pdfs.semanticscholar.org/212d/dfa75e58f0d1f0eb0cc1e03d69e9ced44bd9.pdf.

Hwang, I., Wong, K., Lam, S. L., & Lam, P. (2015). Student response (clicker) systems: Preferences of biomedical physiology students in Asian classes. The Electronic Journal of e-Learning, 13(5), 319–330.

Johnson, L., Becker, S. A., Estrada, V., & Freeman, A. (2015). NMC horizon report: 2015 higher Education Edition. Austin: The New Media Consortium. Retrieved January 29, 2020, from https://eric.ed.gov/?id=ED559357.

Judson, E. (2002). Learning from past and present: Electronic response systems in college lecture halls. Journal of Computers in Mathematics and Science Teaching, 21(2), 167–181.

Kapp, K. (2012). The gamification of learning and instruction game-based methods and strategies for training and education. San Francisco: Pfeiffer.

Kaur, P., & Naderajan, R. (2019). Kahoot! In the English language classroom. South East Asia Journal of Contemporary Business, Economics and Law., 20(6), 49–54.

Kebritchi, M., Hirumi, A., & Bai, H. (2010). The effects of modern mathematics computer games on mathematics achievement and class motivation. Computers & Education, 55(2), 427–443.

Kim, B. (2013). Gamification. Keeping Up With... ACRL. Retrieved January 29, 2020, from https://www.acrl.ala.org/acrlinsider/archives/7294.

Knight, J. F., Carley, S., Tregunna, B., Jarvis, S., Smithies, R., de Freitas, S., & Mackway-Jones, K. (2010). Serious gaming technology in major incident triage training: A pragmatic controlled trial. Resuscitation, 81(9), 1175–9. Retrieved January 2, 2020, from https://doi.org/10.1016/j.resuscitation.2010.03.042.

Kotob, M., & Ibrahim, A. (2019). Gamification: The effect on students' motivation and achievement in language learning. Journal of Applied Linguistics and Language Research, 6(1), 177–198.

Li, P., & Pan, G. (2009). The relationship between motivation and achievement a survey of the study motivation of English majors in Qingdao Agricultural University. English Language Teaching, 2(1), 123–128.

Liu, E., & Chen, P. (2013). The effect of game-based learning on students' learning performance in science learning: A case of "Conveyance Go". Procedia - Social and Behavioral Sciences, 103, 1044–1051.

Licorish, S., George, J., Owen, H. & Daniel, B. (2017). Go Kahoot! enriching classroom engagement, motivation and learning experience with games. Retrieved January 28, 2020, from https://www.researchgate.net/publication/322150947

Lim, C. P., Nonis, D., & Hedberg, J. (2006). Gaming in a 3D multiuser virtual environment: engaging students in Science lessons. British Journal of Educational Technology, 37(2), 211–231. https://doi.org/10.1111/j.1467-8535.2006.00531.x.

Lin, D., Ganapathy, M., & Manjet, K. (2018). Kahoot! It: Gamification in higher education. Pertanika Journal of Social Sciences & Humanities, 26(1), 565–582.

Lucas, A. (2009). Using peer instruction and i-clickers to enhance student participation in calculus. Primus, 19(3), 219–231.

Madhavan, P. (2018). The Information and Communication Technology (ICT) and English teaching in polytechnic colleges. International Journal of Advanced Research, Ideas, and Innovations in Technology, 4(4), 609–610.

Mayer, R., & Johnson, C. (2010). Adding instructional features that promote learning in a game-like environment. Journal of Educational Computing Research, 42(3), 241–265.

Mei, S. Y., Ju, S. Y., & Adam, Z. (2018). Implementing Quizizz as game based learning in the Arabic classroom. European Journal of Social Science Education and Research, 5(1), 194–198.

Moylan, G., Burgess, A., Figley, C., & Bernstein, M. (2015). Motivating game-based learning efforts in higher education. International Journal of Distance Education Technologies, 13(2), 54–72.

Muhridza, N., Rosli, N., Sirri, A., & Abdul Samad, A. (2018). Using game-based technology, Kahoot! For classroom engagement. LSP International Journal, 5(2), 37–48 Retrieved January 5, 2020, from https://lspinternationaljournal.utm.my/index.php/lspij/article/view/77/73.

Salen, K., & Zimmerman, E. (2004). Rules of play game design fundamentals. Cambridge: MIT Press.

Schell, J., et al. (2013). Catalyzing learner engagement using cutting-edge classroom response systems in higher education. Cutting-edge Technologies in Higher Education, 6, 233–261.

Sharples, M. (2000). The design of personal mobile technologies for lifelong learning. Computers & Education, 34(3–4), 177–193.

Sahrir, M., & Yusri, G. (2012). Online vocabulary games for teaching and learning Arabic. GEMA Online™ Journal of Language Studies, 12(3), 961–977.

Sahrir, M., & Alias, N. (2011). A study on Malaysian language learners' perception towards learning Arabic via online games. GEMA Online™. Journal of Language Studies, 11(3), 129–145.

Shaffer, D. (2006). How computer games help children learn. Macmillan: Palgrave.

Sellar, M. (2011). Poll everywhere. The Charleston Advisor, 12(3), 57–60.

Shu, L. (2018). Student engagement in game-based learning: A literature review. Master dissertation, Texas University, Austin, Texas, USA.

Smith, S. (2011). An introduction to gamification. Retrieved April 22, 2016, from http://awesome.hubpages.com/hub/Intro-to-Gamification

Smith, L and Mann, S. (2002). Playing the game: A model for gameness in interactive game based learning. In Proceedings of the 15th annual NACCQ, pp. 397–402.

Papastergiou, M. (2009). Digital game-based learning in high school computer science education: Impact on educational effectiveness and student motivation. Computers & Education, 52, 1–12.

Pivec, M., & Kearney, P. (2007). Games for learning and learning from games. Organizacija, 40, 267–272.

Plass, J., Homer, B., & Kinzer, C. (2015). Foundations of game-based learning. Educational Psychologist, 50(4), 258–283.

Plump, C. M., & LaRosa, J. (2017). Using Kahoot! In the classroom to create engagement and active learning: A game-based technology solution for e-learning novices. Management Teaching Review, 2(2), 151–158.

Rosas, R., Nussbaum, M., Cumsille, P., Marianov, V., Correa, M., Flores, P., Grau, V., Lagos, F., López, X., López, V., Rodriguez, P., & Salinas, M. (2003). Beyond Nintendo: Design and assessment of educational video games for first and second grade students. Computer Education, 40(1), 71–94.

Rowe, J., Shores, L., Mott, B., & Lester, J. (2011). Integrating learning, problem solving, and engagement in narrative-centered learning environments. International Journal of Artificial Intelligence in Education, 21, 115–133.

Reid, S. (2018). Why Quizizz is better than Kahoot? Medium. Retrieved November 13, 2019, from https://medium.com/@Stephen_Reid/why-quizizz-is-better-than-kahoot-9d585cb1ee3e.

Trybus, J. (2015). Game-based learning: What it is, why it works, and where it's going. New M media institute. Retrieved April 6, 2019, from http://www.newmedia.org /game-based-learning--what-it-is- why-it-works-and-where-its-going.Html.

Turan, Z., & Meral, E. (2018). Game-based versus non-game-based: The impact of student response systems on students' achievements, engagements and test anxieties. Informatics in Education, 17(1), 105–116.

Xie. X. (2003). Objects management and English achievements Teacher's role in inspiring students' motivation and objects management. Exploration of Medical Education, No. 1.

Wang, A. I. (2015). The wear out effect of a game-based student response system. Computers & Education, 82, 217–227.

Wouters, P., & van Oostendorp, H. (2013). A meta-analytic review of the role of instructional support in game-based learning. Computers & Education, 60(1), 412–425.

White, K. & McCoy, L. P. (2019). Effects of game-based learning on attitude and achievement in elementary mathematics. Networks, 21(1), 1–19. Retrieved [date], from https://doi.org/10.4148/2470-6353.1259.

Yürük, N. (2019). Edutainment: Using Kahoot! As a review activity in foreign language classrooms. Journal of Educational Technology & Online Learning, 2(2), 89–101.

Zarzycka-Piskorz, E. (2016). Kahoot it or not? Can games be motivating in learning grammar? Teaching English with Technology, 16(3), 17–36.
Acknowledgments
The authors' would like to thank Ajman University for their cooperative and the dean of scientific research for his guidance and mentorship.
Ethics declarations
Ethical considerations
This study was approved by Research Ethics Committee /Deanship of Graduate Studies and Research of Ajman University (Reference Number: F - H - 1 5–1 - 0 1).
Informed consent
Informed consent was obtained from all individual participants included in the study.
Competing interests
As authors, we declare that have no significant financial, professional or personal interests that may affect the performance or presentation of the work described in this manuscript. (The authors declare that they have no competing interests).
Additional information
Publisher's note
Springer Nature remains neutral with regard to jurisdictional claims in published maps and institutional affiliations.
About this article
Cite this article
Eltahir, M.E., Alsalhi, N.R., Al-Qatawneh, S. et al. The impact of game-based learning (GBL) on students' motivation, engagement and academic performance on an Arabic language grammar course in higher education. Educ Inf Technol 26, 3251–3278 (2021). https://doi.org/10.1007/s10639-020-10396-w
Received:

Accepted:

Published:

Issue Date:

DOI: https://doi.org/10.1007/s10639-020-10396-w
Keywords
Game-based learning

Academic performance

Motivation

Engagement

Impact

Higher education