Abstract
The purpose of this research is to show how wearable eye-tracking technology can be employed to assess and enhance classroom management skills by analyzing the instructors' eye movements in a university. The research also aimed to evaluate the instructors' gestures by recording with a video camera synchronized with the eye-tracking data. The findings showed that the wearable eye tracker gives informative feedback about the visual attention of the instructors. It provided meaningful data by video recordings and Retrospective Think Aloud sessions. Also, it demonstrated how the instructors interacted with classroom technology. Consequently, the wearable eye tracker and video-camera together could be used by Teaching/Learning Centers to improve instructors' classroom management skills and to observe their interaction with instructional technologies.
This is a preview of subscription content,
to check access.
Access this article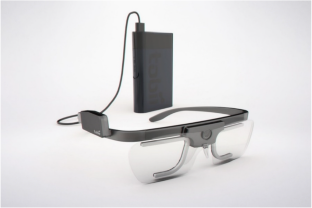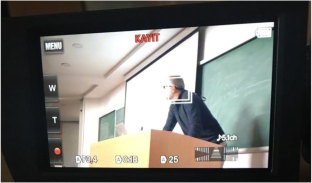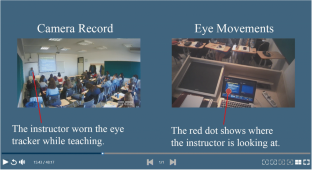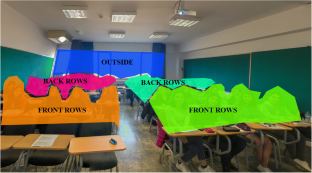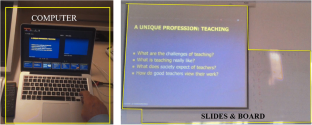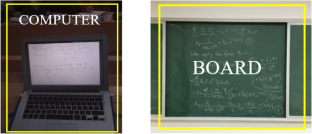 Similar content being viewed by others
Availability of data and materials
The data and materials that are analyzed during the study are available from the corresponding authors on a reasonable request.
References
Akteke Öztürk, B., Arı, F., Kubuş, O., Gürbüz, T., & Çağıltay, K. (2008). Öğretim teknolojileri destek ofisleri ve üniversitedeki rolleri. Akademik Bilişim Bildiri Kitapçığı, 101.

Al-Hamdan, J. (2007). Higher education classroom management: Kuwait university students' views. College Student Journal, 41(3), 572.

Araya, R., Farsani, D., & Hernández, J. (2016). How to attract Students' visual attention. In European Conference on Technology Enhanced Learning (pp. 30-41). Springer, Cham.

Atkins, M., & Brown, G. (2002). Effective teaching in higher education. Routledge.

Atta, M. A., & Ayaz, M. (2014). Use of Teachers' eye contact in the classroom and its effect on the speculative execution of students at primary school level: A gender based study. Gomal University Journal of Research, 30(7).

Barati, L. (2015). The impact of eye-contact between teacher and student on L2 learning. Journal of Applied Linguistics and Language Research, 2(7), 222–227.

Barbezat, D., & Pingree, A. (2012). 12: Contemplative pedagogy: The special role of teaching and learning centers. To improve the Academy, 31(1), 177–191.

Benya, J. R. (2001). Lighting for schools. Washington, DC: National Clearinghouse for educational facilities. Resource document. ERIC. http://www. Edfacilities. Org/pubs/lighting. Html. Accessed 25 April 2019.

Benzer, A. (2012). Teachers' opinions about the use of body language. Education, 132(3).

Bettencourt, E. M., Gillett, M. H., Gall, M. D., & Hull, R. E. (1983). Effects of teacher enthusiasm training on student on-task behavior and achievement. American Educational Research Journal, 20(3), 435–450.

Boysen, G. A. (2012). Teacher responses to classroom incivility: Student perceptions of effectiveness. Teaching of Psychology, 39(4), 276–279.

Coffey, M., & Gibbs, G. (2000). Can academics benefit from training? Some preliminary evidence. Teaching in Higher Education, 5(3), 385–389.

Cortina, K. S., Miller, K. F., McKenzie, R., & Epstein, A. (2015). Where low and high inference data converge: Validation of CLASS assessment of mathematics instruction using Mobile eye-tracking with expert and novice teachers. International Journal of Science and Mathematics Education, 13(2), 389–403.

Çağıltay, K., Yıldırım, S., Aslan, İ., Gök, A., Gürel, G., Karakuş, T., Saltan, F., Uzun, E., Ülgen, E., & Yıldız, İ. (2007). Öğretim teknolojilerinin üniversitede kullanımına yönelik alışkanlıklar ve beklentiler: Betimleyici bir çalışma. Akademik Bilişim, 7.

Çağıltay, K. (2011). Üniversite ve Öğretim Teknolojileri Destek Ofisi:Mevcut Durum ve Türkiye Üniversiteleri için Gerekliliği, Uluslararası Yükseköğretim Kongresi:Yeni Yönelişler ve Sorunlar.

European Commission, EACEA, & Eurydice. (2018). The European higher education area in 2018: Bologna process implementation report. Luxembourg: Publications Office of the European Union.

European University Association (2019a). Evaluation of learning and teaching: Thematic peer group report. Belgium: European University Association asbl.

European University Association (2019b). Promoting a European dimension to teaching enhancement: A feasibility study from the European forum for enhanced collaboration in teaching (EFFECT) project. Belgium: European University Association asbl.

Frantz, A. C., Beebe, S. A., Horvath, V. S., Canales, J., & Swee, D. E. (2004). 5: The roles of teaching and learning centers. To improve the academy, 23(1), 72–90.

Gaebel, M., & Zhang, T. (2018). Trends 2018: Learning and teaching in the European higher education area. European University Association.

Ganser, T. (2001), Beginning teaching in Jamaica: Challenges and assistance, paper presented at the annual meeting of the joint Board for Teacher Education (JBTE), Kingston, Jamaica, 10 January.

Gibbs, G., & Coffey, M. (2004). The impact of training of university teachers on their teaching skills, their approach to teaching and the approach to learning of their students. Active Learning in Higher Education, 5(1), 87–100.

Grapragasem, S., Krishnan, A., Joshi, P. L., Krishnan, S., & Azlin, A. (2015). Lecturers' perception of classroom management: An empirical study of higher learning institutions in Malaysia. International Journal of Higher Education, 4(4), 137–146.

Gürbüz, T., Arı, F., Akteke-Öztürk, B., Kubuş, O., & Çağıltay, K. (2008). METU Instructional Technology Support Office: Accelerating Return on Investment Through e-learning Faculty Development, submitted to 2. Uluslararası Gelecek İçin Öğrenme Alanında Yenilikler Konferansı 2008: E-Öğrenme, İstanbul, Türkiye, 27-29 march 2008.

Hains-Wesson, R. (2011). The impact of performance skills on students' attitudes towards the learning experience in higher education. Issues in Educational Research, 21(1), 22–41.

Hanc, J., 2016. Teaching Professors to Become Better Teachers. [online]. [Accessed 17 May 2019]. Available from: https://www.nytimes.com/2016/06/23/education/teaching-professors-to-become-better-teachers.html

Henard, F., & Roseveare, D. (2012). Fostering quality teaching in higher education: Policies and practices. An IMHE Guide for Higher Education Institutions, 7-11.

Henderson, K. D. (2016). The effect of higher education classroom behavior management strategies on learning (Doctoral dissertation, Walden University).

Hodge, R. L. (1971). Interpersonal classroom communication through eye contract. Theory Into Practice, 10(4), 264–267.

Hsu, L. (2010). The impact of perceived teachers' nonverbal immediacy on students' motivation for learning English. Asian EFL Journal, 12(4), 188–204.

Jerez, O., Ortiz, C., Rojas, M., & Henríquez, F. (2018). Classroom Management in Large Higher Education Courses: Challenges and opportunities. EDULEARN18 Proceedings, 1(August), 8766–8771.

Jones, A. (2008). Preparing new faculty members for their teaching role. New Directions for Higher Education, 143, 93–100.

Khan, N., Mohammad, N., Shah, N., & Farid, N. (2016). A study of the use of eye contact in teaching learning process at secondary level in district Peshawar. Language in India, 16(4).

Langmia, K., & Glass, A. (2014). Coping with smart phone'distractions' in a college classroom. Teaching Journalism & Mass Communication, 4(1), 13.

Ledbury, R., White, I., & Darn, S. (2004). The importance of eye contact in the classroom. The Internet TESL Journal, 10(8), 1–2.

Lemmer, E. M., Meier, C., & van Wyk, J. N. (2012). Multicultural education: A manual for the south African teacher. Pretoria: Van Schaik Publishers.

Luo, J., Bellows, L., & Grady, M. (2000). Classroom management issues for teaching assistants. Research in Higher Education, 41(3), 353–383.

OECD. (2017). Benchmarking Higher Education System Performance: Conceptual framework and data. Enhancing Higher Education System Performance, 97.

Ödalen, J., Brommesson, D., Erlingsson, G. Ó., Schaffer, J. K., & Fogelgren, M. (2019). Teaching university teachers to become better teachers: The effects of pedagogical training courses at six Swedish universities. Higher Education Research & Development, 38(2), 339–353.

Özben, Ş. (2010). Teachers' strategies to cope with student misbehavior. Procedia-Social and Behavioral Sciences, 2(2), 587–594.

Postareff, L., Lindblom-Ylänne, S., & Nevgi, A. (2007). The effect of pedagogical training on teaching in higher education. Teaching and Teacher Education, 23(5), 557–571.

Restuningrum, N. (2018). Teachers' strategy of positioning in teaching young learners. International Journal of Educational Best Practices, 2(1), 1–13.

Slopack, M. (2011). The Impact of a Window in the Classroom on Learning as Perceived by Students and Teachers (doctoral dissertation).

Seeman, H. (2009). Preventing disruptive behavior in colleges: A campus and classroom management handbook for higher education. R&L Education.

Tanner, C. K. (2008). Explaining relationships among student outcomes and the school's physical environment. Journal of Advanced Academics, 19, 444–471.

Üstünlüoğlu, E. (2017). Teaching quality matters in higher education: A case study from Turkey and Slovakia. Teachers and Teaching, 23(3), 367–382.

Van den Bogert, N., van Bruggen, J., Kostons, D., & Jochems, W. (2014). First steps into understanding teachers' visual perception of classroom events. Teaching and Teacher Education, 37, 208–216.

da Vieira, M. M. S., & Neto, B. G. A. (2016). Peer instruction: Continuing teacher education in higher education. Procedia - Social and Behavioral Sciences, 217, 249–256.

Zeki, C. P. (2009). The importance of non-verbal communication in classroom management. Procedia-Social and Behavioral Sciences, 1(1), 1443–1414.
Acknowledgments
The authors would like to present their special thanks to the instructors who participated in the study.
Additional information
Publisher's note
Springer Nature remains neutral with regard to jurisdictional claims in published maps and institutional affiliations.
About this article
Cite this article
Coskun, A., Cagiltay, K. Investigation of classroom management skills by using eye-tracking technology. Educ Inf Technol 26, 2501–2522 (2021). https://doi.org/10.1007/s10639-020-10368-0
Received:

Accepted:

Published:

Issue Date:

DOI: https://doi.org/10.1007/s10639-020-10368-0
Keywords