Abstract
First-year students are compelled by South African universities to use the Moodle e-learning management platform. Recent studies outline that this creates challenges during the learning process, since students struggle to use Moodle owing to their disadvantaged school background; however, they are familiar with and good at using the WhatsApp social media platform. While these studies have attempted to provide possible solutions, there is a need for an alternative option. This qualitative case study proposes alternatives and the possible use of WhatsApp to supplement Moodle, depending on the personal needs of the student. Twenty five first-year students doing Physical science education modules were purposively and conveniently sampled, and the data generated from semi-structured interviews, focus group discussion, and emailed reflective activities were thematically coded to produce a theory of e-learning platforms. Technological, Pedagogical, and Content Knowledge (TPACK) theory was used to direct the study and make sense of the data. The findings revealed that a personal e-learning platform which has been neglected in the past could be used to improve e-learning. It also revealed that while students only had the option of using a formal e-learning platform (Moodle), they would prefer to use their more familiar informal e-learning platform (WhatsApp). The study concludes that without considering the use of a personal e-learning platform that blends both Moodle and WhatsApp, the problem might be further escalated.
Access options
Buy single article
Instant access to the full article PDF.
US$ 39.95
Tax calculation will be finalised during checkout.
Subscribe to journal
Immediate online access to all issues from 2019. Subscription will auto renew annually.
US$ 79
Tax calculation will be finalised during checkout.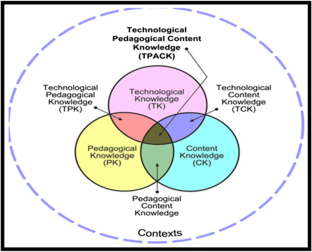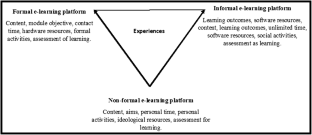 Data availability
The datasets used and/or analyzed during the current study are available from the authors on reasonable request.
References
Annamalai, N. (2019). Using Whatsapp to extend learning in a blended classroom environment. Teaching English with Technology, 19(1), 3–20.

Ayers, W. (2011). The shifting ground of curriculum thought and everyday practice. Thinking about schools: A foundations of education reader, 2011(1), 99–105.

Barak, M. (2018). Are digital natives open to change? Examining flexible thinking and resistance to change. Computers & Education, 121(1), 115–123.

Basitere, M., & Mapatagane, N. (2018). Effects of a Social Media Network Site on Student's Engagement and Collaboration: A case study of WhatsApp at a University of Technology. Paper presented at the ECSM 2018 5th European conference on social media.

Bates, T. (2017). Constructivism: Chapter 2 teaching in a digital age. London: Tony Bates Associates Ltd..

Bates, A. (2018). Teaching in a digital age: Guidelines for designing teaching and learning for a digital age. London: Tony Bates Associates Ltd..

Benson, V., & Morgan, S. (2018). Measuring the social impact: How social media affects higher education institutions Social Media Marketing: Breakthroughs in Research and Practice (pp. 1167-1184): IGI global.

Berkvens, J., van den Akker, J., & Brugman, M. (2014). Addressing the quality challenge: Reflection on the post-2015 UNESCO EDUCATION AGENDA. National Commission for UNESCO, 1(2014), 1–30.

Bovermann, K., Weidlich, J., & Bastiaens, T. (2018). Online learning readiness and attitudes towards gaming in gamified online learning–a mixed methods case study. International Journal of Educational Technology in Higher Education, 15(1), 27.

Budden, R. (2017). Exploration of factors that inform curriculum studies students to use e-resources in conducting Masters of Education dissertations at a South African university. (doctor of philosophy full research), University of KwaZulu-Natal, Durban.

Christiansen, I., Bertram, C., & Land, S. (2010). Understanding research. Pietermaritzburg: UKZN Faculty of Education.

Cohen, L., Manion, L., & Morrison, K. (2013). Research methods in education. England: Routledge.

Collins, A., & Halverson, R. (2018). Rethinking education in the age of technology: The digital revolution and schooling in America: Teachers College press.

Creswell, J., & Poth, C. N. (2017). Qualitative inquiry and research design: Choosing among five approaches: Sage.

Dewey, J. (1986). Experience and Education. In Experience and education. Paper presented at the The Educational Forum.

Hawkins, J. N., Mok, K. H., & Neubauer, D. (2018). The many faces of Asia Pacific higher education in the era of massification Massification of Higher Education in Asia (pp. 1-8): Springer.

Hoadley, U., & Jansen, J. (2013). Curriculum: Organizing knowledge for the classroom: Oxford University press southern Africa.

Hoadley, U., & Jansen, J. (2014). Curriculum: Organizing knowledge for the classroom: Oxford University press southern Africa.

Junco, R. (2014). Engaging students through social media: Evidence-based practices for use in student affairs: John Wiley & Sons.

Khoza, S. (2018). Can teachers' reflections on digital and curriculum resources generate lessons? Africa Education Review, 1–16.

Khoza, S., & Mpungose, C. (2018a). Use of the Moodle Curriculum by Lecturers at a South African University. Paper presented at the ICEL 2018 13th International Conference on e-Learning.

Khoza, S., & Mpungose, C. (2018b). Lecturers' needs of the Moodle Curriculum at a South African University paper presented at the 13th international conference on E-learning (ICEL). Cape Peninsula University of Technology.

Koehler, M. J., & Mishra, P. (2005). What happens when teachers design educational technology? The development of technological pedagogical content knowledge. Journal of Educational Computing Research, 32(2), 131–152.

Luk, C.-H., Ng, K.-K., & Lam, W.-M. (2018). The Acceptance of Using Open-Source Learning Platform (Moodle) for Learning in Hong Kong's Higher Education. In The acceptance of using open-source learning platform (Moodle) for learning in Hong Kong's higher education. Paper presented at the International Conference on Technology in Education.

McNiff, J. (2013). Action research: Principles and practices (3rd ed.). New York: Routledge.

Mishra, I., & Koehler, M. (2006). Technological pedagogical content knowledge: A framework for integrating technology in teacher knowledge. Eachers College Record, 108(6), 1017–1054.

Mpungose, C. (2018). Exploring Lecturers' Reflections on the Use of Moodle to Teach Physical Science Modules at a South African university. (PhD. ), UKZN, Durban (214581960).

Mtebe, J., & Raphael, C. (2017). A decade of technology enhanced learning at the University of Dar es Salaam, Tanzania: Challenges, achievements, and opportunities. International Journal of Education and Development using ICT, 13(2).

Ngubane-Mokiwa, S., & Khoza, S. (2016). Lecturers' experiences of teaching STEM to students with disabilities. Journal of Learning for Development - JL4D, 3(1), 37–50.

Pinar, W. (2010). Curriculum studies in South Africa: Intellectual histories and present circumstances. New York: Springer.

Prensky, M. (2001). Digital natives, digital immigrants part 1. On the horizon, 9(5), 1–6.

Ramrathan, L. (2017). Educational Research: Key concepts. In L. Ramrathan, L. Le Grange, & P. Higgs (Eds.), Education Studies: for Initial Teacher Development (pp. 403-418). Cape Town: Juta & Company (Pty) LTD.

Saha, N., & Karpinski, A. C. (2018). The influence of social media on international Students' global life satisfaction and academic performance Student Engagement and Participation: Concepts, Methodologies, Tools, and Applications (pp. 1255-1275): IGI global.

Salmon, G. (2013). E-tivities: The key to active online learning. New York: Routledge.

Sayan, H. (2016). Affecting higher students learning activity by using whatsapp. European Journal of Research and Reflection in Educational Sciences, 4(3), 88–93.

Shulman, L. S. (1986). Those who understand: Knowledge growth in teaching. Educational Researcher, 15(2), 4–14.

Walker, M. (2018). Dimensions of higher education and the public good in South Africa. Higher education, 1-15.

Yin, R. K. (2013). Case study research: Design and methods. New York: Sage publications.
Acknowledgements
I want to thank Prof. Simon Bheki Khoza for his supervision in to construct this article from a PhD research project. Mrs. L. Gething for language editing. Furthermore, I want to thank in advance the anonymous reviewers for their insightful comments and valuable suggestions that will be made.
Funding
This work was supported by the National Research Fund (NRF) within the framework of the Research and innovation, support and advancement. The funding was granted the author to complete the PhD research project and it was not involved in study design; in the collection, analysis and interpretation of data; in the writing of the report; and in the decision to submit the article for publication.
Ethics declarations
Competing interests
The authors declare that they have no competing interests.
Additional information
Publisher's note
Springer Nature remains neutral with regard to jurisdictional claims in published maps and institutional affiliations.
About this article
Cite this article
Mpungose, C.B. Is Moodle or WhatsApp the preferred e-learning platform at a South African university? First-year students' experiences. Educ Inf Technol 25, 927–941 (2020). https://doi.org/10.1007/s10639-019-10005-5
Received:

Accepted:

Published:

Issue Date:
Keywords
Curriculum

Experiences

E-learning

Moodle

Physical science education

WhatsApp