Abstract
Research on learning through serious games has been gaining importance in recent years. We develop the serious game Tempoly, concerning the learning of the four arithmetic operations on polynomials. A quasi-experimental study was carried out with 95 students of 8th grade, to evaluate the reactions of the students to the game, the effects of the use of the game in the students' learning, and the use of the game through time. According to data collected through a questionnaire, we may conclude that students liked to play the game, considered that the game helped them learning the polynomial operations and that what they learned in class was useful to play the game. It was concluded that students who played the game simultaneously with the classes improved their results in a pre/post-test more than the students who did not play the game and through a Mann-Whitney test, the results showed statistical differences. The study revealed that the students that had more time to play the game did play more out of the class.
Access options
Buy single article
Instant access to the full article PDF.
US$ 39.95
Tax calculation will be finalised during checkout.
Subscribe to journal
Immediate online access to all issues from 2019. Subscription will auto renew annually.
US$ 79
Tax calculation will be finalised during checkout.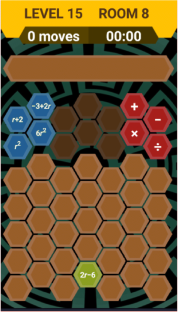 References
Aliefenedic, J. (2013). The correlation between the time spent playing video games and students' performance on standardized mathematics tests by fifth-grade students. Phd. Thesis, Texas A&M University-Commerce.

Bai, H., Pan, W., Hirumi, A., & Kebritchi, M. (2012). Assessing the effectiveness of a 3-D instructional game on improving mathematics achievement and motivation of middle school students. British Journal of Educational Technology, 43(6), 993–1003.

Beserra, V., Nussbaum, M., & Oteo, M. (2018). On-task and off-task behavior in the classroom: a study on mathematics learning with educational video games. Journal of Educational Computing Research in print.

Booth, L. (1984). Algebra: Children's strategies and errors, a report of the strategies and errors in the secondary school project. London: NFER-Nelson.

Chang, M., Evans, M. A., Kim, S., Norton, A., Deater-Deckard, K., & Samur, Y. (2016). The effects of an educational video game on mathematical engagement. Education and Information Technologies, 21(5), 1283–1297.

Chiang, F.-k., & Qin, L. (2018). A pilot study to assess the impacts of game-based construction learning, using scratch, on students' multi-step equation-solving performance. Interactive Learning Environments in print.

Clark, D. B., Nelson, B., Sengupta, P., & D'Angelo, C. (2009). Rethinking science learning through digital games and simulations: Genres, examples, and evidence. Paper commissioned for the National Research Council workshop on gaming and simulations (pp. 1–71). Washington: National Research Council.

Common Sense (2015). The Common Sense Census: Media Use By Tweens and Teens. Common Sense.

Connolly, T., Stansfield, M., & Hainey, T. (2009). Towards the development of a games-based learning evaluation framework. In T. Connolly, M. Stansfield, & L. Boyle (Eds.), Games-based learning advancements for multi-sensory human computer interfaces: Techniques and effective practices (pp. 251–273). Hershey: Information Science Reference.

Cook, T. D., & Campbell, D. T. (1979). Quasi-experimentation: Design and analysis issues for field settings. Chicago: Rand-McNally.

Corder, G., & Foreman, D. (2009). Nonparametric statistics for non-statisticians: A step-by-step approach. Hoboken: Wiley.

Csikszentmihalyi, M. (1992). Flow: The classic work on how to achieve happiness. New York: Harper Perennial.

Ennemoser, M. (2009). Evaluating the potential of serious games: What can we learn from previous research on media effects and educational intervention? In U. Ritterfeld, M. Cody, & P. Vorderer (Eds.). Serious games: Mechanisms and effects (pp. 344–373). New York: Routledge.

Gee, J. P. (2003). What video games have to teach us about learning and literacy. New York: Palgrave Macmillan.

Gros, B. (2007). Digital games in education: The Design of Games-Based Learning Environments. Journal of Research on Technology in Education, 40(1), 23–38.

Guzmán, M. (1990). The role of games and puzzles in the popularization of mathematics. L'Enseignement Mathématique, 36, 359–368.

Jenkins, H. (2009). Confronting the challenges of participatory culture: Media education for the 21st century. Cambridge: MIT Press.

Ke, F. (2008). A case study of computer gaming for math: Engaged learning from gameplay? Computers & Education, 51, 1609–1620.

Klopfer, E. (2016). Resonant Games - Designing educational games that resonate in the lives of students, teachers and schools. In A. A. Carvalho, S. Cruz, C. G. Marques, A. Moura, I. Santos, & N. Zagalo (Orgs.), Proceedings of the 3rd EJML (pp. 313–320). Coimbra: FPCE, University of Coimbra.

Kyriakides, A., Meletiou-Mavrotheri, M., & Prodromou, T. (2016). Mobile technologies in the service of students' learning of mathematics: The example of game application a.L.E.X. in the context of a primary school in Cyprus. Mathematics Education Research Journal, 28(1), 53–78.

Manginas, G., & Nikolantonakis, C. (2018). The contribution of mathematics online games to qualitative differentiation and intrinsic motivation f students with mild intellectual disabilities. European Journal of Special Education Research, 3(1), 58–81.

McFarlane, A., Sparrowhawk, A., & Heald, Y. (2002). Report on the educational use of games. Cambridge: Teem.

Mozelius, P. (2014). Game based learning – A way to stimulate intrinsic motivation. In T. Yanez, P. Griffiths, & O. Rodriguez (Eds.), Proceedings of the 9th international conference on e-learning (pp. 272–278). Valparaiso: Academic Conferences Publishing.

National Council of Teachers of Mathematics. (2000). Principles and standards for school mathematics. Reston: National Council of Teachers of Mathematics.

Parsons, D., & Adhikari, J. (2016). Bring your own device to secondary school: The perceptions of teachers, students and parents. The Electronic Journal of e-Learning, 14(1), 66–80.

Poll, H. (2015). Pearson student Mobile device survey 2015. National Report: Students in Grades 4–12. Pearson.

Pope, H., & Mangram, C. (2015). Wuzzit trouble: The influence of a digital math game on student number Sense. International Journal of Serious Games, 2(4), 5–21.

Prensky, M. (2001). Digital game-based learning. New York: McGraw-Hill.

Rodríguez-Aflecht, G., Jaakkola, T., Pongsakdi, N., Hannula-Sormunen, M., Brezovszky, B., & Lehtinen, E. (2018). The development of situational interest during a digital mathematics game. Journal of Computer Assisted Learning in print.

Sharek, D., & Wiebe, E. (2011). Using flow theory to design video games as experimental stimuli. In Proceedings of the human factors and ergonomics society 55th annual meeting (pp. 1520–1524). Las Vegas: SAGE.

Shin, N., Norris, C., & Soloway, E. (2006). Effects of handheld games on students learning in mathematics. In S. Barab, K. Hay, & D. Hickey (Eds.), ICLS '06 proceedings of the 7th international conference on learning sciences (pp. 702–708). Bloomington: International Society of the Learning Sciences.

Shute, V., & Ventura, M. (2013). Stealth assessment. Measuring and supporting learning in video games. Cambridge: MIT Press.

Siew, N., Geofrey, J., & Lee, B. (2016). Students' algebraic thinking and attitudes towards algebra: The effects of game-based learning using Dragonbox 12 + app. The Research Journal of Mathematics and Technology, 5(1), 66–79.

Squire, K. (2011). Video games and learning - teaching and participatory culture in the digital age. New York: Teachers College, Columbia University.

Squire, K. (2013). Video game based learning: An emerging paradigm for instruction. Performance Improvement Quarterly, 26(1), 101–130.

Sternig, C., Spitzer, M., & Ebner, M. (2018). Learning in a virtual environment: Implementation and evaluation of a VR math-game. In Information resources management association (Ed.), Virtual and augmented reality: concepts, methodologies, tools, and applications (pp. 1288–1312). Hershey: IGI Global.

Ulicsak, M., & Williamson, B. (2010). Computer games and learning: A handbook. London: Futurelab.

van der Ven, F., Segers, E., Takashima, A., & Verhoeven, L. (2017). Effects of a tablet game intervention on simple addition and subtraction fluency in first graders. Computers in Human Behavior, 72, 200–207.
Funding
This work is partially funded by FEDER funds through the COMPETE 2020 Programme and by National Funds through FCT - Portuguese Foundation for Science and Technology under the project number PTDC/CPE-CED/118337/2010.
Additional information
Publisher's note
Springer Nature remains neutral with regard to jurisdictional claims in published maps and institutional affiliations.
About this article
Cite this article
Barros, C., Carvalho, A.A. & Salgueiro, A. The effect of the serious game Tempoly on learning arithmetic polynomial operations. Educ Inf Technol 25, 1497–1509 (2020). https://doi.org/10.1007/s10639-019-09990-4
Received:

Accepted:

Published:

Issue Date:
Keywords
Serious games

Tempoly

Mathematics education

Learning