Abstract
The use of technological tools is increasing rapidly in all fields, especially in education, which has moved from pen, pencil, and books, to using interactive technologies to help impart knowledge and understanding. Recent years have witnessed students facilitating immersive digital technology. However, it remains a challenge to provide sufficient learning medias to higher education students. The lack of novel technologies in the learning process does not necessarily mean that the students' educational level will be affected, but it may result in the need for extra efforts from both students and instructors in some fields. In order to allow education to catch up with technology, technological tools need to be utilized in the educational process. Virtual Reality (VR) is considered one of the novel options to add value to the learning journey. VR enables students to discover and explore their own knowledge. Furthermore, it makes the learning process more interesting, which improves students' motivation and attention. To ensure the actual active use of VR technology when embedded in higher education institutions, various factors that influence the acceptance or resistance of the technology integration should be examined prior to technology integration: Students and teaching staff perceptions, institutional support, barriers of integration, motivation for integration, prior technology experience, etc. This paper aims to examine instructors' perceptions towards VR integration through a case study in a Faculty of Information Technology (IT) in a University in the Middle East. Respondents surveyed in this study consisted of faculty members. A quantitative method were used, an adapted questionnaire was distributed online amongst IT teaching staff assessing their views about the possibility of the implications of VR as teaching aid. Descriptive statistics were used to analyze the questionnaire data. Results obtained from the quantitative data revealed the instructors willingness to adopt VR systems as a teaching aid, their intention to incorporate it into the education process in the future, barriers to technology use, users prior knowledge in technology. The results also revealed that technology training may be maximized for the integration of VR technology. This paper concludes with recommendations to facilitate the use of VR technology as a learning medium.
Access options
Buy single article
Instant access to the full article PDF.
USD 39.95
Price excludes VAT (USA)
Tax calculation will be finalised during checkout.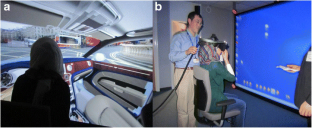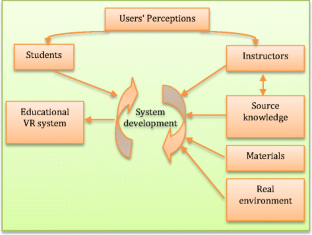 References
Adams, N. B. (2007). Toward a model for knowledge development in virtual environments: Strategies for student ownership. International Journal of Sciences, 2(2), 71–77.

Albirini, A. (2006). Teachers' attitudes toward information and communication technologies: The case of Syrian EFL teachers. Computers & Education, 47(4), 373–398.

AlFalah, S. F., Harrison, D. K., Charissis, V., & Evans, D. (2013). An investigation of a healthcare management system with the use of multimodal interaction and 3D simulation: A technical note. Journal of Enterprise Information Management, 26(1/2), 183–197.

Alfalah, S., Falah, J., Alfalah, T., Elfalah, M., & Falah, O. (2017). Perceptions toward adopting virtual reality as a learning aid in information technology. World Academy of Science, Engineering and Technology, International Journal of Computer, Electrical, Automation, Control and Information Engineering, 11(4), 392–396.

Al-Ghazo, A.M., (2008). Technology integration in university teachers' education programs in Jordan: Comparisons of competencies, attitudes and perceptions toward integrating technology in the classroom. Southern Illinois University at Carbondale.

Antonacci, D. M., & Modaress, N. (2005). Second life: The educational possibilities of a massively multiplayer virtual world (MMVW). In EDUCAUSE Western Regional Conference, 26.

Ashrafzadeh, A., & Sayadian, S. (2015). University instructors' concerns and perceptions of technology integration. Computers in Human Behavior, 49, 62–73.

Bell, J. T., & Fogler, H. S. (1995). The investigation and application of virtual reality as an educational tool. In Proceedings of the American Society for Engineering Education annual conference (pp. 1718–1728).

Boulos, M. N. K., Hetherington, L., & Wheeler, S. (2007). Second life: An overview of the potential of 3-D virtual worlds in medical and health education. Health Information and Libraries Journal, 24(4), 233–245.

Bricken. (1991). Virtual reality learning environments: Potentials and challenges. ACM SIGGRAPH Computer Graphics, 25(3), 178–184.

Burkle, M. and Magee, M., 2018. Virtual Learning: Videogames and Virtual Reality in Education. In Virtual and Augmented Reality: Concepts, Methodologies, Tools, and Applications (pp. 1067–1087). IGI Global.

Chen, Y. L. (2008). A mixed-method study of EFL teachers' internet use in language instruction. Teaching and Teacher Education, 24(4), 1015–1028.

Chen, H. R., & Tseng, H. F. (2012). Factors that influence acceptance of web-based e-learning systems for the in-service education of junior high school teachers in Taiwan. Evaluation and Program Planning, 35(3), 398–406.

Draper, C., & Louw, G. (2007). What is medicine and what is a doctor? Medical students' perceptions and expectations of their academic and professional career. Medical Teacher, 29(5), e100–e107. https://doi.org/10.1080/01421590701481359.

Duncan, H. (2005). On-line education for practicing professionals: A case study. Canadian Journal of Education/Revue canadienne de l'éducation, 28(4) 874–896. Retrieved February 11, 2009, from http://www.jstor.org

Falah, J., Harrison, D. K., Wood, B., & Evans, D. (2012). The characterisation of an IT system to reduce the gap between information technology and medical education‖. International Conference on Manufacturing Research (ICMR), 2, 360–365 9781905866601.

Falah, J., Khan, S., Alfalah, T., Alfalah, S.F., Chan, W., Harrison, D.K. and Charissis, V., (2014). Virtual Reality medical training system for anatomy education. In Science and Information Conference (SAI), 2014 (pp. 752–758). IEEE.

Falah, J., Charissis, V., Khan, S., Chan, W., Alfalah, S.F. and Harrison, D.K., (2015). Development and Evaluation of Virtual Reality Medical Training System for Anatomy Education. In Intelligent Systems in Science and Information 2014 (pp. 369–383). Springer International Publishing.

Freina, L. and Ott, M., (2015), January. A literature review on immersive virtual reality in education: state of the art and perspectives. In The International Scientific Conference eLearning and Software for Education (Vol. 1, p. 133). " Carol I" National Defence University.

Georgina, D. A., & Olson, M. R. (2008). Integration of technology in higher education: A review of faculty self-perceptions. The Internet and Higher Education, 11(1), 1–8.

Gorder, L. M. (2008). A study of teacher perceptions of instructional technology integration in the classroom. The Journal of Research in Business Education, 50(2), 63.

Gutierrez, M., Vexo, F., & Thalmann, D. (2008a). Stepping in to virtual reality. Springer, 2–3 978-1-84800-116-9.

Gutierrez, M., Vexo, F., & Thalmann, D. (2008b). Stepping in to virtual reality. Springer, 3–4 978-1-84800-116-9.

Guttentag, D. A. (2010). Virtual reality: Applications and implications for tourism. Tourism Management, 31(5), 637–651.

Higgs, B., Polonsky, M. J., & Hollick, M. (2005). Measuring expectations: Forecast vs. ideal expectations. Does it really matter? Journal of Retailing and Consumer Services, 12(1), 49–64. https://doi.org/10.1016/j.jretconser.2004.02.002.

Honey M., Diener S., Connor K., Veltman M., and Bodily D., (2009). Teaching in virtual space: Second life simulation for haemorrhage management, In Proceedings of the 26th annual ASCILITE international conference, Auckland, NZ, pp. 1222–1224.

Huang, H. M., Liaw, S. S., & Lai, C. M. (2016). Exploring learner acceptance of the use of virtual reality in medical education: A case study of desktop and projection-based display systems. Interactive Learning Environments, 24(1), 3–19.

Hussein, M. and Nätterdal, C., (2015). The Benefits of Virtual Reality in Education-A comparision Study. Accessed on 15–10-2016 [https://gupea.ub.gu.se/handle/2077/39977].

Inoue, Y. (2007). Concepts, applications, and research of virtual reality learning environments. International Journal of Sciences, 2(1), 1–7.

Ismail, S. A. A., Almekhlafi, A. G., & Al-Mekhlafy, M. H. (2010). Teachers' perceptions of the use of technology in teaching languages in United Arab Emirates' schools. International Journal for Research in Education, 27(1), 37–56.

John, S. P. (2015). The integration of information technology in higher education: A study of faculty's attitude towards IT adoption in the teaching process. Contaduría y Administración, 60, 230–252.

Jones, M. G., Hite, R., Childers, G., Corin, E., Pereyra, M., Chesnutt, K., & Goodale, T. (2015). Teachers' and students' perceptions of presence in virtual reality instruction. In World scientific and engineering academy and society: 11th international conference on engineering education. Salerno Italy. Vancouver: University of Salerno.

Keskitalo, T. (2012). Students' expectations of the learning process in virtual reality and simulation-based learning environments. Australasian Journal of Educational Technology, 28(5).

Ketelhut, D. J. (2007). The impact of student self-efficacy on scientific inquiry skills: An exploratory investigation in River City, a multi-user virtual environment. Journal of Science Education and Technology, 16(1), 99–111.

Ketelhut, D.J., Dede, C., Clarke, J., Nelson, B. and Bowman, C., (2007). Studying situated learning in a multi-user virtual environment. Assessment of problem solving using simulations, pp. 37–58.

Kluge, S., & Riley, L. (2008). Teaching in virtual worlds: Opportunities and challenges. Issues in Informing Science and Information Technology, 5, 127–135.

Mujber, T. S., Szecsi, T., & Hashmi, M. S. (2004). Virtual reality applications in manufacturing process simulation. Journal of Materials Processing Technology, 155, 1834–1838.

Nicholson, D. T., Chalk, C., Funnell, W. R. J., & Daniel, S. J. (2006). Can virtual reality improve anatomy education? A randomised controlled study of a computer-generated three-dimensional anatomical ear model. Medical Education., 40(11), 1081–1087.

Nicolle, P. S., & Lou, Y. (2008). Technology adoption into teaching and learning by mainstream university faculty: A mixed methodology study revealing the "how, when, why, and why not". Journal of Educational Computing Research, 39(3), 235–265.

Nunnally, J. C. (1978). Psychometric theory (2nd ed.). New York: McGraw-Hill.

O'Connell, V. A., & Gupta, J. (2006). The premedical student: Training and practice expectations. Medical Education Online, 11(12), 1–10 http://med-ed-online.net/index.php/meo/article/view/4590.

Ottenbreit-Leftwich, A. T., Glazewski, K. D., Newby, T. J., & Ertmer, P. A. (2010). Teacher value beliefs associated with using technology: Addressing professional and student needs. Computers & Education, 55(3), 1321–1335.

Pantelidis, V. S. (1996). Suggestions on when to use and when not to use virtual reality in education. VR in the Schools, 2(1), 18.

Pantelidis, V. S. (2010). Reasons to use virtual reality in education and training courses and a model to determine when to use virtual reality. Themes in Science and Technology Education, 2(1–2), 59–70.

Peters, C., Postlethwaite, D., Wallace, M. W., & Lincoln Global Inc. (2016). Systems and methods providing enhanced education and training in a virtual reality environment. U.S. Patent, 9, 280,913.

Polka, W. (2001). Facilitating the transition from teacher centered to student-centered instruction at the university level via constructivist principles and customized learning plans. Educational. Planning, 13(3), 55–61.

Riley, S. K. L. (2008). Teaching in virtual worlds: Opportunities and challenges. Setting Knowl. Free J. Issues Informing Sci. Inf. Technol., 5, 127.

Roussos, M., Johnson, A., Moher, T., Leigh, J., Vasilakis, C., & Barnes, C. (1999). Learning and building together in an immersive virtual world. Presence: Teleoperators and Virtual Environments, 8, 247–263.

Roussou, M. (2004). Examining young learners' activity within interactive virtual environments. In Proceedings, 3rd International Conference for Interaction Design & Children, (pp. 167–168).

Roussou, M., Oliver, M., & Slater, M. (2006). The virtual playground: An educational virtual reality environment for evaluating interactivity and conceptual learning. Virtual Reality, 10(3–4), 227–240.

Sánchez, Á., Barreiro, J. M., & Maojo, V. (2000). Design of virtual reality systems for education: A cognitive approach. Education and Information Technologies, 5(4), 345–362.

Shewchuk, R. M., Schmidt, H. J., Benarous, A., Bennett, N. L., Abdolrasulnia, M., & Casebeer, L. L. (2007). A standardized approach to assessing physician expectations and perception of continuing medical education. Journal of Continuing Education in the Health Professions, 27(3), 173–182. https://doi.org/10.1002/chp.121.

Shim, K. C., Park, J. S., Kim, H. S., Kim, J. H., Park, Y. C., & Ryu, H. I. (2003). Application of virtual reality technology in biology education. Journal of Biological Education, 37(2), 71–74 M.

Skiba, D. (2007). Nursing education 2.0: Second life. Nursing Education Perspectives, 28(3), 156–157.

Steinberg, R. N. (2000). Computers in teaching science: To simulate or not to simulate? Physics education research. American Journal of Physics Supplement, 68(7), S37–S41.

Steinkuehler, C., Duncan, S., & Duncan, S. (2008). Scientific habits of mind in virtual worlds. Journal of Science Education & Technology, 17(6), 530–543.

Straub, E. T. (2009). Understanding technology adoption: Theory and future directions for informal learning. Review of Educational Research, 79(2), 625–649.

Sugar, W. C., Crawley, F., & Fine, B. (2004a). Examining teachers' decisions to adopt new technology. Educational Technology and Society, 7(4), 201–213.

Sugar, W. C., Crawley, F., & Fine, B. (2004b). Examining teachers' decisions to adopt new technology. Educational Technology and Society, 7(4), 201–213.

Wood, L.W., (2010). Faculty perceptions about virtual world technology: Affordances and barriers to adoption. Available online on:[http://scholarworks.gsu.edu/msit_diss/70/] Accessed on 30th Oct. 2016.
About this article
Cite this article
Alfalah, S.F.M. Perceptions toward adopting virtual reality as a teaching aid in information technology. Educ Inf Technol 23, 2633–2653 (2018). https://doi.org/10.1007/s10639-018-9734-2
Received:

Accepted:

Published:

Issue Date:

DOI: https://doi.org/10.1007/s10639-018-9734-2
Keywords