Abstract
In the light of substantial improvements to the quality and availability of virtual reality (VR) hardware seen since 2013, this review seeks to update our knowledge about the use of head-mounted displays (HMDs) in education and training. Following a comprehensive search 21 documents reporting on experimental studies were identified, quality assessed, and analysed. The quality assessment shows that the study quality was below average according to the Medical Education Research Study Quality Instrument, especially for the studies that were designed as user evaluations of educational VR products. The review identified a number of situations where HMDs are useful for skills acquisition. These include cognitive skills related to remembering and understanding spatial and visual information and knowledge; psychomotor skills related to head-movement, such as visual scanning or observational skills; and affective skills related to controlling your emotional response to stressful or difficult situations. Outside of these situations the HMDs had no advantage when compared to less immersive technologies or traditional instruction and in some cases even proved counterproductive because of widespread cybersickness, technological challenges, or because the immersive experience distracted from the learning task.
This is a preview of subscription content, log in to check access.
Access options
Buy single article
Instant access to the full article PDF.
US$ 39.95
Price includes VAT for USA
Subscribe to journal
Immediate online access to all issues from 2019. Subscription will auto renew annually.
US$ 99
This is the net price. Taxes to be calculated in checkout.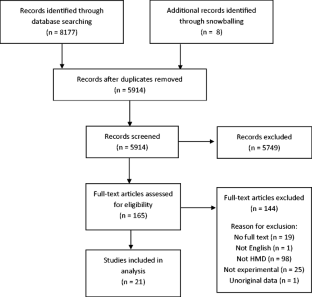 References
Alhalabi, W. S. (2016). Virtual reality systems enhance students' achievements in engineering education. Behaviour & Information Technology, 35(11), 919–925. https://doi.org/10.1080/0144929x.2016.1212931.

Anderson, P. L., Price, M., Edwards, S. M., Obasaju, M. A., Schmertz, S. K., Zimand, E., & Calamaras, M. R. (2013). Virtual reality exposure therapy for social anxiety disorder: A randomized controlled trial. Journal of Consulting and Clinical Psychology, 81(5), 751.

Andreoli, R., Corolla, A., Faggiano, A., Malandrino, D., Pirozzi, D., Ranaldi, M., … Scarano, V. (2016) Immersivity and playability evaluation of a game experience in cultural heritage. Vol. 10058 LNCS. 6th International Euro-Mediterranean Conference on Digital Heritage, EuroMed 2016 (pp. 814-824): Springer Verlag.

Bharathi, A. K. B. G., & Tucker, C. S. (2015). Investigating the impact of interactive immersive virtual reality environments in enhancing task performance in online engineering design activities. Paper presented at the ASME 2015 international design engineering technical conferences and computers and information in engineering conference, IDETC/CIE 2015.

Bloom, B. S., Engelhart, M. D., Furst, E. J., Hill, W. H., & Krathwohl, D. R. (1956). Taxonomy of educational objectives, handbook I: The cognitive domain. New York: David McKay Co Inc.

Cook, D. A. (2005). The research we still are not doing: An agenda for the study of computer-based learning. Academic Medicine, 80(6), 541–548.

Cook, D. A., & Reed, D. A. (2015). Appraising the quality of medical education research methods: The medical education research study quality instrument and the Newcastle–Ottawa scale-education. Academic Medicine, 90(8), 1067–1076.

Dawe, S. R., Windsor, J. A., Broeders, J. A. J. L., Cregan, P. C., Hewett, P. J., & Maddern, G. J. (2014). A systematic review of surgical skills transfer after simulation-based training: Laparoscopic cholecystectomy and endoscopy. Annals of Surgery, 259(2), 236–248. https://doi.org/10.1097/sla.0000000000000245.

Fernandes, L. M. A., Matos, G. C., Azevedo, D., Nunes, R. R., Paredes, H., Morgado, L., . . . et al. (2016). Exploring educational immersive videogames: An empirical study with a 3D multimodal interaction prototype. Behaviour & Information Technology, 35(11), 907–918. https://doi.org/10.1080/0144929x.2016.1232754.

Gutiérrez-Maldonado, J., Ferrer-García, M., Plasanjuanelo, J., Andrés-Pueyo, A., & Talarn-Caparrós, A. (2015) Virtual reality to train diagnostic skills in eating disorders. Comparison of two low cost systems. Vol. 219. Stud Health Technol Inform (pp. 75-81): IOS press.

Hays, R. T., & Singer, M. J. (1989). Simulation Fidelity as an organizing concept. Simulation Fidelity in Training System Design (pp. 47–75): Springer.

Heilig, M. L. (1962). Sensorama simulator: US Patent 3,050,870.

Hodgson, E., Bachmann, E. R., Vincent, D., Zmuda, M., Waller, D., & Calusdian, J. (2015). WeaVR: A self-contained and wearable immersive virtual environment simulation system. Behavior Research Methods, 47(1), 296–307. https://doi.org/10.3758/s13428-014-0463-1.

Huang, Y., Churches, L., & Reilly, B. (2015). A case study on virtual reality american football training. Paper presented at the 2015 virtual reality international conference, VRIC 2015.

Janssen, D., Tummel, C., Richert, A., & Isenhardt, I. (2016) Towards measuring user experience, activation and task performance in immersive virtual learning environments for students. & I. f. I. S. Graz University of Technology & M. Computer (Vol. Ed.): Vol. 621. 2nd International Conference on Immersive Learning Research Network, iLRN 2016 (pp. 45-58): Springer Verlag.

Johnson, L., Adams Becker, S., Estrada, V., Freeman, A., & Hall, C. (2016). The NMC horizon report: 2016 higher education edition.

Kahlert, T., van de Camp, F., & Stiefelhagen, R. (2015) Learning to juggle in an interactive virtual reality environment. Vol. 528. 17th International Conference on Human Computer Interaction, HCI 2015 (pp. 196-201): Springer Verlag.

Kleven, N. F., Prasolova-Førland, E., Fominykh, M., Hansen, A., Rasmussen, G., Sagberg, L. M., & Lindseth, F. (2014). Training nurses and educating the public using a virtual operating room with Oculus Rift. Paper presented at the 20th international conference on virtual systems and multimedia, VSMM 2014.

Loup, G., Serna, A., Iksal, S., & George, S. (2016) Immersion and persistence: Improving learners' engagement in authentic learning situations. Vol. 9891 LNCS. 11th European Conference on Technology Enhanced Learning, EC-TEL 2016 (pp. 410-415): Springer Verlag.

Madrigal, E., Prajapati, S., & Hernandez-Prera, J. C. (2016). Introducing a virtual reality experience in anatomic pathology education. American Journal of Clinical Pathology, 146(4), 462–468. https://doi.org/10.1093/ajcp/aqw133.

Mikropoulos, T. A., & Natsis, A. (2011). Educational virtual environments: A ten-year review of empirical research (1999–2009). Computers & Education, 56(3), 769–780.

Moesgaard, T., Witt, M., Fiss, J., Warming, C., Klubien, J., & Schoenau-Fog, H. (2015). Implicit and explicit information mediation in a virtual reality museum installation and its effects on retention and learning outcomes. Paper presented at the Proceedings of the European Conference on Games-based Learning.

National Research Council. (1994). Learning, remembering, believing: Enhancing human performance (D. Druckman & R. A. Bjork Eds.): National Academies Press.

Nomoto, A., Ban, Y., Narumi, T., Tanikawa, T., Hirose, M., & Acm. (2016). Supporting precise manual-handling task using Visuo-haptic interaction. Proceedings of the 7th augmented human international conference (augmented human 2016), 8. https://doi.org/10.1145/2875194.2875216.

Ott, M., & Freina, L. (2015). A literature review on immersive virtual reality in education: state of the art and perspectives. Paper presented at the conference proceedings of» eLearning and software for education «(eLSE).

Pallavicini, F., Argenton, L., Toniazzi, N., Aceti, L., & Mantovani, F. (2016). Virtual reality applications for stress management training in the military. Aerosp Med Hum Perform, 87(12), 1021–1030. https://doi.org/10.3357/amhp.4596.2016.

Pan, X., Slater, M., Beacco, A., Navarro, X., Rivas, A. I. B., Swapp, D., et al. (2016). The responses of medical general practitioners to unreasonable patient demand for antibiotics - a study of medical ethics using immersive virtual reality. PLoS One, 11(2), 15. https://doi.org/10.1371/journal.pone.0146837.

Polcar, J., & Horejsi, P. (2015). Knowledge acquisition and cyber sickness: a comparison of VR devices in virtual tours. MM Science Journal, 613–616. https://doi.org/10.17973/MMSJ.2015_06_201516.

Ragan, E. D., Bowman, D. A., Kopper, R., Stinson, C., Scerbo, S., & McMahan, R. P. (2015). Effects of field of view and visual complexity on virtual reality training effectiveness for a visual scanning task. IEEE Transactions on Visualization and Computer Graphics, 21(7), 794–807. https://doi.org/10.1109/tvcg.2015.2403312.

Rasheed, F., Onkar, P., & Narula, M. (2015). Immersive virtual reality to enhance the spatial awareness of students. Paper presented at the 7th international conference on human computer interaction, IndiaHCI 2015.

Ray, A. B., & Deb, S. (2016). Smartphone based virtual reality systems in classroom teaching - a study on the effects of learning outcome. Paper presented at the 8th IEEE international conference on Technology for Education, T4E 2016.

Reed, D. A., Cook, D. A., Beckman, T. J., Levine, R. B., Kern, D. E., & Wright, S. M. (2007). Association between funding and quality of published medical education research. JAMA - Journal of the American Medical Association, 298(9), 1002–1009. https://doi.org/10.1001/jama.298.9.1002.

Reiners, T., Wood, L. C., & Gregory, S. (2014). Experimental study on consumer-technology supported authentic immersion in virtual environments for education and vocational training. Paper presented at the 31st Annual Conference of the Australian Society for Computers in Tertiary Education, ASCILITE 2014.

Riva, G., Wiederhold, B. K., & Gaggioli, A. (2016). Being different. The transfomative potential of virtual reality. Annu Rev Cybertherapy Telemed, 14, 1–4.

Slater, M. (2003). A note on presence terminology. Presence Connect, 3(3), 1–5.

Sportillo, D., Avveduto, G., Tecchia, F., & Carrozzino, M. (2015) Training in VR: A preliminary study on learning assembly/disassembly sequences. Vol. 9254. 2nd International Conference on Augmented and Virtual Reality, AVR 2015 (pp. 332-343): Springer Verlag.

Stavroulia, K. E., Ruiz-Harisiou, A., Manouchou, E., Georgiou, K., Sella, F., & Lanitis, A. (2016). A 3D virtual environment for training teachers to identify bullying. Paper presented at the 18th mediterranean electrotechnical conference, MELECON 2016.
Acknowledgements
The authors would like to thank Anne-Marie Mosbech Jensen from the Centre for Online and Blended Learning, University of Copenhagen for valuable feedback, and the OBL2016 programme at the University of Copenhagen for financial support.
Ethics declarations
Data from this review will be made available by contacting the first author directly.
Human studies
No human participants were used in this study.
Conflicts of interest
The authors do not have any conflicts of interest in relation to the present work.
Electronic supplementary material
About this article
Cite this article
Jensen, L., Konradsen, F. A review of the use of virtual reality head-mounted displays in education and training. Educ Inf Technol 23, 1515–1529 (2018). https://doi.org/10.1007/s10639-017-9676-0
Received:

Accepted:

Published:

Issue Date:
Keywords
Virtual reality (VR)

Head-mounted display (HMD)

Education

Training

Educational technology

Simulation