Abstract
Digital badges are quickly becoming an appropriate, easy and efficient way for educators, community groups and other professional organisations, to exhibit and reward participants for skills obtained in professional development or formal and informal learning. This paper offers an account of digital badges, how they work and the underlying benefits for learners and educational institutions. It also evaluates the use of digital badges to engage and motivate learners. It is this engagement and motivation strategy that a short non-award course for high school students seeks to replicate through many different learning strategies, one of those being the use of digital badges. A digital badging model has been proposed, which shows the four stages educators go through in their decision to use digital badges. Finally, a double-loop learning process has been suggested that could help educators in the implementation of digital badges.
Access options
Buy single article
Instant access to the full article PDF.
USD 39.95
Price excludes VAT (USA)
Tax calculation will be finalised during checkout.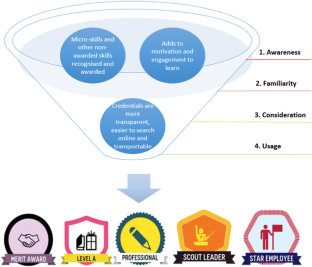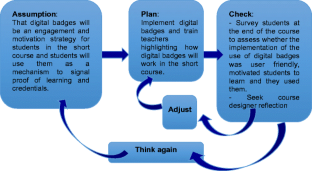 References
Appel, M. (2012). Are heavy users of computer games and social media more computer literate? Computers and Education, 59, 1339–1349.

Bixler, B., & Layng, K. (2013). Digital badges in higher education. http://newcomb.tulane.edu/blogs/uccbadges/case-studies/digital-badges-in-higher-education/. Accessed 26 July 2015.

Bowen, K., & Thomas, A. (2014). Badges: a common currency for learning. Change: The Magazine of Higher Learning, 46(1), 21–25.

Cassells, T., Broin, D., & Power, K. (2016). Increasing student engagement with gamification. 9th European Conference on Games Based Learning, 8–9, 770–773.

Chugh, R. (2010). E-learning tools and their impact on pedagogy. In Ubha, D.S. & Kaur J. (eds), Emerging Paradigms in Commerce and Management Education. GSSDGS Khalsa College Press, Patiala, India, 58–81, ISBN: 978-81-909755-2-0. https://www.researchgate.net/publication/275771731_E-learning_tools_and_their_impact_on_pedagogy.

Educause (2014). Educause 7 things you should know about ... Badging for Professional Development. https://net.educause.edu/ir/library/pdf/EST1402.pdf. Accessed 26 July 2015.

Finkelstein, J., Knight, E., Manning, S. (2013). American Institutes for Research. The potential and value of using digital badges for adult learners. https://lincs.ed.gov/publications/pdf/AIR_Digital_Badge_Report_508.pdf. Accessed 26 July 2015.

Gibson, D., Ostashewski, N., Flintoff, K., Grant, S., & Knight, E. (2015). Digital badges in education. Education and Information Technologies, 20(2), 403–410.

Grant, S. (2014). What counts as learning: open digital badges for new opportunities. Irvine: Digital Media and Learning Research Hub. http://dmlhub.net/publications/what-counts-learning/. Accessed 28 July 2015.

Hense, J., & Mandl, H. (2012). Learning in or with games? Quality criteria for digital learning games from the perspectives of learning, emotion, and motivation theory. In Sampson, D.G., Spector, J.M., Ifenthaler, D., & Isaias, P. (eds.), Proceedings of the IADIS International Conference on Cognition and Exploratory Learning in Digital Age, 19-21 October, Madrid, 19–26.

Hickey, D.T., Otto, N., Itow, R., Schenke, K., Tran, C., & Chow, C. (2014). Badges design principles documentation project; Interim report. http://dpdproject.info/files/2014/05/DPD-interim-report-v4-january.pdf. Accessed 15 June 2016.

Laskowski, M., & Badurowicz, M. (2014). Gamification in higher education: a case study. Make Learn International Conference, 25–27, 971–975.

Lepper, M. R., Henderlong Corpus, J., & Iyengar, S. S. (2005). Intrinsic and extrinsic motivational orientations in the classroom: Age differences and academic correlates. Journal of Educational Psychology, 97, 184–196. doi:10.1037/0022-0663.97.2.184.

Lin, Y., McKeachie, W. J., & Kim, Y. C. (2003). College student intrinsic and/or extrinsic motivation and learning. Learning and Individual Differences, 13(3), 251–258.

McDaniel, R., & Fanfarelli, J. (2016). Building better digital badges pairing completion logic with psychological factors. Simulation & Gaming, 47(1), 73–102.

McGeown, S. P., Putwain, D., Geijer Simpson, E., Boffey, E., Markham, J., & Vince, A. (2014). Predictors of adolescents' academic motivation: Personality, self- efficacy and adolescents' characteristics. Learning and Individual Differences, 32, 278–286. doi:10.1016/j.lindf.2014.03.022.

Soenens, B., & Vansteenkiste, M. (2005). Antecedents and outcomes of self-determination in three life domains: the role of parents' and teachers' autonomy support. Journal of Youth and Adolescence, 34, 589–604. doi:10.1007/s10964-005-8948-y.

Tagg, J. (2007). Double-loop learning in higher education. Change: The Magazine of Higher Learning, 39(4), 36–41.

Toven-Lindsey, B., Rhoads, R. A., & Lozano, J. B. (2015). Virtually unlimited classrooms: pedagogical practices in massive open online courses. Internet and Higher Education, 24, 1–12.
About this article
Cite this article
Shields, R., Chugh, R. Digital badges – rewards for learning?. Educ Inf Technol 22, 1817–1824 (2017). https://doi.org/10.1007/s10639-016-9521-x
Published:

Issue Date:

DOI: https://doi.org/10.1007/s10639-016-9521-x
Keywords