Abstract
Changes in the conceptualisation of higher education have led to instructional methods that embrace technology as a teaching medium. These changes have led to the flipped classroom phenomenon - where content is delivered outside class, through media such as video and podcast, and engagement with the content, through problem-solving and/or group work, occurs in class. Studies investigating the impact of the flipped classroom have mainly looked at the student experience with little focus on whether exam outcomes are enhanced by flipping. An undergraduate Material Technology course at The University of the West Indies was taught in two formats over two successive years. The course was taught during the 2012/13 academic year in a 'traditional' format but, after reflecting on student feedback and personal pedagogy, the lecturer restructured the class and taught it in a flipped format during the 2013/14 academic year. This research examines whether the flipped format improved the learning experience in relation to exam performance and student perception. Data was gathered through analysis of course grades and student evaluation questionnaires. The lecturer's reflective comments were also reviewed before and after the study. Analysis of the qualitative data shows that the flipped format led to a slight improvement in how students perceived the course and the lecturer's reflection shows that they are keen to continue with the flipped format as it allowed more time for them to work with students at an individual level. While no significant change in relation to average cohort exam performance was found, fewer students in the flipped classroom achieved marks at the highest level. It is therefore recommended that practitioners who intend to flip their classroom pay as much attention to student performance as they do to student perception.
Access options
Buy single article
Instant access to the full article PDF.
USD 39.95
Price excludes VAT (USA)
Tax calculation will be finalised during checkout.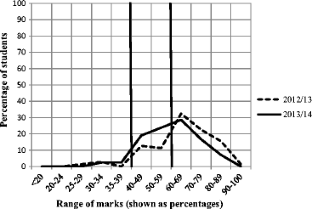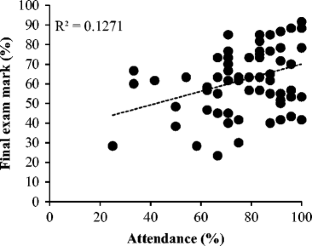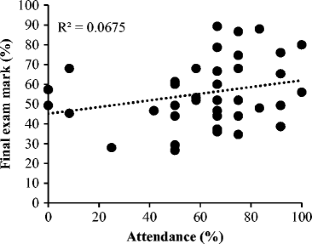 References
Arreola, R. A. (1995). Developing a comprehensive faculty evaluation system. Bolton: Ankar Publishing.

Bransford, J. D., Brown, A. L., & Cocking, R. R. (Eds.). (2000). How people learn: Brain, mind, experience, and school. Washington, DC: National Academy Press.

Bishop, J.L., & Verleger, M. (2013). The flipped classroom: A survey of the research. Paper presented at the 120th ASEE Annual Conference & Exposition, June 23–25, Atlanta, GA.

Campbell, F., Beasley, L., Eland, J., & Rumpus, A. (Eds.). (2007). Hearing the student voice: Promoting and encouraging the effective use of the student voice to enhance professional development in learning, teaching and assessment within higher education. Project Report for Escalate. Retrieved from http://escalate.ac.uk/downloads/3911.pdf.

Case, M. J., & Marton, F. (2009). Approaches to learning. In M. Tight, K. H. Mok, & C. C. Morphew (Eds.), The Routledge international handbook of higher education (pp. 9–22). New York: Routledge.

Cervero, R. M., & Wilson, A. L. (2001). Power in practice: Adult education and the struggle for knowledge and power in society. San Francisco: Jossey-Bass.

Chin, C.A. (2014). Evaluation of a flipped classroom implementation of Data Communications Course: Challenges, insights and suggestions. Retrieved from http://www.spsu.edu/cte/publications/publications2014/sotl_2014_chin.pdf.

Clayson, D. E. (2009). Student evaluations of teaching: are they related to what students learn? A meta-analysis and review of the literature. Journal of Marketing Education, 31(1), 16–30.

Du, S.C., Fu, Z.T., & Wang, Y. (2014). The flipped classroom: Advantages and challenges. Paper presented at the International Conference on Economic, Management and Trade Cooperation, April 12–13, Xi'an, China.

Day, J. A., & Foley, J. D. (2006). Evaluating a web lecture intervention in a human–computer interaction course. IEEE Transactions on Education, 49(4), 420–431.

Enfield, J. (2013). Looking at the impact of the flipped classroom model of instruction on undergraduate multimedia students at CSUN. TechTrends, 57(6), 14–17.

Finlay, L. (2008). Reflecting on 'reflective practice'. Practice-based Professional Learning Centre. The Open University.

Greenwald, A. G. (2002). Constructs in student ratings of instructors. In H. I. Braun, D. N. Jackson, & D. E. Wiley (Eds.), The role of constructs in psychological and educational measurement (pp. 277–297). New York: Erlbaum.

Hellman, C. M. (1998). Faculty evaluation by students: a comparison between full-time and adjunct faculty. Journal of Applied Research in the Community College, 6(1), 45–50.

Kane, R., Sandretto, S., & Heath, C. (2004). An investigation into excellent tertiary teaching: emphasising reflective practice. Higher Education, 47, 283–310.

Lea, S. J., & Callaghan, L. (2008). Lecturers on teaching with the 'supercomplexity' of higher education. Higher Education, 55, 171–187.

Mason, G., Shuman, T.R., & Cook, K.E. (2013). Inverting (flipping) classrooms—advantages and challenges. Paper presented at the 120th ASEE Annual Conference & Exposition, Atlanta, GA.

Mason, G. S., Shuman, T. R., & Cook, K. E. (2013b). Comparing the effectiveness of an inverted classroom to a traditional classroom in an upper-division engineering course. IEEE Transactions on Education, 56(4), 430–435.

Miller, A. (2012). Five best practices for the flipped classroom. Retrieved from http://www.edutopia.org/blog/flipped-classroom-best-practices-andrew-miller.

Milman, N. (2012). The flipped classroom strategy: what is it and how can it be used? Distance Learning, 9(3), 85–87.

Moravec, M., Williams, A., Aguilar-Roca, N., & O'Dowd, D. K. (2010). Learn before lecture: a strategy that improves learning outcomes in a large introductory biology class. CBE-Life Sciences Education, 9(4), 473–481.

Ojalvo, H.E., & Doyne, S. (2011). Five ways to flip your classroom with the New York Times. Retrieved from http://learning.blogs.nytimes.com/2011/12/08/five-ways-to-flip-your-classroom-with-the-new-york-times/?_php=true&_type=blogs&_r=1.

Phillips, C.R., & Trainor, J.E. (2014). Millenial students and the flipped classroom. Paper presented at ASBBS 21st Annual Conference, February 20–23, Las Vegas, USA.

Piccinin, S., Cristi, C., & McCoy, M. (1999). The impact of individual consultation on student ratings of teaching. International Journal for Academic Development, 4(2), 75–88.

Rennie, F., & Morrison, T. (2013). E-learning and social networking handbook: Resources for higher education. New York: Routledge.

Theall, M., & Franklin, J. (2001). Looking for bias in all the wrong places: A search for truth or a witch hunt in student ratings of instructions. In M. Theall, P. C. Abrami, & L. A. Mets (Eds.), New directions for institutional research: 2001(109), The student ratings debate: Are they valid? How can we best use them? (pp. 45–56). San Francisco: Jossey-Bass.

Tune, J. D., Sturek, M., & Basile, D. P. (2013). Flipped classroom model improves graduate student performance in cardiovascular, respiratory, and renal physiology. Advances in Physiology Education, 37, 316–320.

Ward, M. E., Peters, G., & Shelley, K. (2013). Student and faculty perceptions of the quality of online learning experiences. International Review of Research in Open and Distance Learning, 11(3), 57–77.
About this article
Cite this article
Blair, E., Maharaj, C. & Primus, S. Performance and perception in the flipped classroom. Educ Inf Technol 21, 1465–1482 (2016). https://doi.org/10.1007/s10639-015-9393-5
Published:

Issue Date:

DOI: https://doi.org/10.1007/s10639-015-9393-5
Keywords