Abstract
In an effort to maximizing success in mathematics, our research team implemented an educational video game in fifth grade mathematics classrooms in five schools in the Eastern US. The educational game was developed by our multi-disciplinary research team to achieve a hypothetical learning trajectory of mathematical thinking of 5th grade students. In this study, we examined overall engagement and three sub-domains of engagement as outcome variables after ten sessions of treatment with fifth grade students. The results showed that both male and female the video game group had slight increases in all engagement levels while students, particularly male, in the paper-and-pencil drill group displayed large decreases in all engagement levels. Implications of the study are 1) more fine-grained evidence of engagement in three sub-domains after implementing an educational video game, and 2) a consideration of gender differences in engagement levels in mathematics in the adoption of a video games.
Access options
Buy single article
Instant access to the full article PDF.
USD 39.95
Price excludes VAT (USA)
Tax calculation will be finalised during checkout.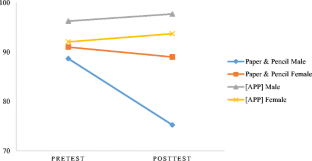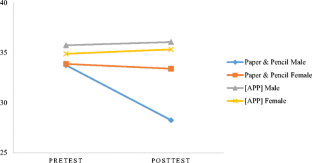 References
Annetta, L. A., Minogue, J., Holmes, S. Y., & Cheng, M. T. (2009). Investigating the impact of video games on high school students' engagement and learning about genetics. Computers & Education, 53, 74–85.

Arici, A. D. (2008). Meeting kids at their own game: A comparison of learning and engagement in traditional and 3D MUVE educational game contexts. Bloomington: Indiana University.

Barab, S., Thomas, M., Dodge, T., Carteaux, R., & Tuzun, H. (2005). Making learning fun: Quest Atlantis, a game without guns. Educational Technology Research and Development, 53(1), 86–107.

Barkatsasa, A. T., Kasimatisb, K., & Gialamas, V. (2009). Learning secondary mathematics with technology: exploring the complex interrelationship between students' attitudes, engagement, gender and achievement. Computers & Education, 52(3), 562–570.

Brom, C., Preuss, M., & Klement, D. (2011). Are educational computer micro-games engaging and effective for knowledge acquisition at high-schools? A quasi-experimental study. Computers & Education, 57(3), 1971–1988.

Clark, D. B., Nelson, B. C., Chang, H.-Y., Martinez-Garza, M., Slack, K., & D'Angelo, C. M. (2011). Exploring Newtonian mechanics in a conceptually-integrated digital game: comparison of learning and affective outcomes for students in Taiwan and the United States. Computers & Education, 57(3), 2178–2195.

Darr, C. W. (2012). Measuring student engagement: The development of a scale for formative use. In S. L. Christenson, A. L. Reschly, & C. Wylie (Eds.), Handbook of research on student engagement (pp. 707–723). New York: Springer.

ESA. (2011). Essential facts about the computer and video game industry. Entertainment Software Association (ESA).

Fredricks, J. A., & McColskey, W. (2012). The measurement of student engagement: A comparative analysis of various methods and student self-report instruments. In S. L. Christenson, A. L. Reschly, & C. Wylie (Eds.), Handbook of research on student engagement (pp. 763–782). New York: Springer.

Fredricks, J. A., Blumenfeld, P. C., & Paris, A. H. (2004). School engagement: potential of the concept, state of the evidence. Review of Educational Research, 74(1), 59–109.

Gee, J. (2010). Video games: what they can teach us about audience engagement. Nieman Reports, 64(2), 52–54. Retrieved from Communication & Mass Media Complete database.

Kaiser Family Foundation. (2002). Key facts: Children and video games. Menlo Park: The Henry J. Kaiser Family Foundation.

Kebritchi, M., Hirumi, A., & Bai, H. (2010). The effects of modern mathematics computer games on mathematics achievement and class motivation. Computers & Education, 55(2), 427–443.

Kim, S., & Chang, M. (2010a). Computer games for the math achievement of diverse students. Educational Technology & Society, 13(3), 224–232.

Kim, S., & Chang, M. (2010b). Does computer use promote the mathematical proficiency of ELL students? Journal of Educational Computing Research, 42(3), 285–305.

Kong, Q.-P., Wong, N.-Y., & Lam, C.-C. (2003). Student engagement in mathematics: development of instrument and validation of construct. Mathematics Education Research Journal, 15(1), 4–21.

Lowrie, T., & Jorgensen, R. (2011). Gender differences in students' mathematics game playing. Computers & Education, 57(4), 2244–2248.

Maass, A., Kollhorster, K., Riediger, A., MacDonald, V., & Lohaus, A. (2011). Effects of violent and non-violent computer game content on memory performance in adolescents. European Journal of Psychology of Education, 26(3), 339–353.

Mandinach, E. B., & Corno, L. (1985). Cognitive engagement variations among students of different ability level and sex in a computer problem solving game. Sex Roles, 13(3), 241–251.

Marks, H. M. (2000). Student engagement in instructional activity: patterns in the elementary, middle, and high school years. American Educational Research Journal, 37(1), 153–184.

Newmann, F. (1992). Higher-order thinking and prospects for classroom thoughtfulness. In F. Newmann (Ed.), Student engagement and achievement in American secondary schools (pp. 62–91). New York: Teachers College Press.

Oblinger, D. (2006). Games and learning: digital games have the potential to bring play back into the educational experience. Educause Quarterly, 3, 5–7.

Olive, J., & Vomvoridi, E. (2006). Making sense of instruction on fractions when a student lacks necessary fractional schemes: the case of Tim. Journal of Mathematical Behavior, 25(1), 18–45.

Rideout, V. J., Foehr, U. G., & Roberts, D. F. (2010). Generation M 2 : Media in the Lives of 8- to 18-year-olds. The Kebritchi, Family Foundation.

Schell, J. (2008). The art of game design: A book of lenses. Burlington: Morgan Kaufmann Publishers.

Simon, M. A., & Tzur, R. (2004). Explicating the role of mathematical tasks in conceptual learning: an elaboration of the hypothetical learning trajectory. Mathematical Thinking and Learning, 6, 91–104.

Steffe, L. P., & Olive, J. (2010). Children's fractional knowledge. New York: Springer.

Young, M. F., Slota, S., Cutter, A. B., Jalette, G., Mullin, G., Lai, B., Simeoni, Z., Tan, M., & Yukhymenko, M. (2012). Our princess is in another castle: a review of trends in serious gaming for education. Review of Educational Research, 82(1), 61–89. doi:10.3102/0034654312436980.
Acknowledgments
This material is based upon work supported by the National Science Foundation (NSF) under Grant No. DRL-1118571. Any opinions, findings, and conclusions or recommendations expressed in this material are those of the author(s) and do not necessarily reflect the views of NSF.
About this article
Cite this article
Chang, M., Evans, M.A., Kim, S. et al. The effects of an educational video game on mathematical engagement. Educ Inf Technol 21, 1283–1297 (2016). https://doi.org/10.1007/s10639-015-9382-8
Published:

Issue Date:

DOI: https://doi.org/10.1007/s10639-015-9382-8
Keywords
Educational video game

Mathematics engagement

Behavioral engagement

Emotional engagement

Cognitive engagement

Gender difference