Abstract
Historically implementing, maintaining and managing educational technology has been difficult for K-12 educational systems. Consequently, opportunities for significant advances in K-12 education have often gone unrealized. With the maturation of Internet delivered services along with K-12 institutional trends, educational technologies are poised to help support the transformation K-12 education by providing student access to educational resources on an anywhere, anytime, any device basis. In addition, an emerging body of empirical research shows that when implemented systematically, technology can support a wide range of potential education innovations including inverted classrooms, peer-to-peer teaching and customized learning as well as increased academic achievement.
A major public policy question is how best to insure educational technology resources reach all K-12 students in the shortest time and most equitable way possible. In response, this paper adopted an educational technology value chain model to assess potential avenues and barriers to implementing educational technology inK-12 systems. We find that a fully implemented educational technology value chain would directly benefit students, teachers, school systems and society. However, the analysis also finds that efforts to implement educational technology in K-12 systems still must overcome challenges and risks.
Access options
Buy single article
Instant access to the full article PDF.
USD 39.95
Price excludes VAT (USA)
Tax calculation will be finalised during checkout.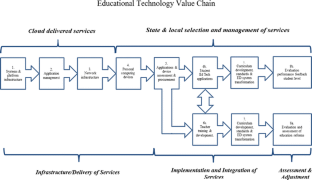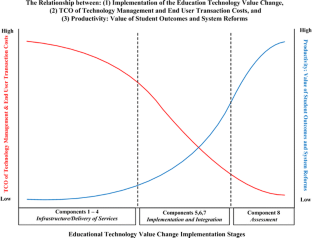 References
Baker, Bruce D. (2012). Revisiting the Age-Old Question: Does Money Matter in Education?, The Albert Shanker Institute, p. 1–37

Barron, A., Kemker, K., Harmes, C., & Kalaydjian, K. (2003). Large-scale research study on technology in K-12 schools: Technology integration as it relates to the National Technology Standards. Journal of Research on Technology in Education, 35(4), 489–507.

Barrow, L., Markman, L., & Rouse, C. (2009). Technology's edge: the educational benefits of computer-aided instruction. American Economic Journal: Economic Policy, 1(1), 52–74.

Bass, F. (1969). "A new product growth model for consumer durable". Management Science, 15(5), 215–227.

Brynojolfsson, E. (1993). The productivity paradox of information technology: review and assessment. Communications of the ACM, 36(12), 66–77.

Cachon, G., & Terwiesch, C. (2013). Matching Supply with Demand: An Introduction to Operations Management, 3/e. New York: The Wharton School, University of Pennsylvania, McGraw-Hill/Irwin.

Chatterji, A., & Jones, B. (2012). Harnessing Technology to Improve K–12 Education. The Hamilton Project, Discussion Paper, 25. Washington, DC: The Brookings Institution.

Cheng, R. (2014, February, 4). Apple, Microsoft join carriers in $750 M pledge to education. CNET.com. Retrieved March 18, 2014, from http://news.cnet.com/8301-13579_3-57618291-37/apple-microsoft-join-carriers-in-$750m-pledge-to-education/

Cleary, P., Pierce, G. & Trauth, E. (2005). Closing the Digital Divide: Understanding Gender, Racial, Social Class and Geographic Disparities in Internet Use among School Age Children in the United States. Universal Service in the Information Society 4 (4)

Cheung, A., & Slavin, R. (2013). The effectiveness of educational technology applications for enhancing mathematics achievement in K-12 classrooms: a meta-analysis. Educational Research Review, 9, 88–113.

Cheung, A., & Slavin, R. (2012). How features of educational technology applications affect student reading outcomes. A meta-analysis; Educational Research Review, 7, 198–215.

Cobb-Clark, Deborah & Jha, Nikhil (2013, August). Educational Achievement and the Allocation of School Resources, IZA, Institute of the Study of Labor, p. 1–37

Conlon, T., & Simpson, M. (2003). Silicon valley versus silicon glen: the impact of computers upon teaching and learning, a comparative study. British Journal of Educational Technology, 34(2), 137–150.

Corporation for Public Broadcasting Service (PBS). (2012, January 23). Learning Media Release, 1–2

Crafts, N. (2004). Steam as a general purpose technology: a growth accounting perspective. The Economic Journal, 114(495), 338–351.

Crawford, S. (2013). Captive Audience: The Telecom Industry and Monopoly Power in the New Gilded Age. New Haven: Yale University Press.

Cuban, L. (2001). Oversold and Underused: Computers in the Classroom. Cambridge, MA: Harvard University Press.

David, P. (1991). Computer and dynamo: The modern productivity paradox in a not-too-distant mirror. In Technology and productivity: The challenge for economic policy (pp. 315–348). Paris: OECD Technology/Economy Programme.

DePena, Kristen (2012, September). Throwing Money at Education Isn't Working, State Budget Solutions, Sunshine Review project, p. 1–39

Diamadi, Z., Dubey, A., Pleasance, D. & Vora, A. (2011). Winning in the SMB Cloud, McKinsey & Company. Retrieved March 18, 2014, from http://www.mckinsey.com/client_service/high_tech/latest_thinking/winning_in_the_smb_cloud

Dunning, T. (2012). Natural Experiments in the Social Sciences. Cambridge, UK: Cambridge University Press.

Gartner. (2009). "Benchmarking IT: How Much Should You Spend and Where?". United Kingdom: Presentation at IT Service Management Conference.

Gartner. (2013, February 24). Email communication with information on K-12 education metrics statistics from Gartner.

Gartner Group Press release October 24, 2013, retrieved August 30, 2014 from http://www.gartner.com/newsroom/id/2613015.

Gates Foundation (2014). Literacy Courseware Challenge Request for Proposal, Retrieved March 18, 2014 from http://www.gatesfoundation.org/How-We-Work/General-Information/Grant-Opportunities/Literary-Courseware-Challenge-RFP#GoaloftheLiteracyCoursewareChallenge

Guo, S., & Frasier, M. W. (2010). Propensity Score Analysis: Statistical Methods and Applications. Thousand Oaks, CA: Sage.

Halpert, Jim, Cook, William & Allen, Bob. (2009, February 27). Obama Administration: Broadband Stimulus Initiative, DLA Piper Publications

Institute for Manufacturing (IFM). (n.d.) Porter's Value Chain, Cambridge University, Retrieved March 18, 2014, from http://www.ifm.eng.cam.ac.uk/research/dstools/value-chain-/

Jackson, L., et al. (2006). Does home internet Use influence the academic performance of Low-income children? developmental psychology. American Psychological Association, 42(3), 429–435.

Joha, Anton & Janssen, Marijn. (2011). Transformation to Cloud Services Sourcing: Required IT Governance Capabilities. ICST Transactions on e-Business, 1–12

Lee, D. S., & Limeaux, T. (2010). Regression discontinuity designs in economics. Journal of Economic Literature, 48, 281–355.

Lemke, C., Coughlin, E., & Reifsneider, D. (2009). Technology in schools: What the research says: An update. Culver City, CA: Commissioned by Cisco.

Levin, B., & Schrum, L. (2013). Using systems thinking to leverage technology for school improvement: lesions learned from award-winning secondary school district. Journal of Research on Technology in Education, 46(1), 29–51.

Lips, Dan, Watkins, Shanea, & Fleming, John (2008, September). Does Spending More on Education Improve Academic Achievement?, The Heritage Foundation, p. 1–20

Locke, Gary (2010, October). Plan and Timetable to Make Available 500 MHz of Spectrum for Wireless Broadband. U.S. Department of Commerce, pp. 1–30.

Manzi, J. (2012). Uncontrolled, the Surprising Payoff of Trail-and Error for Business, Politics and Society. New York: NY. Basic Books.

Marston, Sean, et al., (2011). "Cloud computing – The business perspective", Decision Support Systems, September 51, pp. 176–189

Mercier, E., & Higgins, S. (2013). Collaborative learning with multi-touch technology: Developing adaptive expertise". Learning and Instruction, 25, 13–23.

Mitra, S., & Dangwal, R. (2010). Limits to self-organizing systems of learning the Kalikuppam experiment". British Journal of Educational Technology, 41(5), 672–688.

Morgan, S. L., & Winship, C. (2007). Counterfactuals and Causal Inference: Methods and Principles for Social Research. Cambridge, MA: Cambridge University Press.

Mell, Peter, and Tim Grance. (2009). NIST Definition of Cloud computing, v15, National Institute of Standards and Technology, 15

National Governors Association (NGA) and the Council of Chief State School Officers (CCSSO). (2010). Common Core State Standards for English Language & Literacy in History, Science, and Technology. Common Core State Standards Initiative, 1–65

NITA (July, 1 2013). Connecting America's Schools to Next-Generation Broadband. Retrieved March 18, 2014, from http://www.ntia.doc.gov/blog/2013/connecting-america-s-schools-next-generation-broadband.

PBS Learning Media (January 23, 2012). National PBS Survey Finds Teachers Want More Access to Classroom Tech. Retrieved March 18, 2014, from http://www.pbs.org/about/news/archive/2012/teacher-survey-fetc/.

Plummer, David. (2012). The Business Landscape of Cloud Computing. The Gartner Group, 1–40

Porter, M. (1998). Competitive Advantage: Creating and Sustaining Superior Performance. New York: Free Press; London, England: Collier Macmillan, London, England, 1985

Ridout, V. (2014). Learning at Home: Families' Educational Media Use in America. New York: The Joan Ganz Cooney Center.

Rogers, E. M. (2003). Diffusion of Innovations, 5th Edition. New York: The Free Press.

Rosenbaum, P. R. (2002). Observational Studies (2nd ed.). New York, NY: Springer.

Rubin, D. B. (2006). Matched Samples for Causal Effects. Cambridge: New York, NY.

Sargut, G. & Gunther McGrath, R. (2011). Learning to Live with Complexity, Harvard Business Review, September, p. 68–75

Severino, R. T., & Strauss, R. P. (2005). "Improviing public education throught strengthened local control," Proceedings, Federal Reserve Bank of Cleveland, pp. 73–112.

Staker, Heather & Horn, Michael B. (2012, May). "Classifying K-12 Blended Learning", Innosight Institute Inc

Staples, A., Pugach, M., & Himes, D. (2005). Rethinking the technology integration challenge: cases from three urban elementary schools. Journal of Research on Technology in Education, 3(37), 285–310.

Taylor, Paul (2013, July 17). "Technology is the key to teaching future skills", Financial Times, 1–2

Talukder, A. K., Zimmerman, L., & Prahalad, H. A. (2010). Cloud economics: Principles, costs and benifits. In N. Antonpoulos & L. Gilliam (Ed.), Cloud computing; principles, systems and applications (pp. 343–360). London: Springer.

U.S. Department of Commerce, National Telecommunications & Information Administration (NTIA). (2011, February). Expanding Internet Usage: The Digital Nation, 1–60

U.S. Department of Commerce, National Telecommunications & Information Administration (NTIA). (2011, November). Exploring The Digital Nation: Computer & Internet Use at Home, 1–72
Acknowledgments
We wish to thank two anonymous reviewers for their very helpful comments. We would also like to thank Dr. Elizabeth Grady for her insights on the integration of educational technology into K-12 curricula and organizational systems.
About this article
Cite this article
Pierce, G.L., Cleary, P.F. The K-12 educational technology value chain: Apps for kids, tools for teachers and levers for reform. Educ Inf Technol 21, 863–880 (2016). https://doi.org/10.1007/s10639-014-9357-1
Published:

Issue Date:

DOI: https://doi.org/10.1007/s10639-014-9357-1
Keywords