Abstract
This paper presents a case study in which multi-age students (aged 6–12, N = 32) in small groups made autonomous inquiries about the phenomenon of winter fishing within the framework of design-oriented pedagogy. The research analyzed storytelling videos that the students produced as learning objects. These videos revealed a picture of the developed learning process and influence afforded and emerged learning ecosystem on it. The research question was as follow: What do the digital stories reveal about the emerged learning ecosystem and learning processes? The qualitative content analysis of the videos' structure, students' commentary, and descriptions of the implemented activities revealed that each small group constructed its own niche in the learning ecosystem. By self-organizing and utilizing the afforded community, technology, and information resources, the students constructed their own interpretations of their chosen research tasks and related inquiries. Based on the findings, we argue that such inquiry-driven learning tasks and afforded learning resources guide students to search for strategic types of knowledge to understand the given phenomena and communicate their complex study processes. The study confirms that students' agency in design-oriented pedagogy will resemble that expected of 21st-century learners. Moreover, young children (from the age of 6) can participate and become active community members in the co-developed learning process and in the creation of local knowledge in the form of storytelling.
Access options
Buy single article
Instant access to the full article PDF.
US$ 39.95
Tax calculation will be finalised during checkout.
Subscribe to journal
Immediate online access to all issues from 2019. Subscription will auto renew annually.
US$ 79
Tax calculation will be finalised during checkout.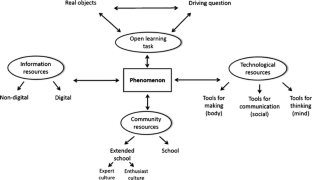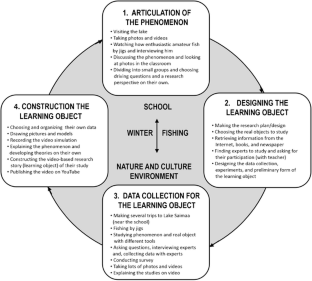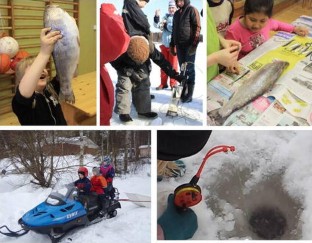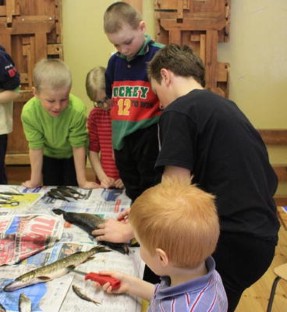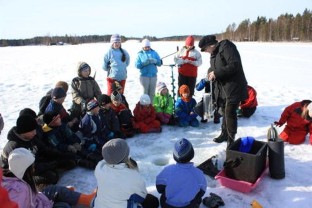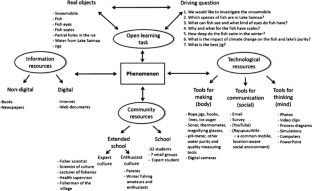 References
Ashby, W. R. (1962). Principles of the self-organizing system. In H. von Foerster & G. Zopf (Eds.), Principles of self-organization (pp. 255–278). New York: Pergamon Press.

Bereiter, C., & Scardamalia, M. (2003). Learning to work creatively with knowledge. In E. De Corte, L. Verschaffel, N. Entwistle, & J. van Merriënboer (Eds.), Powerful learning environments. Unraveling basic components and dimensions (pp. 55–68). Oxford: Elsevier Science.

Binkley, M., Erstad, O., Herman, J., Raizen, S., Ripley, M., & Rumble, M. (2011). Defining 21st century skills. In P. Griffin, B. McGaw, & E. Care (Eds.), Assessment and teaching of 21st century skills (pp. 17–66). New York: Springer.

Bransford, J., Derry, S., Berliner, D., Hammerness, K., & Beckett, K. L. (2005). Theories of learning and their roles in teaching. In L. Darling-Hammond & J. Bransford (Eds.), Preparing teachers for changing world. What teachers should learn and be able to do (pp. 40–87). San Francisco: Jossey-Bass.

Bryman, A. (2004). Social research methods (2nd ed.). Oxford: Oxford University Press.

Ching, C. C., & Wang, X. C. (2012). "This is me": Digital photo journals and young children's technologies of the self. In C. C. Cing & B. J. Foley (Eds.), Constructing the self in a digital world (pp. 26–46). Cambridge: Cambridge University Press.

de Jong, T., & Ferguson-Hessler, M. (1996). Types and qualities of knowledge. Educational Psychologist, 31(2), 105–113.

Fischer, G., & Redmiles, D. (2008). Transdisciplinary education and collaboration. Meeting of the Human Computer Interaction Consortium, HCIC-2008, Frasier, CO, Feb

How deep do the fish swim in the winter? (2009). Video. YouTube. http://www.youtube.com/watch?v=gVKeTflC5Qg. Accessed 19 October 2010.

Kahneman, D., Krueger, A., Schkade, D., Schwarz, N., & Stone, A. (2004). A survey method for characterizing daily life experience: The day reconstruction method. Science, 306(5702), 1776–1780.

Krajcik, J., & Blumenfeld, P. (2006). Project-based learning. In K. Sawyer (Ed.), The Cambridge handbook of the learning sciences (pp. 317–333). Cambridge: Cambridge University Press.

Lewis, S., Pea, R., & Rosen, J. (2010). Beyond participation to co-creation of meaning: Mobile social media in generative learning communities. Social Science Information. doi:10.1177/053901841037072.

Liljeström, A., Enkenberg, J., & Pöllänen, S. (2013). Making learning whole: An instructional approach for mediating the practices of authentic science inquiries. Cultural Studies of Science Education, 8(1), 51–86. doi:10.1007/s11422-012-9416-0.

Lincoln, Y. S., & Guba, E. A. (1985). Naturalistic inquiry. Beverly Hills: Sage Publications.

Luckin, R., Clark, W., Garnett, F., Whitworth, A., Akass, J., Cook, J., Day, P., Ecclesfield, N., Hamilton, T., & Robertson, J. (2011). Learner generated contexts: A framework to support the effective use of technology to support learning. In M. Lee & C. McLoughlin (Eds.), Web 2.0 based e-learning: Applying social informatics for tertiary teaching (pp. 70–84). Hershey: Information Science Publishing.

Mayring, P. (2000). Qualitative content analysis. Forum: Qualitative Social Research. 1(2). http://www.qualitative-research.net/index.php/fqs/article/view/1089/2385. Accessed 25 July 2013.

National Education Technology Plan. (2010). Transforming American education: Learning powered by technology. Report. U.S. Department of Education. http://www.ed.gov/technology/netp-2010. Accessed 7 November 2011.

OECD/CERI. (2008). New millennium learners: Initial findings on the effects of digital technologies on school-age learners. OECD/CERI International Conference on Learning in the 21st Century: Research, Innovation and Policy. http://www.oecd.org/site/educeri21st/40554230.pdf. Accessed 1 November 2012.

Robin, B. (2008). Digital storytelling: A powerful technology tool for the 21st century classroom. Theory into Practice. doi:10.1080/00405840802153916.

Scardamalia, M. (2001). Big change questions: Will educational institutions, within their present structures, be able to adapt sufficiently to meet the needs of the Information Age? Journal of Educational Change, 2(2), 171–176.

Schank, R. C. (1990). Tell me a story: A new look at real and artificial memory. New York: Scribner.

Thomas, D., & Brown, J. S. (2011). A new culture of learning: Cultivating the imagination for a world of constant change. Lexington: CreateSpace.

Thomas, D., & Brown, J. S. (2009). Learning for a world of constant change: Homo sapiens, Homo faber & Homo ludens. Paper presented at the 7th Glion Colloquium June 2009. http://www.johnseelybrown.com/Learning for a World of Constant Change.pdf. Accessed 20 November 2012.

Vartiainen, H., & Enkenberg, J. (2013a). Learning from and with museum objects: Design perspectives, environment, and emerging learning systems. Educational Technology Research and Development. doi:10.1007/s11423-013-9311-8.

Vartiainen, H., & Enkenberg, J. (2013b). Reflections of design-oriented pedagogy for sustainable learning: An international perspective. Journal of Teacher Education for Sustainability, 15(1), 57–72.

Vartiainen, H., Liljeström, A., & Enkenberg, J. (2012). Design-oriented pedagogy for technology-enhanced learning to cross over the borders between formal and informal environments. Journal of Universal Computer Science, 18(15), 2097–2119.

weSPOT (2012). weSPOT project. http://portal.ou.nl/en/web/wespot. Accessed 20 July 2013.

Vince, R., & Warren, S. (2012). Participatory visual methods. In C. Cassell & G. Symon (Eds.), The practice of qualitative organizational research: Core methods and current challenges. Sage: London. http://repository.essex.ac.uk/1169/1/Vince_%26_Warren_Final_Version.pdf. Accessed 15 October 2012.
Acknowledgments
This study was supported by the EU financed project of Forest as a Learning Environment (under project no. 24403), the Academy of Finland (under project no. 1217068). We thank the community of Kaipola school, both faculty and students, and the experts of the winter fishing for their participation in the study. We also would like to extend special thanks to Henriikka Vartiainen, who co-designed and carried out the present project and collected data material with the authors.
About this article
Cite this article
Anu, L., Jorma, E. & Sinikka, P. The case of design-oriented pedagogy: What students' digital video stories say about emerging learning ecosystems. Educ Inf Technol 19, 583–601 (2014). https://doi.org/10.1007/s10639-013-9284-6
Keywords
Design-oriented pedagogy

Learning ecosystem

Self-organizing

Co-development

Science inquiry

Video-based storytelling