Abstract
In this research we present a new design component for online learning communities (OLC); one that integrates Twitter with an online discussion board (ODB). We introduce our design across two sections of upper-division information systems courses at a university located within the U.S. The first section consisted of full-time online learners, while the second section met face-to-face twice a week. Guided by a working theoretical model for how individuals learn and interact within OLCs, we measure student perceptions of learning, social interaction and course community before and after our intervention. Initial findings were largely positive and students across both sections experienced high levels of learning, interaction and community. Our results pave the way for more integrated learning environments that incorporate online social networking (OSN) technologies.
Access options
Buy single article
Instant access to the full article PDF.
USD 39.95
Price includes VAT (USA)
Tax calculation will be finalised during checkout.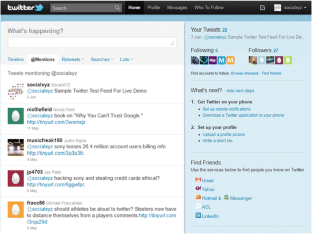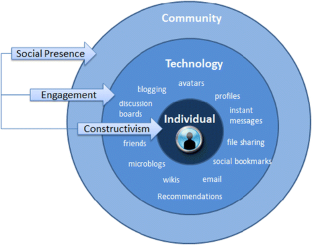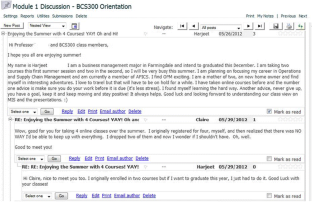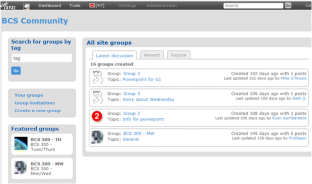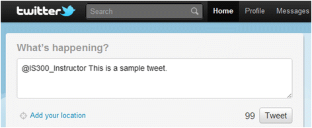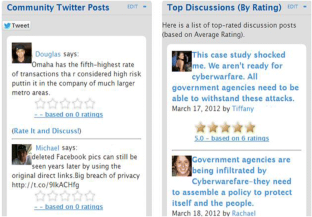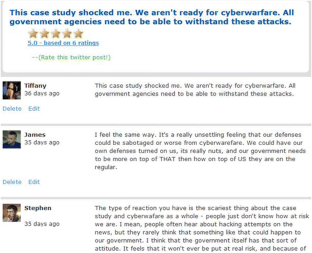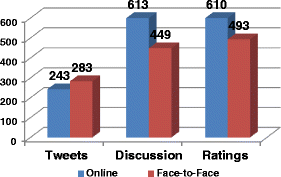 References
Balaji, M. S., & Chakrabarti, D. (2010). Student interactions in online discussion forum: Empirical research from 'Media Richness Theory' perspective. Journal of Interactive Online Learning, 9(1), 1–22.

Betta,C. (2007). Social networking and academic life. Research assignment. Literature Report. Delft University of Technology.

Bødker, S. (1989). A human activity approach to user interfaces. Human-Computer Interaction, 4, 171–195.

Brescia, W., & Miller, M. (2006). What's it worth? The perceived benefits of instructional blogging. Electronic Journal for the Integration of Technology in Education, 5(1), 44–52.

Chen, G., & Chiu, M. (2008). Online discussion processes: Effects of earlier messages' evaluations, knowledge content, social cues and personal information on later messages. Computers & Education, 50(3), 678–692.

Chen, J., & Pirolli, P. (2012). "Why you are more engaged: factors influencing twitter engagement in occupy wall street," Proceedings from the Sixth International AAAI Conference on Weblogs and Social Media, Jun. 5–7, 2012.

De Wever, B., Schellens, T., Valcke, H., & Van Keer, H. (2006). Content analysis schemes to analyze transcripts of online asynchronous discussion groups: A review. Computers & Education, 46(1), 6–28.

Dunlap, J. C., & Lowenthal, P. R. (2009). Tweeting the night away: Using twitter to enhance social presence. Journal of Information Systems Education, 20(2).

Ebner, M., Lienhardt, C., Rohs, M., & Meyer, I. (2010). Microblogs in higher education — a chance to facilitate informal and process-oriented learning? Computers & Education, 55(2010), 92–100.

Educational Marketer. (2003). Colleges increase use of course management systems, says MDR. Educational Marketer, 34(8), 4–5.

Grosseck, G., & Holotesco, C. (2008). "Models good pedagogy responsive to student's learning needs," The 4th International Scientific Conference eLSE: eLearning and Software for Education, Bucharest, Apr. 17–18, 2008.

Gunawardena, C. N., & Zittle, F. J. (1997). Social presence as a predictor of satisfaction within a computer-mediated conferencing environment. The American Journal of Distance Education, 11, 8–26.

Heckman, R., & Annabi, H. (2006). Cultivating voluntary online learning communities in blended environments. Journal of Asynchronous Learning Networks, 10(4).

Hull, D., & Saxon, T. (2009). Negotiation of meaning and co-construction of knowledge: An experimental analysis of asynchronous online instruction. Computers & Education, 52(3), 624–639.

Jenks, J. (2011). The digital world of millennials. eMarketer.

Johnson, C. (2001). A survey of current research on online communities of practice. Internet and Higher Education, 4(1), 45–60.

Kirkup, G. (2010). Academic blogging: academic practice and academic identity. London Review of Education, 8(1).

La Pointe, K. D., & Gunawardena, C. (2004). Developing testing and refining of a model to understand the relationship between peer interaction and learning outcomes in computer-mediated conferencing. Distance Education, 25(1), 93–106.

Lave, J., & Wenger, E. (1991). Situated learning: Legitimate peripheral participation. Cambridge, England: Cambridge University Press.

Liaw, S., & Huang, H. (2000). Enhancing interactivity in web-based instruction: A review of the literature. Educational Technology, 40(3), 41–45.

Mor, Y., Tholander, J., & Holmberg, J. (2005). Designing for constructionist web-based knowledge building. Conference on computer support for collaborative learning: Learning 2005: the next 10 years! (pp. 450–459). Taipei: International Society of the Learning Sciences.

Oblinger, D., & Oblinger, D. (2005). Is it age or IT: first steps toward understanding the net generation. In D. Oblinger, & J. Oblinger (Eds.), Educating the net generation, p. Online. Retrieved from Educause.

Official Twitter Blog. (2011). Retrieved online 6/11/2012 from http://blog.twitter.com/2011/03/numbers.html.

Palloff, R., & Pratt, K. (1999). Building learning communities in cyberspace: Effective strategies for the online classroom. San Francisco: Jossey-Bass.

Quan-Haase, A. (2005). Trends in online learning communities. SIGGROUP Bulletin, 25(1), 2–6.

Redfern, S., & Naughton, N. (2002). Collaborative virtual environments to support communication and community in internet-based distance education. Journal of Information Technology Education, 1.

Rhode, M., Reinecke, L., Pape, B., & Janneck, M. (2004). Community-building with web-based systems — investigating a hybrid community of students. Computer Supported Cooperative Work (CSCW), 13(5–6), 471–499.

Savery, J., & Duffy, T. (1996). Problem based learning: An instructional model and its constructivist framework. In B. Wilson (Ed.), Constructivist learning environments: Case studies in instructional design. Englewood Cliffs: Educational Technology.

Short, J. A., Williams, E., & Christie, B. (1976). The social psychology of telecommunications. New York: John Wiley & Sons.

Solimeno, A., Mebane, M. E., Tomai, M., & Francescato, D. (2008). The influence of students and teachers characteristics on the efficacy of face-to-face and computer supported collaborative learning. Computers & Education, 51(1), 109–128.

Stacey, E. (2002). Social presence online: Networking learners at a distance. In Education and information technologies. Kluwer Acad. Publishers, vol. 7, (287–294).

Thoms, B. (2011). A Dynamic Social Feedback System to Support Learning and Social Interaction in Higher Education. IEEE Transactions on Learning Technologies, 4(4), 340–352.

Thoms, B. (2012). Perceptions and Outcomes of Microblogging in Higher Education. Journal of Information Technology Education, 11(1), 179–197.

Thoms, B., Garrett, N., & Ryan, T. (2009). Online Learning Communities in the New 'U'. International Journal of Networking and Virtual Organisations, 6(5), 499–517.

Thoms, B., Garrett, N., Soffer, M., & Ryan, T. (2008). Resurrecting Graduate Conversation through an Online Learning Community. International Journal of Information and Communication Technology Education, 4(3), 341–350.

Tu, C. H., & McIsaac, M. (2002). The relationship of social presence and interaction in online classes. The American Journal of Distance Education, 16, 131–150.

U.S. Census Bureau. (2009). School enrollment—social and economic characteristics of students: Oct. 2009. Retrieved 7/3/11, from http://www.census.gov.

Vygotsky, L. S. (1987). Mind in society: The development of higher psychological processes. Cambridge: Harvard University Press.

Wakefield, J. S., Warren, S. J., & Alsobrook, M. (2011). Learning and teaching as communicative actions: A mixed-methods twitter study. Knowledge Management & E-Learning: An International Journal, 3(4), 563–584.

Williamson, D. A. (2007). Social Network Marketing: Ad Spending and Usage, Social Network Marketing, Report by Debra Aho Williamson, Dec. 2007. Retrieved 6/2/08 from http://www.emarketer.com/Report.aspx?code=emarketer_2000478.

Zhao D. and Rosson, MB (2009). "How and why people Twitter: The role that micro–blogging plays in informal communication at work," Proceedings of the ACM 2009 International Conference on Supporting Group Work. New York: ACM, pp. 243–252.
About this article
Cite this article
Thoms, B., Eryilmaz, E. Introducing a twitter discussion board to support learning in online and blended learning environments. Educ Inf Technol 20, 265–283 (2015). https://doi.org/10.1007/s10639-013-9279-3
Keywords
Social learning

Online social networking

Twitter

Online discussion board

Constructivism