Summary
Introduction IMC-001 is a fully human IgG1 monoclonal antibody that binds to human PD-L1 (programmed death-ligand 1). This study evaluated the safety, pharmacokinetics, and pharmacodynamics of IMC-001 in patients with advanced solid tumors. Materials and Methods This open-labeled phase I study used a standard 3 + 3 dose-escalation design, with doses ranging from 2 to 20 mg/kg. IMC-001 was administered intravenously every 2 weeks until disease progression or unacceptable toxicity. The dose-limiting toxicity window was defined as 21 days from the first dose. Results Fifteen subjects were included in 5 dose-escalation cohorts. No dose-limiting toxicity was observed, and the maximum tolerated dose was not reached. The most common adverse events (AEs) were general weakness, decreased appetite, fever, and cough. No grade 4 or 5 treatment emergent AEs were reported during the study. One subject in the 2 mg/kg cohort showed grade 2 immune-induced thyroiditis and diabetes mellitus suspected to be related to IMC-001. Over the dose range of 2–20 mg/kg IMC-001, the AUC0–14d, AUC0—∞, and Cmax generally increased in a dose-proportional manner for each step of dose escalation. Of the 15 enrolled patients, 1 subject with rectal cancer showed a partial response, and the disease control rate was 33.3%. Conclusions IMC-001 demonstrated a favorable safety profile up to 20 mg/kg administered intravenously every 2 weeks and showed preliminary efficacy in patients with advanced solid tumors. Based on pharmacokinetic and pharmacodynamic data, 20 mg/kg was selected as the recommended phase II dose. Clinical trial identification NCT03644056 (date of registration: August 23, 2018).
Access options
Buy single article
Instant access to the full article PDF.
USD 39.95
Price excludes VAT (USA)
Tax calculation will be finalised during checkout.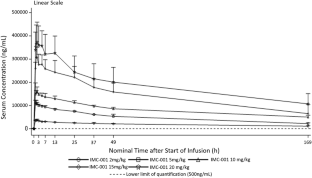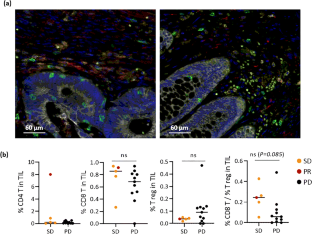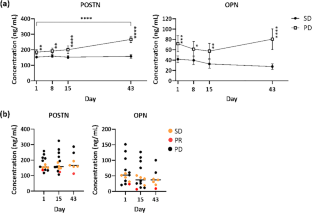 Data availability
The data that support the findings of this study are available on request from the corresponding author Dr. Park. The data are not publicly available due to information that could compromise research participant consent.
Acknowledgements
We thank the participating patients, their family members, and all researchers involved in this study.
Ethics declarations
Ethics approval
1. H-1801-042-913
2. SMC 2018–01–007-001
Consent to participate
Informed consent was obtained from all individual participants included in the study.
Consent for publication
Informed consent for the publication of any associated data was obtained from all individual participants in the study.
Conflict of interest
Ji Hye Lee, Yoen Hee Ahn, Hyeon Ju Kim, Sook Kyung Chang, Jihyun Park, Ji Yea Choi and Yun Jeong Song are full-time employees of ImmuneOncia Therapeutics Inc.
Additional information
Publisher's note
Springer Nature remains neutral with regard to jurisdictional claims in published maps and institutional affiliations.
About this article
Cite this article
Keam, B., Ock, CY., Kim, T.M. et al. A phase I study of IMC-001, a PD-L1 blocker, in patients with metastatic or locally advanced solid tumors. Invest New Drugs 39, 1624–1632 (2021). https://doi.org/10.1007/s10637-021-01078-6
Received:

Accepted:

Published:

Issue Date:

DOI: https://doi.org/10.1007/s10637-021-01078-6
Keywords