Summary
Transforming growth factor-beta (TGF-β) signaling pathway plays pivotal roles in various types of cancer. TGF-β receptor 2 (TGFβR2) contains a kinase domain that phosphorylates and activates the downstream of the TGF-β signaling pathway. Our previous microarray analysis revealed marked changes in miR-181a expression in gastric cancers, and the bioinformatics analysis suggested that miR-181a negatively regulated TGFβR2. In order to verify the effect of miR-181a on TGFβR2 and clarify the influence of miR-181a on the migration and proliferation of gastric cancer, studies in gastric cancer cell lines and xenograft mouse models were carried out. We found that a reduced expression of TGFβR2 and an increased expression miR-181a in gastric cancer tissues compared to adjacent noncancerous tissues. A luciferase reporter assay confirmed that TGFβR2 was a target of miR-181a. In addition, we found that miR-181a mimics, which increased the level of miR-181a, downregulated the expression of TGFβR2 in the gastric cancer cell line SGC-7901. Moreover, both the overexpression of miR-181a and the downregulation of TGFβR2 promoted the migration and proliferation of SGC-7901 cells. Conversely, SGC-7901 cell migration and proliferation were inhibited by the downregulation of miR-181a and the overexpression of TGFβR2. Furthermore, the increased expression of miR-181a and the decreased expression of TGFβR2 also enhanced the tumor growth in mice bearing gastric cancer. Our results herein indicated that miR-181a promoted the migration and proliferation of gastric cancer cells by downregulating TGFβR2 at the posttranscriptional level. The present study suggests that miR-181a is a novel negative regulator of TGFβR2 in the TGF-β signaling pathway and thus represents a potential new therapeutic target for gastric cancer.
This is a preview of subscription content, log in to check access.
Access options
Buy single article
Instant access to the full article PDF.
US$ 39.95
Price includes VAT for USA
Subscribe to journal
Immediate online access to all issues from 2019. Subscription will auto renew annually.
US$ 99
This is the net price. Taxes to be calculated in checkout.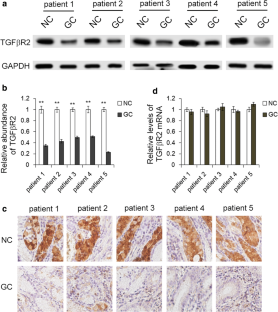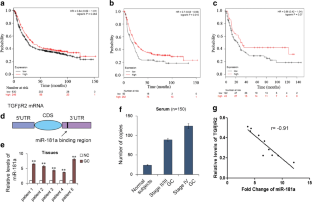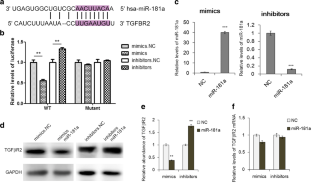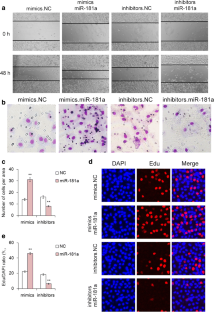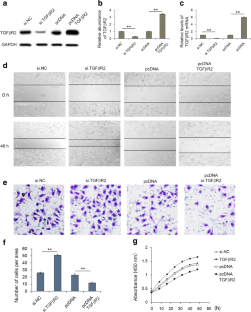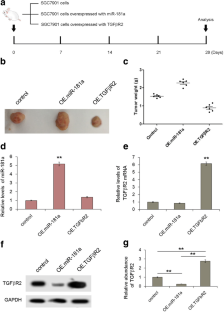 Data availability
The datasets supporting the conclusions of this article are included within the article.
Abbreviations
3'-UTR:

3′-untranslated region

CCK-8:

Cell Counting Kit-8

cDNA:

complementary deoxyribonucleic acid

EdU:

5-ethynyl-2-deoxyuridine

HER-2:

epidermal growth factor receptor-2

miRNA:

microRNA

RT-qPCR:

real-time quantitative polymerase chain reaction

siRNA:

small interfering RNA

TGF-β:

transforming growth factor-beta

TGFβR2:

TGF-β receptor 2
References
1.

Katz LH, Likhter M, Jogunoori W, Belkin M, Ohshiro K, Mishra L (2016) TGF-beta signaling in liver and gastrointestinal cancers. Cancer Lett 379(2):166–172

2.

Liu S, Chen S, Zeng J (2018) TGFbeta signaling: a complex role in tumorigenesis (review). Mol Med Rep 17(1):699–704

3.

Shukla SK, Khatoon J, Prasad KN, Rai RP, Singh AK, Kumar S, Ghoshal UC, Krishnani N (2015) Transforming growth factor beta 1 (TGF-beta1) modulates Epstein-Barr virus reactivation in absence of Helicobacter pylori infection in patients with gastric cancer. Cytokine 77:176–179

4.

Sun N, Xue Y, Dai T, Li X, Zheng N (2017) Tripartite motif containing 25 promotes proliferation and invasion of colorectal cancer cells through TGF-beta signaling. Biosci Rep 37(4)

5.

Lee HJ, Park JM, Hahm KB (2016) Role of inhibitory transforming growth factor-beta signal Smad7 in helicobacter pylori-associated gastric damage. Korean J Gastroenterol 68(4):186–194

6.

Jin B, Liu Y, Wang H (2016) Antagonism of miRNA-21 sensitizes human gastric Cancer cells to paclitaxel. Cell Biochem Biophys 72(1):275–282

7.

Wang P, Li Z, Liu H, Zhou D, Fu A, Zhang E (2016) MicroRNA-126 increases chemosensitivity in drug-resistant gastric cancer cells by targeting EZH2. Biochem Biophys Res Commun 479(1):91–96

8.

Eto K, Iwatsuki M, Watanabe M, Ida S, Ishimoto T, Iwagami S, Baba Y, Sakamoto Y, Miyamoto Y, Yoshida N, Baba H (2013) The microRNA-21/PTEN pathway regulates the sensitivity of HER2-positive gastric cancer cells to trastuzumab. Ann Surg Oncol 21(1):343–350

9.

Chang H, Kim N, Park JH, Nam RH, Choi YJ, Park SM, Yoon H, Shin CM, Lee DH (2015) Helicobacter pylori might induce TGF-beta1-mediated EMT by means of cagE. Helicobacter 20(6):438–448

10.

Wang WW, Yuan XL, Chen H, Xie GH, Ma YH, Zheng YX, Zhou YL, Shen LS (2015) CD19+CD24hiCD38hiBregs involved in downregulate helper T cells and upregulate regulatory T cells in gastric cancer. Oncotarget 6(32):33486–33499

11.

Hu WQ, Wang LW, Yuan JP, Yan SG, Li JD, Zhao HL, Peng CW, Yang GF, Li Y (2014) High expression of transform growth factor beta 1 in gastric cancer confers worse outcome: results of a cohort study on 184 patients. Hepato-Gastroenterology 61(129):245–250

12.

Kim YW, Park J, Lee HJ, Lee SY, Kim SJ (2012) TGF-beta sensitivity is determined by N-linked glycosylation of the type II TGF-beta receptor. Biochem J 445(3):403–411

13.

Kim WS, Park C, Hong SK, Park BK, Kim HS, Park K (2000) Microsatellite instability (MSI) in non-small cell lung cancer (NSCLC) is highly associated with transforming growth factor-beta type II receptor (TGF-beta RII) frameshift mutation. Anticancer Res 20(3A):1499–1502

14.

Guo W, Dong Z, Guo Y, Chen Z, Yang Z, Kuang G (2011) Association of polymorphisms in transforming growth factor-beta receptors with susceptibility to gastric cardia adenocarcinoma. Mol Biol Rep 39(4):4301–4309

15.

Duan J, Zhang H, Qu Y, Deng T, Huang D, Liu R, Zhang L, Bai M, Zhou L, Ying G, Ba Y (2016) Onco-miR-130 promotes cell proliferation and migration by targeting TGFbetaR2 in gastric cancer. Oncotarget 7(28):44522–44533

16.

Fragoso R, Mao T, Wang S, Schaffert S, Gong X, Yue S, Luong R, Min H, Yashiro-Ohtani Y, Davis M, Pear W, Chen CZ (2012) Modulating the strength and threshold of NOTCH oncogenic signals by mir-181a-1/b-1. PLoS Genet 8(8):e1002855

17.

Ma YY, Tao HQ (2012) Microribonucleic acids and gastric cancer. Cancer Sci 103(4):620–625

18.

Strotbek M, Schmid S, Sanchez-Gonzalez I, Boerries M, Busch H, Olayioye MA (2017) miR-181 elevates Akt signaling by co-targeting PHLPP2 and INPP4B phosphatases in luminal breast cancer. Int J Cancer 140(10):2310–2320

19.

Cai ZG, Zhang SM, Zhang H, Zhou YY, Wu HB, Xu XP (2013) Aberrant expression of microRNAs involved in epithelial-mesenchymal transition of HT-29 cell line. Cell Biol Int 37(7):669–674

20.

Liu J, Wu CP, Lu BF, Jiang JT (2014) Mechanism of T cell regulation by microRNAs. Cancer Biol Med 10(3):131–137

21.

Chen Z, Wu L, Lin Q, Shi J, Lin X, Shi L (2016) Evaluation of miR-182/miR-100 ratio for diagnosis and survival prediction in bladder cancer. Arch Iran Med 19(9):645–651

22.

Park SK, Park YS, Ahn JY, Do EJ, Kim D, Kim JE, Jung K, Byeon JS, Ye BD, Yang DH, Park SH, Hwang SW, Jung HY, Myung SJ (2016) MiR 21-5p as a predictor of recurrence in young gastric cancer patients. J Gastroenterol Hepatol 31(8):1429–1435

23.

Jiang C, Fang X, Zhang H, Wang X, Li M, Jiang W, Tian F, Zhu L, Bian Z (2017) Triptolide inhibits the growth of osteosarcoma by regulating microRNA-181a via targeting PTEN gene in vivo and vitro. Tumour Biol 39(4):1010428317697556

24.

Yang F, Liu X, Liu Y, Zhang C, Wang Z, Jiang T, Wang Y (2017) miR-181d/MALT1 regulatory axis attenuates mesenchymal phenotype through NF-kappaB pathways in glioblastoma. Cancer Lett 396:1–9

25.

Liu YS, Lin HY, Lai SW, Huang CY, Huang BR, Chen PY, Wei KC, Lu DY (2017) MiR-181b modulates EGFR-dependent VCAM-1 expression and monocyte adhesion in glioblastoma. Oncogene 36(35):5006–5022

26.

Butrym A, Rybka J, Baczynska D, Poreba R, Mazur G, Kuliczkowski K (2016) Expression of microRNA-181 determines response to treatment with azacitidine and predicts survival in elderly patients with acute myeloid leukaemia. Oncol Lett 12(4):2296–2300

27.

Petrillo M, Zannoni GF, Beltrame L, Martinelli E, DiFeo A, Paracchini L, Craparotta I, Mannarino L, Vizzielli G, Scambia G, D'Incalci M, Romualdi C, Marchini S (2016) Identification of high-grade serous ovarian cancer miRNA species associated with survival and drug response in patients receiving neoadjuvant chemotherapy: a retrospective longitudinal analysis using matched tumor biopsies. Ann Oncol 27(4):625–634

28.

Tian F, Shen Y, Chen Z, Li R, Lu J, Ge Q (2016) Aberrant miR-181b-5p and miR-486-5p expression in serum and tissue of non-small cell lung cancer. Gene 591(2):338–343

29.

Liu J, Xing Y, Rong L (2018) miR-181 regulates cisplatin-resistant non-small cell lung cancer via downregulation of autophagy through the PTEN/PI3K/AKT pathway. Oncol Rep 39(4):1631–1639

30.

Cho JH, Lim JY, Cho JY (2017) Survival analysis based on human epidermal growth factor 2 status in stage II-III gastric cancer. World J Gastroenterol 23(41):7407–7414

31.

Szasz AM, Lanczky A, Nagy A, Forster S, Hark K, Green JE, Boussioutas A, Busuttil R, Szabo A, Gyorffy B (2016) Cross-validation of survival associated biomarkers in gastric cancer using transcriptomic data of 1,065 patients. Oncotarget 7(31):49322–49333

32.

Shi Q, Zhou Z, Ye N, Chen Q, Zheng X, Fang M (2017) MiR-181a inhibits non-small cell lung cancer cell proliferation by targeting CDK1. Cancer Biomark 20(4):539–546

33.

Weidle UH, Birzele F, Kollmorgen G, Nopora A (2017) Potential microRNA-related targets for therapeutic intervention with ovarian Cancer metastasis. Cancer Genomics Proteomics 15(1):1–15

34.

Takei Y, Takigahira M, Mihara K, Tarumi Y, Yanagihara K (2010) The metastasis-associated microRNA miR-516a-3p is a novel therapeutic target for inhibiting peritoneal dissemination of human scirrhous gastric cancer. Cancer Res 71(4):1442–1453
Funding
This work was supported by the National Natural Science Foundation of China (nos. 81,772,629, 81,602,158, 81,602,156, 81,702,275 and 81,702,437) and the Tianjin Health and Family Planning Commission Foundation of Science and Technology (no. 15KG142).
Ethics declarations
Ethics approval and consent to participate
Animal care and experiments were performed in accordance with guidelines of the Institutional Animal Use Committee of Tianjin Medical University, and the procedures were approved by the Institutional Animal Care and Use Committee.
Consent for publication
Written informed consent for publication was obtained from all participants.
Competing interests
The authors have no competing interests to declare.
About this article
Cite this article
Ge, S., Zhang, H., Deng, T. et al. MiR-181a, a new regulator of TGF-β signaling, can promote cell migration and proliferation in gastric cancer. Invest New Drugs 37, 923–934 (2019). https://doi.org/10.1007/s10637-018-0695-5
Received:

Accepted:

Published:

Issue Date:
Keywords
TGFβR2

miR-181a

Gastric cancer

Posttranscriptional regulation

Molecular targeted therapy