Summary
Plants are important sources of biologically active compounds and they provide unlimited opportunities for the discovery and development of new drug leads, including new chemotherapeutics. Miconidin acetate (MA) is a hydroquinone derivative isolated from E. hiemalis. In this study we demonstrated that MA was cytotoxic against acute leukemia (AL), solid tumor cells and cancer stem cells, with the strongest effect exhibited against AL. Furthermore, it was non-cytotoxic against non-tumor cells and did not cause significant hemolysis. MA blocks the G2/M phase and causes cytostatic effects, acting in a similar way to dexamethasone by increasing PML expression. The compound also triggered intrinsic and extrinsic apoptosis by modulating Bax, FasR and survivin expression. This led to an extensive mitochondrial damage that resulted in AIF, cytochrome c and endonuclease G release, caspase-3 and PARP cleavage and DNA fragmentation. We have further demonstrated that MA was strongly cytotoxic against neoplastic cells collected from patients with different AL subtypes. Interestingly, MA increased the cytotoxic effect of chemotherapeutics cytarabine and vincristine. This study indicates that MA may be a new agent for AL and highlights its potential as a new source of anticancer drugs.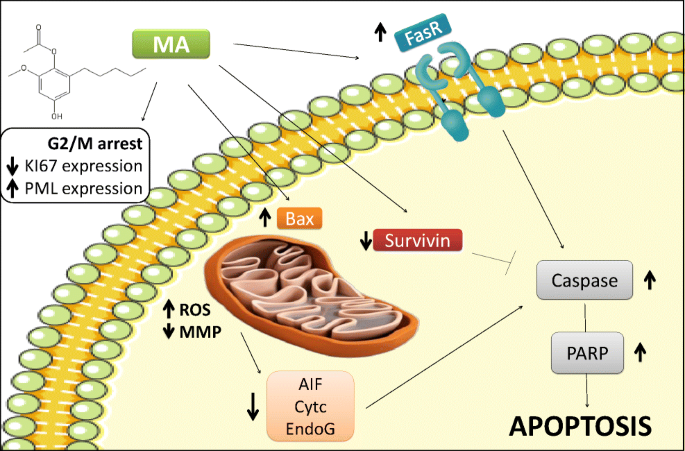 This is a preview of subscription content, log in to check access.
Access options
Buy single article
Instant access to the full article PDF.
US$ 39.95
Price includes VAT for USA
Subscribe to journal
Immediate online access to all issues from 2019. Subscription will auto renew annually.
US$ 99
This is the net price. Taxes to be calculated in checkout.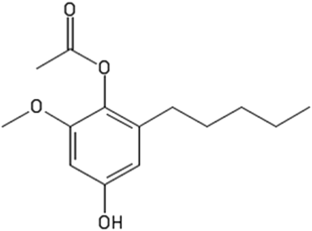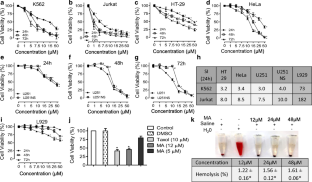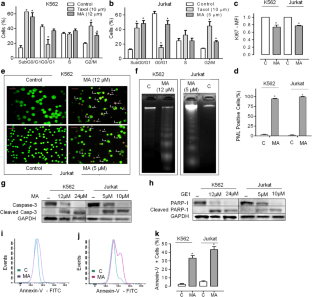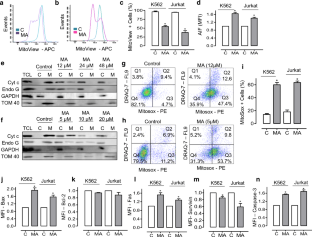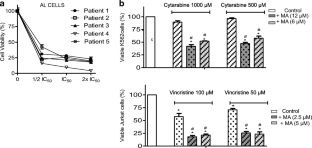 References
1.

Cragg GM, Grothaus PG, Newman DJ (2009) Impact of natural products on developing new anti-cancer agents. Chem Rev 109:3012–3043

2.

Wang C-Z, Calway T, Yuan C-S (2012) Herbal medicines as adjuvants for cancer therapeutics. Am J Chin Med 40:657–669

3.

Zia Ul Haq M, Riaz M, Saad B (2016) Anthocyanins and human health: biomolecular and therapeutic aspects. Springer International Publishing, Cham

4.

Singh S, Awasthi M, Pandey VP, Dwivedi U (2017) Natural products as Anticancerous therapeutic molecules with special reference to enzymatic targets topoisomerase, COX, LOX and aromatase. Curr Protein Pept Sci

5.

Safarzadeh E, Sandoghchian Shotorbani S, Baradaran B (2014) Herbal medicine as inducers of apoptosis in cancer treatment. Adv Pharm Bull 4:421–427

6.

Wani MC, Taylor HL, Wall ME, Coggon P, McPhail AT (1971) Plant antitumor agents. VI. The isolation and structure of taxol, a novel antileukemic and antitumor agent from Taxus brevifolia. J Am Chem Soc 93:2325–2327

7.

Costa G, Hreshchyshyn MM, Holland JF (1962) Initial clinical studies with vincristine. Cancer Chemother Rep 24:39–44

8.

de S Luna J, dos Santos AF, de Lima MRF, de Omena MC, de Mendonça F a C, Bieber LW, Sant'Ana AEG (2005) A study of the larvicidal and molluscicidal activities of some medicinal plants from Northeast Brazil. J Ethnopharmacol 97:199–206

9.

Romagnolo MB, Souza C (2006) O gênero Eugenia L. (Myrtaceae) na planície de alagável do Alto Rio Paraná, Estados de Mato Grosso do Sul e Paraná, Brasil. Acta Bot Bras 20:529–548

10.

Sobral M, Proença C, Souza M, Mazine F, Lucas E (2015) Myrtaceae. In: Lista de Espécies da Flora do Brasil. Jardim Botânico do Rio de Janeiro. http://floradobrasil.jbrj.gov.br/. Accessed 03-21-2018

11.

Ferreira FPS, Morais SR, Bara MTF, Conceição EC, Paula JR, Carvalho TC, Vaz BG, Costa HB, Romão W, Rezende MH (2014) Eugenia calycina Cambess extracts and their fractions: their antimicrobial activity and the identification of major polar compounds using electrospray ionization FT-ICR mass spectrometry. J Pharm Biomed Anal 99:89–96

12.

Magina MDA, Dalmarco EM, Dalmarco JB, Colla G, Pizzolatti MG, Brighente IMC (2012) Bioactive triterpenes and phenolics of leaves of Eugenia brasiliensis. Quím Nova 35:1184–1188

13.

Junior C, De AR, Gomes GA, Ferreira RO, de Carvalho MG (2014) Chemical constituents and antioxidant activity of leaves and branches of Eugenia copacabanensis Kiaersk (Myrtaceae). Quím Nova 37:477–482

14.

Falkenberg MB (1996) Chinone und andere Inhaltstoffe aus Eugenia hiemalis Cambessèdes und Paramyrciaria glazioviana (Kiaerskou) Sobral (Myrtaceae). 84p. Thesis (Doutorado em Pharmazeutische Chemie). Mathematisch-Naturwissenschaftlichen Fakultät, Universität Bonn

15.

Zatelli GA, Zimath P, Tenfen A, Mendes de Cordova CM, Scharf DR, Simionatto EL, Alberton MD, Falkenberg M (2016) Antimycoplasmic activity and seasonal variation of essential oil of Eugenia hiemalis Cambess. (Myrtaceae). Nat Prod Res 30:1961–1964

16.

Goijman SG, Turrens JF, Marini-Bettolo GB, Stoppani AO (1984) Inhibition del crecimiento y la biosintesis de macromoleculas en Trypanosoma cruzi por productos naturales. Medicina 44:361–370

17.

Gunatilaka AA, Berger JM, Evans R, Miller JS, Wisse JH, Neddermann KM, Bursuker I, Kingston DG (2001) Isolation, synthesis, and structure-activity relationships of bioactive benzoquinones from Miconia lepidota from the Suriname rainforest. J Nat Prod 64:2–5

18.

Landa P, Kutil Z, Temml V, Vuorinen A, Malik J, Dvorakova M, Marsik P, Kokoska L, Pribylova M, Schuster D, Vanek T (2012) Redox and non-redox mechanism of in vitro cyclooxygenase inhibition by natural quinones. Planta Med 78:326–333

19.

Tasdemir D, Brun R, Yardley V, Franzblau SG, Rüedi P (2006) Antituberculotic and antiprotozoal activities of primin, a natural benzoquinone: in vitro and in vivo studies. Chem Biodivers 3:1230–1237

20.

Vasekar M, Rizvi S, Liu X, Vrana KE, Zheng H (2015) Novel immunotherapies for hematological malignancies. Curr Mol Pharmacol

21.

Villalba M, Lopez-Royuela N, Krzywinska E, Rathore MG, Hipskind RA, Haouas H, Allende-Vega N (2014) Chemical metabolic inhibitors for the treatment of blood-borne cancers. Anti Cancer Agents Med Chem 14:223–232

22.

Mosmann T (1983) Rapid colorimetric assay for cellular growth and survival: application to proliferation and cytotoxicity assays. J Immunol Methods 65:55–63

23.

Peña-Morán OA, Villarreal ML, Álvarez-Berber L, Meneses-Acosta A, Rodríguez-López V (2016) Cytotoxicity, post-treatment recovery, and selectivity analysis of naturally occurring podophyllotoxins from Bursera fagaroides var. fagaroides on breast cancer cell lines. Mol Basel Switz 21

24.

Evans BC, Nelson CE, Yu SS, Beavers KR, Kim AJ, Li H, Nelson HM, Giorgio TD, Duvall CL (2013) Ex vivo red blood cell hemolysis assay for the evaluation of pH-responsive endosomolytic agents for cytosolic delivery of biomacromolecular drugs. J Vis Exp JoVE

25.

Krug U, Büchner T, Berdel WE, Müller-Tidow C (2011) The treatment of elderly patients with acute myeloid leukemia. Dtsch Arztebl Int 108:863–870

26.

Chizuka A, Suda M, Shibata T, Kusumi E, Hori A, Hamaki T, Kodama Y, Horigome K, Kishi Y, Kobayashi K, Matsumura T, Yuji K, Tanaka Y, Kami M (2006) Difference between hematological malignancy and solid tumor research articles published in four major medical journals. Leukemia 20:1655–1657

27.

Lang F, Wojcik B, Rieger MA (2015) Stem cell hierarchy and clonal evolution in acute lymphoblastic leukemia. Stem Cells Int 2015:137164

28.

Mariani SA, Calabretta B (2014) Leukemia stem cells: old concepts and new perspectives. Mol Asp Med 39:102–109

29.

Reinisch A, Chan SM, Thomas D, Majeti R (2015) Biology and clinical relevance of acute myeloid leukemia stem cells. Semin Hematol 52:150–164

30.

Takebe N, Miele L, Harris PJ, Jeong W, Bando H, Kahn M, Yang SX, Ivy SP (2015) Targeting notch, hedgehog, and Wnt pathways in cancer stem cells: clinical update. Nat Rev Clin Oncol 12:445–464

31.

Hojjat-Farsangi M (2015) Novel and emerging targeted-based cancer therapy agents and methods. Tumour Biol 36:543–556

32.

Suryadevara CM, Gedeon PC, Sanchez-Perez L, Verla T, Alvarez-Breckenridge C, Choi BD, Fecci PE, Sampson JH (2015) Are BiTEs the "missing link" in cancer therapy? Oncoimmunology 4:e1008339

33.

Dahham SS, Tabana YM, Iqbal MA, Ahamed MBK, Ezzat MO, Majid ASA, Majid AMSA (2015) The anticancer, antioxidant and antimicrobial properties of the Sesquiterpene β-Caryophyllene from the essential oil of aquilaria crassna. Mol Basel Switz 20:11808–11829

34.

Korsak J, Goller A, Rzeszotarska A, Pleskacz K (2014) Evaluation of two distinct cryoprotectants for cryopreservation of human red blood cell concentrates. Cryo Letters 35:15–21

35.

Pagano M, Faggio C (2015) The use of erythrocyte fragility to assess xenobiotic cytotoxicity. Cell Biochem Funct 33:351–355

36.

Goldar S, Khaniani MS, Derakhshan SM, Baradaran B (2015) Molecular mechanisms of apoptosis and roles in cancer development and treatment. Asian Pac J Cancer Prev APJCP 16:2129–2144

37.

Zhang D, Tang B, Xie X, Xiao Y-F, Yang S-M, Zhang J-W (2015) The interplay between DNA repair and autophagy in cancer therapy. Cancer Biol Ther 16:1005–1013

38.

Efferth T, Rücker G, Falkenberg M, Manns D, Olbrich A, Fabry U, Osieka R (1996) Detection of apoptosis in KG-1a leukemic cells treated with investigational drugs. Arzneimittelforschung 46:196–200

39.

Lindenblatt D, Fischer E, Cohrs S, Schibli R, Grünberg J (2014) Paclitaxel improved anti-L1CAM lutetium-177 radioimmunotherapy in an ovarian cancer xenograft model. EJNMMI Res 4:54

40.

Pedrini FS, Chiaradia LD, Licínio MA, de Moraes ACR, Curta JC, Costa A, Mascarello A, Creczinsky-Pasa TB, Nunes RJ, Yunes RA, Santos-Silva MC (2010) Induction of apoptosis and cell cycle arrest in L-1210 murine lymphoblastic leukaemia cells by (2E)-3-(2-naphthyl)-1-(3′-methoxy-4′-hydroxy-phenyl)-2-propen-1-one. J Pharm Pharmacol 62:1128–1136

41.

Salsman J, Stathakis A, Parker E, Chung D, Anthes LE, Koskowich KL, Lahsaee S, Gaston D, Kukurba KR, Smith KS, Chute IC, Léger D, Frost LD, Montgomery SB, Lewis SM, Eskiw C, Dellaire G (2017) PML nuclear bodies contribute to the basal expression of the mTOR inhibitor DDIT4. Sci Rep 7:45038

42.

Mazza M, Pelicci PG (2013) Is PML a tumor suppressor? Front Oncol 3

43.

Salomoni P, Dvorkina M, Michod D (2012) Role of the promyelocytic leukaemia protein in cell death regulation. Cell Death Dis 3:e247

44.

Jiang L, Xu L, Xie J, Li S, Guan Y, Zhang Y, Hou Z, Guo T, Shu X, Wang C, Fan W, Si Y, Yang Y, Kang Z, Fang M, Liu Q (2015) Inhibition of autophagy overcomes glucocorticoid resistance in lymphoid malignant cells. Cancer Biol. Ther. 16:466–476

45.

Bose P, Grant S (2015) Rational combinations of targeted agents in AML. J Clin Med 4:634–664

46.

Dalla Via L, García-Argáez AN, Martínez-Vázquez M, Grancara S, Martinis P, Toninello A (2014) Mitochondrial permeability transition as target of anticancer drugs. Curr Pharm Des 20:223–244

47.

Suzuki-Karasaki Y, Suzuki-Karasaki M, Uchida M, Ochiai T (2014) Depolarization controls TRAIL-sensitization and tumor-selective killing of Cancer cells: crosstalk with ROS. Front Oncol 4

48.

Rojas F, Gonzalez D, Cortes N, Ampuero E, Hernández DE, Fritz E, Abarzua S, Martinez A, Elorza AA, Alvarez A et al (2015) Reactive oxygen species trigger motoneuron death in non-cell-autonomous models of ALS through activation of c-Abl signaling. Front Cell Neurosci 9

49.

Pistritto G, Trisciuoglio D, Ceci C, Garufi A, D'Orazi G (2016) Apoptosis as anticancer mechanism: function and dysfunction of its modulators and targeted therapeutic strategies. Aging 8:603–619

50.

Chen X, Duan N, Zhang C, Zhang W (2016) Survivin and tumorigenesis: molecular mechanisms and therapeutic strategies. J Cancer 7:314–323

51.

Swerdlow SH, Campo E, Pileri SA, Harris NL, Stein H, Siebert R, Advani R, Ghielmini M, Salles GA, Zelenetz AD, Jaffe ES (2016) The 2016 revision of the World Health Organization classification of lymphoid neoplasms. Blood 127:2375–2390
Acknowledgements
This study was supported by grants and fellowship from CAPES (Coordenação de Aperfeiçoamento de Pessoal de Nível Superior) (Brazil). Santos-Silva M.C. is recipient of a Research Fellowship from CNPq (National Counsel of Technological and Scientific Development) (Brazil).
Funding
This study was supported by fellowships from CAPES (Coordenação de Aperfeiçoamento de Pessoal de Nível Superior) (Brazil) and CNPq (National Counsel of Technological and Scientific Development) (Brazil) n° 306682/2015–0.
Ethics declarations
Conflict of interest
Author A (Mariana Franzoni Maioral) declares that she has no conflict of interest. Author B (Natália Marceli Stefanes) declares that she has no conflict of interest. Author C (Álisson Bigolin) declares that he has no conflict of interest. Author D (Gabriele Andressa Zatelli) declares that she has no conflict of interest. Author E (Ana Cláudia Philippus) declares that she has no conflict of interest. Author F (Miriam de Barcellos Falkenberg) declares that she has no conflict of interest. Author G (Maria Cláudia Santos-Silva) declares that she has no conflict of interest.
Ethical approval
All procedures performed in this study involving human participants have been conducted with the ethical approval of relevant bodies and that such approvals are acknowledged within the manuscript (Medical Ethics Committee CEPSH n°746.486/2014).
Informed consent
Informed consent was obtained from all individual participants included in the study.
About this article
Cite this article
Maioral, M.F., Stefanes, N.M., Bigolin, Á. et al. MICONIDINE acetate, a new selective and cytotoxic compound with synergic potential, induces cell cycle arrest and apoptosis in leukemia cells. Invest New Drugs 37, 912–922 (2019). https://doi.org/10.1007/s10637-018-0694-6
Received:

Accepted:

Published:

Issue Date:
Keywords
Cell death

Acute leukemia

Cytotoxicity

Apoptosis

Miconidine acetate