Summary
Castrate-Resistant Prostate-Cancer (CRPC) is one of the most common malignancies occurring in men. Unfortunately, even if several recently approved agents clinically improved the outcome of CRPC patients, none of these is curative especially for a splice version of the Androgen Receptor (AR) AR-V7, which is a variant of the receptor constitutively activated and does not require the presence of androgens for the activation AR down-stream pathways. Since high AR-V7 expression is one of the most common features of CRPC, targeting this receptor variant is considered as one of the most promising strategies for treating this disease. Therefore anti-AR-V7 molecules could lead to a potential shift in paradigm in the treatment of CRPC. Niclosamide, an already FDA-approved anti-helminthic drug, was identified as a potent AR-V7 inhibitor in prostate cancer cells. Due to the recent positive preclinical results, niclosamide may be an interesting and novel type of targeted treatments for CRPC. This mini-review outlines the most recent pre- and clinical- data on the current status of niclosamide in the treatment of ARV7-positive CRPC patients.
This is a preview of subscription content, log in to check access.
Access options
Buy single article
Instant access to the full article PDF.
US$ 39.95
Price includes VAT for USA
Subscribe to journal
Immediate online access to all issues from 2019. Subscription will auto renew annually.
US$ 99
This is the net price. Taxes to be calculated in checkout.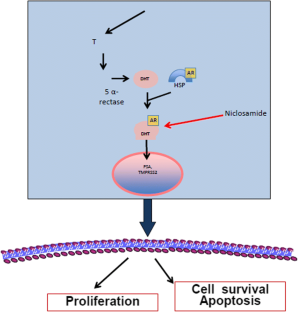 References
1.

Siegel RL, Miller KD, Jemal A (2018) Cancer statistics, 2018. CA Cancer J Clin 68:7–30

2.

Stein MN, Jang TL (2016) Striving toward a cure for prostate Cancer. J Clin Oncol 34:2075–2078

3.

Schweizer MT, Yu EY (2015) Persistent androgen receptor addiction in castration-resistant prostate cancer. J Hematol Oncol 8:128

4.

Kantoff PW et al (2010) Sipuleucel-T Immunotherapy for Castration-Resistant Prostate Cancer. Engl J Med 3635

5.

Wadosky KM, Koochekpour S (2017) Androgen receptor splice variants and prostate cancer: from bench to bedside. Oncotarget 8:18550–18576

6.

Rosner W, Hryb DJ, Khan MS, Nakhla AM, Romas NA (1991) Sex hormone-binding globulin: anatomy and physiology of a new regulatory system. J Steroid Biochem Mol Biol 40:813–820

7.

Baker ME (2002) Albumin, steroid hormones and the origin of vertebrates. J Endocrinol 175:121–127

8.

Srinivas-Shankar U, Wu FC (2006) Drug insight: testosterone preparations. Nat Clin Pract Urol 3:653–665

9.

Shang Y, Myers M, Brown M (2002) Formation of the androgen receptor transcription complex. Mol Cell 9:601–610

10.

Dehm SM, Tindall DJ (2006) Molecular regulation of androgen action in prostate cancer. J Cell Biochem 99:333–344

11.

Wang Q, Carroll JS, Brown M (2005) Spatial and temporal recruitment of androgen receptor and its Coactivators involves chromosomal looping and polymerase tracking. Mol Cell 19:631–642

12.

van Royen ME, van Cappellen WA, de Vos C, Houtsmuller AB, Trapman J (2012) Stepwise androgen receptor dimerization. J Cell Sci 125:1970–1979

13.

Heinlein CA, Chang C (2004) Androgen receptor in prostate Cancer. Endocr Rev 25:276–308

14.

Beato M, Herrlich P, Schütz G (1995) Steroid hormone receptors: many actors in search of a plot. Cell 83:851–857

15.

Mangelsdorf DJ, Thummel C, Beato M, Herrlich P, Schütz G, Umesono K, Blumberg B, Kastner P, Mark M, Chambon P, Evans RM (1995) The nuclear receptor superfamily: the second decade. Cell 83:835–839

16.

Tsai M, O'Malley BW (1994) Molecular mechanisms of action of steroid/thyroid receptor superfamily members. Annu Rev Biochem 63:451–486

17.

Nuclear Receptors Nomenclature Committee (1999) A unified nomenclature system for the nuclear receptor superfamily. Cell 97:161–163

18.

Lubahn DB et al (1988) Cloning of human androgen receptor complementary DNA and localization to the X chromosome. Science 240:327–330

19.

Brown CJ, Goss SJ, Lubahn DB, Joseph DR, Wilson EM, French FS, Willard HF (1989) Androgen receptor locus on the human X chromosome: regional localization to Xq11-12 and description of a DNA polymorphism. Am J Hum Genet 44:264–269

20.

Migeon BR, Brown TR, Axelman J, Migeon CJ (1981) Studies of the locus for androgen receptor: localization on the human X chromosome and evidence for homology with the Tfm locus in the mouse. Proc Natl Acad Sci U S A 78:6339–6343

21.

Gelmann E, Molecular P (2002) Biology of the androgen receptor. J Clin Oncol 20:3001–3015

22.

Sasaki M, Kaneuchi M, Sakuragi N, Fujimoto S, Carroll PR, Dahiya R (2003) The polyglycine and polyglutamine repeats in the androgen receptor gene in Japanese and Caucasian populations. Biochem Biophys Res Commun 312:1244–1247

23.

Hsing AW, Gao YT, Wu G, Wang X, Deng J, Chen YL, Sesterhenn IA, Mostofi FK, Benichou J, Chang C (2000) Polymorphic CAG and GGN repeat lengths in the androgen receptor gene and prostate cancer risk: a population-based case-control study in China. Cancer Res 60:5111–5116

24.

Chang CS, Kokontis J, Liao ST (1988) Structural analysis of complementary DNA and amino acid sequences of human and rat androgen receptors. Proc Natl Acad Sci U S A 85:7211–7215

25.

McEwan IJ (2004) Molecular mechanisms of androgen receptor-mediated gene regulation: structure-function analysis of the AF-1 domain. Endocr Relat Cancer 11:281–293

26.

Callewaert L, Van Tilborgh N, Claessens F (2006) Interplay between two hormone-independent activation domains in the androgen receptor. Cancer Res 66:543–553

27.

Doesburg P, Kuil CW, Berrevoets CA, Steketee K, Faber PW, Mulder E, Brinkmann AO, Trapman J (1997) Functional in Vivo interaction between the amino-terminal, transactivation domain and the ligand binding domain of the androgen receptor †. Biochemistry 36:1052–1064

28.

He B, Kemppainen JA, Wilson EM (2000) F XX LF and W XX LF sequences mediate the NH 2 -terminal interaction with the ligand binding domain of the androgen receptor. J Biol Chem 275:22986–22994

29.

Wilson EM (2011) Analysis of Interdomain Interactions of the Androgen Receptor. Methods in molecular biology (Clifton, N.J.) 776:113–129

30.

Shaffer PL, Jivan A, Dollins DE, Claessens F, Gewirth DT (2004) Structural basis of androgen receptor binding to selective androgen response elements. Proc Natl Acad Sci 101:4758–4763

31.

Jenster G, Trapman J, Brinkmann AO (1993) Nuclear import of the human androgen receptor. Biochem. J 293(Pt 3):761–768

32.

Zhou ZX, Sar M, Simental JA, Lane MV, Wilson EM (1994) A ligand-dependent bipartite nuclear targeting signal in the human androgen receptor. Requirement for the DNA-binding domain and modulation by NH2-terminal and carboxyl-terminal sequences. J. Biol. Chem 269:13115–13123

33.

Haelens A, Tanner T, Denayer S, Callewaert L, Claessens F (2007) The hinge region regulates DNA binding, nuclear translocation, and transactivation of the androgen receptor. Cancer Res 67:4514–4523

34.

Clinckemalie L, Vanderschueren D, Boonen S, Claessens F (2012) The hinge region in androgen receptor control. Mol Cell Endocrinol 358:1–8

35.

Matias PM, Donner P, Coelho R, Thomaz M, Peixoto C, Macedo S, Otto N, Joschko S, Scholz P, Wegg A, Bäsler S, Schäfer M, Egner U, Carrondo MA (2000) Structural evidence for ligand specificity in the binding domain of the human androgen receptor. J Biol Chem 275:26164–26171

36.

Tan MHE, Li J, Xu HE, Melcher K, Yong E (2015) Androgen receptor: structure, role in prostate cancer and drug discovery. Acta Pharmacol Sin 36:3–23

37.

Wadosky KM, Koochekpour S (2016) Molecular mechanisms underlying resistance to androgen deprivation therapy in prostate cancer. Oncotarget 7:64447–64470

38.

Koochekpour S (2010) Androgen receptor signaling and mutations in prostate cancer. Asian J Androl 12:639–657

39.

Heemers HV, Tindall DJ (2007) Androgen receptor (AR) Coregulators: a diversity of functions converging on and regulating the AR transcriptional complex. Endocr Rev 28:778–808

40.

Van der Steen T, Tindall D, Huang H (2013) Posttranslational modification of the androgen receptor in prostate Cancer. Int J Mol Sci 14:14833–14859

41.

Dehm SM, Tindall DJ (2011) Alternatively spliced androgen receptor variants. Endocr Relat Cancer 18:R183–R196

42.

Antonarakis ES, Lu C, Wang H, Luber B, Nakazawa M, Roeser JC, Chen Y, Mohammad TA, Chen Y, Fedor HL, Lotan TL, Zheng Q, de Marzo AM, Isaacs JT, Isaacs WB, Nadal R, Paller CJ, Denmeade SR, Carducci MA, Eisenberger MA, Luo J (2014) AR-V7 and resistance to Enzalutamide and Abiraterone in prostate Cancer. N Engl J Med 371:1028–1038

43.

Steinestel JAM, Luedeke M, Arndt A (2014) Detecting predictive androgen receptor modifications in circulating prostate cancer cells. Oncotarget. https://doi.org/10.18632/oncotarget.3925

44.

Scher HI, Graf RP, Schreiber NA, McLaughlin B, Lu D, Louw J, Danila DC, Dugan L, Johnson A, Heller G, Fleisher M, Dittamore R (2017) Nuclear-specific AR-V7 protein localization is necessary to guide treatment selection in metastatic castration-resistant prostate Cancer. Eur Urol 71:874–882

45.

Dehm SM, Schmidt LJ, Heemers HV, Vessella RL, Tindall DJ (2008) Splicing of a novel androgen receptor exon generates a constitutively active androgen receptor that mediates prostate Cancer therapy resistance. Cancer Res 68:5469–5477

46.

Hu R, Dunn TA, Wei S, Isharwal S, Veltri RW, Humphreys E, Han M, Partin AW, Vessella RL, Isaacs WB, Bova GS, Luo J (2009) Ligand-independent androgen receptor variants derived from splicing of cryptic exons signify hormone-refractory prostate Cancer. Cancer Res 69:16–22
Ethics declarations
Conflict of interest
The authors declare that they have no conflict of interest.
Ethical approval
This article does not contain any studies with human participants or animals performed by any of the authors. All applicable international, national, and/or institutional guidelines for the care and use of animals were followed. All procedures performed in studies involving human participants were in accordance with the ethical standards of the institutional and/or national research committee and with the 1964 Helsinki declaration and its later amendments or comparable ethical standards.
Informed consent
For this type of study, formal consent is not required.
About this article
Cite this article
Sobhani, N., Generali, D., D'Angelo, A. et al. Current status of androgen receptor-splice variant 7 inhibitor niclosamide in castrate-resistant prostate-cancer. Invest New Drugs 36, 1133–1137 (2018). https://doi.org/10.1007/s10637-018-0653-2
Received:

Accepted:

Published:

Issue Date:
Keywords
Castrate-resistant prostate-Cancer

Androgen receptor

Androgen receptor splice variant 7

Niclosamide