Summary
Background Aurora kinase overexpression or amplifications are associated with high proliferation, poor prognosis, and therapeutic resistance in human tumors. AMG 900 is an investigational, oral, selective pan-Aurora kinase inhibitor. Methods This first-in-human trial included dose-escalation and dose-expansion phases (ClinicalTrials.gov: NCT00858377). Dose escalation evaluated the safety, tolerability, and pharmacokinetics of AMG 900 in advanced solid tumors and determined the maximum tolerated dose (MTD) with/without granulocyte colony-stimulating factor (G-CSF) prophylaxis. Dose expansion evaluated clinical activity in three tumor types: taxane- and platinum-resistant ovarian cancer, taxane-resistant triple-negative breast cancer (TNBC), and castration-resistant and taxane- or cisplatin/etoposide–resistant prostate cancer (CRPC). AMG 900 was administered 4 days on/10 days off at 1–50 mg/day during escalation and at the MTD with G-CSF during expansion. Results AMG 900 showed rapid absorption with fast clearance, supporting once-daily dosing. The MTD was 25 mg/day, increasing to 40 mg/day with G-CSF. Grade ≥ 3 treatment-related adverse events included neutropenia (37%), anemia (23%), leukopenia (14%), and thrombocytopenia (12%). During dose expansion, 3/29 (10.3%, 95% CI: 2.0%–28.0%) evaluable patients with ovarian cancer experienced partial response by central imaging per RECIST 1.1; median duration of response was 24.1 weeks (95% CI: 16.1–34.1). Seven patients (24.1%, 95% CI: 10.3%–43.5%) experienced partial response per Gynecologic Cancer InterGroup criteria; 5/9 patients positive for p53 expression responded to treatment. No objective responses were observed in patients with TNBC or CRPC per RECIST 1.1. Conclusions AMG 900 40 mg/day with G-CSF had manageable toxicity and demonstrated single-agent activity in patients with heavily pretreated, chemotherapy-resistant ovarian cancer.
Access options
Buy single article
Instant access to the full article PDF.
USD 39.95
Price includes VAT (USA)
Tax calculation will be finalised during checkout.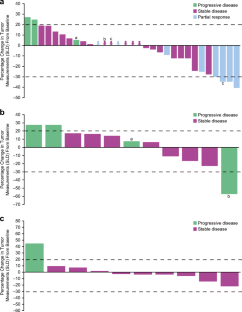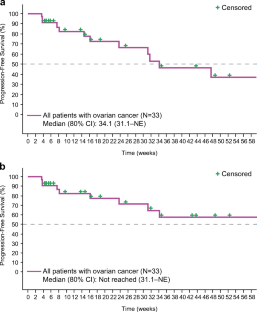 References
1.

Carmena M, Earnshaw WC (2003) The cellular geography of Aurora kinases. Nat Rev Mol Cell Biol 4:842–854

2.

Afonso O, Matos I, Pereira AJ, Aguiar P, Lampson MA, Maiato H (2014) Feedback control of chromosome separation by a midzone Aurora B gradient. Science 345:332–336

3.

Tanner MM, Grenman S, Koul A, Johannsson O, Meltzer P, Pejovic T, Borg A, Isola JJ (2000) Frequent amplification of chromosomal region 20q12-q13 in ovarian cancer. Clin Cancer Res 6:1833–1839

4.

Varambally S, Yu J, Laxman B, Rhodes DR, Mehra R, Tomlins SA, Shah RB, Chandran U, Monzon FA, Becich MJ, Wei JT, Pienta KJ, Ghosh D, Rubin MA, Chinnaiyan AM (2005) Integrative genomic and proteomic analysis of prostate cancer reveals signatures of metastatic progression. Cancer Cell 8:393–406

5.

Ginestier C, Cervera N, Finetti P, Esteyries S, Esterni B, Adelaide J, Xerri L, Viens P, Jacquemier J, Charafe-Jauffret E, Chaffanet M, Birnbaum D, Bertucci F (2006) Prognosis and gene expression profiling of 20q13-amplified breast cancers. Clin Cancer Res 12:4533–4544

6.

D'Assoro AB, Haddad T, Galanis E (2015) Aurora-A kinase as a promising therapeutic target in cancer. Front Oncol 5:295

7.

Falchook GS, Bastida CC, Kurzrock R (2015) Aurora kinase inhibitors in oncology clinical trials: current state of the progress. Semin Oncol 42:832–848

8.

Niu H, Manfredi M, Ecsedy JA (2015) Scientific rationale supporting the clinical development strategy for the investigational Aurora A kinase inhibitor alisertib in cancer. Front Oncol 5:189

9.

Bavetsias V, Linardopoulos S (2015) Aurora kinase inhibitors: current status and outlook. Front Oncol 5:278

10.

Kaestner P, Stolz A, Bastians H (2009) Determinants for the efficiency of anticancer drugs targeting either Aurora-A or Aurora-B kinases in human colon carcinoma cells. Mol Cancer Ther 8:2046–2056

11.

Girdler F, Gascoigne KE, Eyers PA, Hartmuth S, Crafter C, Foote KM, Keen NJ, Taylor SS (2006) Validating Aurora B as an anti-cancer drug target. J Cell Sci 119:3664–3675

12.

Jackson JR, Patrick DR, Dar MM, Huang PS (2007) Targeted anti-mitotic therapies: can we improve on tubulin agents? Nat Rev Cancer 7:107–117

13.

Meulenbeld HJ, Bleuse JP, Vinci EM, Raymond E, Vitali G, Santoro A, Dogliotti L, Berardi R, Cappuzzo F, Tagawa ST, Sternberg CN, Jannuzzo MG, Mariani M, Petroccione A, de Wit R (2013) Randomized phase II study of danusertib in patients with metastatic castration-resistant prostate cancer after docetaxel failure. BJU Int 111:44–52

14.

Seymour JF, Kim DW, Rubin E, Haregewoin A, Clark J, Watson P, Hughes T, Dufva I, Jimenez JL, Mahon FX, Rousselot P, Cortes J, Martinelli G, Papayannidis C, Nagler A, Giles FJ (2014) A phase 2 study of MK-0457 in patients with BCR-ABL T315I mutant chronic myelogenous leukemia and Philadelphia chromosome-positive acute lymphoblastic leukemia. Blood Cancer J 4:e238

15.

Asteriti IA, Di Cesare E, De Mattia F, Hilsenstein V, Neumann B, Cundari E, Lavia P, Guarguaglini G (2014) The Aurora-A inhibitor MLN8237 affects multiple mitotic processes and induces dose-dependent mitotic abnormalities and aneuploidy. Oncotarget 5:6229–6242

16.

Payton M, Bush TL, Chung G, Ziegler B, Eden P, McElroy P, Ross S, Cee VJ, Deak HL, Hodous BL, Nguyen HN, Olivieri PR, Romero K, Schenkel LB, Bak A, Stanton M, Dussault I, Patel VF, Geuns-Meyer S, Radinsky R, Kendall RL (2010) Preclinical evaluation of AMG 900, a novel potent and highly selective pan-aurora kinase inhibitor with activity in taxane-resistant tumor cell lines. Cancer Res 70:9846–9854

17.

Beltran H, Rickman DS, Park K, Chae SS, Sboner A, MacDonald TY, Wang Y, Sheikh KL, Terry S, Tagawa ST, Dhir R, Nelson JB, de la Taille A, Allory Y, Gerstein MB, Perner S, Pienta KJ, Chinnaiyan AM, Wang Y, Collins CC, Gleave ME, Demichelis F, Nanus DM, Rubin MA (2011) Molecular characterization of neuroendocrine prostate cancer and identification of new drug targets. Cancer Discov 1:487–495

18.

Finetti P, Cervera N, Charafe-Jauffret E, Chabannon C, Charpin C, Chaffanet M, Jacquemier J, Viens P, Birnbaum D, Bertucci F (2008) Sixteen-kinase gene expression identifies luminal breast cancers with poor prognosis. Cancer Res 68:767–776

19.

Lee EC, Frolov A, Li R, Ayala G, Greenberg NM (2006) Targeting Aurora kinases for the treatment of prostate cancer. Cancer Res 66:4996–5002

20.

Simon R, Freidlin B, Rubinstein L, Arbuck SG, Collins J, Christian MC (1997) Accelerated titration designs for phase I clinical trials in oncology. J Natl Cancer Inst 89:1138–1147

21.

US Department of Health and Human Services (2010) Common Terminology Criteria for Adverse Events (CTCAE) version 4.0. National Institutes of Health. Available at: http://evs.nci.nih.gov/ftp1/CTCAE/CTCAE_4.03_2010-06-14_QuickReference_5x7.pdf. Accessed 28 Feb 2017

22.

Rustin GJ, Vergote I, Eisenhauer E, Pujade-Lauraine E, Quinn M, Thigpen T, du Bois A, Kristensen G, Jakobsen A, Sagae S, Greven K, Parmar M, Friedlander M, Cervantes A, Vermorken J, Gynecological Cancer InterGroup (2011) Definitions for response and progression in ovarian cancer clinical trials incorporating RECIST 1.1 and CA 125 agreed by the Gynecological Cancer Intergroup (GCIG). Int J Gynecol Cancer 21:419–423

23.

Eisenhauer EA, Therasse P, Bogaerts J, Schwartz LH, Sargent D, Ford R, Dancey J, Arbuck S, Gwyther S, Mooney M, Rubinstein L, Shankar L, Dodd L, Kaplan R, Lacombe D, Verweij J (2009) New response evaluation criteria in solid tumours: revised RECIST guideline (version 1.1). Eur J Cancer 45:228–247

24.

Pujade-Lauraine E, Hilpert F, Weber B, Reuss A, Poveda A, Kristensen G, Sorio R, Vergote I, Witteveen P, Bamias A, Pereira D, Wimberger P, Oaknin A, Mirza MR, Follana P, Bollag D, Ray-Coquard I (2014) Bevacizumab combined with chemotherapy for platinum-resistant recurrent ovarian cancer: the AURELIA open-label randomized phase III trial. J Clin Oncol 32:1302–1308

25.

Yemelyanova A, Vang R, Kshirsagar M, Lu D, Marks MA, Shih IM, Kurman RJ (2011) Immunohistochemical staining patterns of p53 can serve as a surrogate marker for TP53 mutations in ovarian carcinoma: an immunohistochemical and nucleotide sequencing analysis. Mod Pathol 24:1248–1253

26.

Kalous O, Conklin D, Desai AJ, Dering J, Goldstein J, Ginther C, Anderson L, Lu M, Kolarova T, Eckardt MA, Langerod A, Borresen-Dale AL, Slamon DJ, Finn RS (2013) AMG 900, pan-Aurora kinase inhibitor, preferentially inhibits the proliferation of breast cancer cell lines with dysfunctional p53. Breast Cancer Res Treat 141:397–408

27.

Cicenas J (2016) The Aurora kinase inhibitors in cancer research and therapy. J Cancer Res Clin Oncol 142:1995–2012

28.

Schoffski P, Besse B, Gauler T, de Jonge MJ, Scambia G, Santoro A, Davite C, Jannuzzo MG, Petroccione A, Delord JP (2015) Efficacy and safety of biweekly i.v. administrations of the Aurora kinase inhibitor danusertib hydrochloride in independent cohorts of patients with advanced or metastatic breast, ovarian, colorectal, pancreatic, small-cell and non-small-cell lung cancer: a multi-tumour, multi-institutional phase II study. Ann Oncol 26:598–607

29.

Cicenas J, Cicenas E (2016) Multi-kinase inhibitors, AURKs and cancer. Med Oncol 33:43

30.

Borisa AC, Bhatt HG (2017) A comprehensive review on Aurora kinase: small molecule inhibitors and clinical trial studies. Eur J Med Chem 140:1–19

31.

Tang A, Gao K, Chu L, Zhang R, Yang J, Zheng J (2017) Aurora kinases: novel therapy targets in cancers. Oncotarget 8:23937–23954

32.

Bush TL, Payton M, Heller S, Chung G, Hanestad K, Rottman JB, Loberg R, Friberg G, Kendall RL, Saffran D, Radinsky R (2013) AMG 900, a small-molecule inhibitor of aurora kinases, potentiates the activity of microtubule-targeting agents in human metastatic breast cancer models. Mol Cancer Ther 12:2356–2366

33.

Alcaraz-Sanabria A, Nieto-Jimenez C, Corrales-Sanchez V, Serrano-Oviedo L, Andres-Pretel F, Montero JC, Burgos M, Llopis J, Galan-Moya EM, Pandiella A, Ocana A (2017) Synthetic lethality interaction between Aurora kinases and CHEK1 inhibitors in ovarian cancer. Mol Cancer Ther 16:2552–2562

34.

Kalous O, Conklin D, Manivong K, Wayne W, Hanestad K, Canon J, Loberg R, Friberg G, Gamelin E, Vogl FD, Juan G, Coxon A, Slamon D, Finn R, Payton M (2016) Preclinical characterization of AMG 900, a pan-aurora kinase inhibitor, alone and in combination with taxanes in ovarian cancer [abstract]. Cancer Res 76:3008
Acknowledgements
This study was sponsored by Amgen Inc. Funding for writing of this manuscript was provided by Amgen Inc. Micah Robinson, PhD (Amgen Inc.), as well as Miranda Tradewell, PhD, James Balwit, MS, CMPP, and Rick Davis, MS (Complete Healthcare Communications, LLC; on behalf of Amgen Inc.) assisted with writing the manuscript.
Ethics declarations
Disclosure of potential conflicts of interest
Michael Carducci reports research funding from Amgen to his institution during the conduct of this study. Sara Hurvitz reports a grant from OBI Pharma during the conduct of this study, and grants/research support from Amgen Inc., Bayer, BI Pharma, Genentech, GSK, Lilly, Novartis, Pfizer, Roche, PUMA, Merrimack, Medivation, Dignitana, OBI Pharma, Biomarin, Cascadian, and Seattle Genetics outside the submitted work. Erik Rasmussen, Gloria Juan, Vincent Chow, and Gregory Friberg are employees of Amgen Inc. and hold Amgen stock. Florian Vogl was an employee of Amgen Inc. at the time this work was conducted and holds stock in Amgen Inc. Erick Gamelin was an employee of Amgen Inc. at the time this work was conducted. Jayesh Desai has received research grants from Novartis, Bionomics, and Roche/Genentech and has received fees for consulting from Amgen, Novartis, Bionomics, Lilly, and Eisai. Montaser Shaheen, Ben Markman, Daruka Mahadevan, Dusan Kotasek, and Oscar Goodman declare they have no conflicts of interest.
Ethical approval
All procedures performed in studies involving human participants were in accordance with the ethical standards of the institutional and/or national research committee and with the 1964 Helsinki declaration and its later amendments or comparable ethical standards.
Informed consent
Informed consent was obtained from all individual participants included in the study.
Electronic supplementary material
About this article
Cite this article
Carducci, M., Shaheen, M., Markman, B. et al. A phase 1, first-in-human study of AMG 900, an orally administered pan-Aurora kinase inhibitor, in adult patients with advanced solid tumors. Invest New Drugs 36, 1060–1071 (2018). https://doi.org/10.1007/s10637-018-0625-6
Received:

Accepted:

Published:

Issue Date:
Keywords
AMG 900

Antimitotic

Aurora kinase

pan-Aurora kinase inhibitor