Summary
Glioblastoma (GBM) is the most frequent and aggressive type of brain tumor. There are limited therapeutic options for GBM so that new and effective agents are urgently needed. Euphol is a tetracyclic triterpene alcohol, and it is the main constituent of the sap of the medicinal plant Euphorbia tirucalli. We previously identified anti-cancer activity in euphol based on the cytotoxicity screening of 73 human cancer cells. We now expand the toxicological screening of the inhibitory effect and bioactivity of euphol using two additional glioma primary cultures. Euphol exposure showed similar cytotoxicity against primary glioma cultures compared to commercial glioma cells. Euphol has concentration-dependent cytotoxic effects on cancer cell lines, with more than a five-fold difference in the IC50 values in some cell lines. Euphol treatment had a higher selective cytotoxicity index (0.64–3.36) than temozolomide (0.11–1.13) and reduced both proliferation and cell motility. However, no effect was found on cell cycle distribution, invasion and colony formation. Importantly, the expression of the autophagy-associated protein LC3-II and acidic vesicular organelle formation were markedly increased, with Bafilomycin A1 potentiating cytotoxicity. Finally, euphol also exhibited antitumoral and antiangiogenic activity in vivo, using the chicken chorioallantoic membrane assay, with synergistic temozolomide interactions in most cell lines. In conclusion, euphol exerted in vitro and in vivo cytotoxicity against glioma cells, through several cancer pathways, including the activation of autophagy-associated cell death. These findings provide experimental support for further development of euphol as a novel therapeutic agent for GBM, either alone or in combination chemotherapy.
Access options
Buy single article
Instant access to the full article PDF.
USD 39.95
Price excludes VAT (USA)
Tax calculation will be finalised during checkout.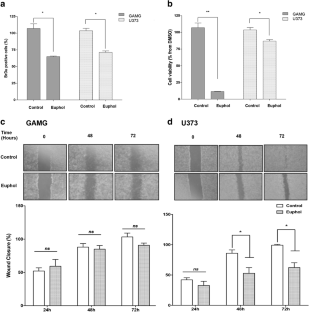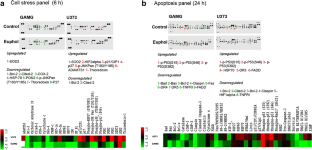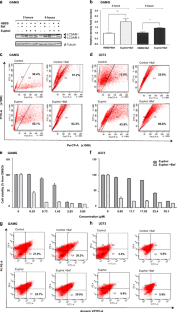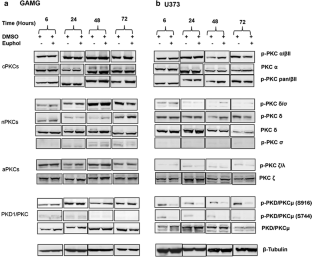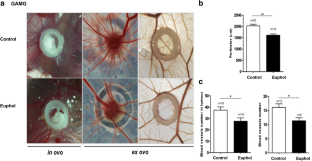 References
Miranda-Filho A, Pineros M, Soerjomataram I, Deltour I, Bray F (2017) Cancers of the brain and CNS: global patterns and trends in incidence. Neuro-Oncology 19(2):270–280. https://doi.org/10.1093/neuonc/now166

Louis DN, Perry A, Reifenberger G, von Deimling A, Figarella-Branger D, Cavenee WK, Ohgaki H, Wiestler OD, Kleihues P, Ellison DW (2016) The 2016 World Health Organization classification of tumors of the central nervous system: a summary. Acta Neuropathol 131(6):803–820. https://doi.org/10.1007/s00401-016-1545-1

Tanaka S, Louis DN, Curry WT, Batchelor TT, Dietrich J (2013) Diagnostic and therapeutic avenues for glioblastoma: no longer a dead end? Nat Rev Clin Oncol 10(1):14–26. https://doi.org/10.1038/nrclinonc.2012.204

Ohgaki H, Burger P, Kleihues P (2014) Definition of primary and secondary glioblastoma--response. Clin Cancer Res 20(7):2013. https://doi.org/10.1158/1078-0432.ccr-14-0238

Ricci-Vitiani L, Pallini R, Biffoni M, Todaro M, Invernici G, Cenci T, Maira G, Parati EA, Stassi G, Larocca LM, De Maria R (2010) Tumour vascularization via endothelial differentiation of glioblastoma stem-like cells. Nature 468(7325):824–828. https://doi.org/10.1038/nature09557

Wang R, Chadalavada K, Wilshire J, Kowalik U, Hovinga KE, Geber A, Fligelman B, Leversha M, Brennan C, Tabar V (2010) Glioblastoma stem-like cells give rise to tumour endothelium. Nature 468(7325):829–833. https://doi.org/10.1038/nature09624

Singh SK, Clarke ID, Terasaki M, Bonn VE, Hawkins C, Squire J, Dirks PB (2003) Identification of a cancer stem cell in human brain tumors. Cancer Res 63(18):5821–5828

Weller M, van den Bent M, Tonn JC, Stupp R, Preusser M, Cohen-Jonathan-Moyal E, Henriksson R, Le Rhun E, Balana C, Chinot O, Bendszus M, Reijneveld JC, Dhermain F, French P, Marosi C, Watts C, Oberg I, Pilkington G, Baumert BG, Taphoorn MJB, Hegi M, Westphal M, Reifenberger G, Soffietti R, Wick W (2017) European Association for Neuro-Oncology (EANO) guideline on the diagnosis and treatment of adult astrocytic and oligodendroglial gliomas. The Lancet Oncology 18 (6):e315-e329. doi:https://doi.org/10.1016/s1470-2045(17)30194-8

van den Bent MJ, Smits M, Kros JM, Chang SM (2017) Diffuse infiltrating Oligodendroglioma and astrocytoma. J Clin Oncol 35(21):2394–2401. https://doi.org/10.1200/jco.2017.72.6737

Lieberman F (2017) Glioblastoma update: molecular biology, diagnosis, treatment, response assessment, and translational clinical trials. F1000Research 6:1892. https://doi.org/10.12688/f1000research.11493.1

Stupp R, Mason WP, van den Bent MJ, Weller M, Fisher B, Taphoorn MJ, Belanger K, Brandes AA, Marosi C, Bogdahn U, Curschmann J, Janzer RC, Ludwin SK, Gorlia T, Allgeier A, Lacombe D, Cairncross JG, Eisenhauer E, Mirimanoff RO (2005) Radiotherapy plus concomitant and adjuvant temozolomide for glioblastoma. N Engl J Med 352(10):987–996. https://doi.org/10.1056/NEJMoa043330

Filippi-Chiela EC, Villodre ES, Zamin LL, Lenz G (2011) Autophagy interplay with apoptosis and cell cycle regulation in the growth inhibiting effect of resveratrol in glioma cells. PLoS One 6(6):e20849. https://doi.org/10.1371/journal.pone.0020849

Pozo-Guisado E, Merino JM, Mulero-Navarro S, Lorenzo-Benayas MJ, Centeno F, Alvarez-Barrientos A, Fernandez-Salguero PM (2005) Resveratrol-induced apoptosis in MCF-7 human breast cancer cells involves a caspase-independent mechanism with downregulation of Bcl-2 and NF-kappaB. Int J Cancer 115(1):74–84. https://doi.org/10.1002/ijc.20856

Fuggetta MP, D'Atri S, Lanzilli G, Tricarico M, Cannavo E, Zambruno G, Falchetti R, Ravagnan G (2004) In vitro antitumour activity of resveratrol in human melanoma cells sensitive or resistant to temozolomide. Melanoma Res 14(3):189–196

Silva VAO, Rosa MN, Tansini A, Oliveira RJ, Martinho O, Lima J, Pianowski LF, Reis RM (2018) In vitro screening of cytotoxic activity of euphol from Euphorbia tirucalli on a large panel of human cancer-derived cell lines. Exp Ther Med. https://doi.org/10.3892/etm.2018.6244

Akihisa T, Ogihara J, Kato J, Yasukawa K, Ukiya M, Yamanouchi S, Oishi K (2001) Inhibitory effects of triterpenoids and sterols on human immunodeficiency virus-1 reverse transcriptase. Lipids 36(5):507–512

Dutra RC, Bicca MA, Segat GC, Silva KA, Motta EM, Pianowski LF, Costa R, Calixto JB (2015) The antinociceptive effects of the tetracyclic triterpene euphol in inflammatory and neuropathic pain models: the potential role of PKCepsilon. Neuroscience 303:126–137. https://doi.org/10.1016/j.neuroscience.2015.06.051

Dutra RC, de Souza PR, Bento AF, Marcon R, Bicca MA, Pianowski LF, Calixto JB (2012) Euphol prevents experimental autoimmune encephalomyelitis in mice: evidence for the underlying mechanisms. Biochem Pharmacol 83(4):531–542. https://doi.org/10.1016/j.bcp.2011.11.026

Chen N, Karantza V (2011) Autophagy as a therapeutic target in cancer. Cancer Biol Ther 11(2):157–168. https://doi.org/10.4161/cbt.11.2.14622

Lin MW, Lin AS, Wu DC, Wang SS, Chang FR, Wu YC, Huang YB (2012) Euphol from Euphorbia tirucalli selectively inhibits human gastric cancer cell growth through the induction of ERK1/2-mediated apoptosis. Food Chem Toxicol 50(12):4333–4339. https://doi.org/10.1016/j.fct.2012.05.029

Martinho O, Silva-Oliveira R, Miranda-Goncalves V, Clara C, Almeida JR, Carvalho AL, Barata JT, Reis RM (2013) In vitro and in vivo analysis of RTK inhibitor efficacy and identification of its novel targets in glioblastomas. Transl Oncol 6 (2):187–196

Cruvinel-Carloni A, SilvaOliveira R, Torrieri R, Bidinotto LT, Berardinelli GN, Oliveira-Silva VA, Clara CA, de Almeida GC, Martinho O, Squire JA, Reis RM (2017) Molecular characterization of short-term primary cultures and comparison with corresponding tumor tissue of Brazilian glioblastoma patients. Trans Can Res 6(2):332–345. https://doi.org/10.21037/tcr.2017.03.32

Silva-Oliveira RJ, Silva VA, Martinho O, Cruvinel-Carloni A, Melendez ME, Rosa MN, de Paula FE, de Souza Viana L, Carvalho AL, Reis RM (2016) Cytotoxicity of allitinib, an irreversible anti-EGFR agent, in a large panel of human cancer-derived cell lines: KRAS mutation status as a predictive biomarker. Cell Oncol (Dordrecht) 39(3):253–263. https://doi.org/10.1007/s13402-016-0270-z

Dutra RC, Simao da Silva KA, Bento AF, Marcon R, Paszcuk AF, Meotti FC, Pianowski LF, Calixto JB (2012) Euphol, a tetracyclic triterpene produces antinociceptive effects in inflammatory and neuropathic pain: the involvement of cannabinoid system. Neuropharmacology 63(4):593–605. https://doi.org/10.1016/j.neuropharm.2012.05.008

Konecny GE, Glas R, Dering J, Manivong K, Qi J, Finn RS, Yang GR, Hong KL, Ginther C, Winterhoff B, Gao G, Brugge J, Slamon DJ (2009) Activity of the multikinase inhibitor dasatinib against ovarian cancer cells. Br J Cancer 101(10):1699–1708. https://doi.org/10.1038/sj.bjc.6605381

Suffness M and Pezzuto JM (1990) Assays related to cancer drug discovery. In: Hostettmann K (ed) Methods in plant biochemistry: assays for bioactivity, vol 6. Academic Press, London, pp 71–133

Teixeira TL, Oliveira Silva VA, da Cunha DB, Polettini FL, Thomaz CD, Pianca AA, Zambom FL, da Silva Leitao Mazzi DP, Reis RM, Mazzi MV (2016) Isolation, characterization and screening of the in vitro cytotoxic activity of a novel L-amino acid oxidase (LAAOcdt) from Crotalus durissus terrificus venom on human cancer cell lines. Toxicon 119:203–217. doi:https://doi.org/10.1016/j.toxicon.2016.06.009

Kanzawa T, Germano IM, Komata T, Ito H, Kondo Y, Kondo S (2004) Role of autophagy in temozolomide-induced cytotoxicity for malignant glioma cells. Cell Death Differ 11(4):448–457. https://doi.org/10.1038/sj.cdd.4401359

Miranda-Goncalves V, Honavar M, Pinheiro C, Martinho O, Pires MM, Pinheiro C, Cordeiro M, Bebiano G, Costa P, Palmeirim I, Reis RM, Baltazar F (2013) Monocarboxylate transporters (MCTs) in gliomas: expression and exploitation as therapeutic targets. Neuro-Oncology 15(2):172–188. https://doi.org/10.1093/neuonc/nos298

Bruzzese F, Di Gennaro E, Avallone A, Pepe S, Arra C, Caraglia M, Tagliaferri P, Budillon A (2006) Synergistic antitumor activity of epidermal growth factor receptor tyrosine kinase inhibitor gefitinib and IFN-alpha in head and neck cancer cells in vitro and in vivo. Clin Cancer Res 12(2):617–625. https://doi.org/10.1158/1078-0432.ccr-05-1671

Chou T-C, Talalay P (1984) Quantitative analysis of dose-effect relationships: the combined effects of multiple drugs or enzyme inhibitors. Adv Enzym Regul 22:27–55. https://doi.org/10.1016/0065-2571(84)90007-4

Passos GF, Medeiros R, Marcon R, Nascimento AF, Calixto JB, Pianowski LF (2013) The role of PKC/ERK1/2 signaling in the anti-inflammatory effect of tetracyclic triterpene euphol on TPA-induced skin inflammation in mice. Eur J Pharmacol 698(1–3):413–420. https://doi.org/10.1016/j.ejphar.2012.10.019

Trendowski M (2015) Recent advances in the development of antineoplastic agents derived from natural products. Drugs 75(17):1993–2016. https://doi.org/10.1007/s40265-015-0489-4

Paugh BS, Qu C, Jones C, Liu Z, Adamowicz-Brice M, Zhang J, Bax DA, Coyle B, Barrow J, Hargrave D, Lowe J, Gajjar A, Zhao W, Broniscer A, Ellison DW, Grundy RG, Baker SJ (2010) Integrated molecular genetic profiling of pediatric high-grade gliomas reveals key differences with the adult disease. J Clin Oncol 28 (18):3061–3068. doi:https://doi.org/10.1200/jco.2009.26.7252

Sharma SV, Haber DA, Settleman J (2010) Cell line-based platforms to evaluate the therapeutic efficacy of candidate anticancer agents. Nat Rev Cancer 10(4):241–253. https://doi.org/10.1038/nrc2820

Wang L, Wang G, Yang D, Guo X, Xu Y, Feng B, Kang J (2013) Euphol arrests breast cancer cells at the G1 phase through the modulation of cyclin D1, p21 and p27 expression. Mol Med Rep 8(4):1279–1285. https://doi.org/10.3892/mmr.2013.1650

Kaza N, Kohli L, Roth KA (2012) Autophagy in brain tumors: a new target for therapeutic intervention. Brain Pathol (Zurich, Switzerland) 22(1):89–98. https://doi.org/10.1111/j.1750-3639.2011.00544.x

Lomonaco SL, Finniss S, Xiang C, Decarvalho A, Umansky F, Kalkanis SN, Mikkelsen T, Brodie C (2009) The induction of autophagy by gamma-radiation contributes to the radioresistance of glioma stem cells. Int J Cancer 125(3):717–722. https://doi.org/10.1002/ijc.24402

Kanzawa T, Kondo Y, Ito H, Kondo S, Germano I (2003) Induction of autophagic cell death in malignant glioma cells by arsenic trioxide. Cancer Res 63(9):2103–2108

Santos OJ, Sauaia Filho EN, Nascimento FR, Junior FC, Fialho EM, Santos RH, Santos RA, Serra IC (2016) Use of raw Euphorbia tirucalli extract for inhibition of ascitic Ehrlich tumor. Revista do Colegio Brasileiro de Cirurgioes 43(1):18–21. https://doi.org/10.1590/0100-69912016001005

Zhao P, Zhao L, Zou P, Lu A, Liu N, Yan W, Kang C, Fu Z, You Y, Jiang T (2012) Genetic oxidative stress variants and glioma risk in a Chinese population: a hospital-based case-control study. BMC Cancer 12:617. https://doi.org/10.1186/1471-2407-12-617

LaValle CR, George KM, Sharlow ER, Lazo JS, Wipf P, Wang QJ (2010) Protein kinase D as a potential new target for cancer therapy. Biochim Biophys Acta 1806(2):183–192. https://doi.org/10.1016/j.bbcan.2010.05.003

Azoitei N, Kleger A, Schoo N, Thal DR, Brunner C, Pusapati GV, Filatova A, Genze F, Möller P, Acker T, Kuefer R, Van Lint J, Baust H, Adler G, Seufferlein T (2011) Protein kinase D2 is a novel regulator of glioblastoma growth and tumor formation. Neuro Oncol 13(7):710–724. https://doi.org/10.1093/neuonc/nor084
Acknowledgements
The authors would like to thank Dr. Jeremy Squire for carefully proof-reading the English and for providing constructive criticism of the manuscript.
Funding
The work was supported by the Amazônia Fitomedicamentos (FITO05/2012) Ltda. and Barretos Cancer Hospital, all from Brazil.
Ethics declarations
Conflict of interest
Viviane A O Silva declares that she has conflict of interest. Marcela N Rosa declares that she has conflict of interest. Vera Miranda-Gonçalves declares that she no has conflict of interest. Angela M Costa declares that she no has conflict of interest. Aline Tansini declares that she no has conflict of interest. Adriane F. Evangelista declares that she no has conflict of interest. Olga Martinho declares that she no has conflict of interest. Adriana C. Carloni declares that she no has conflict of interest. Chris Jones declares that he no has conflict of interest. João Paulo Lima declares that he no has conflict of interest. Luiz F Pianowski declares that he has conflict of interest. Rui M Reis declares that he has conflict of interest.
Ethical approval
All applicable international, national, and/or institutional guidelines for the care and use of animals were followed. All procedures performed in studies involving animals were in accordance with the ethical standards of the institution or practice at which the studies were conducted. This article does not contain any studies with human participants performed by any of the authors.
Informed consent
Informed consent was obtained from all individual participants included in the study.
About this article
Cite this article
Silva, V.A.O., Rosa, M.N., Miranda-Gonçalves, V. et al. Euphol, a tetracyclic triterpene, from Euphorbia tirucalli induces autophagy and sensitizes temozolomide cytotoxicity on glioblastoma cells. Invest New Drugs 37, 223–237 (2019). https://doi.org/10.1007/s10637-018-0620-y
Received:

Accepted:

Published:

Issue Date:

DOI: https://doi.org/10.1007/s10637-018-0620-y
Keywords
Glioblastoma

Anticancer

Cytotoxic activity and euphol