Summary
Background Inhibiting Notch is a promising anti-cancer strategy as it plays a critical role in cancer stem cells maintenance and tumour angiogenesis. BMS-986115 is an orally active, selective inhibitor of gamma-secretase mediated Notch signalling. Method Two dose escalation schedules (Arm-A continuous daily schedule and Arm-B intermittent 2 times weekly schedule) of BMS-986115 were evaluated in advanced solid tumour patients. The primary objective was to establish the safety, tolerability and Maximum Tolerated Dose (MTD) of BMS-986115. Results Thirty six patients (24 in Arm A and 12 in Arm B) were treated. The most frequent treatment related adverse advents were diarrhoea (72%), hypophosphataemia (64%), and nausea (61%). The MTD was 1.5 mg daily in Arm A but not established in Arm B. Four patients in Arm A and 2 in Arm B experienced dose limiting toxicities (grade 3 nausea, diarrhoea, pruritus/urticaria and ileus). BMS-986115 showed dose related increase in exposure within the dose range tested. Target inhibition of Notch pathway related genes was observed. Three patients in Arm A and 2 in Arm B achieved stable disease for more than 6 months. Conclusion The daily oral dosing of BMS-986115 is safe and tolerable with biological activity demonstrated by continuous target engagement and Notch signalling inhibition.
Access options
Buy single article
Instant access to the full article PDF.
US$ 39.95
Tax calculation will be finalised during checkout.
Subscribe to journal
Immediate online access to all issues from 2019. Subscription will auto renew annually.
US$ 79
Tax calculation will be finalised during checkout.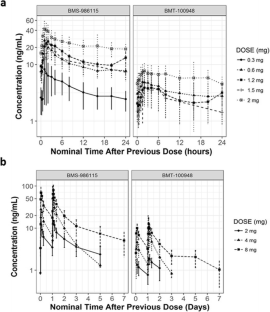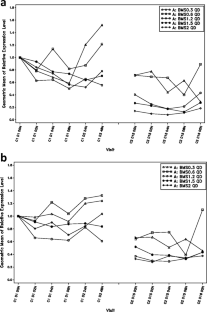 References
1.

Borggrefe T, Oswald F (2009) The notch signaling pathway: transcriptional regulation at Notch target genes. Cell Mol Life Sci 66(10):1631–1646

2.

Weng AP, Ferrando AA, Lee W, Morris JP 4th, Silverman LB, Sanchez-Irizarry C, Blacklow SC, Look AT, Aster JC (2004) Activating mutations of NOTCH1 in human T cell acute lymphoblastic leukemia. Science 306(5694):269–271

3.

Jundt F, Schwarzer R, Dorken B (2008) Notch signaling in leukemias and lymphomas. Curr Mol Med 8(1):51–59

4.

Tzoneva G, Ferrando AA (2012) Recent advances on NOTCH signaling in T-ALL. Curr Top Microbiol Immunol 360:163–182

5.

Koch U, Radtke F (2010) Notch signaling in solid tumors. Curr Top Dev Biol 92:411–455

6.

Reedijk M (2012) Notch signaling and breast cancer. Adv Exp Med Biol 727:241–257

7.

Korkaya H, Wicha MS (2009) HER-2, notch, and breast cancer stem cells: targeting an axis of evil. Clin Cancer Res 15(6):1845–1847

8.

Miele L, Golde T, Osborne B (2006) Notch signaling in cancer. Curr Mol Med 6(8):905–918

9.

Rosati E, Sabatini R, Rampino G, Tabilio A, di Ianni M, Fettucciari K, Bartoli A, Coaccioli S, Screpanti I, Marconi P (2009) Constitutively activated Notch signaling is involved in survival and apoptosis resistance of B-CLL cells. Blood 113(4):856–865

10.

Kummar S, O'Sullivan Coyne G, Do KT, Turkbey B, Meltzer PS, Polley E, Choyke PL, Meehan R, Vilimas R, Horneffer Y, Juwara L, Lih A, Choudhary A, Mitchell SA, Helman LJ, Doroshow JH, Chen AP (2017) Clinical activity of the gamma-secretase inhibitor PF-03084014 in adults with desmoid tumors (aggressive fibromatosis). J Clin Oncol 35(14):1561–1569

11.

Bolos V et al (2009) Notch signalling in cancer stem cells. Clin Transl Oncol 11(1):11–19

12.

Wang J, Sullenger BA, Rich JN (2012) Notch signaling in cancer stem cells. Adv Exp Med Biol 727:174–185

13.

Pannuti A, Foreman K, Rizzo P, Osipo C, Golde T, Osborne B, Miele L (2010) Targeting Notch to target cancer stem cells. Clin Cancer Res 16(12):3141–3152

14.

Reya T, Clevers H (2005) Wnt signalling in stem cells and cancer. Nature 434(7035):843–850

15.

Roca C, Adams RH (2007) Regulation of vascular morphogenesis by Notch signaling. Genes Dev 21(20):2511–2524

16.

Phng LK, Gerhardt H (2009) Angiogenesis: a team effort coordinated by notch. Dev Cell 16(2):196–208

17.

Takebe N, Nguyen D, Yang SX (2014) Targeting notch signaling pathway in cancer: clinical development advances and challenges. Pharmacol Ther 141(2):140–149

18.

Simon R, Rubinstein L, Arbuck SG, Christian MC, Freidlin B, Collins J (1997) Accelerated titration designs for phase I clinical trials in oncology. J Natl Cancer Inst 89(15):1138–1147

19.

Pant S, Jones SF, Kurkjian CD, Infante JR, Moore KN, Burris HA, McMeekin DS, Benhadji KA, Patel BKR, Frenzel MJ, Kursar JD, Zamek-Gliszczynski MJ, Yuen ESM, Chan EM, Bendell JC (2016) A first-in-human phase I study of the oral Notch inhibitor, LY900009, in patients with advanced cancer. Eur J Cancer 56:1–9

20.

Krop I, Demuth T, Guthrie T, Wen PY, Mason WP, Chinnaiyan P, Butowski N, Groves MD, Kesari S, Freedman SJ, Blackman S, Watters J, Loboda A, Podtelezhnikov A, Lunceford J, Chen C, Giannotti M, Hing J, Beckman R, LoRusso P (2012) Phase I pharmacologic and pharmacodynamic study of the gamma secretase (Notch) inhibitor MK-0752 in adult patients with advanced solid tumors. J Clin Oncol 30(19):2307–2313

21.

Tolcher AW, Messersmith WA, Mikulski SM, Papadopoulos KP, Kwak EL, Gibbon DG, Patnaik A, Falchook GS, Dasari A, Shapiro GI, Boylan JF, Xu ZX, Wang K, Koehler A, Song J, Middleton SA, Deutsch J, DeMario M, Kurzrock R, Wheler JJ (2012) Phase I study of RO4929097, a gamma secretase inhibitor of Notch signaling, in patients with refractory metastatic or locally advanced solid tumors. J Clin Oncol 30(19):2348–2353

22.

Wang NJ, Sanborn Z, Arnett KL, Bayston LJ, Liao W, Proby CM, Leigh IM, Collisson EA, Gordon PB, Jakkula L, Pennypacker S, Zou Y, Sharma M, North JP, Vemula SS, Mauro TM, Neuhaus IM, LeBoit PE, Hur JS, Park K, Huh N, Kwok PY, Arron ST, Massion PP, Bale AE, Haussler D, Cleaver JE, Gray JW, Spellman PT, South AP, Aster JC, Blacklow SC, Cho RJ (2011) Loss-of-function mutations in Notch receptors in cutaneous and lung squamous cell carcinoma. Proc Natl Acad Sci U S A 108(43):17761–17766

23.

Espinoza I, Miele L (2013) Notch inhibitors for cancer treatment. Pharmacol Ther 139(2):95–110

24.

Messersmith WA, Shapiro GI, Cleary JM, Jimeno A, Dasari A, Huang B, Shaik MN, Cesari R, Zheng X, Reynolds JM, English PA, McLachlan KR, Kern KA, LoRusso PM (2015) A phase I, dose-finding study in patients with advanced solid malignancies of the oral gamma-secretase inhibitor PF-03084014. Clin Cancer Res 21(1):60–67

25.

Stoeck A, Lejnine S, Truong A, Pan L, Wang H, Zang C, Yuan J, Ware C, MacLean J, Garrett-Engele PW, Kluk M, Laskey J, Haines BB, Moskaluk C, Zawel L, Fawell S, Gilliland G, Zhang T, Kremer BE, Knoechel B, Bernstein BE, Pear WS, Liu XS, Aster JC, Sathyanarayanan S (2014) Discovery of biomarkers predictive of GSI response in triple-negative breast cancer and adenoid cystic carcinoma. Cancer Discov 4(10):1154–1167

26.

Brana I, Berger R, Golan T, Haluska P, Edenfield J, Fiorica J, Stephenson J, Martin LP, Westin S, Hanjani P, Jones MB, Almhanna K, Wenham RM, Sullivan DM, Dalton WS, Gunchenko A, Cheng JD, Siu LL, Gray JE (2014) A parallel-arm phase I trial of the humanised anti-IGF-1R antibody dalotuzumab in combination with the AKT inhibitor MK-2206, the mTOR inhibitor ridaforolimus, or the NOTCH inhibitor MK-0752, in patients with advanced solid tumours. Br J Cancer 111(10):1932–1944

27.

Diaz-Padilla I, Hirte H, Oza AM, Clarke BA, Cohen B, Reedjik M, Zhang T, Kamel-Reid S, Ivy SP, Hotte SJ, Razak AAR, Chen EX, Brana I, Wizemann M, Wang L, Siu LL, Bedard PL (2013) A phase Ib combination study of RO4929097, a gamma-secretase inhibitor, and temsirolimus in patients with advanced solid tumors. Investig New Drugs 31(5):1182–1191

28.

Piha-Paul SA, Munster PN, Hollebecque A, Argilés G, Dajani O, Cheng JD, Wang R, Swift A, Tosolini A, Gupta S (2015) Results of a phase 1 trial combining ridaforolimus and MK-0752 in patients with advanced solid tumours. Eur J Cancer 51(14):1865–1873
Acknowledgements
Authors would like to thank the patients and study teams at each participating site; Dr. Lillian Siu from the Princess Margaret Cancer Centre, Toronto, Canada; Lisu Wang and John Cogswell from Bristol-Myers Squibb, Hopewell, New Jersey, USA; Sumitha Kurian, Shweta Ramayya, Ankit Jinager, and Deepa Joshi from Biocon BMS R&D Center, Syngene International Ltd., Bangalore, India.
Funding
This study was sponsored and funded by Bristol-Myers Squibb.
Ethics declarations
Conflict of interest
Gaurav Bajaj, Bing He, Tian Chen, Lili Zhu, Zhenhao Qi, and Bruce S. Fischer are employees and stockholders of Bristol-Myers Squibb. Sharath Poojary and Shashwati Basak are employees of Syngene International Ltd., which has business relationship with Bristol-Myers Squibb. Other authors declare no conflict of interest.
Ethical approval
This article does not contain any studies with animals performed by any of the authors. All procedures performed in this study involving human participants were in accordance with the ethical standards of the institutional and/or national research committee and with the 1964 Helsinki declaration and its later amendments or comparable ethical standards.
Electronic supplementary material
About this article
Cite this article
Aung, K.L., El-Khoueiry, A.B., Gelmon, K. et al. A multi-arm phase I dose escalating study of an oral NOTCH inhibitor BMS-986115 in patients with advanced solid tumours. Invest New Drugs 36, 1026–1036 (2018). https://doi.org/10.1007/s10637-018-0597-6
Received:

Accepted:

Published:

Issue Date:
Keywords
BMS-986115

Oral NOTCH inhibitor

Gamma-secretase inhibitor

Phase I trial