Summary
Patients receiving pegfilgrastim (Neulasta®) for the treatment of neutropenia can experience bone pain following the injections required to achieve effective neutrophil levels. The safety, pharmacokinetic (PK), and pharmacodynamic (PD) profiles of ANF-RHO™, a novel pegylated granulocyte colony stimulating factor, were assessed in a randomized, controlled, double-blind Phase 1 clinical study in healthy volunteers. Subjects received a single subcutaneous dose of ANF-RHO over a range of 6 doses (5–50 μg/kg), placebo (saline), or the recommended clinical dose of pegfilgrastim administered at the labeled fixed 6 mg dosage (equivalent to 80–100 μg/kg). The primary outcome measure was safety and tolerability. Secondary outcomes included PK and PD effects on absolute neutrophil count (ANC) and number of CD34+ progenitor cells. Severity of bone pain was also assessed. In healthy volunteers, ANF-RHO was administered at ascending doses up to 50 μg/kg without significant adverse effects; appeared to be better (5 to 30 μg/kg) or equally well (50 μg/kg) tolerated, and had lower mean bone pain scores as compared to pegfilgrastim. ANF-RHO achieved CD34+ and ANC numbers at significantly lower doses, and had a significantly longer circulating half-life than pegfilgrastim. These results suggest that ANF-RHO can be provided less frequently, at a lower dose, and with fewer side effects. ANF-RHO had unique, prolonged PK/PD attributes as compared to marketed pegfilgrastim, suggesting that it may provide an improved clinical benefit in further clinical studies in patients with chemotherapy-induced or chronic idiopathic neutropenia.
This is a preview of subscription content, log in to check access.
Access options
Buy single article
Instant access to the full article PDF.
US$ 39.95
Price includes VAT for USA
Subscribe to journal
Immediate online access to all issues from 2019. Subscription will auto renew annually.
US$ 99
This is the net price. Taxes to be calculated in checkout.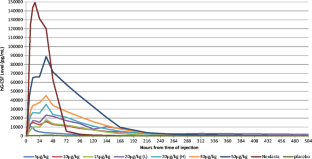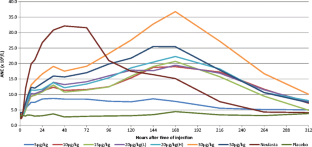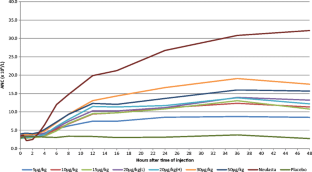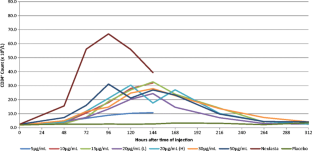 References
1.

Bennett CL, Djulbegovic B, Norris LB, Armitage JO (2013) Colony-stimulating factors for febrile neutropenia during cancer therapy. N Engl J Med 368(12):1131–1139

2.

Kuderer NM, Dale DC, Crawford J, Cosler LE, Lyman GH (2006) Mortality, morbidity, and cost associated with febrile neutropenia in adult cancer patients. Cancer 106(10):2258–2266

3.

Aapro MS, Bohlius J, Cameron DA et al (2011) 2010 update of EORTC guidelines for the use of granulocyte-colony stimulating factor to reduce the incidence of chemotherapy-induced febrile neutropenia in adult patients with lymphoproliferative disorders and solid tumours. Eur J Cancer 47(1):8–32

4.

Kaushansky K (2006) Lineage-specific hematopoietic growth factors. N Engl J Med 354(19):2034–2045

5.

Brugger W, Bacon P, Lawrinson S, Romieu G (2009) Neutrophil recovery in elderly breast cancer patients receiving adjuvant anthracycline-containing chemotherapy with pegfilgrastim support. Crit Rev Oncol Hematol 72(3):265–269

6.

Neulasta® Full Prescribing Information (2016). Amgen, Inc., Thousand Oaks

7.

Kirshner JJ, Heckler CE, Janelsins MC, Dakhil SR, Hopkins JO, Coles C, Morrow GR (2012) Prevention of Pegfilgrastim-induced bone pain: a phase III double-blind placebo-controlled randomized clinical trial of the University of Rochester Cancer Center Clinical Community Oncology Program Research Base. J Clin Oncol. doi:10.1200/JCO.2011.37.8364
Ethics declarations
Conflict of interest
All financial disclosures and conflict of interest statements have been satisfied.
Funding
All authors are employees of Prolong Pharmaceuticals.
Ethical approval
This study was performed in accordance with the ethical principles that originate in the Declaration of Helsinki, comply with the Dutch 'Wet Medisch-Wetenschappelijk Onderzoek met Mensen' (WMO) (Medical Research Involving Human Subjects Act), and are consistent with the International Conference on Harmonization/Good Clinical Practice and applicable regulatory requirements. The protocol was institutional review board-approved. The data were analyzed by PRA Health Sciences, and all authors had access to the primary data.
Informed consent
Informed consent was obtained from all individual participants included in the study.
About this article
Cite this article
Misra, H., Berryman, J., Jubin, R. et al. A Phase I study to determine safety, pharmacokinetics, and pharmacodynamics of ANF-RHO™, a novel PEGylated granulocyte colony-stimulating factor, in healthy volunteers. Invest New Drugs 36, 75–84 (2018). https://doi.org/10.1007/s10637-017-0490-8
Received:

Accepted:

Published:

Issue Date:
Keywords
ANF-RHO

Neutropenia

Chemotherapy

Granulocyte colony stimulating factor