Summary
Purpose Preclinical evidence suggests dichloroacetate (DCA) can reverse the Warburg effect and inhibit growth in cancer models. This phase 1 study was undertaken to assess the safety, recommended phase 2 dose (RP2D), and pharmacokinetic (PK) profile of oral DCA in patients with advanced solid tumors. Patients and Methods Twenty-four patients with advanced solid malignancies were enrolled using a standard 3 + 3 protocol at a starting dose of 6.25 mg/kg twice daily (BID). Treatment on 28 days cycles was continued until progression, toxicity, or consent withdrawal. PK samples were collected on days 1 and 15 of cycle 1, and day 1 of subsequent cycles. PET imaging (18 F-FDG uptake) was investigated as a potential biomarker of response. Results Twenty-three evaluable patients were treated with DCA at two doses: 6.25 mg/kg and 12.5 mg/kg BID (median of 2 cycles each). No DLTs occurred in the 6.25 mg/kg BID cohort so the dose was escalated. Three of seven patients had DLTs (fatigue, vomiting, diarrhea) at 12.5 mg/kg BID. Thirteen additional patients were treated at 6.25 mg/kg BID. Most toxicities were grade 1–2 with the most common being fatigue, neuropathy and nausea. No responses were observed and eight patients had stable disease. The DCA PK profile in cancer patients was consistent with previously published data. There was high variability in PK values and neuropathy among patients. Progressive increase in DCA trough levels and a trend towards decreased 18 F-FDG uptake with length of DCA therapy was observed. Conclusions The RP2D of oral DCA is 6.25 mg/kg BID. Toxicities will require careful monitoring in future trials.
Access options
Buy single article
Instant access to the full article PDF.
USD 39.95
Price excludes VAT (USA)
Tax calculation will be finalised during checkout.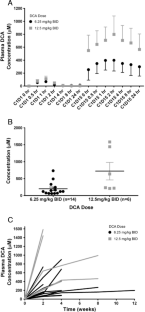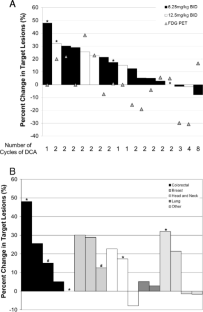 References
Warburg O, Wind F, Negelein E (1927) The metabolism of tumors in the body. J Gen Physiol 8(6):519–530

Vander Heiden MG, Cantley LC, Thompson CB (2009) Understanding the Warburg effect: the metabolic requirements of cell proliferation. Science 324(5930):1029–1033. doi:10.1126/science.1160809

Sutendra G, Michelakis ED (2013) Pyruvate dehydrogenase kinase as a novel therapeutic target in oncology. Front Oncol 3:38. doi:10.3389/fonc.2013.00038

Bonnet S, Archer SL, Allalunis-Turner J, Haromy A, Beaulieu C, Thompson R, Lee CT, Lopaschuk GD, Puttagunta L, Harry G, Hashimoto K, Porter CJ, Andrade MA, Thebaud B, Michelakis ED (2007) A mitochondria-K+ channel axis is suppressed in cancer and its normalization promotes apoptosis and inhibits cancer growth. Cancer Cell 11(1):37–51

Kim JW, Tchernyshyov I, Semenza GL, Dang CV (2006) HIF-1-mediated expression of pyruvate dehydrogenase kinase: a metabolic switch required for cellular adaptation to hypoxia. Cell Metab 3(3):177–185

Hitosugi T, Fan J, Chung TW, Lythgoe K, Wang X, Xie J, Ge Q, Gu TL, Polakiewicz RD, Roesel JL, Chen GZ, Boggon TJ, Lonial S, Fu H, Khuri FR, Kang S, Chen J (2011) Tyrosine phosphorylation of mitochondrial pyruvate dehydrogenase kinase 1 is important for cancer metabolism. Mol Cell 44(6):864–877. doi:10.1016/j.molcel.2011.10.015

Korotchkina LG, Patel MS (2001) Probing the mechanism of inactivation of human pyruvate dehydrogenase by phosphorylation of three sites. J Biol Chem 276(8):5731–5738

Maxwell PH (2005) The HIF pathway in cancer. Semin Cell Dev Biol 16(4–5):523–530. doi:10.1016/j.semcdb.2005.03.001

Vlahovic G, Crawford J (2003) Activation of tyrosine kinases in cancer. Oncologist 8(6):531–538

Stacpoole PW, Henderson GN, Yan Z, Cornett R, James MO (1998) Pharmacokinetics, metabolism and toxicology of dichloroacetate. Drug Metab Rev 30(3):499–539. doi:10.3109/03602539808996323

Michelakis ED, Sutendra G, Dromparis P, Webster L, Haromy A, Niven E, Maguire C, Gammer TL, Mackey JR, Fulton D, Abdulkarim B, McMurtry MS, Petruk KC (2010) Metabolic modulation of glioblastoma with dichloroacetate. Sci Transl Med 2(31):31ra34. doi:10.1126/scitranslmed.3000677

Kaufmann P, Engelstad K, Wei Y, Jhung S, Sano MC, Shungu DC, Millar WS, Hong X, Gooch CL, Mao X, Pascual JM, Hirano M, Stacpoole PW, DiMauro S, De Vivo DC (2006) Dichloroacetate causes toxic neuropathy in MELAS: a randomized, controlled clinical trial. Neurology 66(3):324–330

Budman DR, Calvert AH, Rowinsky EK (2003) Handbook of anticancer drug development, 1st edn. Lippincott Williams & Wilkins, Philadelphia, PA, USA

Cancer Therapy Evaluation Program. Common Terminology Criteria for Adverse Events, Version 3.0. http://ctep.cancer.gov Accessed Jan 6, 2015

Therasse P, Arbuck SG, Eisenhauer EA, Wanders J, Kaplan RS, Rubinstein L, Verweij J, Van Glabbeke M, van Oosterom AT, Christian MC, Gwyther SG (2000) New guidelines to evaluate the response to treatment in solid tumors. European organization for research and treatment of cancer, national cancer institute of the United States national cancer institute of Canada. J Natl Cancer Inst 92(3):205–216

Young H, Baum R, Cremerius U, Herholz K, Hoekstra O, Lammertsma AA, Pruim J, Price P (1999) Measurement of clinical and subclinical tumour response using [18 F]-fluorodeoxyglucose and positron emission tomography: review and 1999 EORTC recommendations. European organization for research and treatment of cancer (EORTC) PET study group. Eur J Cancer 35(13):1773–1782

Abdelmalak M, Lew A, Ramezani R, Shroads AL, Coats BS, Langaee T, Shankar MN, Neiberger RE, Subramony SH, Stacpoole PW (2013) Long-term safety of dichloroacetate in congenital lactic acidosis. Mol Genet Metab 109(2):139–143. doi:10.1016/j.ymgme.2013.03.019

Felitsyn N, Stacpoole PW, Notterpek L (2007) Dichloroacetate causes reversible demyelination in vitro: potential mechanism for its neuropathic effect. J Neurochem 100(2):429–436

Camidge DR, Berge EM, Doebele RC, Ballas MS, Jahan T, Haigentz M Jr, Hoffman D, Spicer J, West H, Lee P, Yang L, Joshi A, Gao L, Yurasov S, Mita A (2014) A phase II, open-label study of ramucirumab in combination with paclitaxel and carboplatin as first-line therapy in patients with stage IIIB/IV Non-small-cell lung cancer. J Thorac Oncol: Off Publ Int Assoc Study Lung Cancer 9(10):1532–1539. doi:10.1097/JTO.0000000000000273

Extra JM, Espie M, Calvo F, Ferme C, Mignot L, Marty M (1990) Phase I study of oxaliplatin in patients with advanced cancer. Cancer Chemother Pharmacol 25(4):299–303

Machover D, Diaz-Rubio E, de Gramont A, Schilf A, Gastiaburu JJ, Brienza S, Itzhaki M, Metzger G, N'Daw D, Vignoud J, Abad A, Francois E, Gamelin E, Marty M, Sastre J, Seitz JF, Ychou M (1996) Two consecutive phase II studies of oxaliplatin (L-OHP) for treatment of patients with advanced colorectal carcinoma who were resistant to previous treatment with fluoropyrimidines. Ann Oncol: Off J Eur Soc Med Oncol / ESMO 7(1):95–98

Salvador J, Manso L, de la Haba J, Jaen A, Ciruelos E, de Villena MC, Gil M, Murias A, Galan A, Jara C, Bayo J, Baena JM, Casal J, Mel JR, Blancas I, Sanchez Rvira P (2014) Final results of a phase II study of paclitaxel, bevacizumab, and gemcitabine as first-line therapy for patients with HER2-negative metastatic breast cancer. Clin Transl Oncol: Off Publ Fed Span Oncol Soc Natl Cancer Inst Mex. doi:10.1007/s12094-014-1210-x, Epub ahead of print

Dunbar EM, Coats BS, Shroads AL, Langaee T, Lew A, Forder JR, Shuster JJ, Wagner DA, Stacpoole PW (2013) Phase 1 trial of dichloroacetate (DCA) in adults with recurrent malignant brain tumors. Investig New Drugs 32(3):452–464. doi:10.1007/s10637-013-0047-4

Shroads AL, Langaee T, Coats BS, Kurtz TL, Bullock JR, Weithorn D, Gong Y, Wagner DA, Ostrov DA, Johnson JA, Stacpoole PW (2012) Human polymorphisms in the glutathione transferase zeta 1/maleylacetoacetate isomerase gene influence the toxicokinetics of dichloroacetate. J Clin Pharmacol 52(6):837–849. doi:10.1177/0091270011405664

Cornett R, James MO, Henderson GN, Cheung J, Shroads AL, Stacpoole PW (1999) Inhibition of glutathione S-transferase zeta and tyrosine metabolism by dichloroacetate: a potential unifying mechanism for its altered biotransformation and toxicity. Biochem Biophys Res Commun 262(3):752–756. doi:10.1006/bbrc.1999.1287

Sutendra G, Dromparis P, Kinnaird A, Stenson TH, Haromy A, Parker JM, McMurtry MS, Michelakis ED (2012) Mitochondrial activation by inhibition of PDKII suppresses HIF1a signaling and angiogenesis in cancer. Oncogene 32(13):1638–1650. doi:10.1038/onc.2012.198

Sutendra G, Kinnaird A, Dromparis P, Paulin R, Stenson TH, Haromy A, Hashimoto K, Zhang N, Flaim E, Michelakis ED (2014) A nuclear pyruvate dehydrogenase complex is important for the generation of acetyl-CoA and histone acetylation. Cell 158(1):84–97. doi:10.1016/j.cell.2014.04.046

Dhar S, Lippard SJ (2009) Mitaplatin, a potent fusion of cisplatin and the orphan drug dichloroacetate. Proc Natl Acad Sci U S A 106(52):22199–22204. doi:10.1073/pnas.0912276106

Garon EB, Christofk HR, Hosmer W, Britten CD, Bahng A, Crabtree MJ, Hong CS, Kamranpour N, Pitts S, Kabbinavar F, Patel C, von Euw E, Black A, Michelakis ED, Dubinett SM, Slamon DJ (2014) Dichloroacetate should be considered with platinum-based chemotherapy in hypoxic tumors rather than as a single agent in advanced non-small cell lung cancer. J Cancer Res Clin Oncol 140(3):443–452. doi:10.1007/s00432-014-1583-9

Ishiguro T, Ishiguro R, Ishiguro M, Iwai S (2012) Co-treatment of dichloroacetate, omeprazole and tamoxifen exhibited synergistically antiproliferative effect on malignant tumors: in vivo experiments and a case report. Hepatogastroenterology 59(116):994–996. doi:10.5754/hge10507

Shen YC, Ou DL, Hsu C, Lin KL, Chang CY, Lin CY, Liu SH, Cheng AL (2013) Activating oxidative phosphorylation by a pyruvate dehydrogenase kinase inhibitor overcomes sorafenib resistance of hepatocellular carcinoma. Br J Cancer 108(1):72–81. doi:10.1038/bjc.2012.559

Tong J, Xie G, He J, Li J, Pan F, Liang H (2011) Synergistic antitumor effect of dichloroacetate in combination with 5-fluorouracil in colorectal cancer. J Biomed Biotechnol 2011:740564. doi:10.1155/2011/740564

Xuan Y, Hur H, Ham IH, Yun J, Lee JY, Shim W, Bae Kim Y, Lee G, Han SU, Kwan Cho Y (2013) Dichloroacetate attenuates hypoxia-induced resistance to 5-fluorouracil in gastric cancer through the regulation of glucose metabolism. Exp Cell Res 321(2):219–230. doi:10.1016/j.yexcr.2013.12.009

Ayyanathan K, Kesaraju S, Dawson-Scully K, Weissbach H (2012) Combination of sulindac and dichloroacetate kills cancer cells via oxidative damage. PLoS One 7(7):e39949. doi:10.1371/journal.pone.0039949

Kumar K, Wigfield S, Gee HE, Devlin CM, Singleton D, Li JL, Buffa F, Huffman M, Sinn AL, Silver J, Turley H, Leek R, Harris AL, Ivan M (2013) Dichloroacetate reverses the hypoxic adaptation to bevacizumab and enhances its antitumor effects in mouse xenografts. J Mol Med (Berl) 91(6):749–758. doi:10.1007/s00109-013-0996-2

Cao W, Yacoub S, Shiverick KT, Namiki K, Sakai Y, Porvasnik S, Urbanek C, Rosser CJ (2008) Dichloroacetate (DCA) sensitizes both wild-type and over expressing Bcl-2 prostate cancer cells in vitro to radiation. Prostate 68(11):1223–1231. doi:10.1002/pros.20788
Acknowledgments
We would like to thank the Clinical Research Coordinator Bonnie Chalmers, the Clinical Research Nurse Diane Arndt, and the Medical Physicist Terence Riauka.
We would also like to thank the Hecht Memorial Foundation (Vancouver, Canada) and the Alberta Cancer Foundation (Edmonton, Canada) for financial support of this clinical trial.
Research support
The study was funded in part by the Hecht Memorial Foundation (Vancouver, Canada) and the Alberta Cancer Foundation (Edmonton, Canada). The funding agencies had no role in study design, data analysis, or preparation of the manuscript for publication.
Disclaimers
The authors have nothing to disclose. The study has been previously presented in part as a poster presentation at the European Society for Medical Oncology Conference, 2014.
About this article
Cite this article
Chu, Q.SC., Sangha, R., Spratlin, J. et al. A phase I open-labeled, single-arm, dose-escalation, study of dichloroacetate (DCA) in patients with advanced solid tumors. Invest New Drugs 33, 603–610 (2015). https://doi.org/10.1007/s10637-015-0221-y
Received:

Accepted:

Published:

Issue Date:

DOI: https://doi.org/10.1007/s10637-015-0221-y
Keywords