Abstract
Introduction
Diets high in cruciferous vegetables are associated with lower risk of incidence of prostate cancer, including aggressive forms of this disease. Human intervention studies with cruciferous vegetable-rich diets also demonstrate modulation of gene expression in important pathways in prostate cells.
Purpose
Sulforaphane is a constituent of these foods postulated to harbor the anti-neoplastic activity based on multiple tumor models. Our own work demonstrates that sulforaphane inhibits AR signaling in prostate cancer cells. Here, we report results from the first clinical trial of sulforaphane-rich extracts in men with prostate cancer.
Methods
We treated 20 patients who had recurrent prostate cancer with 200 μmoles/day of sulforaphane-rich extracts for a maximum period of 20 weeks and determined the proportion of patients with ≥50 % PSA declines, the primary endpoint. Only one subject experienced a ≥50 % PSA decline. Thus, the primary endpoint was not achieved. Seven patients experienced smaller PSA declines (<50 %). There was also a significant lengthening of the on-treatment PSA doubling time (PSADT) compared with the pre-treatment PSADT [6.1 months pre-treatment vs. 9.6 months on-treatment (p = 0.044)]. Finally, treatment with sulforaphane-rich extracts was safe with no Grade 3 adverse events.
Conclusions
Treatment with 200 μmoles/day of sulforaphane-rich extracts did not lead to ≥50 % PSA declines in the majority of patients. However, because of the safety of treatment and the effects on PSADT modulation, further studies, including those with higher doses, may be warranted to clarify the role of sulforaphane as a prevention agent or treatment agent.
Access options
Buy single article
Instant access to the full article PDF.
USD 39.95
Price includes VAT (USA)
Tax calculation will be finalised during checkout.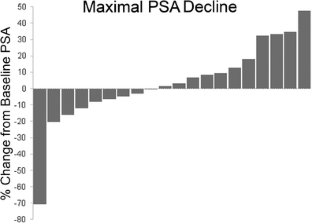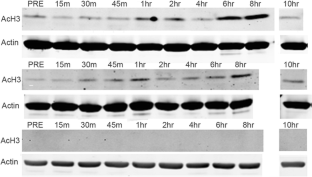 References
1.

Siegel R, Ma J, Zou Z, Jemal A (2014) Cancer statistics, 2014. CA: A Cancer J Clin 64(1):9–29. doi:10.3322/caac.21208

2.

Cohen JH, Kristal AR, Stanford JL (2000) Fruit and vegetable intakes and prostate cancer risk. J Natl Cancer Inst 92(1):61–68

3.

Kristal AR, Lampe JW (2002) Brassica vegetables and prostate cancer risk: a review of the epidemiological evidence. Nutr Cancer 42(1):1–9. doi:10.1207/S15327914NC421_1

4.

Kirsh VA, Peters U, Mayne ST, Subar AF, Chatterjee N, Johnson CC, Hayes RB (2007) Prospective study of fruit and vegetable intake and risk of prostate cancer. J Natl Cancer Inst 99(15):1200–1209. doi:10.1093/jnci/djm065

5.

Traka M, Gasper AV, Melchini A, Bacon JR, Needs PW, Frost V, Chantry A, Jones AM, Ortori CA, Barrett DA, Ball RY, Mills RD, Mithen RF (2008) Broccoli consumption interacts with GSTM1 to perturb oncogenic signalling pathways in the prostate. PLoS One 3(7):e2568. doi:10.1371/journal.pone.0002568

6.

Zhang Y, Talalay P, Cho CG, Posner GH (1992) A major inducer of anticarcinogenic protective enzymes from broccoli: isolation and elucidation of structure. Proc Natl Acad Sci U S A 89(6):2399–2403

7.

Myzak MC, Hardin K, Wang R, Dashwood RH, Ho E (2006) Sulforaphane inhibits histone deacetylase activity in BPH-1, LnCaP and PC-3 prostate epithelial cells. Carcinog 27(4):811–819. doi:10.1093/carcin/bgi265

8.

Singh SV, Warin R, Xiao D, Powolny AA, Stan SD, Arlotti JA, Zeng Y, Hahm ER, Marynowski SW, Bommareddy A, Desai D, Amin S, Parise RA, Beumer JH, Chambers WH (2009) Sulforaphane inhibits prostate carcinogenesis and pulmonary metastasis in TRAMP mice in association with increased cytotoxicity of natural killer cells. Cancer Res 69(5):2117–2125. doi:10.1158/0008-5472.CAN-08-3502

9.

Gibbs A, Schwartzman J, Deng V, Alumkal J (2009) Sulforaphane destabilizes the androgen receptor in prostate cancer cells by inactivating histone deacetylase 6. Proc Natl Acad Sci U S A 106(39):16663–16668. doi:10.1073/pnas.0908908106

10.

Myzak MC, Tong P, Dashwood WM, Dashwood RH, Ho E (2007) Sulforaphane retards the growth of human PC-3 xenografts and inhibits HDAC activity in human subjects. Exp Biol Med 232(2):227–234

11.

Myzak MC, Karplus PA, Chung FL, Dashwood RH (2004) A novel mechanism of chemoprotection by sulforaphane: inhibition of histone deacetylase. Cancer Res 64(16):5767–5774. doi:10.1158/0008-5472.CAN-04-1326

12.

Zhang Y, Kolm RH, Mannervik B, Talalay P (1995) Reversible conjugation of isothiocyanates with glutathione catalyzed by human glutathione transferases. Biochem Biophys Res Commun 206(2):748–755

13.

Seidegard J, Vorachek WR, Pero RW, Pearson WR (1988) Hereditary differences in the expression of the human glutathione transferase active on trans-stilbene oxide are due to a gene deletion. Proc Natl Acad Sci U S A 85(19):7293–7297

14.

Brennan P, Hsu CC, Moullan N, Szeszenia-Dabrowska N, Lissowska J, Zaridze D, Rudnai P, Fabianova E, Mates D, Bencko V, Foretova L, Janout V, Gemignani F, Chabrier A, Hall J, Hung RJ, Boffetta P, Canzian F (2005) Effect of cruciferous vegetables on lung cancer in patients stratified by genetic status: a mendelian randomisation approach. Lancet 366(9496):1558–1560. doi:10.1016/S0140-6736(05)67628-3

15.

Joseph MA, Moysich KB, Freudenheim JL, Shields PG, Bowman ED, Zhang Y, Marshall JR, Ambrosone CB (2004) Cruciferous vegetables, genetic polymorphisms in glutathione S-transferases M1 and T1, and prostate cancer risk. Nutr Cancer 50(2):206–213. doi:10.1207/s15327914nc5002_11

16.

Gasper AV, Al-Janobi A, Smith JA, Bacon JR, Fortun P, Atherton C, Taylor MA, Hawkey CJ, Barrett DA, Mithen RF (2005) Glutathione S-transferase M1 polymorphism and metabolism of sulforaphane from standard and high-glucosinolate broccoli. Am J Clin Nutr 82(6):1283–1291

17.

Riedl MA, Saxon A, Diaz-Sanchez D (2009) Oral sulforaphane increases phase II antioxidant enzymes in the human upper airway. Clin Immunol 130(3):244–251. doi:10.1016/j.clim.2008.10.007

18.

Kensler TW, Chen JG, Egner PA, Fahey JW, Jacobson LP, Stephenson KK, Ye L, Coady JL, Wang JB, Wu Y, Sun Y, Zhang QN, Zhang BC, Zhu YR, Qian GS, Carmella SG, Hecht SS, Benning L, Gange SJ, Groopman JD, Talalay P (2005) Effects of glucosinolate-rich broccoli sprouts on urinary levels of aflatoxin-DNA adducts and phenanthrene tetraols in a randomized clinical trial in He Zuo township, Qidong, People's Republic of China. Cancer Epidemiol Biomarkers Prev 14(11 Pt 1):2605–2613. doi:10.1158/1055-9965.EPI-05-0368

19.

Scher HI, Halabi S, Tannock I, Morris M, Sternberg CN, Carducci MA, Eisenberger MA, Higano C, Bubley GJ, Dreicer R, Petrylak D, Kantoff P, Basch E, Kelly WK, Figg WD, Small EJ, Beer TM, Wilding G, Martin A, Hussain M, Prostate Cancer Clinical Trials Working G (2008) Design and end points of clinical trials for patients with progressive prostate cancer and castrate levels of testosterone: recommendations of the prostate cancer clinical trials working group. J Clin Oncol: Off J Am Soc Clin Oncol 26(7):1148–1159. doi:10.1200/JCO.2007.12.4487

20.

Timofeeva M, Jager B, Rosenberger A, Sauter W, Wichmann HE, Group KS, Bickeboller H, Risch A (2009) A multiplex real-time PCR method for detection of GSTM1 and GSTT1 copy numbers. Clin Biochem 42(6):500–509. doi:10.1016/j.clinbiochem.2008.12.011

21.

Dinkova-Kostova AT, Fahey JW, Benedict AL, Jenkins SN, Ye L, Wehage SL, Talalay P (2010) Dietary glucoraphanin-rich broccoli sprout extracts protect against UV radiation-induced skin carcinogenesis in SKH-1 hairless mice. Photochem Photobiol Sci: Off J Eur Photochem Assoc Eur Soc Photobiol 9(4):597–600. doi:10.1039/b9pp00130a

22.

Egner PA, Chen JG, Wang JB, Wu Y, Sun Y, Lu JH, Zhu J, Zhang YH, Chen YS, Friesen MD, Jacobson LP, Munoz A, Ng D, Qian GS, Zhu YR, Chen TY, Botting NP, Zhang Q, Fahey JW, Talalay P, Groopman JD, Kensler TW (2011) Bioavailability of Sulforaphane from two broccoli sprout beverages: results of a short-term, cross-over clinical trial in Qidong, China. Cancer Prev Res (Phila) 4(3):384–395. doi:10.1158/1940-6207.CAPR-10-0296

23.

Shapiro TA, Fahey JW, Dinkova-Kostova AT, Holtzclaw WD, Stephenson KK, Wade KL, Ye L, Talalay P (2006) Safety, tolerance, and metabolism of broccoli sprout glucosinolates and isothiocyanates: a clinical phase I study. Nutr Cancer 55(1):53–62. doi:10.1207/s15327914nc5501_7

24.

Tang L, Zhang Y, Jobson HE, Li J, Stephenson KK, Wade KL, Fahey JW (2006) Potent activation of mitochondria-mediated apoptosis and arrest in S and M phases of cancer cells by a broccoli sprout extract. Mol Cancer Ther 5(4):935–944. doi:10.1158/1535-7163.MCT-05-0476

25.

Zhang Y, Wade KL, Prestera T, Talalay P (1996) Quantitative determination of isothiocyanates, dithiocarbamates, carbon disulfide, and related thiocarbonyl compounds by cyclocondensation with 1,2-benzenedithiol. Anal Biochem 239(2):160–167. doi:10.1006/abio.1996.0311

26.

Wade KL, Garrard IJ, Fahey JW (2007) Improved hydrophilic interaction chromatography method for the identification and quantification of glucosinolates. J Chromatogr A 1154(1–2):469–472. doi:10.1016/j.chroma.2007.04.034

27.

Fahey JW, Dinkova-Kostova AT, Stephenson KK, Talalay P (2004) The "Prochaska" microtiter plate bioassay for inducers of NQO1. Methods Enzymol 382:243–258. doi:10.1016/S0076-6879(04)82014-7

28.

Al Janobi AA, Mithen RF, Gasper AV, Shaw PN, Middleton RJ, Ortori CA, Barrett DA (2006) Quantitative measurement of sulforaphane, iberin and their mercapturic acid pathway metabolites in human plasma and urine using liquid chromatography-tandem electrospray ionisation mass spectrometry. J Chromatogr B Anal Technol Biomed Life Sci 844(2):223–234. doi:10.1016/j.jchromb.2006.07.007

29.

Clarke JD, Hsu A, Williams DE, Dashwood RH, Stevens JF, Yamamoto M, Ho E (2011) Metabolism and tissue distribution of sulforaphane in Nrf2 knockout and wild-type mice. Pharm Res 28(12):3171–3179. doi:10.1007/s11095-011-0500-z

30.

Rowland M, Tozer TN (1980) Clinical pharmacokinetics: concepts and applications. Lea & Febiger, Philadelphia

31.

Smith MR, Manola J, Kaufman DS, Oh WK, Bubley GJ, Kantoff PW (2006) Celecoxib versus placebo for men with prostate cancer and a rising serum prostate-specific antigen after radical prostatectomy and/or radiation therapy. J Clin Oncol: Off J Am Soc Clin Oncol 24(18):2723–2728. doi:10.1200/JCO.2005.03.7804

32.

Smith MR, Manola J, Kaufman DS, George D, Oh WK, Mueller E, Slovin S, Spiegelman B, Small E, Kantoff PW (2004) Rosiglitazone versus placebo for men with prostate carcinoma and a rising serum prostate-specific antigen level after radical prostatectomy and/or radiation therapy. Cancer 101(7):1569–1574. doi:10.1002/cncr.20493

33.

Freedland SJ, Humphreys EB, Mangold LA, Eisenberger M, Dorey FJ, Walsh PC, Partin AW (2005) Risk of prostate cancer-specific mortality following biochemical recurrence after radical prostatectomy. JAMA: J Am Med Assoc 294(4):433–439. doi:10.1001/jama.294.4.433
Acknowledgments
The authors thank Jed Fahey, Sc.D (Johns Hopkins University) and Paul Talalay, MD (Johns Hopkins University) for providing and preparing the extracts, Emily Ho, PhD (Oregon State University) for providing the internal sulforaphane standard, Evan Yu, MD (University of Washington) for referring numerous patients for this trial, and all the patients who volunteered to take part in this study. Infrastructure support for conduct of the trial was provided by a Prostate Cancer Clinical Trials Consortium Award (W81XWH-09-1-0140).
Conflicts of Interest
None to disclose
Financial Support
This clinical study was supported by a Kuni Foundation Clinical Trial Award (No#) (JA); a Kuni Foundation Scholar Award (No#) (JA); a Prostate Cancer Foundation Young Investigator Award (No#) (JA); Oregon Clinical and Translational Research Institute (OCTRI), grant numbers (UL1TR000128, KL2TR000152) from the National Center for Advancing Translational Sciences (NCATS) at the National Institutes of Health (NIH). The content is solely the responsibility of the authors and does not necessarily represent the official views of the NIH. Biostatical support was in part provided by the Biostatistics Shared Resource of the Knight Cancer Institute (P30 CA069533) (MM). Finally, we also thank Platt Electric, Bruce Burns, and The Burns Family Fund of the Oregon Community Foundation for their philanthropic support of this work. The funders had no role in study design, data collection and analysis, decision to publish, or preparation of the manuscript.
Additional information
Rachel Slottke and Jacob Schwartzman each contributed equally
About this article
Cite this article
Alumkal, J.J., Slottke, R., Schwartzman, J. et al. A phase II study of sulforaphane-rich broccoli sprout extracts in men with recurrent prostate cancer. Invest New Drugs 33, 480–489 (2015). https://doi.org/10.1007/s10637-014-0189-z
Received:

Accepted:

Published:

Issue Date:
Keywords
Sulforaphane

Prostate cancer

Biochemical recurrence