Summary
Deranged cap-mediated translation is implicated in the genesis, maintenance and progression of many human cancers including mesothelioma. In this study, disrupting the eIF4F complex by antagonizing the eIF4E-mRNA-cap interaction is assessed as a therapy for mesothelioma. Mesothelioma cells were treated with 4Ei-1, a membrane permeable prodrug that when converted to the active drug, 7-benzyl guanosine monophosphate (7Bn-GMP) displaces capped mRNAs from the eIF4F complex. Colony formation was measured in mesothelioma treated with 4Ei-1 alone or combined with pemetrexed. Proliferation was examined in cells treated with 4Ei-1. Binding to a synthetic cap-analogue was used to study the strength of eIF4F complex activation in lysates exposed to 4Ei-1. 4Ei-1 treatment resulted in a dose dependent decrease in colony formation and cell viability. Combination therapy of 4Ei-1 with pemetrexed further reduced colony number. Formation of eIF4F cap-complex decreased in response to 4Ei-1 exposure. 4Ei-1 is a novel prodrug that reduces proliferation, represses colony formation, diminishes association of eIF4F with the mRNA cap, and sensitizes mesothelioma cells to pemetrexed.
Access options
Buy single article
Instant access to the full article PDF.
US$ 39.95
Tax calculation will be finalised during checkout.
Subscribe to journal
Immediate online access to all issues from 2019. Subscription will auto renew annually.
US$ 79
Tax calculation will be finalised during checkout.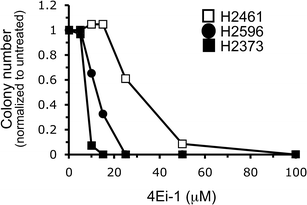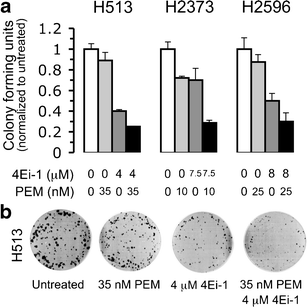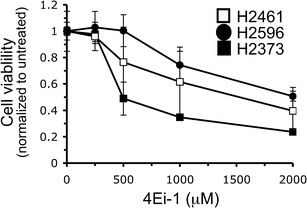 References
1.

Britton M (2002) The epidemiology of mesothelioma. Semin Oncol 29:18–25

2.

Carbone M, Albelda SM, Broaddus VC et al (2007) Eighth international mesothelioma interest group. Oncogene 26:6959–6967

3.

Hiremath LS, Webb NR, Rhoads RE (1985) Immunological detection of the messenger RNA cap-binding protein. J Biol Chem 260:7843–7849

4.

Duncan R, Milburn SC, Hershey JW (1987) Regulated phosphorylation and low abundance of HeLa cell initiation factor eIF-4F suggest a role in translational control. Heat shock effects on eIF-4F. J Biol Chem 262:380–388

5.

Silvera D, Formenti SC, Schneider RJ (2010) Translational control in cancer. Nat Rev Cancer 10:254–266

6.

Thumma SC, Kratzke RA (2007) Translational control: a target for cancer therapy. Cancer Lett 258:1–8

7.

Sonenberg N, Hinnebusch AG (2009) Regulation of translation initiation in eukaryotes: mechanisms and biological targets. Cell 136:731–745

8.

Hsieh AC, Ruggero D (2010) Targeting eukaryotic translation initiation factor 4E (eIF4E) in cancer. Clin Cancer Res 16:4914–4920

9.

Polunovsky VA, Bitterman PB (2006) The cap-dependent translation apparatus integrates and amplifies cancer pathways. RNA Biol 3:10–17

10.

Lazaris-Karatzas A, Montine KS, Sonenberg N (1990) Malignant transformation by a eukaryotic initiation factor subunit that binds to mRNA 5′ cap. Nature 345:544–547

11.

Avdulov S, Li S, Michalek V et al (2004) Activation of translation complex eIF4F is essential for the genesis and maintenance of the malignant phenotype in human mammary epithelial cells. Cancer Cell 5:553–563

12.

Graff JR, Konicek BW, Lynch RL et al (2009) eIF4E activation is commonly elevated in advanced human prostate cancers and significantly related to reduced patient survival. Cancer Res 69:3866–3873

13.

Jacobson BA, Alter MD, Kratzke MG et al (2006) Repression of cap-dependent translation attenuates the transformed phenotype in non-small cell lung cancer both in vitro and in vivo. Cancer Res 66:4256–4262

14.

Coleman LJ, Peter MB, Teall TJ et al (2009) Combined analysis of eIF4E and 4E-binding protein expression predicts breast cancer survival and estimates eIF4E activity. Br J Cancer 100:1393–1399

15.

Chen CN, Hsieh FJ, Cheng YM, Lee PH, Chang KJ (2004) Expression of eukaryotic initiation factor 4E in gastric adenocarcinoma and its association with clinical outcome. J Surg Oncol 86:22–27

16.

Rosenwald IB, Chen JJ, Wang S, Savas L, London IM, Pullman J (1999) Upregulation of protein synthesis initiation factor eIF-4E is an early event during colon carcinogenesis. Oncogene 18:2507–2517

17.

Salehi Z, Mashayekhi F, Shahosseini F (2007) Significance of eIF4E expression in skin squamous cell carcinoma. Cell Biol Int 31:1400–1404

18.

Wang S, Rosenwald IB, Hutzler MJ et al (1999) Expression of the eukaryotic translation initiation factors 4E and 2alpha in non-Hodgkin's lymphomas. Am J Pathol 155:247–255

19.

Bauer C, Brass N, Diesinger I, Kayser K, Grasser FA, Meese E (2002) Overexpression of the eukaryotic translation initiation factor 4G (eIF4G-1) in squamous cell lung carcinoma. Int J Cancer 98:181–185

20.

Shuda M, Kondoh N, Tanaka K et al (2000) Enhanced expression of translation factor mRNAs in hepatocellular carcinoma. Anticancer Res 20:2489–2494

21.

Patel MR, Jacobson BA, De A et al (2007) Ras pathway activation in malignant mesothelioma. J Thorac Oncol 2:789–795

22.

Jacobson BA, De A, Kratzke MG et al (2009) Activated 4E-BP1 represses tumourigenesis and IGF-I-mediated activation of the eIF4F complex in mesothelioma. Br J Cancer 101:424–431

23.

Moerke NJ, Aktas H, Chen H et al (2007) Small-molecule inhibition of the interaction between the translation initiation factors eIF4E and eIF4G. Cell 128:257–267

24.

Cencic R, Hall DR, Robert F et al (2010) Reversing chemoresistance by small molecule inhibition of the translation initiation complex eIF4F. Proc Natl Acad Sci U S A 108:1046–1051

25.

Herbert TP, Fahraeus R, Prescott A, Lane DP, Proud CG (2000) Rapid induction of apoptosis mediated by peptides that bind initiation factor eIF4E. Curr Biol 10:793–796

26.

Ko SY, Guo H, Barengo N, Naora H (2009) Inhibition of ovarian cancer growth by a tumor-targeting peptide that binds eukaryotic translation initiation factor 4E. Clin Cancer Res 15:4336–4347

27.

Graff JR, Konicek BW, Vincent TM et al (2007) Therapeutic suppression of translation initiation factor eIF4E expression reduces tumor growth without toxicity. J Clin Invest 117:2638–2648

28.

DeFatta RJ, Nathan CA, De Benedetti A (2000) Antisense RNA to eIF4E suppresses oncogenic properties of a head and neck squamous cell carcinoma cell line. Laryngoscope 110:928–933

29.

Soni A, Akcakanat A, Singh G et al (2008) eIF4E knockdown decreases breast cancer cell growth without activating Akt signaling. Mol Cancer Ther 7:1782–1788

30.

Li S, Jia Y, Jacobson B et al (2013) Treatment of breast and lung cancer cells with a N-7 benzyl guanosine monophosphate tryptamine phosphoramidate pronucleotide (4Ei-1) results in chemosensitization to gemcitabine and induced eIF4E proteasomal degradation. Mol Pharm 10:523–531

31.

Jia Y, Chiu TL, Amin EA, Polunovsky V, Bitterman PB, Wagner CR (2010) Design, synthesis and evaluation of analogs of initiation factor 4E (eIF4E) cap-binding antagonist Bn7-GMP. Eur J Med Chem 45:1304–1313

32.

Cencic R, Carrier M, Trnkus A, Porco JA Jr, Minden M, Pelletier J (2009) Synergistic effect of inhibiting translation initiation in combination with cytotoxic agents in acute myelogenous leukemia cells. Leuk Res 34:535–541

33.

Dong K, Wang R, Wang X et al (2009) Tumor-specific RNAi targeting eIF4E suppresses tumor growth, induces apoptosis and enhances cisplatin cytotoxicity in human breast carcinoma cells. Breast Cancer Res Treat 113:443–456

34.

Jacobson BA, Thumma SC, Jay-Dixon J et al (2013) Targeting eukaryotic translation in mesothelioma cells with an eIF4E-specific antisense oligonucleotide. PLoS One 8:e81669

35.

Bitterman PB, Polunovsky VA (2012) Attacking a nexus of the oncogenic circuitry by reversing aberrant eIF4F-mediated translation. Mol Cancer Ther 11:1051–1061

36.

Bitterman PB, Polunovsky VA (2012) Translational control of cell fate: from integration of environmental signals to breaching anticancer defense. Cell Cycle 11:1097–1107
Acknowledgments
We would like to thank Sabine Darling, Nate Rietvold and Ryan McDonald for their technical assistance.
Disclosure of Potential Conflicts of Interest
All other authors declare no potential conflicts of interest.
About this article
Cite this article
Chen, E.Z., Jacobson, B.A., Patel, M.R. et al. Small-molecule inhibition of oncogenic eukaryotic protein translation in mesothelioma cells. Invest New Drugs 32, 598–603 (2014). https://doi.org/10.1007/s10637-014-0076-7
Received:

Accepted:

Published:

Issue Date:
Keywords
Mesothelioma

eIF4E

4Ei-1

7-benzyl guanosine monophosphate

Cap-dependent translation