Access options
Buy single article
Instant access to the full article PDF.
USD 39.95
Price includes VAT (USA)
Tax calculation will be finalised during checkout.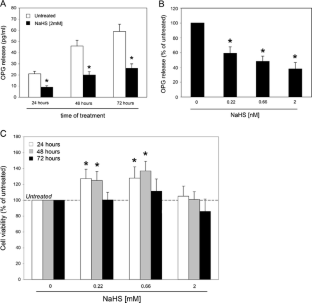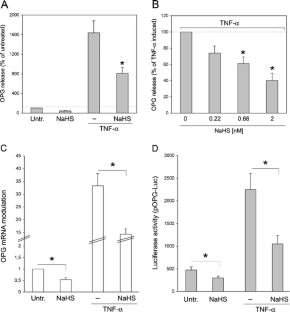 References
1.

Simonet WS, Lacey DL, Dunstan C et al (1997) Osteoprotegerin: a novel secreted protein involved in the regulation of bone density. Cell 89:309–319

2.

Milani D, Zauli G, Rimondi E et al (2003) Tumour necrosis factor-related apoptosis-inducing ligand sequentially activates pro-survival and pro-apoptotic pathways in sk-n-mc neuronal cells. J Neurochem 86:126–135

3.

DI Pietro R, Zauli G (2004) Emerging non-apoptotic functions of tumor necrosis factor-related apoptosis-inducing ligand (TRAIL)/Apo2L. J Cell Physiol 201:331–340

4.

Zauli G, Melloni E, Capitani S, Secchiero P (2009) Role of full-length osteoprotegerin in tumor cell biology. Cell Mol Life Sci 66:841–851

5.

Secchiero P, Corallini F, Pandolfi A et al (2006) An increased osteoprotegerin (OPG) serum release characterizes the early onset of diabetes mellitus and may contribute to endothelial cell dysfunction. Am J Pathol 169:2236–2244

6.

Navarra P, Dello Russo C, Mancuso C, Preziosi P, Grossman A (2000) Gaseous neuromodulators in the control of neuroendocrine stress axis. Ann NY Acad Sci 917:638–646

7.

Wang R (2002) Two's company, three's a crowd: can H2S be the third endogenous gaseous transmitter? FASEB J 16:1792–1798

8.

Moore PK, Bhatia M, Moochhala S (2003) Hydrogen sulfide: from the smell of the past to the gas of the future? Trends Pharmacol Sci 24:609–611

9.

Secchiero P, Candido R, Corallini F et al (2006) Systemic tumor necrosis factor-related apoptosis-inducing ligand delivery shows antiatherosclerotic activity in apolipoprotein E-null diabetic mice. Circulation 114:1522–1530

10.

Secchiero P, Corallini F, Gonelli A et al (2007) Anti-angiogenic activity of the MDM2 antagonist nutlin-3. Circ Res 100:61–69

11.

Re MC, Zauli G, Gibellini D et al (1993) Uninfected haematopoietic progenitor (CD34+) cells purified from the bone marrow of aids patients are committed to apoptotic cell death in culture. AIDS 7:1049–1055

12.

Zauli G, Re MC, Furlini G, Giovannini M, LA Placa M (1992) Human immunodeficiency virus type 1 envelope glycoprotein GP120-mediated killing of human haematopoietic progenitors (CD34+ cells). J Gen Virol 73:417–421

13.

Zauli G, Rimondi E, Stea S et al (2008) Trail inhibits osteoclastic differentiation by counteracting rankl-dependent P27KIP1 accumulation in pre-osteoclast precursors. J Cell Physiol 214:117–125

14.

Mangan SH, Campenhout AV, Rush C, Golledge J (2007) Osteoprotegerin upregulates endothelial cell adhesion molecule response to tumor necrosis factor-alpha associated with induction of angiopoietin-2. Cardiovasc Res 76:494–505

15.

Zauli G, Corallini F, Bossi F et al (2007) Osteoprotegerin increases leukocyte adhesion to endothelial cells both in vitro and in vivo. Blood 110:536–543

16.

Cross SS, Yang Z, Brown NJ et al (2006) Osteoprotegerin (OPG)–a potential new role in the regulation of endothelial cell phenotype and tumour angiogenesis? Int J Cancer 118:1901–1908

17.

Li L, Moore P (2008) Putative biological roles of hydrogen sulfide in health and disease: a breath of not so fresh air? Trends Pharmacol Sci 29:84–90

18.

Szabó C (2007) Hydrogen sulphide and its therapeutic potential. Nat Rev Drug Discov 6:917–993

19.

Secchiero P, Corallini F, DI Iasio MG, Gonelli A, Barbarotto E, Zauli G (2005) Trail counteracts the proadhesive activity of inflammatory cytokines in endothelial cells by down-modulating CCL8 and CXCL10 chemokine expression and release. Blood 105:3413–3419
Acknowledgments
This work was supported by a grant from FoRST—Fondazione per la Ricerca Scientifica Termale to GZ.
About this article
Cite this article
Rimondi, E., di Iasio, M.G., Gonelli, A. et al. Hydrogen sulfide down-regulates the expression and release of osteoprotegerin (OPG) by vascular endothelial cells. Invest New Drugs 30, 1731–1735 (2012). https://doi.org/10.1007/s10637-011-9675-8
Received:

Accepted:

Published:

Issue Date:
Keywords
Human Umbilical Vein Endothelial Cell

NaHS

Cystathionine

Endothelial Cell Dysfunction

Human Umbilical Vein Endothelial Cell Culture