Abstract
Purpose
To investigate retinal function and visual outcomes in infants with retinal hemorrhages due to non-accidental trauma (NAT).
Methods
This is a retrospective review of full-field or multifocal electroretinogram (ERG) recordings, visual acuity in log minimum angle of resolution (logMAR), clinical status, and neuroimaging. Multifocal ERGs from the central 40° were compared to corresponding fundus imaging. Visual acuity was measured by Teller cards at follow-up. ERGs were compared to controls recorded under anesthesia.
Results
Sixteen children met inclusion criteria (14 recorded during the acute phase and 2 during long-term follow-up). During the acute phase, ERGs (n = 4 full field; n = 10 multifocal ERG) showed abnormal amplitude, latency, or both in at least one eye. Ten subjects had significantly reduced responses in both eyes, 3 of which had an ERG dominated by a negative waveform (absent b-wave or P1). The remaining six subjects had responses in one eye that were near normal (≥ 50% of controls). ERGs were sometimes abnormal in local areas without hemorrhage. ERGs could be preserved in local areas adjacent to traumatic retinoschisis. Two subjects with reduced visual acuity had belated ERGs: One had an abnormal macular ERG and the other had a normal macular ERG implying cortical visual impairment. At follow-up, 10 of 14 subjects had significant visual acuity loss (≥ 0.7 age-corrected logMAR); four subjects had mild vision loss (≤ 0.5 age-corrected logMAR). Visual acuity outcome was not reliably associated with the fundus appearance in the acute phase. All subjects with a negative ERG waveform had severe vision loss on follow-up.
Conclusions
Retinal dysfunction was common during the acute phase of NAT. A near normal appearing fundus did not imply normal retinal function, and ERG abnormality did not always predict a poor visual acuity outcome. However, a negative ERG waveform was associated severe visual acuity loss. Potential artifacts of retinal hemorrhages and anesthesia could not fully account for multifocal ERG abnormalities. Retinal function can be preserved in areas adjacent to traumatic retinoschisis.
This is a preview of subscription content, log in to check access.
Access options
Buy single article
Instant access to the full article PDF.
US$ 39.95
Tax calculation will be finalised during checkout.
Subscribe to journal
Immediate online access to all issues from 2019. Subscription will auto renew annually.
US$ 79
Tax calculation will be finalised during checkout.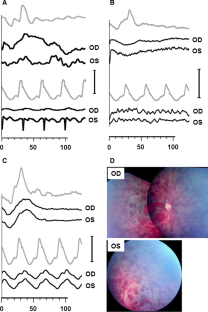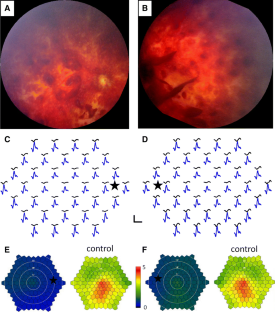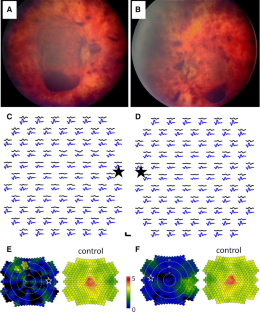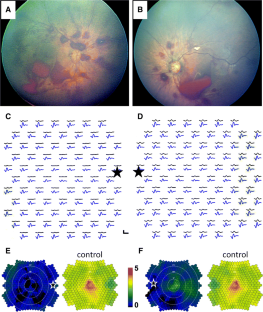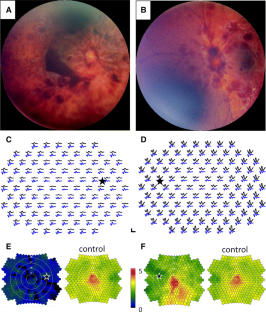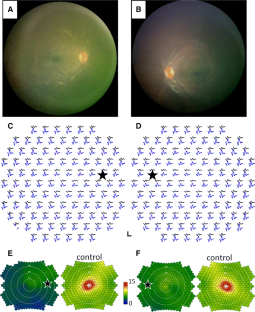 References
1.

Feldman KW, Bethel R, Shugerman RP, Grossman DC, Grady MS, Ellenbogen RG (2001) The cause of infant and toddler subdural hemorrhage: a prospective study. Pediatrics 108:636–646

2.

Bechtel K, Stoessel K, Leventhal JM et al (2004) Characteristics that distinguish accidental from abusive injury in hospitalized young children with head trauma. Pediatrics 114:165–168

3.

Mungan NK (2007) Update on shaken baby syndrome: ophthalmology. Curr Opin Ophthalmol 18:392–397

4.

Morad Y, Wygnansky-Jaffe T, Levin AV (2010) Retinal haemorrhage in abusive head trauma. Clin Exp Ophthalmol 38:514–520

5.

Morad Y, Kim YM, Armstrong DC, Huyer D, Mian M, Levin AV (2002) Correlation between retinal abnormalities and intracranial abnormalities in the shaken baby syndrome. Am J Ophthalmol 134:354–359

6.

Wygnanski-Jaffe T, Levin AV, Shafiq A et al (2006) Postmortem orbital findings in shaken baby syndrome. Am J Ophthalmol 142:233–240

7.

Rangarajan N, Kamalakkannan SB, Hasija V et al (2009) Finite element model of ocular injury in abusive head trauma. J AAPOS 13:364–369

8.

Abed Alnabi W, Tang GJ, Eagle RC Jr, Gulino S, Thau A, Levin AV (2018) Pathology of perimacular folds due to vitreoretinal traction in abusive head trauma. Retina. https://doi.org/10.1097/IAE.0000000000002273

9.

Shi A, Kulkarni A, Feldman KW et al (2019) Retinal findings in young children with increased intracranial pressure from nontraumatic causes. Pediatrics. https://doi.org/10.1542/peds.2018-1182

10.

Kivlin JD, Simons KB, Lazoritz S, Ruttum MS (2000) Shaken baby syndrome. Ophthalmology 107:1246–1254

11.

Sturm V, Landau K, Menke MN (2008) Optical coherence tomography findings in Shaken Baby syndrome. Am J Ophthalmol 146:363–368

12.

Scott AW, Farsiu S, Enyedi LB, Wallace DK, Toth CA (2009) Imaging the infant retina with a hand-held spectral-domain optical coherence tomography device. Am J Ophthalmol 147:364–373

13.

Koozekanani DD, Weinberg DV, Dubis AM, Beringer J, Carroll J (2010) Hemorrhagic retinoschisis in shaken baby syndrome imaged with spectral domain optical coherence tomography. Ophthalmic Surg Lasers Imaging 9:1–3

14.

Muni RH, Kohly RP, Sohn EH, Lee TC (2010) Hand-held spectral domain optical coherence tomography finding in shaken-baby syndrome. Retina 30:S45–S50

15.

Nakayama Y, Yokoi T, Sachiko N, Okuyama M, Azuma N (2013) Electroretinography combined with spectral domain optical coherence tomography to detect retinal damage in shaken baby syndrome. J AAPOS 17:411–413

16.

Seider MI, Tran-Viet D, Toth CA (2016) Macular pseudo-hole in shaken baby syndrome: underscoring the utility of optical coherence tomography under anesthesia. Retin Cases Brief Rep 10:283–285

17.

Biousse V, Suh DY, Newman NJ, Davis PC, Mapstone T, Lambert SR (2002) Diffusion-weighted magnetic resonance imaging in shaken baby syndrome. Am J Ophthalmol 133:249–255

18.

Kochanek PM, Berger RP, Fink EL et al (2013) The potential for bio-mediators and biomarkers in pediatric traumatic brain injury and neurocritical care. Front Neurol 4:4

19.

Kemp AM, Stoodley N, Cobley C, Coles L, Kemp KW (2003) Apnoea and brain swelling in non-accidental head injury. Arch Dis Child 88:472–476

20.

Greenwald MJ, Weiss A, Oesterle CS, Friendly DS (1986) Traumatic retinoschisis in battered babies. Ophthalmology 93:618–625

21.

Fishman CD, Dasher WB 3rd, Lambert SR (1998) Electroretinographic findings in infants with the shaken baby syndrome. J Pediatr Ophthalmol Strabismus 35:22–26

22.

Bielory BP, Dubovy SR, Olmos LC, Hess DJ, Berrocal AM (2012) Fluorescein angiographic and histopathologic findings of bilateral peripheral retinal nonperfusion in nonaccidental injury: a case series. Arch Ophthalmol 130:383–387

23.

Kelly JP, Phillips JO, Weiss AH (2018) Does eye velocity due to infantile nystagmus deprive visual acuity development? J AAPOS 22:50–55

24.

McCulloch DL, Marmor MF, Brigell MG, Hamilton R, Holder GE, Tzekov R, Bach M (2015) ISCEV Standard for full-field clinical electroretinography (2015 update). Doc Ophthalmol 130:1–12

25.

Hood DC, Bach M, Brigell M et al (2012) ISCEV standard for clinical multifocal electroretinography (mfERG) (2011 edition). Doc Ophthalmol 124:1–13

26.

Kelly JP, Crognale MA, Weiss AH (2003) ERGs, cone-isolating VEPs and analytical techniques in children with cone dysfunction syndromes. Doc Ophthalmol 106:289–304

27.

Weiss AH, Kelly JP, Kapur RP, Pendergrass T (2008) Retinal function and corresponding pathology in advanced retinoblastoma. Arch Ophthalmol 126:1507–1512

28.

Weiss AH, Phillips JO, Kelly JP (2013) Anatomic features and function of the macula and outcome of surgical tenotomy and reattachment in achiasma. Ophthalmology 120:1469–1475

29.

Nadarasa J, Deck C, Meyer F, Willinger R, Raul JS (2014) Update on injury mechanisms in abusive head trauma—shaken baby syndrome. Pediatr Radiol 44(Supp 4):s565–s570

30.

Goldenberg DT, Wu D, Capone A Jr, Drenser KA, Trese MT (2010) Nonaccidental trauma and peripheral retinal noperfusion. Ophthalmology 117:561–566

31.

Kang Derwent J, Linsenmeier RA (2000) Effects of hypoxemia on the a- and b-waves of the electroretinogram in the cat retina. Invest Ophthalmol Vis Sci 41:3634–3642

32.

Morén H, Gesslein B, Andreasson S, Malmsjö M (2010) Multifocal electroretinogram for functional evaluation of retinal injury following ischemia-reperfusion in pigs. Graefes Arch Clin Exp Ophthalmol 248:627–634

33.

Brown MS, Shami S (1999) Optic disc neovascularization following severe retinoschisis due to shaken baby syndrome. Arch Ophthalmol 117:838–839

34.

Brown KT (1968) The electroretinogram, its components and their origins. Vis Res 8:633–677

35.

Hood DC, Seiple W, Holopigian K et al (1997) A comparison of the components of the multifocal and full-field ERGs. Vis Neurosci 14:533–544

36.

Hood DC, Frishman LJ, Saszik S, Viswanathan S (2002) Retinal origins of the primate multifocal ERG: implications for the human response. Invest Ophthalmol Vis Sci 43:1673–1685

37.

Hare WA, Ton H (2002) Effects of APB, PDA, and TTX on ERG responses recorded using both multifocal and conventional methods in monkey. Effects of APB, PDA, and TTX on monkey ERG responses. Doc Ophthalmol 105:189–222

38.

Ng YF, Chan HH, Chu PH et al (2008) Pharmacologically defined components of the normal porcine multifocal ERG. Doc Ophthalmol 116:165–176

39.

Binenbaum G, Chen W, Huang J, Ying GS, Forbes BJ (2016) The natural history of retinal hemorrhage in pediatric head trauma. J AAPOS 20:131–135

40.

Jaffe MJ, Hommer DW, Caruso RC, Straw GM, de Monasterio FM (1989) Attenuating effects of diazepam on the electroretinogram of normal humans. Retina 9:216–225

41.

Robbins J, Ikeda H (1989) Benzodiazepines and the mammalian retina. I. Autoradiographic localisation of receptor sites and the lack of effect on the electroretinogram. Brain Res 479:313–322

42.

Stafanous SN, Clarke MP, Ashton H, Mitchell KW (1999) The effect of long-term use of benzodiazepines on the eye and retina. Doc Ophthalmol 99:55–68
Funding
This study was funded by an unrestricted Grant from the Peter LeHaye, Barbara Anderson, and William O. Rogers Endowment Funds.
Ethics declarations
Conflict of interest
Drs. Feldman and Metz provide medical legal consultation in possible child abuse cases. No potentially conflicting relationship exists for the other authors. John Kelly is an unpaid consultant to the University of Washington to maintain the quality control of Teller Acuity Cards, which were used in this study.
Statement of human rights
The study was approved by the Institutional Review Board of Seattle Children's Hospital. Procedures conformed to the US Health Insurance Portability and Accountability Act requirements.
Statement on the welfare of animals
This study did not involve animals.
Informed consent
The study is a retrospective review of charts.
Additional information
Publisher's Note
Springer Nature remains neutral with regard to jurisdictional claims in published maps and institutional affiliations.
About this article
Cite this article
Kelly, J.P., Feldman, K., Wright, J. et al. Retinal and visual function in infants with non-accidental trauma and retinal hemorrhages. Doc Ophthalmol 141, 111–126 (2020). https://doi.org/10.1007/s10633-020-09756-1
Received:

Accepted:

Published:

Issue Date:
Keywords
Electroretinogram

Shaken baby syndrome

Non-accidental trauma

Pediatric ophthalmology