Abstract
Purpose
The purpose of this study was to compare electroretinographic (ERG) responses of preterm schoolchildren, with and without a history of retinopathy of prematurity (ROP) with those of full-term schoolchildren by using a portable ERG device (RETeval system).
Methods
Twenty five prematurely born schoolchildren with a mean gestational age of 27 + 1/7w (range 23–30w) and a mean birth weight of 1030 g (range 580–1700 g) who were 6.9 ± 2.2 years old participated in the study (premature group). A further subdivision according to a history of ROP (ROP+ group) or its absence (ROP− group) was introduced. Twenty eight healthy full-term schoolchildren with an average age of 8.6 ± 1.9 years participated as the control group. 30-Hz flicker ERG responses were obtained, and implicit times and amplitudes were compared between the groups.
Results
30-Hz flicker ERG implicit times showed a significant difference between all three groups of children. The mean value of the implicit time in the term group was 25.76 ± 0.9 ms, whereas in the preterm ROP + group it was 28.96 ± 1.0 ms and in the preterm ROP− group it was 26.87 ± 1.5 ms. 30-Hz flicker ERG amplitudes did not show significant difference between term children and children born prematurely with or without ROP.
Conclusions
Prematurely born schoolchildren exhibit longer implicit time of the 30-Hz flicker ERG response compared to controls, suggesting a possible abnormality of the retinal cone system function. Under such circumstances, portable ERG device might be used clinically as a screening tool for retinal function evaluation in prematurely born children.
This is a preview of subscription content, log in to check access.
Access options
Buy single article
Instant access to the full article PDF.
US$ 39.95
Price includes VAT for USA
Subscribe to journal
Immediate online access to all issues from 2019. Subscription will auto renew annually.
US$ 99
This is the net price. Taxes to be calculated in checkout.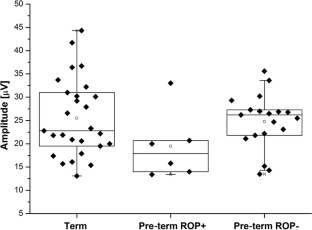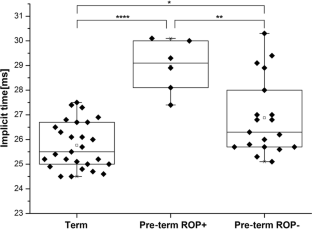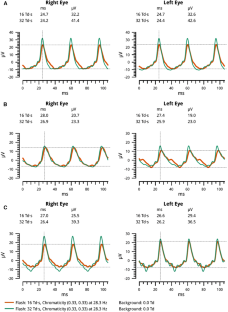 References
1.

Hendrickson A, Drucker D (1992) The development of parafoveal and mid-peripheral human retina. Behav Brain Res 49:21–31

2.

Recchia FM, Recchia CC (2007) Foveal dysplasia evident by optical coherence tomography in patients with a history of retinopathy of prematurity. Retina 27:1221–1226

3.

Tariq YM, Burlutsky G, Mitchell P (2012) Macular parameters and prematurity: a spectral domain coherence tomography study. J AAPOS 16:382–385

4.

Wang J, Spencer R, Leffler JN, Birch EE (2012) Critical period for foveal fine structure in children with regressed retinopathy of prematurity. Retina 32:330–339

5.

Vajzovic L, Rothman AL, Tran-Viet D, Cabrera MT, Freedman SF, Toth CA (2015) Delay in retinal photoreceptor development in very preterm compared to term infants. Invest Ophthalmol Vis Sci 56:908–913

6.

Thompson DA, Liasis A (2016) Visual electrophysiology: how it can help you and your patient. In: Lambert S, Lyons C (eds) Taylor &Hoyt´s Pediatric ophthalmology and strabismus, 5th edn. Elsevier-Saunders, London, pp 68–75

7.

Fulton AB, Hansen RM, Westall CA (2003) Development of ERG responses: the ISCEV rod, maximal and cone responses in normal subjects. Doc Ophthalmol 107:235–241

8.

Zhou X, Huang X, Chen H, Zhao P (2010) Comparison of electroretinogram between healthy preterm and term infants. Doc Ophthalmol 121:205–213

9.

Hansen RM, Fulton AB (2005) Development of the cone ERG in infants. Invest Ophthalmol Vis Sci 46:3458–3462

10.

Holmstrom G, Larsson E (2008) Long-term follow-up of visual functions in prematurely born children: a prospective population-based study up to 10 years of age. J AAPOS 12:157–162

11.

Akerblom H, Larsson E, Eriksson U, Holmstrom G (2011) Central macular thickness is correlated with gestational age at birth in prematurely born children. Br J Ophthalmol 95:799–803

12.

Birch DG, Anderson JL (1992) Standardized full-field electroretinography. Normal values and their variation with age. Arch Ophthalmol 110:1571–1576

13.

Harris ME, Moskowitz A, Fulton AB, Hansen RM (2011) Long-term effects of retinopathy of prematurity (ROP) on rod and rod-driven function. Doc Ophthalmol 122:19–27

14.

Akerblom H, Andreasson S, Larsson E, Holmstrom G (2014) Photoreceptor function in school-aged children is affected by preterm birth. Tran Vis Sci Tech 3(6):1–7

15.

Fukuo M, Kondo M, Hirose A, Fukushima H, Ikesugi K, Sugimoto M, Kato K, Uchigata Y, Kitano S (2016) Screening for diabetic retinopathy using new mydriasis-free, full-field flicker ERG recording device. Sci Rep 6: Article number 36591

16.

Kato K, Kondo M, Sugimoto M, Ikesugi K, Matsubara H (2015) Effect of pupil size on flicker ERGs recorded with RETeval system: new mydriasis-free full-field ERG system. Invest Ophthalmol Vis Sci 56:3684–3690

17.

Maa AY, Feuer WJ, Davis CQ, Pillow EK, Brown TD, Caywood RM, Chasan JE, Fransen SR (2016) A novel device for accurate and efficient testing for vision-threatening diabetic retinopathy. J Diabetes Complicat 30:524–532

18.

Severns ML, Johnson MA, Merritt SA (1991) Automated estimation of implicit time and amplitude from the flicker electroretinogram. Appl Opt 30:2106–2112

19.

Hammer DX, Iftimia NV, Ferguson RD et al (2008) Foveal fine structure in retinopathy of prematurity: an adaptive optics Fourier domain optical coherence tomography study. InvestOphthalmol Vis Sci 49:2061–2070

20.

Akerblom H, Holmstrom G, Eriksson U, Larsson E (2012) Retinal nerve fibre layer thickness in school-aged prematurely-born children compared to children born at term. Br J Ophthalmol 96:956–960

21.

Curcio CA, Sloan KR, Kalina RE, Hendrickson AE (1990) Human photoreceptor topography. J Comp Neurol 292:497–523

22.

Kondo M, Sieving PA (2001) Primate photoreceptor sine-wave flicker ERG: vector modeling analysis of component origins using glutamate analogs. Invest Ophthalmol Vis Sci 42(1):305–312

23.

Bush RA, Sieving PA (1996) Inner retinal contributions to the photopic fast flicker electroretinogram. J Opt Soc Am A 13:557–565

24.

Viswanathan S, Frishman LJ (2002) Robson JG (2002) Inner-retinal contributions to the photopic sinusoidal electroretinogram of macaques. Doc Ophthalmol 105(2):223–242

25.

Fulton AB, Hansen RB, Moskowitz A (2008) The cone electroretinogram in retinopathy of prematurity. Invest Ophthalmol Vis Sci 49(2):814–819

26.

Altschwager P, Moskowitz A, Fulton AB, Hansen RM (2017) Multifocal ERG responses in subjects with a history of preterm birth. Invest Ophthalmol Vis Sci 58:2603–2608

27.

Hansen RM, Moskowitz A, Akula JD, Fulton AB (2017) The neural retina in retinopathy of prematurity. Prog Retin Eye Res 56:32–57

28.

Yasuda S, Kachi S, Ueno S, Piao CH, Terasaki H (2015) Flicker electroretinograms before and after intravitreal ranibizumab injection in eyes with central retinal vein occlusion. Acta Ophthalmol 293:465–468

29.

Miura G, Nakamura Y, Sato E, Yamamoto S (2016) Effects of cataracts on flicker electroretinograms recorded with RETeval system: new mydriasis-free ERG device. BMC Ophthalmol 16:22

30.

Grace SF, Lam BL, Feuer WJ, Osigian CJ, Cavuoto KM, Capo H (2017) Nonsedated handheld electroretinogram as a screening test of retinal dysfunction in pediatric patients with nystagmus. J AAPOS 21(5):384–388

31.

Molnar AEC, Andreasson SO, Larsson EKB, Akerblom HM, Holmstrom GE (2017) Reduction in rod and cone function in 65-year-old children born extremely preterm. JAMA Ophthalmol 135(8):854–861

32.

Kato K, Kondo M, Nagashima R, Sugawara A, Sugimoto M, Matsubara H, McCulloch DL, Ikesugi K (2017) Factors affecting mydriasis-free flicker ERGs recorded with real-time correction for retinal illuminance: study of 150 young healthy subjects. Invest Opthalmol Vis Sci 58:5280–5286
Acknowledgements
This study was supported by the Slovenian Research Agency (P3-0333) and a research grant from Medical Centre Ljubljana.
Ethics declarations
Conflict of interest
Manca Tekavčič Pompe and Maja Šuštar declare that they have no conflict of interest.
Data availability
Data generated during the course of the current study are available from the corresponding author on reasonable request.
Statement of human rights
This study adhered to the tenets of the World Medical Association's Declaration of Helsinki and was approved by the Ethics Committee of the Medical Faculty, University of Ljubljana, Slovenia (Number 151/08/14).
Statement on the welfare of animals
No animals were used in this study.
Informed consent
Informed consent was obtained from all parents or caregivers of children included in the study.
Additional information
Publisher's Note
Springer Nature remains neutral with regard to jurisdictional claims in published maps and institutional affiliations.
About this article
Cite this article
Tekavčič Pompe, M., Šuštar, M. Flicker electroretinogram recorded with portable ERG device in prematurely born schoolchildren with and without ROP. Doc Ophthalmol 139, 59–65 (2019). https://doi.org/10.1007/s10633-019-09695-6
Received:

Accepted:

Published:

Issue Date:
Keywords
ERG

Cone pathway

RETeval system

Prematurely born schoolchildren