Abstract
Purpose
The anti-epileptic drug vigabatrin is associated with reduction in light-adapted 30-Hz flicker electroretinogram (ERG) amplitude. Ophthalmological assessments, including ERGs, monitor retinal health during vigabatrin treatment. RETeval™ is a hand-held ERG device adapted for dilation-free ERG assessment. To evaluate the usefulness of RETeval™ for vigabatrin ERG assessment, we evaluated intra-visit reliability and clinical feasibility of RETeval™ ERG assessment in children under 3 years of age undergoing vigabatrin treatment.
Methods
In this prospective study, children underwent 30-Hz flicker ERG assessment with RETeval™ before routine vigabatrin monitoring including sedated-ERG using the Espion E2 Colour Dome. Intraclass correlation coefficient (ICC) statistics identified the degree of intra-visit reliability from two repeated measurements of the same participant within one testing session. The omega squared (ω2) statistic identified the level of association between RETeval™ and Espion light-adapted 30-Hz flicker responses.
Results
Nine children completed RETeval™ ERG testing. The intra-visit ICCs for the RETeval™ 30-Hz flicker amplitude (µV) were high: 0.81 (right eye) and 0.86 (left eye), while the implicit times (ms) were 0.79 (right eye) and 0.42 (left eye). The RETeval™ 30-Hz flicker amplitude was positively associated with the Espion 30-Hz flicker response (ω2 = 0.71). The Bland–Altman plot showed no bias in the mean difference of amplitudes between the two systems.
Conclusion
This is the first study to assess the utility of RETeval™ device in children under 3 years of age undergoing vigabatrin treatment. RETeval™ demonstrated high intra-visit reliability with responses consistent with the standard Espion ERG. RETeval™ may be beneficial for assessment of retinal toxicity in young children treated with vigabatrin.
This is a preview of subscription content, log in to check access.
Access options
Buy single article
Instant access to the full article PDF.
US$ 39.95
Price includes VAT for USA
Subscribe to journal
Immediate online access to all issues from 2019. Subscription will auto renew annually.
US$ 99
This is the net price. Taxes to be calculated in checkout.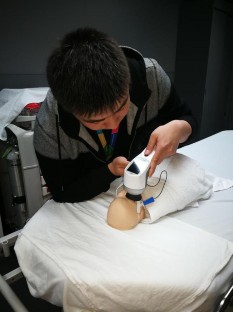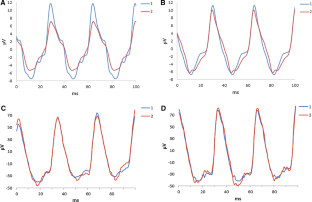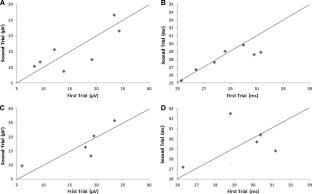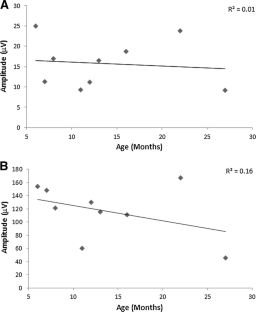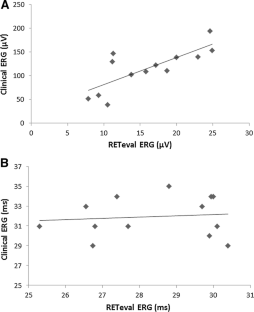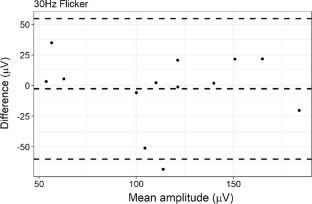 References
1.

Riikonen R, Donner M (1979) Incidence and aetiology of infantile spasms from 1960 to 1976: a population study in Finland. Dev Med Child Neurol 21:333–343

2.

Sidenvall R, Eeg-Olofsson O (1995) Epidemiology of infantile spasms in Sweden. Epilepsia 36:572–574

3.

Rantala H, Putkonen T (1999) Occurrence, outcome, and prognostic factors of infantile spasms and Lennox-Gastaut syndrome. Epilepsia 40:286–289

4.

Wong M, Trevathan E (2001) Infantile spasms. Pediatr Neurol 24:89–98

5.

Chiron C, Dumas C, Jambaqué I et al (1997) Randomized trial comparing vigabatrin and hydrocortisone in infantile spasms due to tuberous sclerosis. Epilepsy Res 26:389–395

6.

Jones K, Go C, Boyd J et al (2015) Vigabatrin as first-line treatment for infantile spasms not related to tuberous sclerosis complex. Pediatr Neurol 53:141–145

7.

Eke T, Talbot JF, Lawden MC (1997) Severe persistent visual field constriction associated with vigabatrin. Br Med J 314:180–181

8.

Lawden MC, Eke T, Degg C et al (1999) Visual field defects associated with vigabatrin therapy. J Neurol Neurosurg Psychiatry 67:716–722

9.

Harding GF, Wild JM, Robertson KA et al (2000) Separating the retinal electrophysiologic effects of vigabatrin: treatment versus field loss. Am J Ophthalmol 55:347–352

10.

Good WV (2011) Measuring field loss in children administered vigabatrin: a problem in search of a solution. J AAPOS 15:411–412

11.

McCulloch DL, Marmor MF, Brigell MG et al (2015) ISCEV Standard for full-field clinical electroretinography (2015 update). Doc Ophthalmol 130:1–12

12.

Westall CA, Wright T, Cortese F et al (2014) Vigabatrin retinal toxicity in children with infantile spasms: an observational cohort study. Neurology 83:2262–2268

13.

Sun L (2010) Early childhood general anaesthesia exposure and neurocognitive development. BJA Br J Anaesth 105:i61–i68

14.

Zhang H, Du L, Du Z et al (2015) Association between childhood exposure to single general anesthesia and neurodevelopment: a systematic review and meta-analysis of cohort study. J Anesth 29:749–757

15.

Davidson AJ, Becke K, De Graaff J et al (2015) Anesthesia and the developing brain: a way forward for clinical research. Paediatr Anaesth 25:447–452

16.

Kato K, Kondo M, Sugimoto M et al (2015) Effect of pupil size on flicker ERGs recorded with RETeval system: new mydriasis-free full-field ERG system. Investig Ophthalmol Vis Sci 56:3684–3690

17.

Grace SF, Lam BL, Feuer WJ et al (2017) Nonsedated handheld electroretinogram as a screening test of retinal dysfunction in pediatric patients with nystagmus. J AAPOS 21:384–388

18.

Al-Otaibi H, Al-Otaibi MD, Khandekar R et al (2017) Validity, usefulness and cost of RET eval system for diabetic retinopathy screening. Transl Vis Sci Technol 6:3

19.

Miura G, Nakamura Y, Sato E, Yamamoto S (2016) Effects of cataracts on flicker electroretinograms recorded with RETevalTM system: new mydriasis-free ERG device. BMC Ophthalmol 16:22

20.

Asakawa K, Amino K, Iwase M et al (2017) New mydriasis-free electroretinogram recorded with skin electrodes in healthy subjects. Biomed Res Int 2017:1–7

21.

Liu H, Ji X, Dhaliwal S et al (2018) Evaluation of light- and dark-adapted ERGs using a mydriasis-free, portable system: clinical classifications and normative data. Doc Ophthalmol 137:169–181

22.

Davis CQ, Kraszewska O, Manning C (2017) Constant luminance (cd·s/m2) versus constant retinal illuminance (Td·s) stimulation in flicker ERGs. Doc Ophthalmol 134:75–87

23.

Nakamura N, Fujinami K, Mizuno Y et al (2016) Evaluation of cone function by a handheld non-mydriatic flicker electroretinogram device. Clin Ophthalmol 10:1175–1185
Acknowledgements
This work was supported by the Vision Science Research program at the University of Toronto (Xiang Ji), and the SickKids Ophthalmology Research Fund (Dr. Carol Westall). LKC Technologies, Inc. provided the RETeval™ device and some sensor strips electrodes used in this study.
Ethics declarations
Conflicts of interest
The authors declare that they have no conflicts of interest.
Statement of human rights
All research procedures performed in this study were in accordance with the ethical standards of the institutional and/or national research committee and with the 1964 Helsinki declaration and its later amendments or comparable ethical standards.
Statement on the welfare of animals
This article does not contain any studies with animals performed by any of the authors.
Informed consent
Informed consent was obtained from all participants included in the study.
Additional information
Publisher's Note
Springer Nature remains neutral with regard to jurisdictional claims in published maps and institutional affiliations.
About this article
Cite this article
Ji, X., McFarlane, M., Liu, H. et al. Hand-held, dilation-free, electroretinography in children under 3 years of age treated with vigabatrin. Doc Ophthalmol 138, 195–203 (2019). https://doi.org/10.1007/s10633-019-09684-9
Received:

Accepted:

Published:

Issue Date:
Keywords
Electroretinography

RETeval

Hand-held electroretinography

Vigabatrin

Infantile spasms