Abstract
Purpose
Leber's hereditary optic neuropathy is relatively rare, and no clinical pathognomonic signs exist. We present a rare case of bilateral vision loss of a patient with multiple drug abuse in the history.
Observation
A 31-year-old man presented with a history of progressive, decreased vision in both eyes for 6 month. On examination, his visual acuity was hand motion in both eyes. Funduscopy demonstrated a temporal pallor of the optic disc. Goldmann visual field perimetry showed a crescent visual field in the right eye and a circular decrease to less than 50 ° in the left eye. Electroretinogram showed a scotopic b-wave amplitude reduction. Optical coherence tomographies, Heidelberg Retina tomography, visual evoked potentials, and magnetic resonance imaging with contrast as well as blood tests were normal. The patient reported to consume various kinds of drugs as well as recreational drug use and alcohol consumption since he was 16 years old. We started a hemodilution therapy, believing the patient suffered from a bilateral, toxic optic neuropathy due to his lifestyle. Laboratory results later on showed Leber's hereditary optic neuropathy.
Conclusion and importance
Leber's hereditary optic neuropathy is a rare disease without a typical, pathognomonic presentation. Even though the patient gave good reasons for a toxic optic neuropathy, one should never stop to test for other diseases.
Access options
Buy single article
Instant access to the full article PDF.
USD 39.95
Price excludes VAT (USA)
Tax calculation will be finalised during checkout.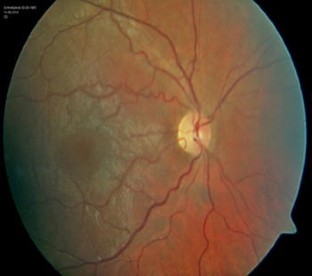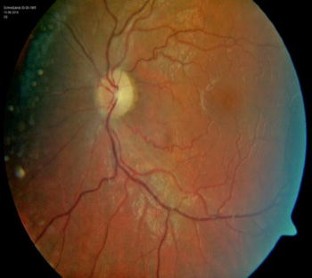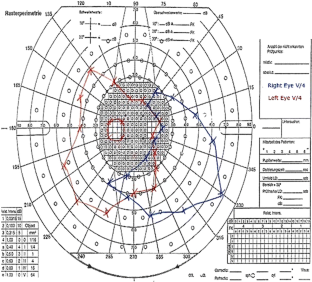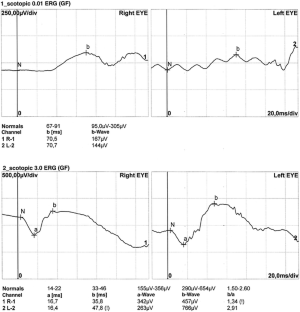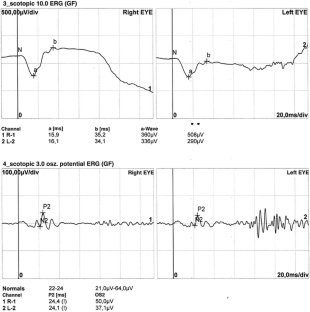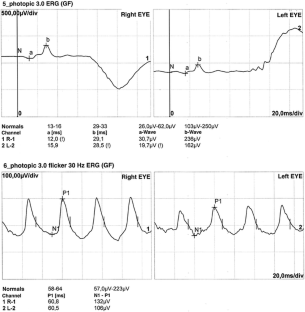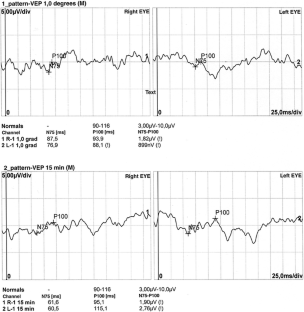 References
Yu-Wai-Man P, Chinnery PF (1993) Leber Hereditary Optic Neuropathy. University of Washington, Seattle

Harding AE, Sweeney MG, Govan GG, Riordan-Eva P (1995) Pedigree analysis in Leber hereditary optic neuropathy families with a pathogenic mtDNA mutation. Am J Hum Genet 57(1):77–86

McCulloch DL, Marmor MF, Brigell MG, Hamilton R, Holder GE, Tzekov R, Bach M (2015) ISCEV standard for full-field clinical electroretinography (2015 update). Doc Ophthalmol 130(1):1–12

Odom JV, Bach M, Brigell M, Holder GE, McCulloch DL, Mizota A, Tormene AP, International Society for Clinical Electrophysiology of Vision (2016) ISCEV standard for clinical visual evoked potentials: (2016 update). Doc Ophthalmol 133(1):1–9

Yu-Wai-Man P, Griffiths PG, Hudson G, Chinnery PF (2008) Inherited mitochondrial optic neuropathies. J Med Genet 46(3):145–158

Newman NJ (2005) Hereditary optic neuropathies: from the mitochondria to the optic nerve. Am J Ophthalmol 140(3):517.e1–517.e9

Riordan-Eva P, Sanders MD, Govan GG, Sweeney MG, Da Costa J, Harding AE (1995) The clinical features of Leber's hereditary optic neuropathy defined by the presence of a pathogenic mitochondrial DNA mutation. Brain 118(Pt 2):319–337

DiMauro S, Schon EA (2008) Mitochondrial disorders in the nervous system. Annu Rev Neurosci 31(1):91–123

Newman NJ, Biousse V, Newman SA, Bhatti MT, Hamilton SR, Farris BK, Lesser RL, Turbin RE (2006) Progression of visual field defects in Leber hereditary optic neuropathy: experience of the LHON treatment trial. Am J Ophthalmol 141(6):1061.e1–1067.e1

Majander A, Robson AG, João C, Holder GE, Chinnery PF, Moore AT, Votruba M, Stockman M, Yu-Wai-Man P (2017) The pattern of retinal ganglion cell dysfunction in Leber hereditary optic neuropathy. Mitochondrion 36:138–149

Jancic-Stefanovic J, Kostic V, Carelli V (2007) Visual evoked potentials (VEP) and brainstem evoked potentials (BAEP) as diagnostic procedures in Leber's hereditary optic neuropathy. Clin Neurophysiol 118(4):e119

Akiyama H, Kashima T, Li D, Shimoda Y, Mukai R, Kishi S (2013) Retinal ganglion cell analysis in Leber's hereditary optic neuropathy. Ophthalmology 120(9):1943.e5–1944.e5

Zhang Y, Huang H, Wei S, Qiu H, Gong Y, Li H, Dai Y, Jiang Z, Liu Z (2014) Characterization of retinal nerve fiber layer thickness changes associated with Leber's hereditary optic neuropathy by optical coherence tomography. Exp Ther Med 7(2):483–487

Mizoguchi A, Hashimoto Y, Shinmei Y, Nozaki M, Ishijima K, Tagawa Y, Ishida S (2015) Macular thickness changes in a patient with Leber's hereditary optic neuropathy. BMC Ophthalmol 15:27

Balducci N, Savini G, Cascavilla ML, La Morgia C, Triolo G, Giglio R, Carbonelli M, Parisi V, Sadun AA, Bandello F, Carelli V, Barboni P (2016) Macular nerve fibre and ganglion cell layer changes in acute Leber's hereditary optic neuropathy. Br J Ophthalmol 100(9):1232–1237

Wang MY, Sadun AA, Chan JW (2014) Nutritional and toxic optic neuropathies. In: Chan JW (ed) Optic nerve disorders, 1st edn. Springer, New York, pp 177–207

Grzybowski A, Zülsdorff M, Wilhelm H, Tonagel F (2015) Toxic optic neuropathies: an updated review. Acta Ophthalmol 93(5):402–410

Kerrison J (2004) Optic neuropathies caused by toxins and adverse drug reactions. Ophthalmol Clin N Am 17(3):481–488

Behbehani R, Sergott RC, Savino PJ (2005) Tobacco–alcohol amblyopia: a maculopathy? Br J Ophthalmol 89(11):1543–1544

Potts AM (1973) Tobacco amblyopia. Surv Ophthalmol 17(5):313–339

Nazliel B, Arikan Z, İrkec C (2007) Visual evoked potentials in chronic alcoholism. Addict Behav 32(7):1470–1473

Kupersmith MJ, Weiss PJA, Carr RE (1983) The visual-evoked potential in tobacco–alcohol and nutritional amblyopia. Am J Ophthalmol 95(3):307–314

Pawlosky RJ, Bacher J, Salem N (2001) Ethanol consumption alters electroretinograms and depletes neural tissues of docosahexaenoic acid in rhesus monkeys: nutritional consequences of a low n-3 fatty acid diet. Alcohol Clin Exp Res 25(12):1758–1765

Sharma P, Sharma R (2011) Toxic optic neuropathy. Indian J Ophthalmol 59(2):137–141

Atkins EJ, Bruce BB, Newman NJ, Biousse V (2010) Treatment of nonarteritic anterior ischemic optic neuropathy. Surv Ophthalmol 55(1):47–63

Newman NJ, Scherer R, Langenberg P, Kelman S, Feldon S, Kaufman D, Dickersin K (2002) The fellow eye in NAION: report from the ischemic optic neuropathy decompression trial follow-up study. Am J Ophthalmol 134(3):317–328

Giambene B, Sodi A, Sofi F, Marcucci R, Fedi S, Abbate R, Prisco D, Menchini U (2009) Evaluation of traditional and emerging cardiovascular risk factors in patients with non-arteritic anterior ischemic optic neuropathy: a case-control study. Graefe's Arch Clin Exp Ophthalmol 247(5):693–697

Salomon O, Huna-Baron R, Kurtz S, Steinberg DM, Moisseiev J, Rosenberg N, Yassur I et al (1999) Analysis of prothrombotic and vascular risk factors in patients with nonarteritic anterior ischemic optic neuropathy. Ophthalmology 106(4):739–742

Kerr NM, Chew SSSL, Danesh-Meyer HV (2009) Non-arteritic anterior ischaemic optic neuropathy: a review and update. J Clin Neurosci 16(8):994–1000

Wilson WB (1978) Visual-evoked response differentiation of ischemic optic neuritis from the optic neuritis of multiple sclerosis. Am J Ophthalmol 86(4):530–535

Froehlich J, Kaufman DI (1994) Use of pattern electroretinography to differentiate acute optic neuritis from acute anterior ischemic optic neuropathy. Electroencephalogr Clin Neurophysiol 92(6):480–486

Yu-Wai-Man P, Griffiths PG, Chinnery PF (2011) Mitochondrial optic neuropathies—disease mechanisms and therapeutic strategies. Prog Retin Eye Res 30(2):81–114

Fraser JA, Biousse V, Newman NJ (2010) The neuro-ophthalmology of mitochondrial disease. Surv Ophthalmol 55(4):299–334

Macmillan C, Kirkham T, Fu K, Allison V, Andermann E et al (1998) Pedigree analysis of French Canadian families with T14484C Leber's hereditary optic neuropathy. Neurology 50(2):417–422

Meyerson C, Van Stavern G, McClelland C (2015) Leber hereditary optic neuropathy: current perspectives. Clin Ophthalmol 9:1165–1176

Kirkman MA, Yu-Wai-Man P, Korsten A, Leonhardt M, Dimitriadis K, De Coo IF, Klopstock T, Chinnery PF (2009) Gene–environment interactions in Leber hereditary optic neuropathy. Brain 132(9):2317–2326

Yu-Wai-Man P, Votruba M, Moore AT, Chinnery PF (2014) Treatment strategies for inherited optic neuropathies: past, present and future. Eye (Lond) 28(5):521–537

Raxone | ARZNEI-NEWS.de. https://arznei-news.de/raxone/. Accessed 7 July 2017

Lyseng-Williamson KA (2016) Idebenone: a review in Leber's hereditary optic neuropathy. Drugs 76(7):805–813

Carelli V, on behalf of the Consensus Study Group (2016) Consensus on guidelines for idebenone administration in Leber's hereditary optic neuropathy (LHON). Acta Ophthalmol. https://doi.org/10.1111/j.1755-3768.2016.0502
Ethics declarations
Conflict of interest
The authors state that no conflict of interest exists.
Informed consent
Written informed consent was obtained from the patient for publication of this case report and any accompanying images.
Statement of human rights
All procedures performed in studies involving human participants were in accordance with the ethical standards of the institutional and/or national research committee and with the 1964 Helsinki declaration and its later amendments or comparable ethical standards.
Statement on the welfare of animals
This article does not contain any studies with animals performed by any of the authors.
About this article
Cite this article
Maass, J., Matthé, E. Bilateral vision loss due to Leber's hereditary optic neuropathy after long-term alcohol, nicotine and drug abuse. Doc Ophthalmol 136, 145–153 (2018). https://doi.org/10.1007/s10633-018-9622-5
Received:

Accepted:

Published:

Issue Date:

DOI: https://doi.org/10.1007/s10633-018-9622-5
Keywords
Leber's hereditary optic neuropathy

Orphan disease

No clinical pathognomonic signs

Bilateral vision loss

Drug abuse