Abstract
Purpose
The purpose of this study is to report a case of ritonavir-related retinal toxicity followed over a year. Electrophysiological features and multimodal imaging, including adaptive optics, are provided and discussed.
Methods
Electrophysiological recordings and multimodal imaging were performed and repeated over 1 year.
Results
Fundus examination revealed crystalline maculopathy in conjunction with pigment disruption. Spectral domain optical coherence tomography displayed thinning of the macula without cysts. Autofluorescence imaging revealed a mixed pattern of complete loss of the autofluorescence in the area of retinal pigment deposit and an increased transmission of the autofluorescence in the area of retinal thinning. Fluorescein angiography ruled out parafoveal telangiectasia. Indocyanine green angiography was not contributive. Increased spacing of the macular cone mosaic, crystal deposits and pigment migrations were seen with adaptive optics. Full-field electroretinogram was slightly reduced for both eyes, especially in the light-adapted responses, and mfERG confirmed bilateral maculopathy. Functional and structural abnormalities did not change with follow-up besides constant pigmentary changes monitored with adaptive optics.
Conclusion
Ritonavir-related retinal toxicity is a maculopathy with peculiar features including crystalline and pigment migration associated with central or temporofoveolar thinning and inconstant macular telangiectasia. Despite drug cessation, retinal remodelling continues to progress.
This is a preview of subscription content, log in to check access.
Access options
Buy single article
Instant access to the full article PDF.
US$ 39.95
Price includes VAT for USA
Subscribe to journal
Immediate online access to all issues from 2019. Subscription will auto renew annually.
US$ 99
This is the net price. Taxes to be calculated in checkout.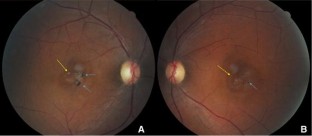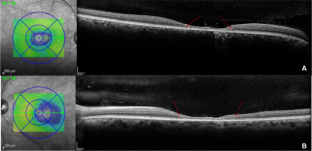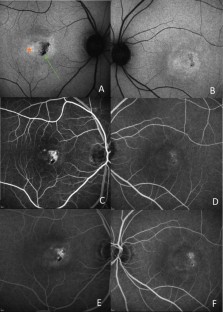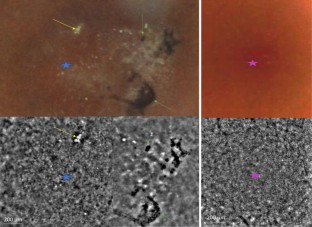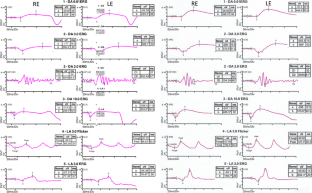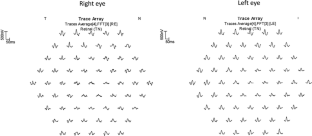 References
1.

Roe RH, Jumper JM, Gualino V, Wender J, McDonald HR, Johnson RN, Fu AD, Cunningham ET Jr (2011) Retinal pigment epitheliopathy, macular telangiectasis, and intraretinal crystal deposits in HIV-positive patients receiving ritonavir. Retina 31:559–565

2.

Leiner S (2012) Re: retinal pigment epitheliopathy, macular telangiectasis, and intraretinal crystal deposits in HIV-positive patients receiving ritonavir. Retina 32(2):411

3.

European Medicines Agency. Scientific discussion for the approval of Norvir. http://www.ema.europa.eu/docs/en_GB/document_library/EPAR_Scientific_Discussion/human/000127/WC500028725.pdf

4.

McCulloch DL, Marmor MF, Brigell MG, Hamilton R, Holder GE, Tzekov R, Bach M (2015) ISCEV Standard for full-field clinical electroretinography (2015 update). Doc Ophthalmol 130(1):1–12

5.

Biancardi AL, Curi ALL (2016) Retinal toxicity related to long-term use of ritonavir. Retina 36:229–231

6.

Anderson N, Borlak J (2006) Drug-induced phospholipidosis. FEBS Lett 580(23):5533–5540

7.

Gocho K, Sarda V, Falah S, Sahel JA, Sennlaub F, Benchaboune M, Ullern M, Paques M (2013) Adaptive optics imaging of geographic atrophy. Invest Ophthalmol Vis Sci 54:3673–3680

8.

Fawzi AA, Lee NG, Eliott D, Song J, Stewart JM (2009) Retinal findings in patients with Alport Syndrome: expanding the clinical spectrum. Br J Ophthalmol 93(12):1606–1611

9.

Vadlapatla RK, Vadlapudi AD, Pal D, Mukherji M, Mitra AK (2014) Ritonavir inhibits HIF-1α-mediated VEGF expression in retinal pigment epithelial cells in vitro. Eye (Lond) 28(1):93–101
Ethics declarations
Conflict of interest
The authors declare that they have no conflict of interest.
Statement of human rights
All procedures performed in this study involving our human participant were in accordance with the ethical standards of the institutional and / or national research committee and with the 1964 Helsinki declaration and its later amendments or comparable ethical standards.
Statement on the welfare of animals
This article does not contain any studies with animals performed by any of the authors.
Patient consent
The patient has consented to the submission of the manuscript for this journal.
Electronic supplementary material
Below is the link to the electronic supplementary material.
Time-lapse AO movie showing the redistribution of melanosomes inside melanin-loaded cells (MP4 931 kb). The migration of th melanin pigments suggest a continuous process of remodelling of the scar tissue
About this article
Cite this article
Faure, C., Paques, M. & Audo, I. Electrophysiological features and multimodal imaging in ritonavir-related maculopathy. Doc Ophthalmol 135, 241–248 (2017). https://doi.org/10.1007/s10633-017-9612-z
Received:

Accepted:

Published:

Issue Date:
Keywords
Ritonavir maculopathy

Crystalline maculopathy

Toxic maculopathy

Phospholipidosis