Abstract
Purpose
We report the clinical findings and retinal function of a patient who presented retinal toxicity signs after cefuroxime use for a phacoemulsification surgery.
Methods
A 64-year-old man underwent a technically uneventful left eye cataract surgery. A standard intracameral dose of cefuroxime (0.1 mL of 10.0 mg/mL solution) was administered at the end of the surgery.
Results
At review 2 days later, he complained about left eye visual loss. Fundus examination revealed a diffuse retinal pallor with small intraretinal cysts. Optical coherence tomography scans showed a large retinal serous detachment with a schisis-like appearance of the outer nuclear layer. A slight global retinal dysfunction was recorded on ISCEV full-field electroretinogram. Fast clinical recovery was observed. Optical coherence tomography scans were back to normal within less than a week. Two months later, full-field electroretinogram showed no longer abnormalities.
Conclusion
It is the first report to our knowledge of a case of retinal toxicity with a standard dose. Kinetics and studies about cefuroxime toxicity are reviewed and discussed.
Access options
Buy single article
Instant access to the full article PDF.
USD 39.95
Price includes VAT (USA)
Tax calculation will be finalised during checkout.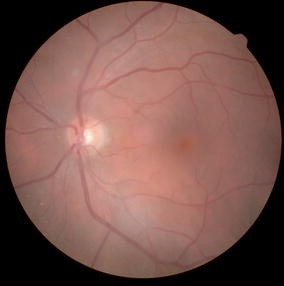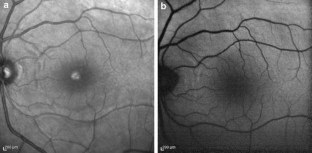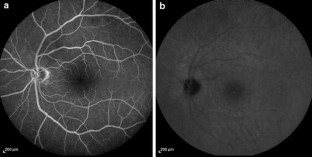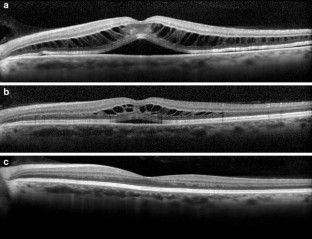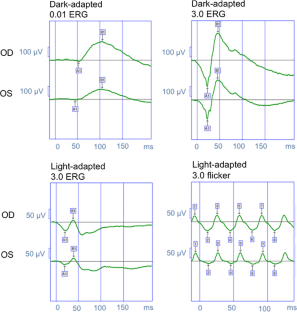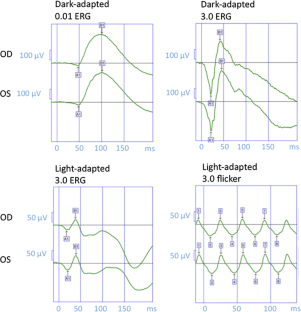 References
1.

Montan PG, Weide G, Setterquist H, Rylander M, Zetterström C (2002) Prophylactic intracameral cefuroxime. Evaluation of safety and kinetics in cataract surgery. J Cataract Refract Surg 28(6):982–987

2.

Barry P, Seal DV, Gettinby G, Lees F, Peterson M, Revie CW, for the ESCRS Endophthalmitis Study Group (2006) ESCRS study of prophylaxis of postoperative endophthalmitis after cataract surgery; preliminary results from a European multicenter study. J Cataract Refract Surg 32:407–410

3.

Lam PT, Young AL, Cheng LL, Tam PM, Lee VY (2010) Randomized controlled trial on the safety of intracameral cephalosporins in cataract surgery. Clin Ophthalmol 8(4):1499–1504

4.

Gupta MS, McKee HD, Saldana M, Stewart OG (2005) Macular thickness after cataract surgery with intracameral cefuroxime. J Cataract Refract Surg 31(6):1163–1166

5.

Hann JV, Lee LR (2006) Macular thickness after cataract surgery with intracameral cefuroxime. J Cataract Refract Surg 32(4):545 (author reply 545)

6.

Olavi P (2012) Ocular toxicity in cataract surgery because of inaccurate preparation and erroneous use of 50 mg/ml intracameral cefuroxime. Acta Ophthalmol 90(2):e153

7.

Delyfer MN, Rougier MB, Leoni S, Zhang Q, Dalbon F, Colin J, Korobelnik JF (2011) Ocular toxicity after intracameral injection of very high doses of cefuroxime during cataract surgery. J Cataract Refract Surg 37(2):271–278

8.

Qureshi F, Clark D (2011) Macular infarction after inadvertent intracameral cefuroxime. J Cataract Refract Surg 37(6):1168–1169

9.

Sakarya Y, Sakarya R (2010) Cefuroxime dilution error. Eur J Ophthalmol 20(2):460–461

10.

Yoeruek E, Spitzer MS, Saygili O, Tatar O, Biedermann T, Yoeruek E, Bartz-Schmidt KU, Szurman P (2008) Comparison of in vitro safety profiles of vancomycin and cefuroxime on human corneal endothelial cells for intracameral use. J Cataract Refract Surg 34(12):2139–2145

11.

Marmor MF, Fulton AB, Holder GE, Miyake Y, Brigell M, Bach M (2009) International Society for Clinical Electrophysiology of Vision. ISCEV Standard for full-field clinical electroretinography (2008 update). Doc Ophthalmol 118(1):69–77

12.

Lockington D, Flowers H, Young D, Yorston D (2010) Assessing the accuracy of intracameral antibiotic preparation for use in cataract surgery. J Cataract Refract Surg 36(2):286–289

13.

Hui M, Lam PT, Cheung SW, Pang CP, Chan CY, Lam DS (2011) In vitro compatibility study of cephalosporin with intraocular irrigating solutions and intracameral medications. Clin Exp Ophthalmol 39(2):164–170

14.

Shaarawy A, Meredith TA, Kincaid M, Dick J, Aguilar E, Ritchie DJ, Reichley RM (1995) Intraocular injection of ceftazidime. Effects of inflammation and surgery. Retina 15(5):433–438

15.

Kwok AK, Hui M, Pang CP, Chan RC, Cheung SW, Yip CM, Lam DS, Cheng AF (2002) An in vitro study of ceftazidime and vancomycin concentrations in various fluid media: implications for use in treating endophthalmitis. Invest Ophthalmol Vis Sci 43(4):1182–1188

16.

Aguilar HE, Meredith TA, El-Massry A, Shaarawy A, Kincaid M, Dick J, Ritchie DJ, Reichley RM, Neisman MK (1995) Vancomycin levels after intravitreal injection. Effects of inflammation and surgery. Retina 15(5):428–432

17.

Koul S, Philipson A, Philipson BT, Arvidson S (1993) Intraocular levels of cefuroxime in inflamed rabbit eyes. Eur J Ophthalmol 3(2):61–65

18.

Shahar J, Zemel E, Perlman I, Loewenstein A (2012) Physiological and toxicological effects of cefuroxime on the albino rabbit retina. Invest Ophthalmol Vis Sci 53(2):906–914

19.

Jain N, Bhatti MT (2012) Fingolimod-associated macular edema : incidence, detection and management. Neurology 78(9):672–680

20.

Zarbin MA, Jampol LM, Jager RD, Reder AT, Francis G, Collins W, Tang D, Zhang X (2013) Ophthalmic evaluations in clinical studies of fingolimod (FTY720) in multiple sclerosis. Ophthalmology 120(7):1432–1439

21.

Millay RH, Klein ML, Illingworth DR (1988) Niacin maculopathy. Ophthalmology 95(7):930–936

22.

Gass JD (1973) Nicotinic acid maculopathy. Am J Ophthalmol 76(4):500–510

23.

Fraunfelder FW, Fraunfelder FT, Illingworth DR (1995) Adverse ocular effects associated with niacin therapy. Br J Ophthalmol 79(1):54–56

24.

Spirn MJ, Warren FA, Guyer DR, Klancnik JM, Spaide RF (2003) Optical coherence tomography findings in nicotinic acid maculopathy. Am J Ophthalmol 135(6):913–914

25.

Dajani HM, Lauer AK (2006) Optical coherence tomography findings in niacin maculopathy. Can J Ophthalmol 41(2):197–200

26.

Jampol LM (1988) Niacin maculopathy: Ophthalmology 95(12):1704–1705
About this article
Cite this article
Faure, C., Perreira, D. & Audo, I. Retinal toxicity after intracameral use of a standard dose of cefuroxime during cataract surgery. Doc Ophthalmol 130, 57–63 (2015). https://doi.org/10.1007/s10633-014-9465-7
Received:

Accepted:

Published:

Issue Date:
Keywords
Cefuroxime

OCT

ERG

Retinal toxicity