Abstract
This paper introduces Hierarchical Interface-Based Supervisory Control using the Conflict Preorder and applies it to the design of two manufacturing systems models of practical scale. Hierarchical Interface-Based Supervisory Control decomposes a large system into subsystems linked to each other by interfaces, facilitating the design of complex systems and the re-use of components. By ensuring that each subsystem satisfies its interface consistency conditions locally, it can be ensured that the complete system is controllable and nonblocking. The interface consistency conditions proposed in this paper are based on the conflict preorder, providing increased flexibility over previous approaches. The framework requires only a small number of interface consistency conditions, and allows for the design of multi-level hierarchies that are provably controllable and nonblocking.
Access options
Buy single article
Instant access to the full article PDF.
USD 39.95
Price excludes VAT (USA)
Tax calculation will be finalised during checkout.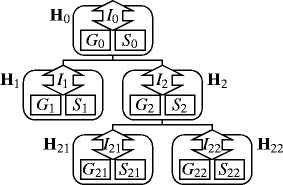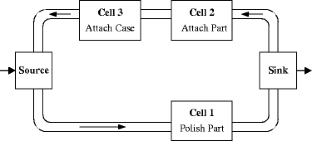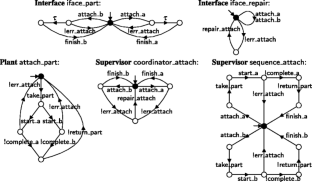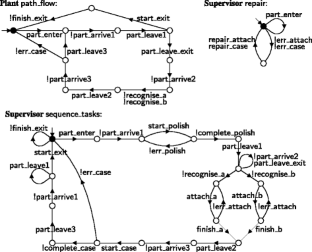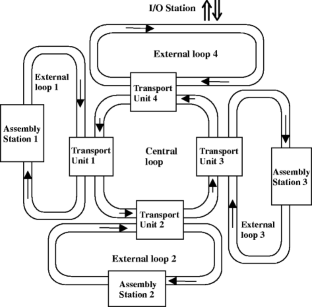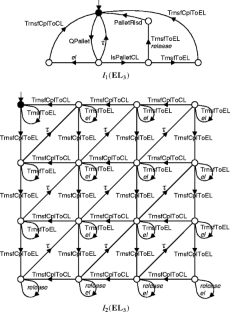 References
Åkesson K, Fabian M, Flordal H, Malik R (2006) Supremica—an integrated environment for verification, synthesis and simulation of discrete event systems. In: Proceedings 8th International Workshop on Discrete Event Systems, WODES '06. Ann Arbor, MI, pp 384–385

de Alfaro L, Henzinger TA (2001) Interface automata. In: Proceedings of the 9th ACM SIGSOFT international symposium on Foundations of Software Engineering 2001. Vienna, pp 109–120

Barrett G, Lafortune S (2000) Decentralized supervisory control with communicating controllers. IEEE Trans Autom Control 45(9):1620–1638

Brandin B, Charbonnier F (1994) The supervisory control of the automated manufacturing system of the AIP. In: Proceedings Rensselaer's 4th international conference computer integrated manufacturing and automation technology. Troy, pp 319–324

Brandin BA,Malik R,Malik P (2004) Incremental verification and synthesis of discrete-event systems guided by counter-examples. IEEE Trans Control Sys Tech 12(3):387–401 doi:10.1109/TCST.2004.824795

Bruegge B, Dutoit AH (2004) Object-Oriented Software Engineering Using UML, Patterns, and Java, 2nd edn. Pearson Prentice Hall

Dai P (2006) Synthesis method for hierarchical interface-based supervisory control. Master's thesis, Department of Computing and Software, McMaster University, Hamilton. http://www.cas.mcmaster.ca/%7Eleduc

De Nicola R, Hennessy MCB (1984) Testing equivalences for processes. Theor Comput Sci 34(1–2):83–133. doi:10.1016/0304-3975(84)90113-0

Fabian M (1995) On object oriented nondeterministic supervisory control. Ph.D. thesis, Chalmers University of Technology. Göteborg. https://publications.lib.chalmers.se/cpl/record/index.xsql?pubid=1126

Feng L, Wonham WM (2006) Computationally efficient supervisor design: abstraction and modularity. In: Proceedings of the 8th international Workshop on Discrete Event Systems, WODES '06. Ann Arbor, pp 3–8

Feng L, Wonham WM (2010) On the computation of natural observers in discrete-event systems. Discrete Event Dyn Syst 20(1):63–102

Flordal H, Malik R (2009) Compositional verification in supervisory control. SIAM J Control Optim 48(3):1914–1938. doi:10.1137/070695526

Harel D (1987) Statecharts: a visual formalism for complex systems. Sci Comput Program 8(3):231–274

Hill RC, Cury JER, de QueirozMH, Tilbury DM, Lafortune S (2010) Multi-level hierarchical interface-based supervisory control. Autom 46(7):1152–1164. doi:10.1016/j.automatica.2010.04.002

Hoare CAR (1985) Communicating Sequential Processes. Prentice-Hall

Leduc R DESpot —unlock the DES potential. http://www.cas.mcmaster.ca/%7Eleduc/DESpot.html

Leduc RJ (2002) Hierarchical interface-based supervisory control. Ph.D. thesis, Department of Electrical Engineering, University of Toronto. Canada. http://www.cas.mcmaster.ca/leduc

Leduc RJ (2009) Hierarchical interface-based supervisory control with data events. Int J Control 82(5):783–800. doi:10.1080/00207170802291411

Leduc RJ, Brandin BA, Lawford M, Wonham WM (2005a) Hierarchical interface-based supervisory control—part I: Serial case. IEEE Trans Autom Control 50(9):1322–1335

Leduc RJ, Lawford M, Wonham WM (2005b) Hierarchical interface-based supervisory control—part II: Parallel case. IEEE Trans Autom Control 50(9):1336–1348

Leduc RJ, Dai P, Song R (2009) Synthesis method for hierarchical interface-based supervisory control. IEEE Trans Autom Control 54(7):1548–1560

Lin F, Wonham WM (1990) Decentralized control and coordination of discrete-event systems with partial observation. IEEE Trans Autom Control 35(12):1330–1337

Ma C, Wonham WM (2005) Nonblocking supervisory Control of State Tree Structures, LNCIS, vol. 317. Springer

Malik R (2010) The language of certain conflicts of a nondeterministic process. Working Paper 05/2010, Department of Computer Science, University of Waikato. Hamilton

Malik R, Flordal H, Pena PN (2007) Conflicts and projections In: Proceedings of the 1st IFAC Workshop on Dependable Control of Discrete Systems, DCDS '07. Paris, pp 63–68

Malik R., Leduc R. (2012) Hierarchical interface-based supervisory control using the conflict preorder. In: Proceedings of the 11th International workshop on discrete event systems, WODES '12. Guadalajara, pp 163–168

Malik R, Leduc R (2013) Compositional nonblocking verification using generalised nonblocking abstractions. IEEE Trans Autom Control 58(8):1–13. doi:10.1109/TAC.2013.2248255

Malik R, Streader D, Reeves S (2006) Conflicts and fair testing. Int J Found Comput Sci 17(4):797–813. doi:10.1142/S012905410600411X

Mitchell R, McKim J (2001) Design by contract, by example. Addison-Wesley

Moor T, Baier C, Wittmann T (2013) Consistent abstractions for the purpose of supervisory control. In: Proceedings of the 52nd IEEE conference decision and control, CDC 2013. Firenze, pp 7291–7296

Parnas DL (1972) On the criteria to be used in decomposing systems into modules. Commun ACM 15(12):1053–1058. doi:10.1145/361598.361623

de Queiroz MH, Cury JER (2000) Modular supervisory control of large scale discrete event systems. In: Proceedings of the 5th international workshop on discrete event systems, WODES'00. Ghent, pp 103–110

Ramadge PJG, Wonham WM (1989) The control of discrete event systems. Proceedings of the IEEE 77(1):81–98

Rudie K, Wonham W (1992) Think globally, act locally: decentralized supervisory control. IEEE Trans Autom Control 37(11):1692–1708

Schmidt K, Breindl C (2011) Maximally permissive hierarchical control of decentralized discrete event systems. IEEE Trans Autom Control 56(4):723–737

Song R (2006) Symbolic synthesis and verification of hierarchical interface-based supervisory control. Master's thesis, Department of Computing and Software. McMaster University. Hamilton. http://www.cas.mcmaster.ca/%7Eleduc

Teixeira M, Cury JER, de Queiroz MH (2011) Local modular supervisory control of DES with distinguishers. In: Proceedings of the 16th IEEE international conference on emerging technologies and factory automation, ETFA'11. Toulouse, pp 1–8

Wang B (1995) Top-down design for RW supervisory control theory. Master's thesis, Department of Electrical Engineering, University of Toronto. Canada

Ware S, Malik R (2011) A state-based characterisation of the conflict preorder. In: Proceedings of the 10th international workshop on the foundations of coordination languages and software architectures, FOCLASA 2011. Aachen, pp 34–48. doi:10.4204/EPTCS.58.3

Ware S, Malik R (2012) Conflict-preserving abstraction of discrete event systems using annotated automata. Discret Event Dyn Syst 22(4):451–477. doi:10.1007/s10626-012-0133-3

Wong KC, Wonham WM (1996) Hierarchical control of discrete-event systems. Discret Event Dyn Syst 6(3):241–273

Wong KC, Wonham WM (1998) Modular control and coordination of discrete-event systems. Discret Event Dyn Syst 8(3):247–297

Wong KC, Wonham WM (2004) On the computation of observers in discrete-event systems. Discret Event Dyn Syst 14(1):55–107

Wonham WM (2009). Supervisory control of discrete-event systems. Systems Control Group, Department of Electrical Engineering, University of Toronto. Canada. at http://www.control.utoronto.edu/DES/
About this article
Cite this article
Malik, R., Leduc, R. Hierarchical modelling of manufacturing systems using discrete event systems and the conflict preorder. Discrete Event Dyn Syst 25, 177–201 (2015). https://doi.org/10.1007/s10626-014-0185-7
Received:

Accepted:

Published:

Issue Date:

DOI: https://doi.org/10.1007/s10626-014-0185-7
Keywords