Abstract
A patient with systemic amyloidosis developed portal hypertension, acute liver failure and multiorgan dysfunction. Extensive testing was unrevealing for paraproteinemia, plasma cell dyscrasia, infectious, or inflammatory conditions. He was transferred to our institution for orthotopic liver transplant evaluation but was ultimately declined given clinical instability and dysautonomia. Post-mortem evaluation revealed extensive amyloid deposition in multiple organs determined to be AL-lambda amyloidosis.
Access options
Buy single article
Instant access to the full article PDF.
USD 39.95
Price excludes VAT (USA)
Tax calculation will be finalised during checkout.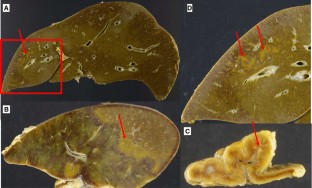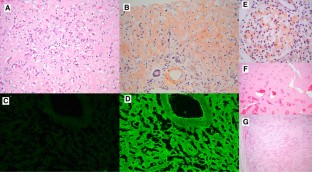 References
Voulgarelis M, Mitroulis I, Tzioufas AG. Amyloidosis. In: Efthimiou P, ed. Springer: Cham; 2019; 297–311.

Staron A, Kataria Y, Murray DL, Sloan JM, Sanchorawala V. Systemic AL amyloidosis with an undetectable plasma cell dyscrasia: A zebra without stripes. Am J Hematol. 2020;95:E45–E48. https://doi.org/10.1002/ajh.25685.

Benson MD, Liepnieks JJ, Kluve-Beckerman B. Hereditary systemic immunoglobulin light-chain amyloidosis. Blood. 2015;125:3281–3286. https://doi.org/10.1182/blood-2014-12-618108.

Levine RA. Amyloid disease of the liver. Correlation of clinical, functional and morphologic features in forty-seven patients. Am J Med. 1962;33:349–357. doi:https://doi.org/10.1016/0002-9343(62)90231-0

Norero B, Perez-Ayuso RM, Duarte I, Ramirez P, Soza A, Arrese M et al. Portal hypertension and acute liver failure as uncommon manifestations of primary amyloidosis. Ann Hepatol. 2013;13:142–149.

Real de Asua D, Costa R, Galvan JM, Filigheddu MT, Trujillo D, Cadinanos J. Systemic AA amyloidosis: epidemiology, diagnosis, and management. Clin Epidemiol. 2014;6:369–377. doi:https://doi.org/10.2147/CLEP.S39981.

Muchtar E, Dispenzieri A, Magen H, Grogan M, Mauermann M, McPhail ED et al. Systemic amyloidosis from A (AA) to T (ATTR): a review. J Intern Med. 2021;289:268–292. https://doi.org/10.1111/joim.13169.

Li G, Han D, Wei S, Wang H, Chen L. Multiorgan involvement by amyloid light chain amyloidosis. J Int Med Res. 2019;47:1778–1786. https://doi.org/10.1177/0300060518814337.

Park MA, Mueller PS, Kyle RA, Larson DR, Plevak MF, Gertz MA. Primary (AL) hepatic amyloidosis: clinical features and natural history in 98 patients. Medicine (Baltimore). 2003;82:291–298. https://doi.org/10.1097/01.md.0000091183.93122.c7.

Vaxman I, Gertz M. When to suspect a diagnosis of amyloidosis. Acta Haematol. 2020;143:304–311. https://doi.org/10.1159/000506617.

Wang YD, Zhao CY, Yin HZ. Primary hepatic amyloidosis: a mini literature review and five cases report. Ann Hepatol. 2012;11:721–727.
Ethics declarations
Conflict of interest
The authors of this manuscript have no conflicts of interest to disclose.
Additional information
Publisher's Note
Springer Nature remains neutral with regard to jurisdictional claims in published maps and institutional affiliations.
About this article
Cite this article
Najafian, N., Weber, A.T., Zuckerman, J.E. et al. AL Lambda Amyloidosis Activates Acute Liver Failure in the Absence of Plasma Cell Dyscrasia. Dig Dis Sci 67, 67–70 (2022). https://doi.org/10.1007/s10620-021-07253-2
Accepted:

Published:

Issue Date:

DOI: https://doi.org/10.1007/s10620-021-07253-2
Keywords
Amyloid

Acute liver failure

Portal hypertension