Abstract
Introduction
Women make up 15% of the total number of practicing gastroenterology (GI) physicians in the US. Despite this disparity, only 33% of the current GI fellows are female. Increasing female GIs is a major goal of all four GI societies. It is known that gender disparity exists in the field of gastroenterology, and women are underrepresented in the leadership ranks and trainee level at academic programs. Whether an increase in female leadership in academic medicine is associated with an increase in female program directors and trainees is unknown. The aim of this study was to assess this relationship in GI.
Materials and Methods
Data were collected via a standardized protocol from all 173 US gastroenterology fellowship programs up until October 2018 from program websites and supplemented by online surveys completed by program coordinators. Any missing information was collected by calling the program coordinators. Data were collected on gender and academic rank of the program director, associate program director, division chief, chair of medicine, program size, academic center affiliation, number, and academic rank of female faculty and geographic region. The association was assessed using a Chi-square test or independent samples t test.
Results
In leadership positions, men were listed as comprising 86% of chairs, 82% of division chiefs, 76% of program directors and 63% of associate program directors. Forty-three percent of programs did not have female representation at any leadership level. The presence of a female program director or female associate program director was associated with an increase in the number of female fellows (4.03 vs 3.20; p = 0.076; 4.26 vs 3.36; p = 0.041), respectively. Overall, the presence of a female in any leadership position led to an increase in the number of female fellows (4.04 females vs 2.87 females; p = 0.007) enrolled in a program. If a GI division chief was male, the program director was more likely to be male as well (81% male vs. 18.8% female). Conversely, having a female division chief was likely to lead to a more equitable program director representation, 54% female to 48% male (p value < 0.0001, OR 5.03 95% CI 2.04–12.3). Furthermore, if either the internal medicine department chair or GI chief was female, the proportion of female program directors increased to 41% as compared to 19% if both were male (p value < 0.0001, OR 2.99 95% CI 1.34–6.6).
Conclusion
Women are significantly underrepresented in the number of practicing gastroenterologists, at all levels of leadership in GI fellowship programs, and at the fellow level. Increasing the number of women in fellowship leadership positions is associated with an increase in female program directors and trainees. Per our knowledge, this is the first study to examine the relationship between female leadership in fellowship programs and the gender of trainees. Increasing female representation in leadership positions would not only address current gender disparity, but it may also increase the number of female future GI trainees.
Access options
Buy single article
Instant access to the full article PDF.
US$ 39.95
Tax calculation will be finalised during checkout.
Subscribe to journal
Immediate online access to all issues from 2019. Subscription will auto renew annually.
US$ 119
Tax calculation will be finalised during checkout.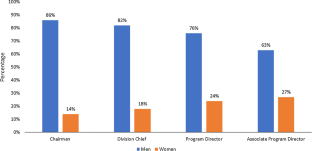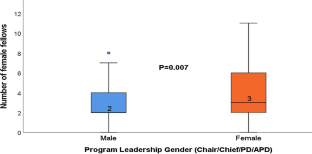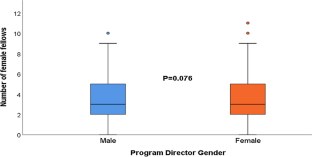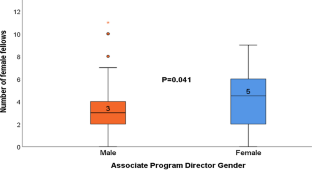 References
1.

AAMC. U.S. Medical School Applications and Matriculants by School, State of Legal Residence, and Sex, 2018–2019. 2018–2019. https://www.aamc.org/data/facts/. Accessed 17 April 2019.

2.

Brotherton SE, Etzel SI. Graduate medical education, 2017–2018. JAMA. 2018;320:1051–1070.

3.

AAMC. Active Physicians by Sex and Specialty. 2017. https://www.aamc.org/data/workforce/reports/492560/1-3-chart.html. Accessed 17 April 2019.

4.

AAMC. Number and Percentage of Active Physicians by Sex and Specialty. 2008 Physician Specialty Data 2007. https://www.aamc.org/download/47352/data/specialtydata.pdf. Accessed 17 April 2019.

5.

Brotherton SE, Etzel SI. Graduate medical education, 2013–2014. JAMA. 2014;312:2427–2445.

6.

Shah DK, Karasek V, Gerkin RD, Ramirez FC, Young MA. Sex preferences for colonoscopists and GI physicians among patients and health care professionals. Gastrointest Endosc. 2011;74:122–127. e122.

7.

Vivian-Hunt SP, Dixon-Fyle S, Yee L. Delivering Through Diversity. New York: McKinsey & Company; 2018.

8.

Okike K, Phillips DP, Swart E, O'Connor MI. Orthopaedic faculty and resident sex diversity are associated with the orthopaedic residency application rate of female medical students. J Bone Joint Surg Am. 2019;101:e56.

9.

Kranner PW, Mussehl DA, Hess AS. Gender diversity in anesthesiology programs: the role of current residents and department leadership in the 2014 match results. J Educ Perioper Med. 2016;18:E401.

10.

Woodward Z, Rodriguez Z, Jou JH, et al. Gender disparities in gastroenterology fellowship director positions in the United States. Gastrointest Endosc. 2017;86:595–599.

11.

Yousuf SJ, Kwagyan J, Jones LS. Applicants' choice of an ophthalmology residency program. Ophthalmology. 2013;120:423–427.

12.

Aagaard EM, Julian K, Dedier J, Soloman I, Tillisch J, Perez-Stable EJ. Factors affecting medical students' selection of an internal medicine residency program. J Natl Med Assoc. 2005;97:1264–1270.

13.

Cronin C, Lucas M, McCarthy A, et al. Are we reaping what we sow? Gender diversity in surgery: a survey of medical students. Postgrad Med J. 2019;95:119–124.

14.

Wehner MR, Nead KT, Linos K, Linos E. Plenty of moustaches but not enough women: cross sectional study of medical leaders. BMJ. 2015;351:h6311.

15.

Singh A, Burke CA, Larive B, Sastri SV, Women in Gastroenterology Committee of American College of G. Do gender disparities persist in gastroenterology after 10 years of practice? Am J Gastroenterol. 2008;103:1589–1595.
Acknowledgments
Dr. Joel Richter for research support and manuscript revision.
Ethics declarations
Conflict of interest
The authors have no conflicts of interest to disclose.
Additional information
Publisher's Note
Springer Nature remains neutral with regard to jurisdictional claims in published maps and institutional affiliations.
About this article
Cite this article
Sethi, S., Edwards, J., Webb, A. et al. Addressing Gender Disparity: Increase in Female Leadership Increases Gender Equality in Program Director and Fellow Ranks. Dig Dis Sci (2021). https://doi.org/10.1007/s10620-020-06686-5
Received:

Accepted:

Published:
Keywords
Gender diversity

Workforce diversity

Gastroenterology leadership

Medical education

Women physicians

Female trainees

Gender disparities