Abstract
Background
Up to 60% of patients with irritable bowel syndrome (IBS) report fatigue and 50% meet criteria for clinical insomnia. Recent studies have demonstrated a relationship between poor sleep and next-day IBS symptoms. However, no study to-date has evaluated behavioral therapy to treat poor sleep in IBS.
Aims
The aim of the current pilot study is to test feasibility of behavioral therapy for insomnia among patients with IBS and poor sleep.
Methods
This randomized controlled pilot study tested the feasibility of administering brief behavioral therapy for insomnia (BBT-I) to patients with IBS who report poor sleep. Participants were randomized to BBT-I or self-monitoring control. Exploratory analyses evaluated group differences after 4 weeks of treatment.
Results
A total of 25 participants were randomized to the study, 13 to BBT-I and 12 to the control group. Three participants dropped out of the treatment group. Satisfaction with treatment was high. At follow-up, there were significant differences between groups in measures of sleep quality and insomnia severity. There were trends toward significance in IBS severity score, with 40% of the BBT-I sample reporting clinically meaningful drop in symptoms compared to 17% of the control group. Similar trends were observed with belly pain and global improvement scores.
Conclusions
This pilot study demonstrates feasibility/acceptability of a brief behavioral therapy for patients with IBS and poor sleep. Additionally, this study provides preliminary evidence to suggest that treatment of sleep difficulties in patients with IBS may improve IBS symptom outcomes. Future, larger randomized controlled studies are needed.
Access options
Buy single article
Instant access to the full article PDF.
USD 39.95
Price excludes VAT (USA)
Tax calculation will be finalised during checkout.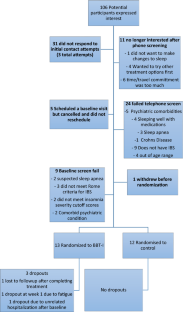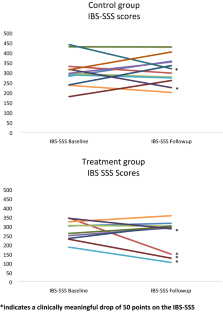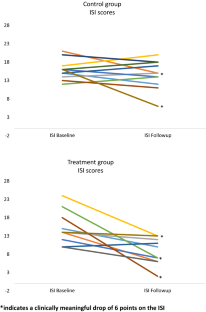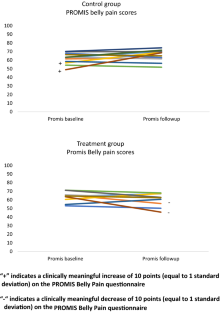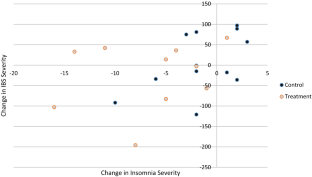 References
Vu J, Kushnir V, Cassell B, Gyawali CP, Sayuk GS. The impact of psychiatric and extraintestinal comorbidity on quality of life and bowel symptom burden in functional GI disorders. Neurogastroenterol Motil. 2014;26:1323–1332.

Frändemark Å, Jakobsson Ung E, Törnblom H, Simrén M, Jakobsson S. Fatigue: a distressing symptom for patients with irritable bowel syndrome. Neurogastroenterol Motil. 2016;. https://doi.org/10.1111/nmo.12898.

Bellini M, Gemignani A, Gambaccini D, et al. Evaluation of latent links between irritable bowel syndrome and sleep quality. World J Gastroenterol. 2011;17:5089–5096.

Lackner JM, Gudleski GD, Dimuro J, Keefer L, Brenner DM. Psychosocial predictors of self-reported fatigue in patients with moderate to severe irritable bowel syndrome. Behav Res Ther. 2013;51:323–331.

Thompson JJ, Elsenbruch S, Harnish MJ, Orr WC. Autonomic functioning during REM sleep differentiates IBS symptom subgroups. Am J Gastroenterol. 2002;97:3147–3153.

Fass R, Fullerton S, Tung S, Mayer EA. Sleep disturbances in clinic patients with functional bowel disorders. Am J Gastroenterol. 2000;95:1195–2000.

Ballou S, Alhassan E, Hon E, et al. Sleep disturbances are commonly reported among patients presenting to a gastroenterology clinic. Dig Dis Sci. 2018;. https://doi.org/10.1007/s10620-018-5237-7.

Buchanan DT, Cain K, Heitkemper M, et al. Sleep measures predict next-day symptoms in women with irritable bowel syndrome. J Clin Sleep Med. 2014;10:1003–1009.

Patel A, Hasak S, Cassell B, et al. Effects of disturbed sleep on gastrointestinal and somatic pain symptoms in irritable bowel syndrome. Aliment Pharmacol Ther. 2016;44:246–258.

Haack M, Lee E, Cohen DA, Mullington JM. Activation of the prostaglandin system in response to sleep loss in healthy humans: potential mediator of increased spontaneous pain. Pain. 2009;145:136–141.

Haack M, Sanchez E, Mullington JM. Elevated inflammatory markers in response to prolonged sleep restriction are associated with increased pain experience in healthy volunteers. Sleep. 2007;30:1145–1152.

Haack M, Scott-Sutherland J, Santangelo G, Simpson NS, Sethna N, Mullington JM. Pain sensitivity and modulation in primary insomnia. Eur J Pain. 2012;16:522–533.

Song GH, Leng PH, Gwee KA, Moochhala SM, Ho KY. Melatonin improves abdominal pain in irritable bowel syndrome patients who have sleep disturbances: a randomised, double blind, placebo controlled study. Gut. 2005;54:1402–1407.

Jungquist CR, O'Brien C, Matteson-Rusby S, et al. The efficacy of cognitive-behavioral therapy for insomnia in patients with chronic pain. Sleep Med. 2010;11:302–309.

Finan PH, Buenaver LF, Coryell VT, Smith MT. Cognitive-behavioral therapy for comorbid insomnia and chronic pain. Sleep Med Clin. 2014;9:261–274.

Currie SR, Wilson KG, Curran D. Clinical significance and predictors of treatment response to cognitive-behavior therapy for insomnia secondary to chronic pain. J Behav Med. 2002;25:135–153.

Trauer JM, Qian MY, Doyle JS, Rajaratnam SMW, Cunnington D. Cognitive behavioral therapy for chronic insomnia: a systematic review and meta-analysis. Ann Intern Med. 2015;163:191–204.

Troxel WM, Germain A, Buysse DJ. Clinical management of insomnia with brief behavioral treatment (BBTI). Behav Sleep Med. 2012;10:266–279.

Bastien CH, Vallières A, Morin CM. Validation of the Insomnia Severity Index as an outcome measure for insomnia research. Sleep Med. 2001;2:297–307.

Francis CY, Morris J, Whorwell PJ. The irritable bowel severity scoring system: a simple method of monitoring irritable bowel syndrome and its progress. Aliment Pharmacol Ther. 1997;11:395–402.

Buysse DJ, Germain A, Moul DE, et al. Efficacy of brief behavioral treatment for chronic insomnia in older adults. Arch Intern Med. 2011;171:887–895.

Chung F, Yegneswaran B, Liao P, et al. STOP questionnaire: a tool to screen patients for obstructive sleep apnea. Anesthesiology. 2008;108:812–821.

Diagnostic Criteria| Restless Legs Syndrome| Study Group : [Internet]. International | Restless Legs Syndrome | Study Group : [cited 2016 Oct 26]. Available from: http://irlssg.org/diagnostic-criteria/.

Palsson OS, Whitehead WE, van Tilburg MAL, et al. Rome IV diagnostic questionnaires and tables for investigators and clinicians. Gastroenterology. 2016;. https://doi.org/10.1053/j.gastro.2016.02.014.

Francis CY, Duffy JN, Whorwell PJ, Morris J. High prevalence of irritable bowel syndrome in patients attending urological outpatient departments. Dig Dis Sci. 1997;42:404–407. https://doi.org/10.1023/A:1018838507545.

Spiegel BMR, Hays RD, Bolus R, et al. Development of the NIH patient-reported outcomes measurement information system (PROMIS) gastrointestinal symptom scales. Am J Gastroenterol. 2014;109:1804–1814.

Labus JS, Bolus R, Chang L, et al. The Visceral Sensitivity Index: development and validation of a gastrointestinal symptom-specific anxiety scale. Aliment Pharmacol Ther. 2004;20:89–97.

Morin CM, Belleville G, Bélanger L, Ivers H. The Insomnia Severity Index: psychometric indicators to detect insomnia cases and evaluate treatment response. Sleep. 2011;34:601–608.

Yang M, Morin CM, Schaefer K, Wallenstein GV. Interpreting score differences in the Insomnia Severity Index: using health-related outcomes to define the minimally important difference. Curr Med Res Opin. 2009;25:2487–2494.

Buysse DJ, Reynolds CF, Monk TH, Berman SR, Kupfer DJ. The Pittsburgh Sleep Quality Index: a new instrument for psychiatric practice and research. Psychiatry Res. 1989;28:193–213.

Ballou S, McMahon C, Lee H-N, et al. Effects of irritable bowel syndrome on daily activities vary among subtypes based on results from the IBS in America survey. Clin Gastroenterol Hepatol. 2019;. https://doi.org/10.1016/j.cgh.2019.08.016.

El-Serag HB, Olden K, Bjorkman D. Health-related quality of life among persons with irritable bowel syndrome: a systematic review. Aliment Pharmacol Ther. 2002;16:1171–1185.

Tanaka Y, Kanazawa M, Fukudo S, Drossman DA. Biopsychosocial model of irritable bowel syndrome. J Neurogastroenterol Motil. 2011;17:131–139.

Björnsdóttir SV, Triebel J, Arnljótsdóttir M, Tómasson G, Valdimarsdóttir UA. Long-lasting improvements in health-related quality of life among women with chronic pain, following multidisciplinary rehabilitation. Disabil Rehabil. 2018;40:1764–1772.

Arnold LM, Bradley LA, Clauw DJ, Glass JM, Goldenberg DL. Multidisciplinary care and stepwise treatment for fibromyalgia. J Clin Psychiatry. 2008;69:e35.

Saito YA, Prather CM, Van Dyke CT, Fett S, Zinsmeister AR, Locke GR. Effects of multidisciplinary education on outcomes in patients with irritable bowel syndrome. Clin Gastroenterol Hepatol. 2004;2:576–584.
Acknowledgments
The authors would like to acknowledge Dr. Suzanne Bertisch and Dr. Robert Thomas for sharing their expertise in sleep medicine and for their contributions to this project.
Funding
This project was funded in part by T32DK007760 (SB).
Ethics declarations
Conflicts of interest
The authors declare that they have no conflict of interest.
Additional information
Publisher's Note
Springer Nature remains neutral with regard to jurisdictional claims in published maps and institutional affiliations.
About this article
Cite this article
Ballou, S., Katon, J., Rangan, V. et al. Brief Behavioral Therapy for Insomnia in Patients with Irritable Bowel Syndrome: A Pilot Study. Dig Dis Sci 65, 3260–3270 (2020). https://doi.org/10.1007/s10620-020-06182-w
Received:

Accepted:

Published:

Issue Date:

DOI: https://doi.org/10.1007/s10620-020-06182-w
Keywords