This is a preview of subscription content, log in to check access.
Access options
Buy single article
Instant access to the full article PDF.
US$ 39.95
Price includes VAT for USA
Subscribe to journal
Immediate online access to all issues from 2019. Subscription will auto renew annually.
US$ 199
This is the net price. Taxes to be calculated in checkout.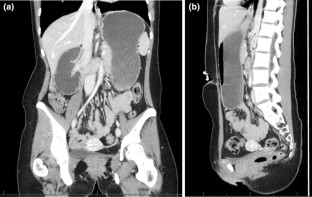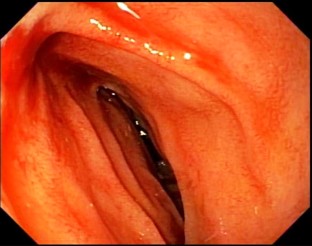 References
1.

Neri S, Signorelli SS, Mondati E, et al. Ultrasound imaging in diagnosis of superior mesenteric artery syndrome. J Intern Med. 2005;257:346–351.

2.

Unal B, Aktaş A, Kemal G, et al. Superior mesenteric artery syndrome: CT and ultrasonography findings. Diagn Interv Radiol. 2005;11:90–95.

3.

Sellers E, Clayton S, Quintero E, Pinkas H. Superior mesenteric artery syndrome in a young woman. Patient Care published Mar 25, 2015. http://www.patientcareonline.com/gastrointestinal-disorders/superior-mesenteric-artery-syndrome-young-woman. Accessed October 11, 2018.

4.

Ozkurt H, Cenker MM, Bas N, Erturk SM, Basak M. Measurement of the distance and angle between the aorta and superior mesenteric artery: normal values in different BMI categories. Surg Radiol Anat. 2007;29:595–599.

5.

Sapkas G, O'Brien JP. Vascular compression of the duodenum (cast syndrome) associated with the treatment of spinal deformities. A report of six cases. Arch Orthop Trauma Surg. 1981;98:7–11.

6.

Gustafsson L, Falk A, Lukes PJ, Gamklou R. Diagnosis and treatment of superior mesenteric artery syndrome. Br J Surg. 1984;71:499–501.

7.

Rabie ME, Ogunbiyi O, Al Qahtani AS, Taha S, El Hadad A, El Hakeem I. Superior mesenteric artery syndrome: clinical and radiological considerations. Surg Res Pract. 2015;2015:628705. https://doi.org/10.1155/2015/628705.

8.

Kirby GC, Faulconer ER, Robinson SJ, Perry A, Downing R. Superior mesenteric artery syndrome: a single centre experience of laparoscopic duodenojejunostomy as the operation of choice. Ann R Coll Surg Engl. 2017;99:472–475. https://doi.org/10.1308/rcsann.2017.0063.

9.

Booka E, Kawakubo H, Ishii K, et al. Superior mesenteric artery syndrome caused by massive lumbar osteophytes: a case report. Spine. 2015;40:E909–E912.

10.

Salem A, Al Ozaibi L, Nassif SMM, Osman RAGS, Al Abed NM, Badri FM. Superior mesenteric artery syndrome: a diagnosis to be kept in mind (case report and literature review). Int J Surg Case Rep. 2017;34:84–86. https://doi.org/10.1016/j.ijscr.2017.03.018.

11.

Yan C, Hu ZW, Wu JM, Zhang C, Yan L, Wang ZG. Laparoscopic Toupet fundoplication with duodenojejunostomy for the management of superior mesenteric artery syndrome with reflux symptoms. Medicine (Baltimore). 2017;96:e5771. https://doi.org/10.1097/MD.0000000000005771.

12.

Cappell MS. Endoscopic, radiographic and manometric findings associated with cardiovascular dysphagia. Dig Dis Sci. 1995;40:166–176.

13.

Cappell MS. Manometric findings in dysphagia secondary to left atrial dilatation: giant, cyclic midesophageal pressure waves occurring with every heart beat. Dig Dis Sci. 1991;36:693–698.

14.

Yao SY, Mikami R, Mikami S. Minimally invasive surgery for superior mesenteric artery syndrome: a case report. World J Gastroenterol. 2015;21:12970–12975. https://doi.org/10.3748/wjg.v21.i45.12970.
Ethics declarations
Conflicts of interest
The authors declare that they have no conflict of interest. In particular, Dr. Cappell, as a consultant of the United States Food and Drug Administration (FDA) Advisory Committee for Gastroenterology Drugs, affirms that this paper does not discuss any proprietary confidential pharmaceutical data submitted to the FDA and reviewed by Dr. Cappell. Dr. Cappell is also a member of the speaker's bureau for AstraZeneca and Daiichi Sankyo, co-marketers of Movantik. Dr. Cappell has had one-time consultancies for Mallinckrodt and Shire in the past. This work does not discuss any drug manufactured or marketed by AstraZeneca, Daiichi Sankyo, Shire, or Mallinckrodt.
Additional information
Publisher's Note
Springer Nature remains neutral with regard to jurisdictional claims in published maps and institutional affiliations.
Electronic supplementary material
Below is the link to the electronic supplementary material.
Video-endoscopy demonstrates that the cyclic narrowing is visibly pulsating; one-for-one with the palpated radial pulse; and one-for-one with the electrocardiographic cycle (with peak luminal narrowing occurring after the electrocardiographic QRS complex with a brief lag) (WMV 3216 kb)
About this article
Cite this article
Cappell, M.S., Gjeorgjievski, M. & Orosey, M. Case Report of Novel Endoscopic Findings in SMA Syndrome Demonstrated by Video Endoscopy: Visibly Pulsating, Band-Like, Compression in Third Portion of Duodenum, with the Pulsations Corresponding One-for-One with the Radial Pulse and EKG Cycle. Dig Dis Sci 64, 1715–1718 (2019). https://doi.org/10.1007/s10620-019-5472-6
Received:

Accepted:

Published:

Issue Date:
Keywords
Superior mesenteric artery (SMA) syndrome

Small bowel obstruction (SBO)

Duodenal obstruction

Vascular compression

Esophagogastroduodenoscopy

Endoscopic videography

Pulsatile compressions of duodenum