Abstract
Background
Diarrhea, a major pathological hallmark of inflammatory bowel disease, is characterized by a significant reduction in the expression and function of key intestinal ion transporters. The adoptive naïve CD4+ T cell transfer colitis is an immune-based, chronic colitis mouse model which resembles human Crohn's disease. Although mice with T cell transfer colitis demonstrate diarrhea, the ion transporter basis of this phenotype has not been explored.
Aims/Methods
In the current studies, we aimed to determine the mRNA and protein levels of the key NaCl transporters DRA and NHE3 along with the mRNA expression of other transporters in the inflamed intestine.
Results
Naïve CD4+ T cells, transferred to Rag2 knockout mice, induced severe colonic inflammation characterized by histological damage and increased mRNA levels of cytokines in the colon with no effect in the ileum. Diarrheal phenotype was a key feature of the excised colons of mice where loose stools were evident. Our results demonstrated that the key chloride transporter DRA, mRNA, and protein levels were significantly reduced in the inflamed colon. However, expression of the key sodium hydrogen exchanger NHE3 was unaffected. The mRNA expression of other important transporters was also determined; in this regard, the sodium channel ENACα and the monocarboxylate transporters MCT1 and SMCT1 mRNA levels were also significantly lower compared to control mice. However, CFTR mRNA was not altered in the colon or ileum.
Conclusions
The studies conducted herein for the first time demonstrate the downregulation of important intestinal ion transporters in proximal and distal colon in T cell transfer colitis mouse model, providing valuable evidence for the ion transporter basis of diarrhea in this chronic model of inflammation.
Access options
Buy single article
Instant access to the full article PDF.
USD 39.95
Price excludes VAT (USA)
Tax calculation will be finalised during checkout.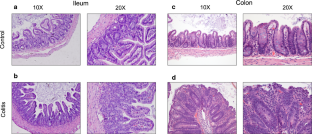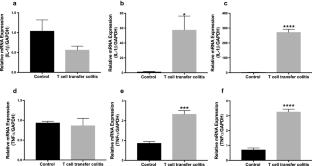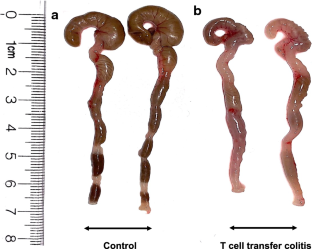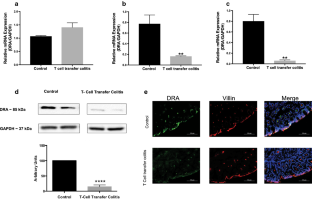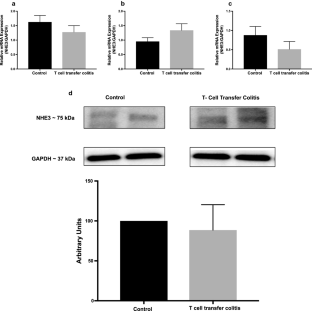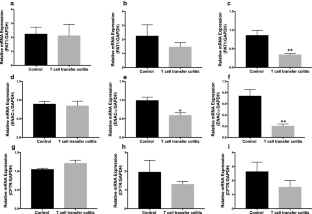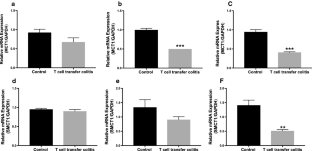 References
Scheinin T, Butler DM, Salway F, Scallon B, Feldmann M. Validation of the interleukin-10 knockout mouse model of colitis: antitumour necrosis factor-antibodies suppress the progression of colitis. Clin Exp Immunol. 2003;133:38–43.

Pizarro TT, Arseneau KO, Bamias G, Cominelli F. Mouse models for the study of Crohn's disease. Trends Mol Med. 2003;9:218–222.

Ostanin DV, Bao J, Koboziev I, et al. T cell transfer model of chronic colitis: concepts, considerations, and tricks of the trade. Am J Physiol Gastrointest Liver Physiol. 2009;296:G135–G146.

Van Wijk F, Cheroutre H. Mucosal T cells in gut homeostasis and inflammation. Expert Rev Clin Immunol. 2010;6:559–566.

Chaudhry A, Rudra D, Treuting P, et al. CD4 + regulatory T cells control TH17 responses in a Stat3-dependent manner. Science. 2009;326:986–991.

Saksena S, Singla A, Goyal S, et al. Mechanisms of transcriptional modulation of the human anion exchanger SLC26A3 gene expression by IFN-γ. Am J Physiol Gastrointest Liver Physiol. 2009;298:G159–G166.

Yang H, Jiang W, Furth EE, et al. Intestinal inflammation reduces expression of DRA, a transporter responsible for congenital chloride diarrhea. Am J Physiol Gastrointest Liver Physiol. 1998;275:G1445–G1453.

Kumar A, Chatterjee I, Gujral T, et al. Activation of nuclear factor-κB by tumor necrosis factor in intestinal epithelial cells and mouse intestinal epithelia reduces expression of the chloride transporter SLC26A3. Gastroenterology. 2017;153:1338–1350.e3.

Yeruva S, Farkas K, Hubricht J, et al. Preserved Na +/H + exchanger isoform 3 expression and localization, but decreased NHE3 function indicate regulatory sodium transport defect in ulcerative colitis. Inflamm Bowel Dis. 2009;16:1149–1161.

Lenzen H, Lünnemann M, Bleich A, Manns MP, Seidler U, Jörns A. Downregulation of the NHE3-binding PDZ-adaptor protein PDZK1 expression during cytokine-induced inflammation in interleukin-10-deficient mice. PLoS ONE. 2012;7:e40657.

Barmeyer C, Erko I, Fromm A, et al. ENaC dysregulation through activation of MEK1/2 contributes to impaired Na + absorption in lymphocytic colitis. Inflamm Bowel Dis. 2015;22:539–547.

Thibault R, De Coppet P, Daly K, et al. Down-regulation of the monocarboxylate transporter 1 is involved in butyrate deficiency during intestinal inflammation. Gastroenterology. 2007;133:1916–1927.

Olivares-Villagómez D, Algood HMS, Singh K, et al. Intestinal epithelial cells modulate CD4 T cell responses via the thymus leukemia antigen. J Immunol. 2011;187:4051–4060.

Hibi T, Ogata H, Sakuraba A. Animal models of inflammatory bowel disease. J Gastroenterol. 2002;37:409–417.

Leithäuser F, Trobonjaca Z, Möller P, Reimann J. Clustering of colonic lamina propria CD4 + T cells to subepithelial dendritic cell aggregates precedes the development of colitis in a murine adoptive transfer model. Lab Invest. 2001;81:1339.

Kiela PR, Ghishan FK. Ion transport in the intestine. Curr Opin Gastroenterol. 2009;25:87.

Sullivan S, Alex P, Dassopoulos T, et al. Downregulation of sodium transporters and NHERF proteins in IBD patients and mouse colitis models: potential contributors to IBD-associated diarrhea. Inflamm Bowel Dis. 2008;15:261–274.

Field M. Intestinal ion transport and the pathophysiology of diarrhea. J Clin Investig. 2003;111:931–943.

Walker NM, Simpson JE, Yen PF, et al. Down-regulated in adenoma Cl/HCO3 exchanger couples with Na/H exchanger 3 for NaCl absorption in murine small intestine. Gastroenterology. 2008;135:1645–1653.e3.

Priyamvada S, Gomes R, Gill RK, Saksena S, Alrefai WA, Dudeja PK. Mechanisms underlying dysregulation of electrolyte absorption in inflammatory bowel disease-associated diarrhea. Inflamm Bowel Dis. 2015;21:2926–2935.

Schweinfest CW, Spyropoulos DD, Henderson KW, et al. slc26a3 (dra)-deficient mice display chloride-losing diarrhea, enhanced colonic proliferation, and distinct up-regulation of ion transporters in the colon. J Biol Chem. 2006;281:37962–37971.

Ledoussal C, Woo AL, Miller ML, Shull GE. Loss of the NHE2 Na +/H + exchanger has no apparent effect on diarrheal state of NHE3-deficient mice. Am J Physiol Gastrointest Liver Physiol. 2001;281:G1385–G1396.

Yeruva S, Chodisetti G, Luo M, et al. Evidence for a causal link between adaptor protein PDZK1 downregulation and Na +/H + exchanger NHE3 dysfunction in human and murine colitis. Pflüg Arch Eur J Physiol. 2015;467:1795–1807.

Amin MR, Malakooti J, Sandoval R, Dudeja PK, Ramaswamy K. IFN-γ and TNF-α regulate human NHE3 gene expression by modulating the Sp family transcription factors in human intestinal epithelial cell line C2BBe1. Am J Physiol Cell Physiol. 2006;291:C887–C896.

Coon S, Kekuda R, Saha P, Sundaram U. Reciprocal regulation of the primary sodium absorptive pathways in rat intestinal epithelial cells. Am J Physiol Cell Physiol. 2010;300:C496–C505.

Lamprecht G, Gaco V, Turner JR, Natour D, Gregor M. Regulation of the intestinal anion exchanger DRA (downregulated in adenoma). Ann N Y Acad Sci. 2009;1165:261–266.

Xia W, Yu Q, Riederer B, et al. The distinct roles of anion transporters Slc26a3 (DRA) and Slc26a6 (PAT-1) in fluid and electrolyte absorption in the murine small intestine. Pflüg Arch Eur J Physiol. 2014;466:1541–1556.

Wong JM, De Souza R, Kendall CW, Emam A, Jenkins DJ. Colonic health: fermentation and short chain fatty acids. J Clin Gastroenterol. 2006;40:235–243.

Thibault R, Blachier F, Darcy-Vrillon B, De Coppet P, Bourreille A, Segain J-P. Butyrate utilization by the colonic mucosa in inflammatory bowel diseases: a transport deficiency. Inflamm Bowel Dis. 2009;16:684–695.

Jäger S, Stange EF, Wehkamp J. Inflammatory bowel disease: an impaired barrier disease. Langenbeck's Arch Surg. 2013;398:1–12.

Su L, Nalle SC, Shen L, et al. TNFR2 activates MLCK-dependent tight junction dysregulation to cause apoptosis-mediated barrier loss and experimental colitis. Gastroenterology. 2013;145:407–415.

Ding X, Li D, Li M, et al. SLC26A3 (DRA) prevents TNF-alpha-induced barrier dysfunction and dextran sulfate sodium-induced acute colitis. Lab Invest. 2018;98:462.
Acknowledgments
Funding was provided by the National Institute of Diabetes and Digestive and Kidney Diseases (Grant Nos. DK92441-01, DK54016-14 to PKD and DK111671 to DO-V), the US Department of Veterans Affairs (Grant Nos. BX002011-VA and VA Sr. Research Career Scientist Award to PKD), and the American Association of Immunologists (Grant Nos. Careers in Immunology Fellowship Program and Careers in Immunology Fellowship to DO-V and AN).
Ethics declarations
Conflict of interest
The authors declare no conflict of interest.
Additional information
Publisher's Note
Springer Nature remains neutral with regard to jurisdictional claims in published maps and institutional affiliations.
About this article
Cite this article
Jayawardena, D., Tyagi, S., Nazmi, A. et al. Ion Transport Basis of Diarrhea in a Mouse Model of Adoptive T Cell Transfer Colitis. Dig Dis Sci 65, 1700–1709 (2020). https://doi.org/10.1007/s10620-019-05945-4
Received:

Accepted:

Published:

Issue Date:

DOI: https://doi.org/10.1007/s10620-019-05945-4
Keywords
Ion transporters

T-cell transfer colitis

Diarrhea

DRA

Inflammatory bowel disease