Abstract
Background
Noninvasive fibrosis markers are routinely used in patients with liver disease. Magnetic resonance elastography (MRE) is recognized as a highly accurate methodology, but a reliable blood test for fibrosis would be useful. We examined performance characteristics of the Enhanced Liver Fibrosis (ELF) Index compared to MRE in a cohort including those with HCV, HIV, and HCV/HIV.
Methods
Subjects enrolled in the Miami Adult Studies on HIV (MASH) cohort underwent MRE and blood sampling. The ELF Index was scored and receiver–operator curves constructed to determine optimal cutoff levels relative to performance characteristics. Cytokine testing was performed to identify new markers to enhance noninvasive marker development.
Results
The ELF Index was determined in 459 subjects; more than half were male, non-white, and HIV-infected. MRE was obtained on a subset of 283 subjects and the group that had both studies served as the basis of the receiver–operator curve analysis. At an ELF Index of > 10.633, the area under the curve for cirrhosis (Metavir F4, MRE > 4.62 kPa) was 0.986 (95% CI 0.994–0.996; p < 0.001) with a specificity of 100%. For advanced fibrosis (Metavir F3/4), an ELF cutoff of 10 was associated with poor sensitivity but high specificity (98.9%, 95% CI 96.7–99.8%) with an AUC of 0.80 (95% CI 0.749–0.845). ELF Index performance characteristics exceeded FIB-4 performance. HCV and age were associated with increased fibrosis (p < 0.05) in a multivariable model. IP-10 was found to be a promising biomarker for improvement in noninvasive prediction algorithms.
Conclusions
The ELF Index was a highly sensitive and specific marker of cirrhosis, even among HIV-infected individuals, when compared with MRE. IP-10 may be a biomarker that can enhance performance characteristics further, but additional validation is required.
Access options
Buy single article
Instant access to the full article PDF.
USD 39.95
Price excludes VAT (USA)
Tax calculation will be finalised during checkout.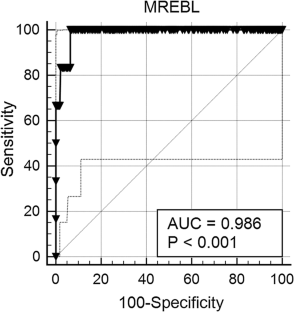 References
Singh S, Muir AJ, Dieterich DT, Falck-Ytter YT. American Gastroenterological Association Institute technical review on the role of elastography in chronic liver diseases. Gastroenterology. 2017;152:1544–1577.

Shiha G, Ibrahim A, Helmy A, et al. Asian-Pacific Association for the study of the liver (APASL) consensus guidelines on invasive and non-invasive assessment of hepatic fibrosis: a 2016 update. Hepatol Int. 2017;11:1–30.

Chin JL, Pavlides M, Moolla A, Ryan JD. Non-invasive markers of liver fibrosis: Adjuncts or alternatives to liver biopsy? Front Pharmacol. 2016;7:159.

Dyvorne HA, Jajamovich GH, Bane O, et al. Prospective comparison of magnetic resonance imaging to transient elastography and serum markers for liver fibrosis detection. Liver Int. 2016;36:659–666.

Parkes J, Roderick P, Harris S, et al. Enhanced liver fibrosis test can predict clinical outcomes in patients with chronic liver disease. Gut. 2010;59:1245–1251.

Sterling RK, Lissen E, Clumeck N, et al. Development of a simple noninvasive index to predict significant fibrosis in patients with HIV/HCV coinfection. Hepatology. 2006;43:1317–1325.

Singh S, Venkatesh SK, Wang Z, et al. Diagnostic performance of magnetic resonance elastography in staging liver fibrosis: a systematic review and meta-analysis of individual participant data. Clin Gastroenterol Hepatol. 2015;13:440–451e6.

Yin M, Talwalkar JA, Glaser KJ, et al. Assessment of hepatic fibrosis with magnetic resonance elastography. Clin Gastroenterol Hepatol. 2007;5:1207–1213e2.

Dill T. Contraindications to magnetic resonance imaging: non-invasive imaging. Heart. 2008;94:943–948.

Fernandes FF, Ferraz ML, Andrade LE, et al. Enhanced liver fibrosis panel as a predictor of liver fibrosis in chronic hepatitis C patients. J Clin Gastroenterol. 2015;49:235–241.

Karlas T, Dietrich A, Peter V, et al. Evaluation of transient elastography, acoustic radiation force impulse imaging (ARFI), and enhanced liver function (ELF) score for detection of fibrosis in morbidly obese patients. PloS ONE. 2015;10:e0141649.

Friedrich-Rust M, Rosenberg W, Parkes J, Herrmann E, Zeuzem S, Sarrazin C. Comparison of ELF, FibroTest and FibroScan for the non-invasive assessment of liver fibrosis. BMC Gastroenterol. 2010;10:103.

Shire NJ, Rao MB, Succop P, et al. Improving noninvasive methods of assessing liver fibrosis in patients with hepatitis C virus/human immunodeficiency virus co-infection. Clinl Gastroenterol Hepatol. 2009;7:471–480, 480.e1–2.

Peters MG, Bacchetti P, Boylan R, et al. Enhanced liver fibrosis marker as a noninvasive predictor of mortality in HIV/hepatitis C virus-coinfected women from a multicenter study of women with or at risk for HIV. Aids. 2016;30:723–729.

Swanson S, Ma Y, Scherzer R, et al. Association of HIV, hepatitis C virus, and Liver fibrosis severity with the enhanced liver fibrosis score. J Infect Dis. 2016;213:1079–1086.

Ren X, Kennedy A, Colletti LM. CXC chemokine expression after stimulation with interferon-gamma in primary rat hepatocytes in culture. Shock. 2002;17:513–520.

Zeremski M, Petrovic LM, Chiriboga L, et al. Intrahepatic levels of CXCR17-associated chemokines correlate with liver inflammation and fibrosis in chronic hepatitis C. Hepatology. 2008;48:1440–1450.

Wang Y, Yu W, Shen C, et al. Predictive value of serum IFN-gamma inducible protein-10 and IFN-gamma/IL-4 ratio for liver fibrosis progression in CHB patients. Sci Rep. 2017;7:40404.
Funding
This study was supported by NIH/NIDA 5U01DA040381 to MB. We would like to acknowledge the Research Flow Cytometry Core at Cincinnati Children's Hospital Medical Center, and the Digestive Health Center (NIDDK P30 DK078392); and NIH/NIBIBR37 EB001981 to RLE.
Ethics declarations
Conflict of interest
All authors have nothing to disclose.
Additional information
Publisher's Note
Springer Nature remains neutral with regard to jurisdictional claims in published maps and institutional affiliations.
About this article
Cite this article
Sherman, K.E., Abdel-Hameed, E.A., Ehman, R.L. et al. Validation and Refinement of Noninvasive Methods to Assess Hepatic Fibrosis: Magnetic Resonance Elastography Versus Enhanced Liver Fibrosis Index. Dig Dis Sci 65, 1252–1257 (2020). https://doi.org/10.1007/s10620-019-05815-z
Received:

Accepted:

Published:

Issue Date:

DOI: https://doi.org/10.1007/s10620-019-05815-z
Keywords