Abstract
Background
Post-embolization syndrome is a common complication after transarterial chemoembolization (TACE) for hepatocellular carcinoma (HCC). N-acetylcysteine (NAC) is known to ameliorate liver damage from several causes.
Aim
To determine the efficacy of intravenous NAC in the prevention of post-embolization syndrome in HCC patients following TACE.
Methods
In this study, patients with HCC admitted for TACE were prospectively enrolled. All patients were randomized stratified by Child A or B to receive NAC or placebo. The NAC group received intravenous NAC 24 h prior to TACE (150 mg/kg/h for 1 h followed by 12.5 mg/kg/h for 4 h, then continuous infusion 6.25 mg/h for 48 h after the procedure). The placebo group received an infusion of 5% glucose solution until 48 h after procedure. The post-embolization syndrome was defined as: T ≥ 38.5 c and serum ALT > 3 times of pretreatment value.
Results
In total, 111 HCC patients were enrolled; 57 were randomly assigned to NAC group and 54 to placebo group. The incidence of post-embolization syndrome was lower in NAC group (24.6%) compared to placebo group (48.2%); P = 0.01. On multivariate analysis, receiving IV NAC (P = 0.03) and HCC diameter (P < 0.01) were associated with developing post-embolization syndrome. Post-TACE liver decompensation was documented in 26/111 (23.4%) patients. There was no difference in the incidence of post-TACE liver decompensation between NAC and placebo group.
Conclusions
In this study, intravenous NAC administration reduces the incidence of post-embolization syndrome after TACE in patients with HCC. However, it does not prevent post-TACE liver decompensation.
Trial Registration Number
This study was registered with Thai Clinical Trial Registry (TCTR20150313002).
This is a preview of subscription content, log in to check access.
Access options
Buy single article
Instant access to the full article PDF.
US$ 39.95
Price includes VAT for USA
Subscribe to journal
Immediate online access to all issues from 2019. Subscription will auto renew annually.
US$ 199
This is the net price. Taxes to be calculated in checkout.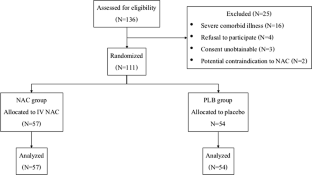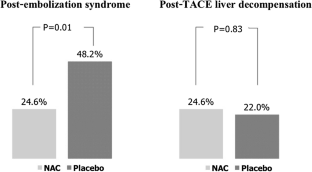 Abbreviations
TACE:

Transarterial chemoembolization

HCC:

Hepatocellular carcinoma

NAC:

N-acetylcysteine

BCLC:

Barcelona clinic liver center

HBV:

Hepatitis B virus

HCV:

Hepatitis C virus

MELD:

Model for end-stage liver disease

PV:

Portal vein

AST:

Aspatate aminotransferase

ALT:

Alanine aminotransferase

5-FU:

5-Fluorouracil

WBC:

White blood cell
References
1.

El-Serag HB. Hepatocellular carcinoma. N Engl J Med. 2011;365:1118–1127.

2.

Forner A, Llovet JM, Bruix J. Hepatocellular carcinoma. Lancet. 2012;379:1245–1255.

3.

Bruix J, Sherman M. Management of hepatocellular carcinoma: an update. Hepatology. 2011;53:1020–1022.

4.

Llovet JM, Bruix J. Systematic review of randomized trials for unresectable hepatocellular carcinoma: chemoembolization improves survival. Hepatology. 2003;37:429–442.

5.

Bruix J, Sala M, Llovet JM. Chemoembolization for hepatocellular carcinoma. Gastroenterology. 2004;127:S179–188.

6.

Chan AO, Yuen MF, Hui CK, Tso WK, Lai CL. A prospective study regarding the complications of transcatheter intraarterial lipiodol chemoembolization in patients with hepatocellular carcinoma. Cancer. 2002;94:1747–1752.

7.

Leung DA, Goin JE, Sickles C, Raskay BJ, Soulen MC. Determinants of postembolization syndrome after hepatic chemoembolization. J Vasc Interv Radiol. 2001;12:321–326.

8.

Li CP, Chao Y, Chen LT, et al. Fever after transcatheter arterial chemoembolization for hepatocellular carcinoma: incidence and risk factor analysis. Scand J Gastroenterol. 2008;43:992–999.

9.

Wigmore SJ, Redhead DN, Thomson BN, et al. Postchemoembolisation syndrome–tumour necrosis or hepatocyte injury? Br J Cancer. 2003;89:1423–1427.

10.

Tasneem AA, Abbas Z, Luck NH, Hassan SM, Faiq SM. Adverse events following transarterial chemoembolization for hepatocellular carcinoma and factors predicting such events. J Pak Med Assoc. 2013;63:239–244.

11.

Prescott LF, Critchley JA. The treatment of acetaminophen poisoning. Annu Rev Pharmacol Toxicol. 1983;23:87–101.

12.

Lee WM, Hynan LS, Rossaro L, et al. Intravenous N-acetylcysteine improves transplant-free survival in early stage non-acetaminophen acute liver failure. Gastroenterology. 2009;137:856–864, 864 e851.

13.

Wang C, Chen K, Xia Y, et al. N-acetylcysteine attenuates ischemia–reperfusion-induced apoptosis and autophagy in mouse liver via regulation of the ROS/JNK/Bcl-2 pathway. PLoS ONE. 2014;9:e108855.

14.

Hsieh CC, Hsieh SC, Chiu JH, Wu YL. Protective effects of N-acetylcysteine and a prostaglandin E1 analog, alprostadil, against hepatic ischemia: reperfusion injury in rats. J Tradit Complement Med. 2014;4:64–71.

15.

Sun Y, Pu LY, Lu L, Wang XH, Zhang F, Rao JH. N-acetylcysteine attenuates reactive-oxygen-species-mediated endoplasmic reticulum stress during liver ischemia–reperfusion injury. World J Gastroenterol. 2014;20:15289–15298.

16.

Min YW, Kim J, Kim S, et al. Risk factors and a predictive model for acute hepatic failure after transcatheter arterial chemoembolization in patients with hepatocellular carcinoma. Liver Int. 2013;33:197–202.

17.

Jun CH, Ki HS, Lee HK, et al. Clinical significance and risk factors of postembolization fever in patients with hepatocellular carcinoma. World J Gastroenterol. 2013;19:284–289.

18.

Mason MC, Massarweh NN, Salami A, Sultenfuss MA, Anaya DA. Post-embolization syndrome as an early predictor of overall survival after transarterial chemoembolization for hepatocellular carcinoma. HPB (Oxford). 2015;17:1137–1144.

19.

Lauterburg BH, Corcoran GB, Mitchell JR. Mechanism of action of N-acetylcysteine in the protection against the hepatotoxicity of acetaminophen in rats in vivo. J Clin Invest. 1983;71:980–991.

20.

Nguyen-Khac E, Thevenot T, Piquet MA, et al. Glucocorticoids plus N-acetylcysteine in severe alcoholic hepatitis. N Engl J Med. 2011;365:1781–1789.

21.

Ogasawara S, Chiba T, Ooka Y, et al. A randomized placebo-controlled trial of prophylactic dexamethasone for transcatheter arterial chemoembolization. Hepatology. 2018;67:575–585.

22.

Garwood ER, Fidelman N, Hoch SE, Kerlan RK Jr, Yao FY. Morbidity and mortality following transarterial liver chemoembolization in patients with hepatocellular carcinoma and synthetic hepatic dysfunction. Liver Transpl. 2013;19:164–173.

23.

Huang YS, Chiang JH, Wu JC, Chang FY, Lee SD. Risk of hepatic failure after transcatheter arterial chemoembolization for hepatocellular carcinoma: predictive value of the monoethylglycinexylidide test. Am J Gastroenterol. 2002;97:1223–1227.

24.

Schmidt-Arras D, Rose-John S. IL-6 pathway in the liver: from physiopathology to therapy. J Hepatol. 2016;64:1403–1415.

25.

Yamaguchi K, Itoh Y, Yokomizo C, et al. Blockade of IL-6 signaling exacerbates liver injury and suppresses antiapoptotic gene expression in methionine choline-deficient diet-fed db/db mice. Lab Invest. 2011;91:609–618.
Acknowledgments
This work was funded by Faculty of Medicine and Chulabhorn International College of Medicine, Thammasat University, Thailand, and Gastrointestinal Association of Thailand.
Ethics declarations
Conflict of interest
All authors declare no conflict of interest.
Additional information
Publisher's Note
Springer Nature remains neutral with regard to jurisdictional claims in published maps and institutional affiliations.
About this article
Cite this article
Siramolpiwat, S., Punjachaipornpon, T., Pornthisarn, B. et al. N-Acetylcysteine Prevents Post-embolization Syndrome in Patients with Hepatocellular Carcinoma Following Transarterial Chemoembolization. Dig Dis Sci 64, 3337–3345 (2019). https://doi.org/10.1007/s10620-019-05652-0
Received:

Accepted:

Published:

Issue Date:
Keywords
Hepatocellular carcinoma

N-acetylcysteine

Post-embolization syndrome

Liver cancer