Abstract
Background
Due to its smooth muscle relaxing properties, peppermint oil (PO) may relieve dysphagia and chest pain due to esophageal motility disorders.
Aim
To explore the impact of PO on dysphagia and/or chest pain in patients referred for motility testing.
Methods
Patients initiated on PO for dysphagia and/or chest pain from 2013 to 2016 were identified. We excluded patients with obstructing esophageal lesions, patients lost to follow-up, and those with preexisting cardiac conditions. Concentrated PO was given as commercially available dissolvable peppermint tablets; two tablets before meals were prescribed to patients with dysphagia and on an as-needed basis for patients with chest pain. Patient-reported symptom response was assessed using a modified five-point Likert scale.
Results
Thirty-eight patients were included. Twenty-four patients (63%) reported improvement; 12 were much better and 12 were slightly better. Fourteen experienced no change and none reported feeling worse. Based on pre-treatment HRM, patients with distal esophageal spasm (DES) (n = 10) and esophagogastric junction outflow obstruction (EGJOO) (n = 8) appeared to demonstrate the best subjective improvement (83% and 100%, respectively) (P < 0.05).
Conclusion
PO appears to provide symptomatic relief in some patients with dysphagia and CP. Presence of a well-defined manometric disorder, particularly DES or EGJOO, appeared to predict response.
This is a preview of subscription content, log in to check access.
Access options
Buy single article
Instant access to the full article PDF.
US$ 39.95
Price includes VAT for USA
Subscribe to journal
Immediate online access to all issues from 2019. Subscription will auto renew annually.
US$ 199
This is the net price. Taxes to be calculated in checkout.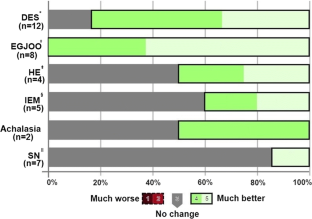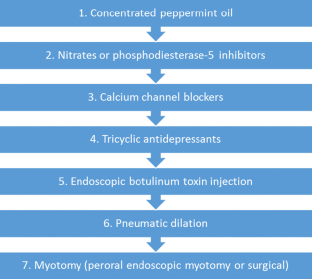 References
1.

Linnaeus C. Species plantarum, Stockholm: Laurentius Salvius, 1753.

2.

Acker BW, Cash BD. Medicinal foods for functional GI disorders. Curr Gastroenterol Rep. 2017;19:62.

3.

Kligler B, Chaudhary S. Peppermint oil. Am Fam Physician. 2007;75:1027–1030.

4.

Hills JM, Aaronson PI. The mechanism of action of peppermint oil on gastrointestinal smooth muscle. An analysis using patch clamp electrophysiology and isolated tissue pharmacology in rabbit and guinea pig. Gastroenterology. 1991;101:55–65.

5.

Amato A, Liotta R, Mulè F. Effects of menthol on circular smooth muscle of human colon: analysis of the mechanism of action. Eur J Pharmacol. 2014;740:295–301.

6.

Chumpitazi BPB. Review article: the physiological effects and safety of peppermint oil and its efficacy in irritable bowel syndrome and other functional disorders. Aliment Pharmacol Therap. 2018;47:738–752.

7.

Sigmund CJ, McNally EF. The action of a carminative on the lower esophageal sphincter. Gastroenterology. 1969;56:13–18.

8.

Pimentel M, Bonorris GG, Chow EJ, et al. Peppermint oil improves the manometric findings in diffuse esophageal spasm. J Clin Gastroenterol. 2001;33:27–31.

9.

Mizuno S, Kato K, Ono Y, et al. Oral peppermint oil is a useful antispasmodic for double-contrast barium meal examination. J Gastroenterol Hepatol. 2006;21:1297–1301.

10.

Roman S, Kahrilas PJ. Management of spastic disorders of the esophagus. Gastroenterol Clin N Am. 2013;42:27–43.

11.

Kahrilas PJ, Bredenoord AJ, Fox M, et al. The Chicago Classification of esophageal motility disorders, v3.0. Neurogastroenterol Motil. 2015;27:160–174.

12.

Stefaniak LM, Heupel J. Alternative menthol sources for ascidian relaxation. Management. 2016;7:111–114.

13.

Vanuytsel T, Bisschops R, Farré R, et al. Botulinum toxin reduces dysphagia in patients with nonachalasia primary esophageal motility disorders. Clin Gastroenterol Hepatol. 2013;11:1115–1121.e2.

14.

Khalaf M, Chowdhary S, Elias PS, et al. Distal esophageal spasm: a review. Am J Med. 2018;131:1034–1040.

15.

Taher YA. Antinociceptive activity of Mentha piperita leaf aqueous extract in mice. Libyan J Med. 2012. https://doi.org/10.3402/ljm.v7i0.16205.

16.

Adam B, Liebregts T, Best J, et al. A combination of peppermint oil and caraway oil attenuates the post-inflammatory visceral hyperalgesia in a rat model. Scand J Gastroenterol. 2006;41:155–160.

17.

Lacy BE, Weiser K. Esophageal motility disorders: medical therapy. J Clin Gastroenterol. 2008;42:652–658.

18.

Bosworth T. Dysphagia on manometry predicts symptom relief from breath mints. Gastroenterology & endoscopy news. New York: McMahon Publishing; 2018.
Ethics declarations
Conflict of interest
There are no conflicts of interest to declare.
Additional information
Publisher's Note
Springer Nature remains neutral with regard to jurisdictional claims in published maps and institutional affiliations.
About this article
Cite this article
Khalaf, M.H.G., Chowdhary, S., Elmunzer, B.J. et al. Impact of Peppermint Therapy on Dysphagia and Non-cardiac Chest Pain: A Pilot Study. Dig Dis Sci 64, 2214–2218 (2019). https://doi.org/10.1007/s10620-019-05523-8
Received:

Accepted:

Published:

Issue Date:
Keywords
Esophagus

Motility

Chest pain

Dysphagia