Abstract
Background
Inflammatory bowel disease (IBD; Crohn's disease, CD and Ulcerative colitis, UC) and irritable bowel syndrome (IBS) have overlapping symptoms. Few prevalence studies of IBS in quiescent IBD have used colonoscopy with histology to confirm inactive disease. The aims were (1) to determine the percentage of IBD patients in deep remission whose persistent IBS-like symptoms (IBD/IBS+) would cause them to be classified as having active disease, based on the calculation of Harvey Bradshaw Index (HBI) or UC disease activity index (UCDAI); (2) to identify demographic and disease characteristics that are associated with IBD/IBS+.
Methods
This was a prospective study at a single tertiary care IBD center. 96/112 patients with colonoscopy and histology confirmed quiescent disease consented and completed Rome III criteria for IBS Survey, and the hospital anxiety and depression scale (HADS). Other demographic and disease specific data were collected.
Results
36% (28/77) and 37% (7/19) of CD and UC patients, respectively, met diagnostic criteria for IBS. Significantly higher HBI/UCDAI scores (p = 0.005) and low short inflammatory bowel disease questionnaire (SIBDQ) scores (p ≤ 0.0001) were seen in IBD/IBS+ patients. 29% of patients in deep remission were mis-categorized by HBI/UCDAI as having active disease when they fulfilled Rome III criteria for IBS. Psychiatric diagnosis (OR 3.53 95% CI 1.2–10.2) and earlier onset of IBD (OR 1.056 95% CI 1.015–1.096) were associated with IBD/IBS+. Patients fulfilling IBS criteria had higher hospital anxiety and depression scale (HADS).
Conclusion
IBD/IBS+ affect scoring of IBD disease activity scales and become less useful in guiding treatment plans.
Access options
Buy single article
Instant access to the full article PDF.
US$ 39.95
Tax calculation will be finalised during checkout.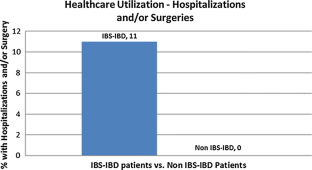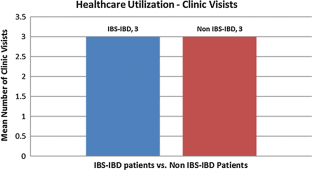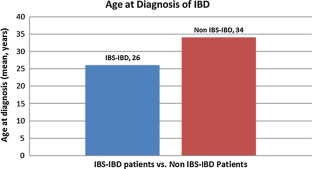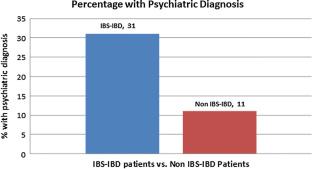 References
1.

Longstreth GF, Thompson WG, Chey WD, Houghton LA, Mearin F, Spiller RC. Functional bowel disorders. Gastroenterology. 2006;130:1480–1491.

2.

Halder SL, Locke GR, Schleck CD, Zinsmeister AR, Melton LJ, Talley NJ. Natural history of functional gastrointestinal disorders: a 12-year longitudinal population-based study. Gastroenterology.. 2007;133:799–807.

3.

Keohane J, O'Mahony C, O'Mahony L, O'Mahony S, Quigley EM, Shanahan F. Irritable bowel syndrome-type symptoms in patients with inflammatory bowel disease: A real association or reflection of occult inflammation? Am J Gastroenterol. 2010;105:1788–1794; quiz 1795.

4.

Barratt HS, Kalantzis C, Polymeros D, Forbes A. Functional symptoms in inflammatory bowel disease and their potential influence in misclassification of clinical status. Aliment Pharmacol Ther. 2005;21:141–147.

5.

Addolorato G, Capristo E, Stefanini GF, Gasbarrini G. Inflammatory bowel disease: a study of the association between anxiety and depression, physical morbidity, and nutritional status. Scand J Gastroenterol. 1997;32:1013–1021.

6.

Halpin SJ, Ford AC. Prevalence of symptoms meeting criteria for irritable bowel syndrome in inflammatory bowel disease: systematic review and meta-analysis. Am J Gastroenterol. 2012;107:1474–1482.

7.

Whitehead WE, Drossman DA. Validation of symptom-based diagnostic criteria for irritable bowel syndrome: a critical review. Am J Gastroenterol. 2010;105:814–820. quiz 813, 821.

8.

Bjelland I, Dahl AA, Haug TT, Neckelmann D. The validity of the hospital anxiety and depression scale: an updated literature review. J Psychosom Res. 2002;52:69–77.

9.

Farrokhyar F, Marshall JK, Easterbrook B, Irvine EJ. Functional gastrointestinal disorders and mood disorders in patients with inactive inflammatory bowel disease: prevalence and impact on health. Inflamm Bowel Dis. 2006;12:38–46.

10.

Simren M, Axelsson J, Gillberg R, Abrahamsson H, Svedlund J, Bjornsson ES. Quality of life in inflammatory bowel disease in remission: the impact of IBS-like symptoms and associated psychological factors. Am J Gastroenterol. 2002;97:389–396.

11.

Spiegel BM. The burden of IBS: looking at metrics. Curr Gastroenterol Rep. 2009;11:265–269.

12.

Bryant RV, van Langenberg DR, Holtmann GJ, Andrews JM. Functional gastrointestinal disorders in inflammatory bowel disease: impact on quality of life and psychological status. J Gastroenterol Hepatol. 2011;26:916–923.

13.

Longstreth GF. Avoiding unnecessary surgery in irritable bowel syndrome. Gut. 2007;56:608–610.

14.

Kennedy TM, Jones RH. Epidemiology of cholecystectomy and irritable bowel syndrome in a UK population. Br J Surg. 2000;87:1658–1663.

15.

Longstreth GF, Yao JF. Irritable bowel syndrome and surgery: a multivariable analysis. Gastroenterology. 2004;126:1665–1673.

16.

Lee S, Wu J, Ma YL, Tsang A, Guo WJ, Sung J. Irritable bowel syndrome is strongly associated with generalized anxiety disorder: a community study. Aliment Pharmacol Ther. 2009;30:643–651.

17.

Porcelli P, Leoci C, Guerra V. A prospective study of the relationship between disease activity and psychologic distress in patients with inflammatory bowel disease. Scand J Gastroenterol. 1996;31:792–796.
Funding
This publication has been supported by the National Center for Research, National Center for Advancing Translational Sciences (NCATS), and National Institutes of Health through Grant Number 8UL1TR000055. Its contents are solely the responsibility of the authors and do not necessarily represent the official views of the NIH.
Ethics declarations
Conflict of interest
The authors declare that they have no conflict of interest.
Additional information
Publisher's Note
Springer Nature remains neutral with regard to jurisdictional claims in published maps and institutional affiliations.
About this article
Cite this article
Perera, L.P., Radigan, M., Guilday, C. et al. Presence of Irritable Bowel Syndrome Symptoms in Quiescent Inflammatory Bowel Disease Is Associated with High Rate of Anxiety and Depression. Dig Dis Sci 64, 1923–1928 (2019). https://doi.org/10.1007/s10620-019-05488-8
Received:

Accepted:

Published:

Issue Date:
Keywords
Irritable bowel syndrome

Inflammatory bowel disease

Disease activity measurements

Ulcerative colitis

Crohn's disease