Abstract
Introduction
Limitations in inflammatory bowel disease (IBD) care necessitate greater patient activation and self-efficacy, measures associated with positive health outcomes.
Methods
We assessed change in patient activation and general self-efficacy from baseline to 12 months through our TELEmedicine for IBD trial, a multicenter, randomized controlled trial consisting of a web-based monitoring system that interacts with participants via text messaging. A total of 222 adults with IBD who had experienced an IBD flare within 2 years prior to the trial were randomized into either a control arm that received standard care (SC) or an intervention arm that completed self-testing through the TELE-IBD system every other week (EOW) or weekly (W).
Results
Changes in self-efficacy scores were not significantly different between control and experimental groups. Patient activation scores were significantly different between standard care and the TELE-IBD EOW group only (p = 0.03).
Conclusions
Use of remote monitoring did not improve self-efficacy or patient activation compared to routine care.
This is a preview of subscription content, log in to check access.
Access options
Buy single article
Instant access to the full article PDF.
US$ 39.95
Price includes VAT for USA
Subscribe to journal
Immediate online access to all issues from 2019. Subscription will auto renew annually.
US$ 199
This is the net price. Taxes to be calculated in checkout.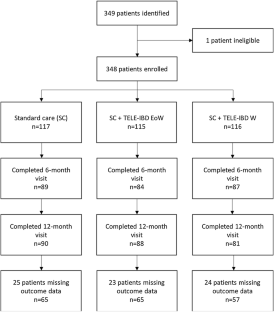 References
1.

Dahlhamer JM. Prevalence of inflammatory bowel disease among adults aged ≥ 18 years—United States, 2015: MMWR. Morbidity and mortality weekly report; 2016;65.

2.

Cosnes J, Gower-Rousseau C, Seksik P, Cortot A. Epidemiology and natural history of inflammatory bowel diseases. Gastroenterology. 2011;140:1785–1794.

3.

Altschuler A, Collins B, Lewis JD, et al. Gastroenterologists' attitudes and self-reported practices regarding inflammatory bowel disease. Inflamm Bowel Dis. 2008;14:992–999.

4.

Sewitch MJ, Abrahamowicz M, Barkun A, et al. Patient nonadherence to medication in inflammatory bowel disease. Am J Gastroenterol. 2003;98:1535.

5.

Jackson CA, Clatworthy J, Robinson A, Horne R. Factors associated with non-adherence to oral medication for inflammatory bowel disease: a systematic review. Am J Gastroenterol. 2010;105:525.

6.

Ediger JP, Walker JR, Graff L, et al. Predictors of medication adherence in inflammatory bowel disease. Am J Gastroenterol. 2007;102:1417.

7.

Rogala L, Miller N, Graff LA, et al. Population-based controlled study of social support, self-perceived stress, activity and work issues, and access to health care in inflammatory bowel disease. Inflamm Bowel Dis. 2008;14:526–535.

8.

Fishman LN, Barendse RM, Hait E, Burdick C, Arnold J. Self-management of older adolescents with inflammatory bowel disease: a pilot study of behavior and knowledge as prelude to transition. Clin Pediatr. 2010;49:1129–1133.

9.

Baars JE, Siegel CA, van't Spijker A, Markus T, Kuipers EJ, van der Woude CJ. Inflammatory bowel disease-patients are insufficiently educated about the basic characteristics of their disease and the associated risk of colorectal cancer. Dig Liver Dis. 2010;42:777–784.

10.

Cross RK, Lapshin O, Finkelstein J. Patient subjective assessment of drug side effects in inflammatory bowel disease. J Clin Gastroenterol. 2008;42:244–251.

11.

Hibbard JH, Stockard J, Mahoney ER, Tusler M. Development of the patient activation measure (PAM): conceptualizing and measuring activation in patients and consumers. Health Serv Res. 2004;39:1005–1026.

12.

Hibbard JH, Mahoney ER, Stock R, Tusler M. Do increases in patient activation result in improved self-management behaviors? Health Serv Res. 2007;42:1443–1463.

13.

Greene J, Hibbard JH. Why does patient activation matter? an examination of the relationships between patient activation and health-related outcomes. J Gen Intern Med. 2012;27:520–526.

14.

Bandura A. Self-efficacy: toward a unifying theory of behavioral change. Psychol Rev. 1977;84:191.

15.

Maeda U, Shen BJ, Schwarz ER, Farrell KA, Mallon S. Self-efficacy mediates the associations of social support and depression with treatment adherence in heart failure patients. Int J Behav Med. 2013;20:88–96.

16.

King DK, Glasgow RE, Toobert DJ, et al. Self-efficacy, problem solving, and social-environmental support are associated with diabetes self-management behaviors. Diabetes Care. 2010;33:751–753.

17.

Cross RK, Finkelstein J. Feasibility and acceptance of a home telemanagement system in patients with inflammatory bowel disease: a 6-month pilot study. Dig Dis Sci.. 2007;52:357–364. https://doi.org/10.1007/s10620-006-9523-4

18.

Viers BR, Pruthi S, Rivera ME, et al. Are patients willing to engage in telemedicine for their care: a survey of preuse perceptions and acceptance of remote video visits in a urological patient population. Urology. 2015;85:1233–1240.

19.

Ciere Y, Cartwright M, Newman SP. A systematic review of the mediating role of knowledge, self-efficacy and self-care behaviour in telehealth patients with heart failure. J Telemed Telecare. 2012;18:384–391.

20.

Kim JY, Wineinger NE, Steinhubl SR. The influence of wireless self-monitoring program on the relationship between patient activation and health behaviors, medication adherence, and blood pressure levels in hypertensive patients: a substudy of a randomized controlled trial. J Med Internet Res. 2016;18:e116.

21.

Oddone EZ, Gierisch JM, Sanders LL, et al. A coaching by telephone intervention on engaging patients to address modifiable cardiovascular risk factors: a randomized controlled trial. J Gen Intern Med. 2018;7:1–8.

22.

Cross RK, Langenberg P, Regueiro MD, et al. 903-a randomized controlled trial of telemedicine for patients with inflammatory bowel disease (Tele-IBD). Gastroenterology. 2018;154:S-177.

23.

Cross RK, Jambaulikar G, Langenberg P, et al. TELEmedicine for patients with inflammatory bowel disease (TELE-IBD): design and implementation of randomized clinical trial. Contemp Clin Trials. 2015;42:132–144.

24.

Lennard-Jones JE. Classification of inflammatory bowel disease. Scand J Gastroenterol. 1989;24:2–6.

25.

Harvey RF, Bradshaw JM. A simple index of Crohn's-disease activity. Lancet. 1980;315:514.

26.

Walmsley RS, Ayres RC, Pounder RE, Allan RN. A simple clinical colitis activity index. Gut. 1998;43:29–32.

27.

Rotter JB. Generalized expectancies for internal versus external control of reinforcement. Psychol Monogr Gen Appl. 1966;80:1.

28.

Eaden JA, Abrams K, Mayberry JF. The Crohn's and Colitis knowledge score: a test for measuring patient knowledge in inflammatory bowel disease. Am J Gastroenterol. 1999;94:3560.

29.

Berwick DM, Murphy JM, Goldman PA, Ware JE Jr, Barsky AJ, Weinstein MC. Performance of a five-item mental health screening test. Med Care. 1991;1:169–176.

30.

Schwarzer R, Jerusalem M. Generalized self-efficacy scale. In: Weinman J, Wright S, Windsor JM, eds. Measures in Health Psychology: A User's Portfolio. Causal and Control Beliefs. Berkshire: NFER-NELSON; 1995:35.

31.

Insigina Health. Patient activation measure (PAM) 13 TM License Materials copyright. Portland: Insigna Health LLC; 2011.

32.

Trief PM, Teresi JA, Eimicke JP, Shea S, Weinstock RS. Improvement in diabetes self-efficacy and glycaemic control using telemedicine in a sample of older, ethnically diverse individuals who have diabetes: the IDEATel project. Age Ageing. 2009;38:219–225.

33.

Clarke J, Proudfoot J, Birch MR, et al. Effects of mental health self-efficacy on outcomes of a mobile phone and web intervention for mild-to-moderate depression, anxiety and stress: secondary analysis of a randomised controlled trial. BMC Psychiatry. 2014;14:272.

34.

Michaud TL, Siahpush M, Schwab RJ, et al. Remote patient monitoring and clinical outcomes for postdischarge patients with type 2 diabetes. Popul Health Manag. 2018;21:387–394.

35.

Ledford CJ, Womack JJ, Rider HA, et al. Unexpected effects of a system-distributed mobile application in maternity care: a randomized controlled trial. Health Educ Behav. 2017;45:323–330.

36.

Scholz U, Doña BG, Sud S, Schwarzer R. Is general self-efficacy a universal construct? psychometric findings from 25 countries. Eur J Psychol Assess.. 2002;18:242.
Funding
This research was supported by the Agency for Healthcare Research and Quality (1R01HS018975-01A1) and the University of Maryland General Clinical Research Centers Program. Zaid Bilgrami was supported by the Program for Research Initiated by Students and Mentors (PRISM) at the University of Maryland School of Medicine.
Ethics declarations
Conflict of Interest
The authors declare that they have no conflict of interest.
About this article
Cite this article
Bilgrami, Z., Abutaleb, A., Chudy-Onwugaje, K. et al. Effect of TELEmedicine for Inflammatory Bowel Disease on Patient Activation and Self-Efficacy. Dig Dis Sci 65, 96–103 (2020). https://doi.org/10.1007/s10620-018-5433-5
Received:

Accepted:

Published:

Issue Date:
Keywords
Telemedicine

Inflammatory bowel disease

Patient activation

Self-efficacy