Abstract
Background
Fecal microbiota transplantation (FMT) is an effective therapy for recurrent Clostridium. difficile infection (rCDI). FMT capsules have emerged, and it is unknown if delivery location and dose impact efficacy.
Methods
We compared two cohorts of patients receiving two capsule formulations: gastric release (FMTgr) and targeted colonic release (FMTcr) at two different sites. Cohort A received FMTgr at (1) high dose: 60 capsules and low dose: 30 capsules. Patients in Cohort B received FMTcr at (1) high dose: 30 capsules (2) low dose: 10 capsules. Clinical cure rates and adverse events were monitored through week 8. Paired t-tests were used to compare diversity pre- and post-FMT.
Results
51 rCDI patients were enrolled. Cohort A contained n = 20 and Cohort B contained n = 31. Overall cure at week 8 for FMTgr was 75% (15/20) compared to 80.6% for FMTcr, (25/31), p = 0.63. Both formulations were safe with no serious adverse events. FMTcr was superior at increasing gut microbial diversity.
Discussion
To our knowledge, this is the first study to compare targeted delivery of FMT capsules. While both capsules were safe and efficacious, microbial engraftment patterns were superior in FMTcr.
Access options
Buy single article
Instant access to the full article PDF.
US$ 39.95
Tax calculation will be finalised during checkout.
Subscribe to journal
Immediate online access to all issues from 2019. Subscription will auto renew annually.
US$ 119
Tax calculation will be finalised during checkout.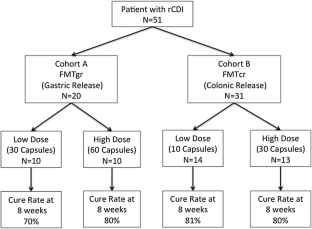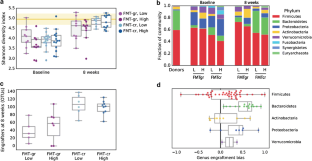 References
1.

Lessa FC, Winston LG, McDonald LC. Emerging infections program CdST Burden of clostridium difficile infection in the United States. New Engl J Med. 2015;372:70–2369.

2.

Ma GK, Brensinger CM, Wu Q, Lewis JD. Increasing incidence of multiply recurrent clostridium difficile infection in the United States: a Cohort study. Ann Intern Med. 2017;167:8–152.

3.

Sadowsky MJ, Khoruts A. Faecal microbiota transplantation is promising but not a panacea. Nat Microbiol. 2016;1:16015.

4.

Moayyedi P, Yuan Y, Baharith H, Ford AC. Faecal microbiota transplantation for Clostridium difficile-associated diarrhoea: a systematic review of randomised controlled trials. Med J Aust. 2017;207:72–166.

5.

Kassam Z, Lee CH, Yuan Y, Hunt RH. Fecal microbiota transplantation for Clostridium difficile infection: systematic review and meta-analysis. Am J Gastroenterol. 2013;108:8–500.

6.

Youngster I, Sauk J, Pindar C, et al. Fecal microbiota transplant for relapsing Clostridium difficile infection using a frozen inoculum from unrelated donors: a randomized, open-label, controlled pilot study. Clin Infect Dis Off Publ Infect Dis Soc Am. 2014;58:22–1515.

7.

Staley C, Hamilton MJ, Vaughn BP, et al. Successful resolution of recurrent clostridium difficile infection using freeze-dried, encapsulated fecal microbiota; pragmatic cohort study. Am J Gastroenterol. 2017;112:7–940.

8.

Youngster I, Mahabamunuge J, Systrom HK, et al. Oral, frozen fecal microbiota transplant (FMT) capsules for recurrent Clostridium difficile infection. BMC Med. 2016;14:134. https://doi.org/10.1186/s12916-016-0680-9.

9.

Hirsch BE, Saraiya N, Poeth K, Schwartz RM, Epstein ME, Honig G. Effectiveness of fecal-derived microbiota transfer using orally administered capsules for recurrent Clostridium difficile infection. BMC Infect Dis. 2015;15:191. https://doi.org/10.1186/s12879-015-0930-z.

10.

Kao D, Roach B, Silva M, et al. Effect of oral capsule- vs colonoscopy-delivered fecal microbiota transplantation on recurrent clostridium difficile infection: a randomized clinical trial. Jama. 2017;318:93–1985.

11.

Ibekwe VC, Khela MK, Evans DF, Basit AW. A new concept in colonic drug targeting: a combined pH-responsive and bacterially-triggered drug delivery technology. Aliment Pharmacol Ther. 2008;28:6–911.

12.

Van Assche G, D'Haens G, Noman M, et al. Randomized, double-blind comparison of 4 mg/kg versus 2 mg/kg intravenous cyclosporine in severe ulcerative colitis. Gastroenterology. 2003;125:31–1025.

13.

Dodoo CC, Wang J, Basit AW, Stapleton P, Gaisford S. Targeted delivery of probiotics to enhance gastrointestinal stability and intestinal colonisation. Int J Pharm. 2017;530:9–224.

14.

Smith MB, Kassam Z, Burgess J, et al. The International Public Stool Bank: a scalable model for standardized screening and processing of donor stool for fecal microbiota transplantation. Gastroenterology. 2015;148:S-211.

15.

Dubois N, Ling K, Osman M, et al. Prospective assessment of donor eligibility for fecal microbiota transplantation at a Public Stool Bank: results from the evaluation of 1387 candidate donors. Open Forum Infect Dis. 2016;2:962.

16.

Kozich JJ, Westcott SL, Baxter NT, Highlander SK, Schloss PD. Development of a dual-index sequencing strategy and curation pipeline for analyzing amplicon sequence data on the MiSeq Illumina sequencing platform. Appl Environ Microbiol. 2013;79:20–5112.

17.

Allegretti JR, Kao D, Sitko J, Fischer M, Kassam Z. Early antibiotic use after fecal microbiota transplantation increases risk of treatment failure. Clin Infect Dis Off Publ Infect Dis Soc Am. 2018;66:5–134.

18.

Cammarota G, Ianiro G, Tilg H, et al. European consensus conference on faecal microbiota transplantation in clinical practice. Gut. 2017;66:569–580. https://doi.org/10.1136/gutjnl-2016-313017.

19.

Crobach MJ, Planche T, Eckert C, et al. European society of clinical microbiology and infectious diseases: update of the diagnostic guidance document for clostridium difficile infection. Clin Microbiol Infect Off Publ Eur Soc Clin Microbiol Infect Dis. 2016;22:S63–81.

20.

Polage CR, Gyorke CE, Kennedy MA, et al. Overdiagnosis of clostridium difficile infection in the molecular test Era. JAMA Intern Med. 2015;175:801–1792.
Ethics declarations
Conflict of interest
ZK YG, ST, MS and RS, DG, ELS are employees of Finch Therapeutics. JRA and MF consult for Finch Therapeutics. HMF receives royalties from Phloral. No other conflicts of interest to report for any authors relevant to the work presented in this manuscript.
About this article
Cite this article
Allegretti, J.R., Fischer, M., Sagi, S.V. et al. Fecal Microbiota Transplantation Capsules with Targeted Colonic Versus Gastric Delivery in Recurrent Clostridium difficile Infection: A Comparative Cohort Analysis of High and Lose Dose. Dig Dis Sci 64, 1672–1678 (2019). https://doi.org/10.1007/s10620-018-5396-6
Received:

Accepted:

Published:

Issue Date:
Keywords
Fecal microbiota transplantation

Microbiome

Clostridium difficile infection

Fecal capsule