Abstract
Background and Aims
Pancreatic cancer is an aggressive malignancy with poor prognosis. Gemcitabine is the standard chemotherapeutic drug used to treat the disease; however, it has a low response rate. Therefore, there is an urgent need to develop new and safe therapies to enhance sensitivity to gemcitabine in treating pancreatic cancer.
Methods
The synergistic effect of gemcitabine combined with specific B cell CLL/lymphoma 2 (Bcl-2) inhibitor ABT-199 against pancreatic cancer was tested using cell viability, cell cycle, and apoptosis assays in vitro and in an MIA Paca-2 xenograft model in vivo. Its underlying mechanism was explored using western blotting analysis of Bcl-2 family proteins.
Results
ABT-199 not only enhanced the effect of gemcitabine on cell growth inhibition but also promoted gemcitabine-induced apoptosis in pancreatic cancer cell lines. Gemcitabine decreased the expression of anti-apoptotic protein Mcl-1 but increased the expression of anti-apoptotic protein Bcl-2. ABT-199 downregulated the gemcitabine-induced production of Bcl-2 and increased the expression of pro-apoptotic protein Bcl-2 interacting protein (BIM). Mouse xenograft experiments also confirmed the synergistic effect of gemcitabine and ABT-199 on tumor growth inhibition and the induction of tumor cell apoptosis.
Conclusion
Our results indicated that ABT-199 improved the anti-tumor effect of gemcitabine on pancreatic cancer by downregulating gemcitabine-induced overexpression of Bcl-2. ABT-199 has already been investigated in phase 3 clinical trials for chronic lymphocytic leukemia; therefore, it may serve as a potential drug to improve the sensitivity of pancreatic cancer to gemcitabine.
This is a preview of subscription content, log in to check access.
Access options
Buy single article
Instant access to the full article PDF.
US$ 39.95
Tax calculation will be finalised during checkout.
Subscribe to journal
Immediate online access to all issues from 2019. Subscription will auto renew annually.
US$ 199
Tax calculation will be finalised during checkout.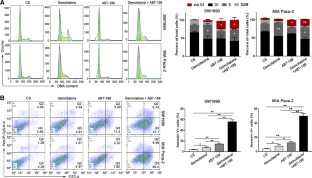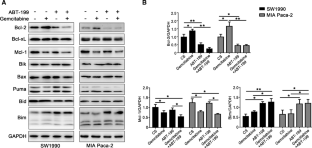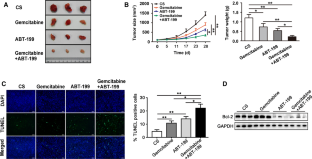 References
1.

Chin V, Nagrial A, Sjoquist K, et al. Chemotherapy and radiotherapy for advanced pancreatic cancer. Cochrane Database Syst Rev. 2018;3:CD011044.

2.

Rajabpour A, Rajaei F, Teimoori-Toolabi L. Molecular alterations contributing to pancreatic cancer chemoresistance. Pancreatology. 2016;17:310.

3.

Ucker DS, Levine JS. Exploitation of Apoptotic Regulation in Cancer. Front Immunol. 2018;9:241.

4.

Chipuk JE, Moldoveanu T, Llambi F, Parsons MJ, Green DR. The BCL-2 family reunion. Mol Cell. 2010;37:299–310.

5.

Ni Chonghaile T, Letai A. Mimicking the BH3 domain to kill cancer cells. Oncogene. 2008;27:S149–S157.

6.

Hata AN, Engelman JA, Faber AC. The BCL2 Family: Key Mediators of the Apoptotic Response to Targeted Anticancer Therapeutics. Cancer Discov. 2015;5:475–487.

7.

Dong J, Zhao YP, Zhou L, Zhang TP, Chen G. Bcl-2 upregulation induced by miR-21 via a direct interaction is associated with apoptosis and chemoresistance in MIA PaCa-2 pancreatic cancer cells. Arch Med Res. 2011;42:8–14.

8.

Vogler M, Walczak H, Stadel D, et al. Targeting XIAP bypasses Bcl-2-mediated resistance to TRAIL and cooperates with TRAIL to suppress pancreatic cancer growth in vitro and in vivo. Cancer Res. 2008;68:7956–7965.

9.

Fahy BN, Schlieman MG, Mortenson MM, Virudachalam S, Bold RJ. Targeting BCL-2 overexpression in various human malignancies through NF-kappaB inhibition by the proteasome inhibitor bortezomib. Cancer Chemother Pharmacol. 2005;56:46–54.

10.

Souers AJ, Leverson JD, Boghaert ER, et al. ABT-199, a potent and selective BCL-2 inhibitor, achieves antitumor activity while sparing platelets. Nat Med. 2013;19:202–208.

11.

Lucantoni F, Lindner AU, O'Donovan N, Dussmann H, Prehn J. Systems modeling accurately predicts responses to genotoxic agents and their synergism with BCL-2 inhibitors in triple negative breast cancer cells. Cell Death Dis. 2018;9:42.

12.

Mihalyova J, Jelinek T, Growkova K, Hrdinka M, Simicek M, Hajek R. Venetoclax: A new wave in hematooncology. Exp Hematol. 2018;61:10–25.

13.

Roberts AW, Davids MS, Pagel JM, et al. Targeting BCL2 with Venetoclax in Relapsed Chronic Lymphocytic Leukemia. N Engl J Med. 2016;374:311–322.

14.

Stilgenbauer S, Eichhorst B, Schetelig J, et al. Venetoclax in relapsed or refractory chronic lymphocytic leukaemia with 17p deletion: a multicentre, open-label, phase 2 study. Lancet Oncol. 2016;17:768–778.

15.

Tam CS, Anderson MA, Pott C, et al. Ibrutinib plus Venetoclax for the Treatment of Mantle-Cell Lymphoma. N Engl J Med. 2018;378:1211–1223.

16.

Wang M, Lu X, Dong X, et al. pERK1/2 silencing sensitizes pancreatic cancer BXPC-3 cell to gemcitabine-induced apoptosis via regulating Bax and Bcl-2 expression. World J Surg Oncol. 2015;13:66.

17.

Fahy BN, Schlieman MG, Virudachalam S, Bold RJ. Inhibition of AKT abrogates chemotherapy-induced NF-kappaB survival mechanisms: implications for therapy in pancreatic cancer. J Am Coll Surg. 2004;198:591–599.

18.

Chen D, Niu M, Jiao X, Zhang K, Liang J, Zhang D. Inhibition of AKT2 enhances sensitivity to gemcitabine via regulating PUMA and NF-kappaB signaling pathway in human pancreatic ductal adenocarcinoma. Int J Mol Sci. 2012;13:1186–1208.

19.

Wei WT, Chen H, Wang ZH, et al. Enhanced antitumor efficacy of gemcitabine by evodiamine on pancreatic cancer via regulating PI3K/Akt pathway. Int J Biol Sci. 2012;8:1–14.

20.

Choudhary GS, Al-Harbi S, Mazumder S, et al. MCL-1 and BCL-xL-dependent resistance to the BCL-2 inhibitor ABT-199 can be overcome by preventing PI3K/AKT/mTOR activation in lymphoid malignancies. Cell Death Dis. 2015;6:e1593.

21.

Vaillant F, Merino D, Lee L, et al. Targeting BCL-2 with the BH3 mimetic ABT-199 in estrogen receptor-positive breast cancer. Cancer Cell. 2013;24:120–129.

22.

Lizard G, Miguet C, Gueldry S, Monier S, Gambert P. Flow cytometry measurement of DNA fragmentation in the course of cell death via apoptosis. New techniques for evaluation of DNA status for the pathologist. Ann Pathol. 1997;17:61–66.

23.

Kale J, Osterlund EJ, Andrews DW. BCL-2 family proteins: changing partners in the dance towards death. Cell Death Differ. 2018;25:65–80.

24.

Liang C, Shi S, Meng Q, et al. Complex roles of the stroma in the intrinsic resistance to gemcitabine in pancreatic cancer: where we are and where we are going. Exp Mol Med. 2017;49:e406.

25.

Sun C, Ansari D, Andersson R, Wu DQ. Does gemcitabine-based combination therapy improve the prognosis of unresectable pancreatic cancer? World J Gastroenterol. 2012;18:4944–4958.

26.

Moore MJ, Goldstein D, Hamm J, et al. Erlotinib plus gemcitabine compared with gemcitabine alone in patients with advanced pancreatic cancer: a phase III trial of the National Cancer Institute of Canada Clinical Trials Group. J Clin Oncol. 2007;25:1960–1966.

27.

Shi X, Liu S, Kleeff J, Friess H, Buchler MW. Acquired resistance of pancreatic cancer cells towards 5-Fluorouracil and gemcitabine is associated with altered expression of apoptosis-regulating genes. Oncology-Basel. 2002;62:354–362.

28.

Bauer C, Hees C, Sterzik A, et al. Proapoptotic and antiapoptotic proteins of the Bcl-2 family regulate sensitivity of pancreatic cancer cells toward gemcitabine and T-cell-mediated cytotoxicity. J Immunother. 2015;38:116–126.

29.

Pan R, Hogdal LJ, Benito JM, et al. Selective BCL-2 inhibition by ABT-199 causes on-target cell death in acute myeloid leukemia. Cancer Discov. 2014;4:362–375.

30.

Czabotar PE, Lessene G, Strasser A, Adams JM. Control of apoptosis by the BCL-2 protein family: implications for physiology and therapy. Nat Rev Mol Cell Biol. 2014;15:49–63.

31.

Mason KD, Carpinelli MR, Fletcher JI, et al. Programmed anuclear cell death delimits platelet life span. Cell. 2007;128:1173–1186.

32.

Chaudhary AK, Mondal G, Kumar V, Kattel K, Mahato RI. Chemosensitization and inhibition of pancreatic cancer stem cell proliferation by overexpression of microRNA-205. Cancer Lett. 2017;402:1–8.

33.

Harikumar KB, Kunnumakkara AB, Sethi G, et al. Resveratrol, a multitargeted agent, can enhance antitumor activity of gemcitabine in vitro and in orthotopic mouse model of human pancreatic cancer. Int J Cancer. 2010;127:257–268.

34.

Bold RJ, Chandra J, McConkey DJ. Gemcitabine-induced programmed cell death (apoptosis) of human pancreatic carcinoma is determined by Bcl-2 content. Ann Surg Oncol. 1999;6:279–285.

35.

Sarosiek KA, Chi X, Bachman JA, et al. BID preferentially activates BAK while BIM preferentially activates BAX, affecting chemotherapy response. Mol Cell. 2013;51:751–765.

36.

Del GMV, Brown JR, Certo M, Love TM, Novina CD, Letai A. Chronic lymphocytic leukemia requires BCL2 to sequester prodeath BIM, explaining sensitivity to BCL2 antagonist ABT-737. J Clin Invest. 2007;117:112–121.

37.

Davids MS, Letai A, Brown JR. Overcoming stroma-mediated treatment resistance in chronic lymphocytic leukemia through BCL-2 inhibition. Leuk Lymphoma. 2013;54:1823–1825.
Acknowledgments
This study was supported by the National Natural Science Foundation of China (Grant Nos. 81572308, 81702306, 81871934) and Science and Technology Commission of Shanghai Municipality (Grant No. 16411952300).
Ethics declarations
Conflict of interest
The authors declare that they have no conflict of interest.
About this article
Cite this article
Zhou, Y., Liu, H., Xue, R. et al. BH3 Mimetic ABT-199 Enhances the Sensitivity of Gemcitabine in Pancreatic Cancer in vitro and in vivo. Dig Dis Sci 63, 3367–3375 (2018). https://doi.org/10.1007/s10620-018-5253-7
Received:

Accepted:

Published:

Issue Date:
Keywords
Pancreatic cancer

Gemcitabine

ABT-199

Apoptosis

Combination therapy