Abstract
Objective
To evaluate the effect of hydrogen-rich saline (HS) on hepatic ischemia-reperfusion (I/R) injury.
Methods
Forty rats were randomly allocated into five groups: one sham group (control group), one group treated with 20 min of ischemia and normal saline (NS; I/R1 + NS group), one group treated with 20 min of ischemia and HS (I/R1 + HS group), one group treated with 60 min of ischemia and NS (I/R2 + NS group), and one group treated with 60 min of ischemia and HS (I/R2 + HS group). After reperfusion for 6 h, hepatic function, oxidative stress, pathological changes, and apoptosis of hepatic cells were evaluated. Furthermore, the expression levels of endoplasmic reticulum (ER) stress-associated proteins were identified.
Results
Serum ALT and AST levels and tissue MDA content in the I/R + HS groups were significantly lower than those in the I/R + NS groups. Pathological changes were also significantly ameliorated in the HS groups compared with those in the NS groups. Moreover, HS appeared to significantly attenuate hepatic I/R-induced ER stress responses, as indicated by the decreased expression of C/EBP homologous protein, protein-kinase-RNA-like ER kinase, and inositol-requiring protein-1α, as well as the increased expression of GRP78 proteins. Finally, the levels of apoptotic markers such as caspase-3 and TUNEL-positive cells were significantly lower in the HS groups than in the NS control groups, whereas the level of Bcl2 protein increased in the HS groups.
Conclusion
The protective effect of HS can be attributed to ER stress and apoptosis inhibition.
Access options
Buy single article
Instant access to the full article PDF.
USD 39.95
Price includes VAT (USA)
Tax calculation will be finalised during checkout.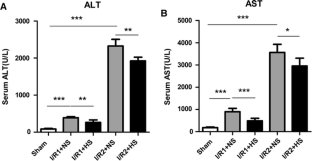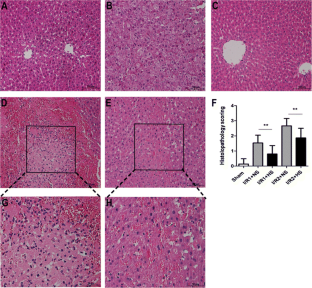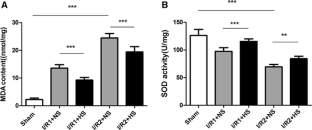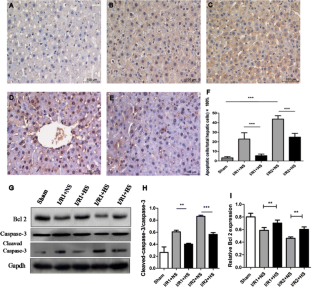 References
1.

Parks DA, Granger DN. Contributions of ischemia and reperfusion to mucosal lesion formation. Am J Physiol. 1986;250:G749–G753.

2.

Tapuria N, Junnarkar S, Abu-Amara M, Fuller B, Seifalian AM, Davidson BR. Haemoxygenase modulates cytokine induced neutrophil chemoattractant in hepatic ischemia reperfusion injury. World J Gastroenterol. 2016;22:7518–7535.

3.

Nemeria NS, Gerfen G, Guevara E, Nareddy PR, Szostak M, Jordan F. The human krebs cycle 2-Oxoglutarate dehydrogenase complex creates an additional source of Superoxide/Hydrogen peroxide from 2-Oxoadipate as alternative substrate. Free Radic Biol Med 2017.

4.

Wang F, Yu G, Liu SY, et al. Hydrogen-rich saline protects against renal ischemia/reperfusion injury in rats. J Surg Res. 2011;167:e339–e344.

5.

Liu Q, Li BS, Song YJ, et al. Hydrogen-rich saline protects against mitochondrial dysfunction and apoptosis in mice with obstructive jaundice. Mol Med Rep. 2016;13:3588–3596.

6.

Ge L, Wei LH, Du CQ, et al. Hydrogen-rich saline attenuates spinal cord hemisection-induced testicular injury in rats. Oncotarget 2017.

7.

Ji C, Kaplowitz N. ER stress: can the liver cope? J Hepatol. 2006;45:321–333.

8.

Malhi H, Kaufman RJ. Endoplasmic reticulum stress in liver disease. J Hepatol. 2011;54:795–809.

9.

Shah KA, Shurey S, Green CJ. Apoptosis after intestinal ischemia-reperfusion injury: a morphological study. Transplantation. 1997;64:1393–1397.

10.

Li Q, Yu P, Zeng Q, et al. Neuroprotective effect of Hydrogen-Rich saline in global cerebral Ischemia/Reperfusion rats: up-regulated tregs and Down-Regulated miR-21, miR-210 and NF-kappaB expression. Neurochem Res. 2016;41:2655–2665.

11.

Selzner N, Liu H, Boehnert MU, et al. FGL2/fibroleukin mediates hepatic reperfusion injury by induction of sinusoidal endothelial cell and hepatocyte apoptosis in mice. J Hepatol. 2012;56:153–159.

12.

Cavalieri B, Perrelli MG, Aragno M, et al. Ischemic preconditioning attenuates the oxidant-dependent mechanisms of reperfusion cell damage and death in rat liver. Liver Transpl. 2002;8:990–999.

13.

Shi Q, Chen C, Deng WH, et al. Hydrogen-rich saline attenuates acute hepatic injury in acute necrotizing pancreatitis by inhibiting inflammation and apoptosis, involving JNK and p38 mitogen-activated protein kinase-dependent reactive oxygen species. Pancreas. 2016;45:1424–1431.

14.

Zhai Y, Zhou X, Dai Q, Fan Y, Huang X. Hydrogen-rich saline ameliorates lung injury associated with cecal ligation and puncture-induced sepsis in rats. Exp Mol Pathol. 2015;98:268–276.

15.

Kajiyama S, Hasegawa G, Asano M, et al. Supplementation of hydrogen-rich water improves lipid and glucose metabolism in patients with type 2 diabetes or impaired glucose tolerance. Nutr Res. 2008;28:137–143.

16.

Gao Y, Gui Q, Jin L, et al. Hydrogen-rich saline attenuates hippocampus endoplasmic reticulum stress after cardiac arrest in rats. Neurosci Lett. 2017;640:29–36.

17.

Zhao G, Fu C, Wang L, et al. Down-regulation of nuclear HMGB1 reduces ischemia-induced HMGB1 translocation and release and protects against liver ischemia-reperfusion injury. Sci Rep. 2017;7:46272.

18.

Zhuang Z, Zhou ML, You WC, et al. Hydrogen-rich saline alleviates early brain injury via reducing oxidative stress and brain edema following experimental subarachnoid hemorrhage in rabbits. BMC Neurosci. 2012;13:47.

19.

Sasaki H, Matsuno T, Tanaka N, Orita K. Activation of apoptosis during the reperfusion phase after rat liver ischemia. Transplant Proc. 1996;28:1908–1909.

20.

Cai XH, Li XC, Jin SW, et al. Endoplasmic reticulum stress plays critical role in brain damage after chronic intermittent hypoxia in growing rats. Exp Neurol. 2014;257:148–156.

21.

Connell BJ, Di Iorio P, Sayeed I, et al. Guanosine protects against reperfusion injury in rat brains after ischemic stroke. J Neurosci Res. 2013;91:262–272.

22.

Casas C. GRP78 at the centre of the stage in cancer and neuroprotection. Front Neurosci. 2017;11:177.

23.

Oyadomari S, Mori M. Roles of CHOP/GADD153 in endoplasmic reticulum stress. Cell Death Differ. 2004;11:381–389.

24.

Kudo T, Kanemoto S, Hara H, et al. A molecular chaperone inducer protects neurons from ER stress. Cell Death Differ. 2008;15:364–375.

25.

Oida Y, Izuta H, Oyagi A, et al. Induction of BiP, an ER-resident protein, prevents the neuronal death induced by transient forebrain ischemia in gerbil. Brain Res. 2008;1208:217–224.

26.

DeGracia DJ, Montie HL. Cerebral ischemia and the unfolded protein response. J Neurochem. 2004;91:1–8.

27.

Wu Q, Tang C, Zhang YJ, et al. Diazoxide suppresses hepatic ischemia/reperfusion injury after mouse liver transplantation by a BCL-2-dependent mechanism. J Surg Res. 2011;169:e155–e166.
Acknowledgments
This work was supported by funding from Scientific Research Foundation for the Returned Overseas Chinese Scholars (No. 2014-1685) and National Undergraduate Innovative Research Projects of China (No. 201510559010).
Ethics declarations
Conflict of interest
The authors have no conflicts of interest to declare.
About this article
Cite this article
Lu, Z., Lin, Y., Peng, B. et al. Hydrogen-Rich Saline Ameliorates Hepatic Ischemia-Reperfusion Injury Through Regulation of Endoplasmic Reticulum Stress and Apoptosis. Dig Dis Sci 62, 3479–3486 (2017). https://doi.org/10.1007/s10620-017-4811-8
Received:

Accepted:

Published:

Issue Date:
Keywords
Hydrogen-rich saline

Oxidative stress

Ischemia-reperfusion

ER stress