Abstract
Background
Antibodies to cytolethal distending toxin B (CdtB) and vinculin are novel biomarkers that rule-in and differentiate irritable bowel syndrome with diarrhea (IBS-D) from other causes of diarrhea and healthy controls.
Aim
To determine whether these antibodies can also diagnose and differentiate other IBS subtypes.
Methods
Subjects with IBS-D based on Rome III criteria (n = 2375) were recruited from a large-scale multicenter clinical trial (TARGET 3). Healthy subjects without gastrointestinal (GI) diseases or symptoms (n = 43) and subjects with mixed IBS (IBS-M) (n = 25) or IBS with constipation (IBS-C) (n = 30) were recruited from two major medical centers. Plasma levels of anti-CdtB and anti-vinculin antibodies in all subjects were determined by enzyme-linked immunosorbent assay. Optical densities of ≥1.68 and ≥2.80 were considered positive for anti-vinculin and anti-CdtB, respectively. Plasma levels of anti-CdtB and anti-vinculin antibodies were highest in IBS-D and lowest in IBS-C and healthy controls (P < 0.001). Levels in IBS-C subjects were not statistically different from controls (P > 0.1). Positivity for anti-CdtB or anti-vinculin resulted in a statistically significant negative gradient from IBS-D (58.1%) to IBS-M (44.0%), IBS-C (26.7%), and controls (16.3%) (P < 0.001).
Conclusions
Anti-CdtB and anti-vinculin titers and positivity rates differ in IBS subtypes, with higher antibody levels and positivity rates in IBS-D and IBS-M, and lower levels in IBS-C subjects that are similar to those in healthy controls. These antibodies appear useful in the diagnosis of IBS-M and IBS-D, but not IBS-C. Furthermore, these findings suggest that IBS-C is pathophysiologically distinct from subtypes with diarrheal components (i.e., IBS-M and IBS-D).
This is a preview of subscription content, log in to check access.
Access options
Buy single article
Instant access to the full article PDF.
US$ 39.95
Price includes VAT for USA
Subscribe to journal
Immediate online access to all issues from 2019. Subscription will auto renew annually.
US$ 199
This is the net price. Taxes to be calculated in checkout.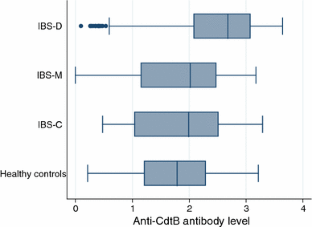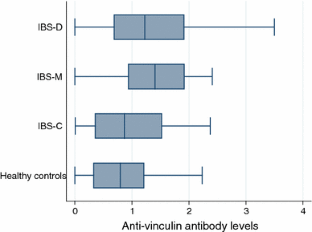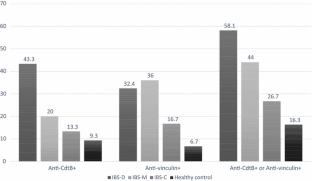 References
1.

Choung RS, Locke GR III. Epidemiology of IBS. Gastroenterol Clin North Am. 2011;40:1–10.

2.

Hungin AP, Chang L, Locke GR, Dennis EH, Barghout V. Irritable bowel syndrome in the United States: prevalence, symptom patterns and impact. Aliment Pharmacol Ther. 2005;21:1365–1375.

3.

Lovell RM, Ford AC. Global prevalence of and risk factors for irritable bowel syndrome: a meta-analysis. Clin Gastroenterol Hepatol. 2012;10:712–721 e714.

4.

Ford AC, Moayyedi P, Lacy BE, et al. American College of Gastroenterology monograph on the management of irritable bowel syndrome and chronic idiopathic constipation. Am J Gastroenterol. 2014;109:S2–26. (quiz S27).

5.

Mearin F, Lacy BE, Chang L, et al. Bowel disorders. Gastroenterology. 2016;150:1393–1407.

6.

Guidelines-Rome III Diagnostic Criteria for Functional Gastrointestinal Disorders. J Gastrointestin Liver Dis. 2006;15:307–312.

7.

Brandt LJ, Chey WD, Foxx-Orenstein AE, et al. An evidence-based position statement on the management of irritable bowel syndrome. Am J Gastroenterol. 2009;104:S1–S35.

8.

Spiegel BM, Farid M, Esrailian E, Talley J, Chang L. Is irritable bowel syndrome a diagnosis of exclusion? A survey of primary care providers, gastroenterologists, and IBS experts. Am J Gastroenterol. 2010;105:848–858.

9.

Pimentel M, Talley NJ, Quigley EM, Hani A, Sharara A, Mahachai V. Report from the multinational irritable bowel syndrome initiative 2012. Gastroenterology. 2013;144:e1–e5.

10.

Pimentel M, Morales W, Rezaie A, et al. Development and validation of a biomarker for diarrhea-predominant irritable bowel syndrome in human subjects. PLoS ONE. 2015;10:e0126438.

11.

Pimentel M, Morales W, Pokkunuri V, et al. Autoimmunity links vinculin to the pathophysiology of chronic functional bowel changes following Campylobacter jejuni infection in a rat model. Dig Dis Sci. 2015;60:1195–1205.

12.

Engsbro AL, Simren M, Bytzer P. Short-term stability of subtypes in the irritable bowel syndrome: prospective evaluation using the Rome III classification. Aliment Pharmacol Ther. 2012;35:350–359.

13.

Lembo A, Pimentel M, Rao SS, et al. Repeat treatment with Rifaximin is safe and effective in patients with diarrhea-predominant irritable bowel syndrome. Gastroenterology. 2016;151:1113–1121.

14.

El-Salhy M. Recent developments in the pathophysiology of irritable bowel syndrome. World J Gastroenterol. 2015;21:7621–7636.

15.

Gwee KA, Graham JC, McKendrick MW, et al. Psychometric scores and persistence of irritable bowel after infectious diarrhoea. Lancet. 1996;347:150–153.

16.

King T. Psychometric scores and persistence of irritable bowel after infectious diarrhoea. Clin Nutr. 1996;15:143.

17.

Neal KR, Barker L, Spiller RC. Prognosis in post-infective irritable bowel syndrome: a six year follow up study. Gut. 2002;51:410–413.

18.

Spiller RC. Postinfectious irritable bowel syndrome. Gastroenterology. 2003;124:1662–1671.

19.

Parry SD, Stansfield R, Jelley D, et al. Is irritable bowel syndrome more common in patients presenting with bacterial gastroenteritis? A community-based, case-control study. Am J Gastroenterol. 2003;98:327–331.

20.

Mearin F, Perez-Oliveras M, Perello A, et al. Dyspepsia and irritable bowel syndrome after a Salmonella gastroenteritis outbreak: one-year follow-up cohort study. Gastroenterology. 2005;129:98–104.

21.

Okhuysen PC, Jiang ZD, Carlin L, Forbes C, DuPont HL. Post-diarrhea chronic intestinal symptoms and irritable bowel syndrome in North American travelers to Mexico. Am J Gastroenterol. 2004;99:1774–1778.

22.

Ji S, Park H, Lee D, Song YK, Choi JP, Lee SI. Post-infectious irritable bowel syndrome in patients with Shigella infection. J Gastroenterol Hepatol. 2005;20:381–386.

23.

Pickett CL, Whitehouse CA. The cytolethal distending toxin family. Trends Microbiol. 1999;7:292–297.

24.

Smith JL, Bayles DO. The contribution of cytolethal distending toxin to bacterial pathogenesis. Crit Rev Microbiol. 2006;32:227–248.

25.

Pokkunuri V, Pimentel M, Morales W, et al. Role of cytolethal distending toxin in altered stool form and bowel phenotypes in a rat model of post-infectious irritable bowel syndrome. J Neurogastroenterol Motil. 2012;18:434–442.

26.

Demali KA. Vinculin—a dynamic regulator of cell adhesion. Trends Biochem Sci. 2004;29:565–567.

27.

Shen K, Tolbert CE, Guilluy C, et al. The vinculin C-terminal hairpin mediates F-actin bundle formation, focal adhesion, and cell mechanical properties. J Biol Chem. 2011;286:45103–45115.

28.

Twiss F, Le Duc Q, Van Der Horst S, et al. Vinculin-dependent Cadherin mechanosensing regulates efficient epithelial barrier formation. Biol Open. 2012;1:1128–1140.

29.

Zemljic-Harpf AE, Ponrartana S, Avalos RT, et al. Heterozygous inactivation of the vinculin gene predisposes to stress-induced cardiomyopathy. Am J Pathol. 2004;165:1033–1044.

30.

Jee SR, Morales W, Low K, et al. ICC density predicts bacterial overgrowth in a rat model of post-infectious IBS. World J Gastroenterol. 2010;16:3680–3686.

31.

Pozuelo M, Panda S, Santiago A, et al. Reduction of butyrate- and methane-producing microorganisms in patients with irritable bowel syndrome. Sci Rep.. 2015;5:12693.

32.

Kim G, Deepinder F, Morales W, et al. Methanobrevibacter smithii is the predominant methanogen in patients with constipation-predominant IBS and methane on breath. Dig Dis Sci. 2012;57:3213–3218.

33.

Schmulson M, Balbuena R, Corona de Law C. Experiencia clínica con el uso de los anticuerpos anti-CdtB y anti-vinculina en pacientes con diarrea en México. Rev Gastroenterol Mex. 2016;81:236–239.

34.

Schmulson M, Vargas JA, Lopez-Colombo A, Remes-Troche JM, Lopez-Alvarenga JC. Prevalence and clinical characteristics of the IBS subtypes according to the Rome III criteria in patients from a clinical, multicentric trial. A report from the Mexican IBS Working Group. Rev Gastroenterol Mex. 2010;75:427–438.
Acknowledgments
This study was supported by funding from Commonwealth Laboratories LLC.
Ethics declarations
Conflict of interest
Cedars-Sinai has licensing agreements with Valeant Pharmaceuticals International Inc., Commonwealth Laboratories Inc., and Synthetic Biologics Inc. Mark Pimentel is a consultant for Valeant Pharmaceuticals, Commonwealth Laboratories Inc., Synthetic Biologics Inc., Micropharma Inc., and Naia Pharmaceuticals and is on the advisory boards for Valeant Pharmaceuticals and Commonwealth Laboratories. Ali Rezaie is a consultant for, and has received support for teaching and research from, Commonwealth Laboratories, Actavis, and Salix Pharmaceuticals. Anthony Lembo has received fees for serving on advisory boards from Allergen, Furiex Pharmaceuticals, Prometheus Laboratories, Salix Pharmaceuticals, Valeant Pharmaceuticals, Forest Laboratories, Alkermes, AstraZeneca, and Ironwood Pharmaceuticals. The remaining authors report no conflict of interest.
About this article
Cite this article
Rezaie, A., Park, S.C., Morales, W. et al. Assessment of Anti-vinculin and Anti-cytolethal Distending Toxin B Antibodies in Subtypes of Irritable Bowel Syndrome. Dig Dis Sci 62, 1480–1485 (2017). https://doi.org/10.1007/s10620-017-4585-z
Received:

Accepted:

Published:

Issue Date:
Keywords
Irritable bowel syndrome

Vinculin

Cytolethal distending toxin

Biomarker

Constipation

Diarrhea