Abstract
Background
Cannabidiol (CBD) is an anti-inflammatory cannabinoid shown to be beneficial in a mouse model of IBD. Lacking any central effect, cannabidiol is an attractive option for treating inflammatory diseases.
Aim
To assess the effects of cannabidiol on Crohn's disease in a randomized placebo-controlled trial.
Patients and Methods
Twenty patients aged 18–75 years with a Crohn's disease activity index (CDAI) >200 were randomized to receive oral (10 mg) CBD or placebo twice daily. Patients did not respond to standard treatment with steroids (11 patients), thiopurines (14), or TNF antagonists (11). Disease activity and laboratory parameters were assessed during 8 weeks of treatment and 2 weeks thereafter. Other medical treatment remained unchanged.
Results
Of 20 patients recruited 19 completed the study. Their mean age was 39 ± 15, and 11 were males. The average CDAI before cannabidiol consumption was 337 ± 108 and 308 ± 96 (p = NS) in the CBD and placebo groups, respectively. After 8 weeks of treatment, the index was 220 ± 122 and 216 ± 121 in the CBD and placebo groups, respectively (p = NS). Hemoglobin, albumin, and kidney and liver function tests remained unchanged. No side effects were observed.
Conclusion
In this study of moderately active Crohn's disease, CBD was safe but had no beneficial effects. This could be due to lack of effect of CBD on Crohn's disease, but could also be due to the small dose of CBD, the small number of patients in the study, or the lack of the necessary synergism with other cannabinoids. Further investigation is warranted.
ClinicalTrials.gov
NCT01037322.
Access options
Buy single article
Instant access to the full article PDF.
USD 39.95
Price excludes VAT (USA)
Tax calculation will be finalised during checkout.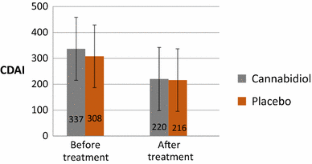 References
Pariente B, Laharie D. Review article: why, when and how to de-escalate therapy in inflammatory bowel diseases. Aliment Pharmacol Ther. 2014;40:338–353. doi:10.1111/apt.12838.

Massa F, Storr M, Lutz B. The endocannabinoid system in the physiology and pathophysiology of the gastrointestinal tract. J Mol Med (Berl). 2005;83:944–954.

Izzo AA, Camilleri M. Emerging role of cannabinoids in gastrointestinal and liver diseases: basic and clinical aspects. Gut. 2008;57:1140–1155.

Lal S, Prasad N, Ryan M, et al. Cannabis use amongst patients with inflammatory bowel disease. Eur J Gastroenterol Hepatol. 2011;23:891–896.

Naftali T, Lev LB, Yablecovitch D, Half E, Konikoff FM. Treatment of Crohn's disease with cannabis: an observational study. [Erratum appears in Isr Med Assoc J. 2011;13:582 Note: Yablekovitz, Doron (corrected to Yablecovitch, Doron)]. Isr Med Assoc J IMAJ. 2011;13:455–458.

Weiss A, Friedenberg F. Patterns of cannabis use in patients with inflammatory bowel disease: a population based analysis. Drug Alcohol Depend. 2015;156:84–89.

Moore THM, Zammit S, Lingford-hughes A, et al. Cannabis use and risk of psychotic or affective mental health outcomes: a systematic review. Lancet. 2007;370:319–328.

Zhang MW, Ho RCM. The cannabis dilemma: a review of its associated risks and clinical efficacy. J Addict. 2015;2015:1–6.

Gaoni Y, Mechoulam R. The isolation and structure of delta-1-tetrahydrocannabinol and other neutral cannabinoids from hashish. J Am Chem Soc. 1971;93:217–224.

Mechoulam R, Peters M, Murillo-Rodriguez E, Hanus LO. Cannabidiol—recent advances. Chem Biodivers. 2007;4:1678–1692.

Zuardi AW. Cannabidiol: from an inactive cannabinoid to a drug with wide spectrum of action Canabidiol: de um canabinóide inativo a uma droga com amplo espectro de ação. Rev Bras Psiquiar. 2008;30:271–280.

Esposito G, De Filippis D, Cirillo C, et al. Cannabidiol in inflammatory bowel diseases: a brief overview. Phyther Res. 2012;2013:633–636.

Burstein S. Cannabidiol (CBD) and its analogs: a review of their effects on inflammation. Bioorg Med Chem. 2015;23:1377–1385.

Sacerdote P, Martucci C, Vaccani A, et al. The nonpsychoactive component of marijuana cannabidiol modulates chemotaxis and IL-10 and IL-12 production of murine macrophages both in vivo and in vitro. J Neuroimmunol. 2005;159:97–105.

Kozela E, Pietr M, Juknat A, Rimmerman N, Levy R, Vogel Z. Cannabinoids delta(9)-tetrahydrocannabinol and cannabidiol differentially inhibit the lipopolysaccharide-activated NF-kappaB and interferon-beta/STAT proinflammatory pathways in BV-2 microglial cells. J Biol Chem. 2010;285:1616–1626.

Capasso R, Borrelli F, Aviello G, et al. Cannabidiol, extracted from Cannabis sativa, selectively inhibits inflammatory hypermotility in mice. Br J Pharmacol. 2008;154:1001–1008.

Schicho R, Storr M. Topical and systemic cannabidiol improves trinitrobenzene sulfonic acid colitis in mice. Pharmacology. 2012;89:149–155.

Pertwee RG. The diverse CB1 and CB2 receptor pharmacology of three plant cannabinoids: delta9-tetrahydrocannabinol, cannabidiol and delta9-tetrahydrocannabivarin. Br J Pharmacol. 2008;153:199–215.

Izzo AA, Borrelli F, Capasso R, Di Marzo V, Mechoulam R. Non-psychotropic plant cannabinoids: new therapeutic opportunities from an ancient herb. Trends Pharmacol Sci. 2009;30:515–527.

De Filippis D, Esposito G, Cirillo C, et al. Cannabidiol reduces intestinal inflammation through the control of neuroimmune axis. PLoS ONE. 2011;6:e28159.

Katsidoni V, Kastellakis A, Panagis G. Biphasic effects of Δ9-tetrahydrocannabinol on brain stimulation reward and motor activity. Int J Neuropsychopharmacol. 2013;16:2273–2284.

Fasinu PS, Phillips S, Elsohly MA, Walker LA. Current status and prospects for cannabidiol preparations as new therapeutic agents. Pharmacotherapy. 2016;36:781–796.

Wright MJ, Vandewater SA, Taffe MA. Cannabidiol attenuates deficits of visuospatial associative memory induced by delta9tetrahydrocannabinol. Br J Pharmacol. 2013;170:1365–1373.

Kwiatkowska M, Parker LA, Burton P, Mechoulam R. A comparative analysis of the potential of cannabinoids and ondansetron to suppress cisplatin-induced emesis in the Suncus murinus (house musk shrew). Psychopharmacology. 2004;174:254–259.

Hawksworth G, McArdle K. Metabolism and pharmacokinetics of cannabinoids. In: Guy GC, Robson PJ, Whittle BA, eds. The Medicinal Uses of Cannabis and Cannabinoids. London: London Pharmaceutical Press; 2004:205–228.

Kang M, Ragan BG, Park J-H. Issues in outcomes research: an overview of randomization techniques for clinical trials. J Athl Train. 2008;43:215–221.

Russo EB. Taming THC: potential cannabis synergy and phytocannabinoid–terpenoid entourage effects. Br J Pharmacol. 2011;163:1344–1364.

Leo A, Russo E, Elia M. Cannabidiol and epilepsy: rationale and therapeutic potential. Pharmacol Res. 2016;107:85–92.

Kumar RN, Chambers WA, Pertwee RG. Pharmacological actions and therapeutic uses of cannabis and cannabinoids. Anaesthesia. 2008;56:1059–1068.
Ethics declarations
Conflict of interest
The authors declare that they have no conflict of interest.
About this article
Cite this article
Naftali, T., Mechulam, R., Marii, A. et al. Low-Dose Cannabidiol Is Safe but Not Effective in the Treatment for Crohn's Disease, a Randomized Controlled Trial. Dig Dis Sci 62, 1615–1620 (2017). https://doi.org/10.1007/s10620-017-4540-z
Received:

Accepted:

Published:

Issue Date:

DOI: https://doi.org/10.1007/s10620-017-4540-z
Keywords