Abstract
Background
Serologic testing for celiac disease includes tissue transglutaminase and endomysial antibodies. In addition to these tools, assays for deamidated gliadin peptide antibodies have been shown to have sensitivity and specificity that are comparable to tissue transglutaminase testing, and are increasingly being used for celiac disease testing.
Aims
The goal of this study is to evaluate the utility of deamidated gliadin peptide (DGP) testing in the setting of a negative tissue transglutaminase (TTG) IgA test.
Methods
We reviewed the records of all patients seen at two U.S. celiac disease referral centers and identified those who had an elevated DGP IgA and/or IgG in the setting of a negative TTG IgA. Of these patients, those who underwent duodenal biopsy while on a gluten-containing diet were included. Patients with prior biopsy-proven celiac disease or prior TTG IgA positivity were excluded. The results of the biopsy were used as the gold standard for celiac disease diagnosis, and patients with villous atrophy (Marsh class 3) on duodenal biopsy were considered to have celiac disease.
Results
Between the two institutions, 84 patients were identified with negative TTG IgA and positive DGP IgA or IgG who also had duodenal biopsies performed while maintaining a gluten-containing diet. Of these patients, 13 patients (15.5%; 95% CI 8.5–25.0%) were found to have celiac disease on duodenal biopsy.
Conclusions
DGP antibody testing can identify cases of celiac disease in TTG-negative individuals, although the low positive predictive value suggests that the yield may be low.
This is a preview of subscription content, log in to check access.
Access options
Buy single article
Instant access to the full article PDF.
US$ 39.95
Price includes VAT for USA
Subscribe to journal
Immediate online access to all issues from 2019. Subscription will auto renew annually.
US$ 199
This is the net price. Taxes to be calculated in checkout.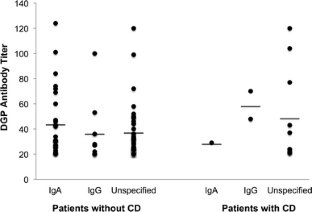 References
1.

Marsh MN. Gluten, major histocompatibility complex, and the small intestine. A molecular and immunobiologic approach to the spectrum of gluten sensitivity ('celiac sprue'). Gastroenterology. 1992;102:330–354.

2.

Rubio-Tapia A, Hill ID, Kelly CP, Calderwood AH, Murray JA. ACG clinical guidelines: diagnosis and management of celiac disease. Am J Gastroenterol. 2013;108:656–676.

3.

Prince HE. Evaluation of the INOVA diagnostics enzyme-linked immunosorbent assay kits for measuring serum immunoglobulin G (IgG) and IgA to deamidated gliadin peptides. Clin Vaccine Immunol. 2006;13:150–151.

4.

Sugai E, Vazquez H, Nachman F, Moreno ML, et al. Accuracy of testing for antibodies to synthetic gliadin-related peptides in celiac disease. Clin Gastroenterol Hepatol. 2006;4:1112–1117.

5.

Oyaert M, Vermeersch P, De Hertogh G, Hiele M, et al. Combining antibody tests and taking into account antibody levels improves serologic diagnosis of celiac disease. Clin Chem Lab Med. 2015;53:1537–1546.

6.

Vermeersch P, Geboes K, Marien G, Hoffman I, Hiele M, Bossuyt X. Serological diagnosis of celiac disease: comparative analysis of different strategies. Clin Chim Acta. 2012;413:1761–1767.

7.

Sugai E, Hwang HJ, Vazquez H, Smecuol E, et al. New serology assays can detect gluten sensitivity among enteropathy patients seronegative for anti-tissue transglutaminase. Clin Chem. 2010;56:661–665.

8.

Niveloni S, Sugai E, Cabanne A, Vazquez H, et al. Antibodies against synthetic deamidated gliadin peptides as predictors of celiac disease: prospective assessment in an adult population with a high pretest probability of disease. Clin Chem. 2007;53:2186–2192.

9.

Volta U, Granito A, Parisi C, Fabbri A, et al. Deamidated gliadin peptide antibodies as a routine test for celiac disease: a prospective analysis. J Clin Gastroenterol. 2010;44:186–190.

10.

Naiyer AJ, Hernandez L, Ciaccio EJ, Papadakis K, et al. Comparison of commercially available serologic kits for the detection of celiac disease. J Clin Gastroenterol. 2009;43:225–232.

11.

Lewis NR, Scott BB. Meta-analysis: deamidated gliadin peptide antibody and tissue transglutaminase antibody compared as screening tests for coeliac disease. Aliment Pharmacol Ther. 2010;31:73–81.

12.

Sakly W, Mankai A, Ghdess A, Achour A, Thabet Y, Ghedira I. Performance of anti-deamidated gliadin peptides antibodies in celiac disease diagnosis. Clin Res Hepatol Gastroenterol. 2012;36:598–603.

13.

Schyum AC, Rumessen JJ. Serological testing for celiac disease in adults. United Eur Gastroenterol J. 2013;1:319–325.

14.

Sugai E, Moreno ML, Hwang HJ, Cabanne A, et al. Celiac disease serology in patients with different pretest probabilities: is biopsy avoidable? World J Gastroenterol. 2010;16:3144–3152.

15.

Abrams JA, Brar P, Diamond B, Rotterdam H, Green PH. Utility in clinical practice of immunoglobulin a anti-tissue transglutaminase antibody for the diagnosis of celiac disease. Clin Gastroenterol Hepatol. 2006;4:726–730.

16.

Barada K, Habib RH, Malli A, Hashash JG, et al. Prediction of celiac disease at endoscopy. Endoscopy. 2014;46:110–119.

17.

Kurppa K, Lindfors K, Collin P, Saavalainen P, et al. Antibodies against deamidated gliadin peptides in early-stage celiac disease. J Clin Gastroenterol. 2011;45:673–678.

18.

Vermeersch P, Richter T, Hauer AC, Stern M, et al. Use of likelihood ratios improves clinical interpretation of IgG and IgA anti-DGP antibody testing for celiac disease in adults and children. Clin Biochem. 2011;44:248–250.

19.

Wang N, Truedsson L, Elvin K, Andersson BA, et al. Serological assessment for celiac disease in IgA deficient adults. PLoS ONE. 2014;9:e93180.
Ethics declarations
Conflict of interest
All authors declare that they have no conflict of interest and nothing to declare.
About this article
Cite this article
Hoerter, N.A., Shannahan, S.E., Suarez, J. et al. Diagnostic Yield of Isolated Deamidated Gliadin Peptide Antibody Elevation for Celiac Disease. Dig Dis Sci 62, 1272–1276 (2017). https://doi.org/10.1007/s10620-017-4474-5
Received:

Accepted:

Published:

Issue Date:
Keywords
Celiac disease

Gliadin

Tissue transglutaminase

Serologic tests