Abstract
Aim
To assess the tolerability and efficacy of high-dose vitamin D3 in patients with Crohn's disease (CD).
Methods
This was a randomized, double-blind placebo-controlled trial of high-dose vitamin D3 at 10,000 IU daily (n = 18) compared to 1000 IU daily (n = 16) for 12 months in patients with CD in remission. The primary outcome was change in serum 25-hydroxy-vitamin D levels. Secondary outcomes included clinical relapse rates and changes in mood scores.
Results
High-dose vitamin D3 at 10,000 IU daily significantly improved 25-hydroxy-vitamin D levels from a mean of 73.5 nmol/L [standard deviation (SD) 11.7 nmol/L] to 160.8 nmol/L (SD 43.2 nmol/L) (p = 0.02). On an intention-to-treat basis, the rate of relapse was not significantly different between patients receiving low- and high-dose vitamin D3 (68.8 vs 33.3%, p = 0.0844). In per-protocol analysis, clinical relapse of Crohn's disease was less frequently observed in patients receiving a high dose (0/12 or 0%) compared to those receiving a low dose of 1000 IU daily (3/8 or 37.5%) (p = 0.049). Improvement in anxiety and depression scores and a good safety profile were observed in both groups treated with vitamin D3.
Conclusions
Oral supplementation with high-dose vitamin D3 at 10,000 IU daily significantly improved serum 25-hydroxy-vitamin D levels. Rates of clinical relapse were similar between both groups. Larger studies using high-dose vitamin D3 for treatment of inflammatory bowel diseases are warranted.
Clinicaltrials.gov registration no
NCT02615288.
This is a preview of subscription content, log in to check access.
Access options
Buy single article
Instant access to the full article PDF.
US$ 39.95
Price includes VAT for USA
Subscribe to journal
Immediate online access to all issues from 2019. Subscription will auto renew annually.
US$ 199
This is the net price. Taxes to be calculated in checkout.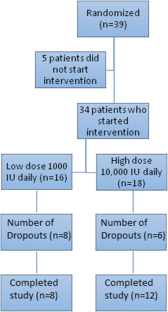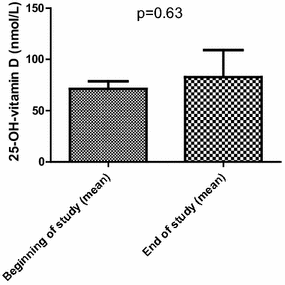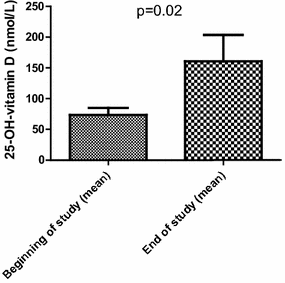 References
1.

Peyrin-Biroulet L, Oussalah A, Bigard M. Crohn's disease: the hot hypothesis. Med Hypotheses. 2009;79:94–96.

2.

Jørgensen S, Agnholt J, Glerup H. Clinical trial: vitamin D3 treatment in Crohn's disease—a randomized double-blind placebo-controlled study. Aliment Pharmacol Ther. 2010;32:377–383.

3.

Sambrook P, Birmingham J, Kelly P, et al. Prevention of corticosteroid osteoporosis: a comparison of calcium, calcitriol and calcitonin. N Engl J Med. 1993;328:1747–1752.

4.

Gorham E, Garland C, Garland F, et al. Vitamin D and the prevention of colorectal cancer. J Steroid Biochem Mol Biol. 2005;97:179–194.

5.

Wilkins C, Sheline Y, Roe C, et al. Vitamin D deficiency is associated with low mood and worse cognitive performance in older adults. Am J Geriatr Psychiatry. 2006;14:1032–1040.

6.

Burton J, Kimball S, Vieth R, et al. A phase I/II dose-escalation trial of vitamin D3 and calcium in multiple sclerosis. Neurology. 2010;74:1852–1859.

7.

Goldberg P, Fleming M, Picard E. Multiple sclerosis: decreased relapse rate through dietary supplementation with calcium, magnesium, and vitamin D. Med Hypotheses. 1986;21:193–200.

8.

Boothe D, Lakehomer H, Jacob V et al. High dose vitamin D3 improves clinical activity in Crohn's disease. American College of Gastroenterology Annual Meeting 2011; Washington, DC; 2011.

9.

Fishbane S, Shapiro WB, Corry DB, et al. Cinacalcet HCl and concurrent low-dose vitamin D improves treatment of secondary hyperparathyroidism in dialysis patients compared with vitamin D alone: the ACHIEVE study results. Clin J Am Soc Nephrol. 2008;3:1718–1725.

10.

Mann MC, Exner DV, Hemmelgarn BR, et al. The VITAH trial vitamin D supplementation and cardiac autonomic tone in hemodialysis: a blinded, randomized controlled trial. BMC Nephrol. 2014;15:129.

11.

Puhan MA, Frey M, Buchi S, et al. The minimal important difference of the hospital anxiety and depression scale in patients with chronic obstructive pulmonary disease. Health Qual Life Outcomes. 2008;6:46.

12.

Cranney A, Weiler HA, O'Donnell S, et al. Summary of evidence-based review on vitamin D efficacy and safety in relation to bone health. Am J Clin Nutr. 2008;88:513A–519S.

13.

National Institutes of Health Office of Dietary Supplements. Vitamin D—Fact sheet for health professionals. Available: https://ods.od.nih.gov/factsheets/VitaminD-HealthProfessional/2014; Accessed 24 Aug 2015.

14.

Raftery T, Martineau AR, Greiller CL, et al. Effects of vitamin D supplementation on intestinal permeability, cathelicidin and disease marrkers in Crohn's disease: results from a randomised double-blind placebo-controlled study. United Euro Gastroenterol J. 2015;3:294–302.

15.

Zhao H, Zhang H, Wu H, et al. Protective role of 1,25(OH)2 vitamin D3 in the mucosal injury and epithelial barrier disruption in DSS-induced acute colitis in mice. BMC Gastroenterol. 2012;12:57.

16.

Yang L, Weaver V, Smith JP, et al. Therapeutic effect of vitamin D supplementation in a pilot study of Crohn's patients. Clin Trans Gastroenterol. 2013;4:e33.

17.

Vieth R, Kimball S, Hu A, et al. Randomized comparison of the effects of the vitamin D3 adequate intake versus 100 mcg (4000 IU) per day on biochemical responses and wellbeing of patients. Nutr J. 2004;3:8.

18.

Jorde R, Sneve M, Figenschau Y, et al. Effects of vitamin D supplementation on symptoms of depression in overweight and obese subjects: randomized double blind trial. J Intern Med. 2008;264:599–609.

19.

Addolorato G, Capristo E, Stefanini G, et al. Inflammatory bowel disease: a study of the association between anxiety and depression, physical morbidity, and nutritional status. Scand J Gastroenterol. 1997;32:1013–1021.

20.

Farrokhyar F, Marshall J, Easterbrook B, et al. Functional gastrointestinal disorders and mood disorders in patients with inactive inflammatory bowel disease: prevalence and impact on health. Inflamm Bowel Dis. 2006;12:38–46.

21.

Bischoff-Ferrari H, Willett W, Wong J, et al. Fracture prevention with vitamin D supplementation: a meta-analysis of randomized controlled trials. JAMA. 2005;293:2257–2263.

22.

Hanley D, Cranney A, Jones G, et al. Vitamin D in adult health and disease: a review and guideline statement from Osteoporosis Canada. CMAJ. 2010;182:E610–E618.

23.

Schwalfenberg G, Genuis S, Hiltz M. Addressing vitamin D deficiency in Canada: a public health innovation whose time has come. Public Health. 2010;124:350–359.

24.

Travis S, Feagan BG, Rutgeerts P, et al. The future of inflammatory bowel disease management: combining progress in trial design with advances in targeted therapy. J Crohns Colitis. 2012;6:S250–S259.
Acknowledgments
This work was funded by a grant obtained from the Canadian Association of Gastroenterology. Vitamin supplements and placebo tablets were provided in kind by Jamieson Laboratories Ltd. Neither the Canadian Association of Gastroenterology nor Jamieson Laboratories Ltd. provided input into study design, data analysis, or the writing of the manuscript.
Author contributions
NN participated in study design, data analysis, data interpretation, manuscript writing; MC contributed to data collection; RA participated in study design, data analysis, manuscript writing; ZM contributed to data collection; AN took part in data collection; JKM participated in study design, data analysis, data interpretation, manuscript writing.
Ethics declarations
Conflict of interest
No authors have any financial interests or connections, direct or indirect, that might raise the question of bias in the work reported in this manuscript.
About this article
Cite this article
Narula, N., Cooray, M., Anglin, R. et al. Impact of High-Dose Vitamin D3 Supplementation in Patients with Crohn's Disease in Remission: A Pilot Randomized Double-Blind Controlled Study. Dig Dis Sci 62, 448–455 (2017). https://doi.org/10.1007/s10620-016-4396-7
Received:

Accepted:

Published:

Issue Date:
Keywords
Crohn's disease

Ulcerative colitis

Inflammatory bowel disease

Vitamin D